🏀

March Sadness

March 19, 2020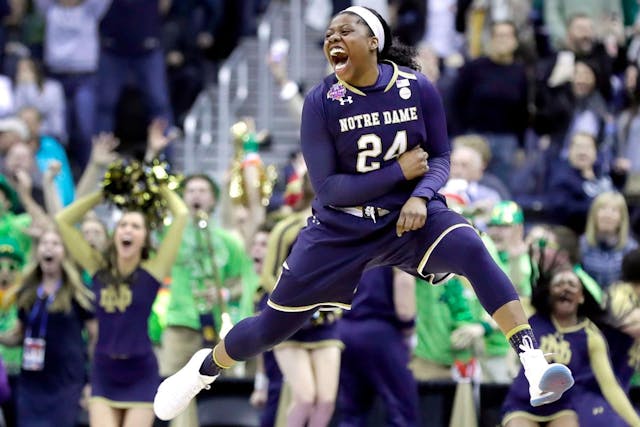 The GIST: Let's face it. March 2020 has...not been great. And one thing we're really missing (outside of social contact) is NCAA basketball's March Madness tournament. So, in honor of the tournament that wasn't, we wanted to highlight the top five moments of women's March Madness recent past.
5. Brittney Griner is an absolute force to be reckoned with. Currently playing for the Phoenix Mercury in the WNBA, she's been a powerhouse for at least a decade. While playing for the Baylor Lady Bears in 2010, 6'9" Griner (please lend us some height) blocked 105 balls (!!!) over just 18 games. To put that in perspective, that's an average of 5.83 blocks per game. The best blocker in NBA's history made an average of 3.5 blocks per game. Sheesh.
4. March Madness is all about Cinderella stories, and no, not the Hilary Duff–Chad Michael Murray kind. For this one, we're taking it back to 2013, when the Louisville Cardinals became the lowest seed (at No. 5...generally the women's tournament stays pretty true to its rankings) to reach the national final after beating top-seeded Baylor and No. 2 Tennessee in the Sweet 16 and the Elite Eight. They lost to UConn in the final, but it was an effort worth paying attention to.
3. Last year's final between Baylor and Notre Dame featured two boss female coaches in Baylor's Kim Mulkey and Notre Dame's Muffet McGraw (it was just the eighth time in 20 years two female head coaches squared off) and was a game for the ages. Despite losing their star player Lauren Cox to a knee injury, Baylor just barely protected their 17-point lead to take the game 82–81. Notre Dame literally couldn't call it a comeback.
2. Although it's hard to believe the UConn Huskies' last national title came four years ago, this list wouldn't be complete if we didn't tip our non-existent hats off to their four consecutive national title wins between 2013 and 2016. With superstar players like WNBA MVP Breanna Stewart and WNBA All-Star Kia Nurse on their squad, it's no wonder they were so dominant.
1. Our number one spot goes to Arike Ogunbowale (pronounced AH-REE-KAY OH-GOON-BOW-WAH-LAY). Arike now plays for the Dallas Wings in the WNBA, but back in 2018 she was the star baller for the Notre Dame Fighting Irish and she had herself a time in the Final Four.
First, with the game tied in overtime at 89 in the national semifinal against UConn, Arike drained a clutch three-pointer with just one second left to get the upset win over UConn, the most historically dominant program in women's basketball. It was a jump-off-the-couch-and-yell moment if we ever saw one, and it caught the attention of greats like the late Kobe Bryant.
But she wasn't done there. With the game tied (yes, again) in the national championship against Mississippi State, Arike drained another three-pointer (yes, again), this time with just three seconds remaining, to give Notre Dame its first title in 17 years. Back-to-back buzzer beaters — you literally can't make this sh!t up.
🏅

This isn't a game

March 19, 2020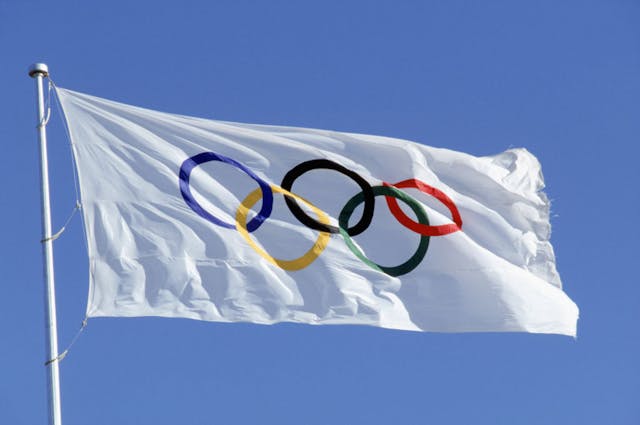 The GIST: Despite the global pandemic, the 2020 Summer Olympics in Tokyo are somehow still a go. That is, unless the athletes have anything to do with it.
But aren't they still so far away?: Sure, the Olympics aren't set to begin until July 24th, and who knows what state we'll be in then. But qualification for the Olympic Games is underway right now, with 43% of Olympic spots still undetermined.
The International Olympic Committee (IOC) finally admitted yesterday that Olympic qualifiers will likely have to be modified (uh, ya think?). The problem is without outright postponing the Games, Olympic athletes are still forced to keep up with their intense daily training regimens, which is becoming increasingly difficult and dangerous in this new COVID-19 era.
So what are the athletes saying?: Nothing good about the IOC, that's for sure. After the IOC told athletes that this isn't the time to make a "drastic decision," Olympic hockey icon, Hockey Hall of Famer and IOC member Hayley Wickenheiser went OFF on Twitter, calling the IOC "insensitive and irresponsible," and saying, "This crisis is bigger than even the Olympics."
Other Olympic athletes joined in, including Britain's world-champion heptathlete Katarina Johnson-Thompson, who pointed out that it's impossible for athletes to properly prepare when "the IOC and the local government are at odds with one another," and Greek pole vaulter Katerina Stefanidi, who told the IOC, "You are putting us in danger right now, today, not in four months." Tell 'em, sisters.
🏆

Postpone culture

March 19, 2020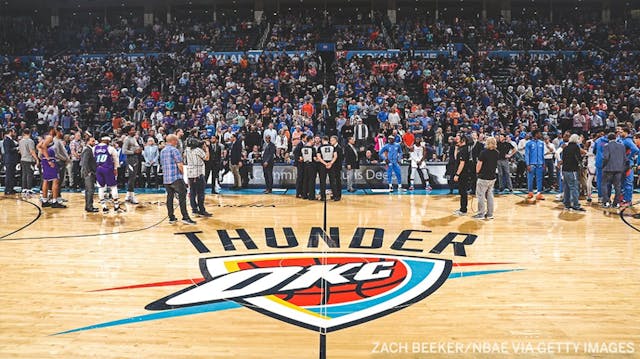 The GIST: Can you believe it's been only one week since all sports were canceled? Longest. Week. Ever.
Wait. Is everything actually canceled?: Okay, not canceled canceled, but super postponed. The NBA season is suspended until at least late April (though we have no way of knowing how realistic that even is) and the NHL is suspended indefinitely. The start of the MLB season, which was set for next Thursday, has been put off until at least mid-May.
What about other sports?: The ATP and WTA tennis seasons have been put on hold until June 7th, with the French Open Grand Slam moving from May to a tentative September 20th start. This summer's UEFA Euro Cup, a BFD European soccer tournament held every four years, has been pushed to 2021 (no word on how that will affect subsequent tournaments), and the Kentucky Derby, the largest horse racing event in North America, is now set for September 5th.
How is this affecting the leagues and teams?: Financially, it's a bit of a mess. The MLB could stand to lose the most because their March to October season is weather dependent. Meanwhile, the NBA is looking to extend its credit line (aren't we all?) by $550 million to $1.2 billion (must be nice) to cover any potential expenses incurred over the next few weeks or months.
And if the NBA is forced to cancel the season outright, Disney (the parent company of ESPN, which owns NBA broadcast rights) is projected to lose around $481 million in ad revenue. Ouch.
And have any other players been infected?: Unfortunately, yes. On Tuesday, the Brooklyn Nets reported that four of their players have tested positive for COVID-19, bringing the NBA's total cases to seven. Nets star and two-time NBA champ Kevin Durant confirmed that he was one of the four and is quarantining at home.
And late Tuesday night, the Ottawa Senators revealed that one of their players has tested positive as well, marking the NHL's first COVID-19 patient. They haven't said who, but all NHL players had been asked to self-isolate before this case anyway.
How are the athletes staying healthy?: Tennis legend Serena Williams has gone full lockdown. She posted a video to say she's going into a self-imposed six week quarantine to protect herself and her family, and, lucky for us, will keep us updated via Instagram.
And how are they helping?: Seattle Seahawks QB Russell Wilson and his wife, Ciara, are following the Currys' lead and donating one million meals to the Seattle community, and Swedish soccer superstar Zlatan Ibrahimović (pronounced EEB-RAH-HEEM-OH-VITCH), who plays for AC Milan, has started a fundraiser to help Italian hospitals cope during the COVID-19 outbreak.
Since the start to the Formula 1 season was canceled, the car engineers from four F1 teams have agreed to use their newfound free time to help the UK government build much needed ventilators and other medical equipment. Um, cool!
🏈

Shipping out of Boston

March 19, 2020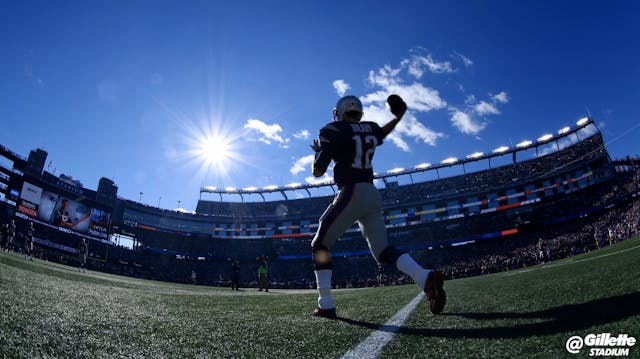 The GIST: No one is enjoying themselves less than New England Patriots fans right now. Self-isolation, no St. Paddy's parties, plus the loss of quarterback (QB) Tom Brady...it's not a good time for Pats Nation.
Quick, give me stats on Tom: Brady was a Patriot for 20 years (aka his entire football career), where he won six Super Bowls (the most of any player in NFL history). Although his contract expired at the end of the 2019–20 season, there was still a small chance that he would re-sign for one more year.
Until Tuesday, when, in a single Instagram post, the Uggs guy broke the hearts of millions, saying that his "football journey will take place elsewhere." The end of an era.
So where's he going now?: It's not yet official, but he's finalizing a contract with the Tampa Bay Buccaneers for a rumored $30M per year. Yeah, we were kind of confused by that, too. Seems a bit random, since the Bucs haven't been playoff contenders since 2007, have the worst winning percentage in NFL history and Brady, at 42, likely has only a few years in him to win one last Super Bowl.
But the Bucs have a pretty solid offensive team with wide receivers Mike Evans and Chris Godwin, and head coach Bruce Arians has a longstanding reputation as a great QB coach. Tampa is also hosting the Super Bowl next season, so it could mean home field advantage for another ring...or it could mean bad luck, as a Super Bowl host has never even made it to the Super Bowl.
This is a pretty big deal: It's a v. big deal. The struggling Patriots drafted Brady 199th in the sixth round of the 2000 Draft. And yet, somehow, this underdog became the greatest QB of all time and, with some help from head coach Bill Belichick, created a dynasty. All the best, Tommy — remember to lather up with SPF 60.
Any other NFL news?: A few other QB signings this week. Philip Rivers joined the Indianapolis Colts for a one-year, $25 million contract (wow!), Drew Brees signed a two-year extension with the New Orleans Saints, and the Jacksonville Jaguars traded 2018 Super Bowl MVP Nick Foles to the Chicago Bears for basically nothing a fourth-round draft pick.
🎾

Guide to Tennis

March 18, 2020
Giphy.com
The GIST
Today, tennis is a racquet sport that is played individually or in doubles. Tennis is played on a court — grass, clay or hard surface. The point of the game is to hit the tennis ball over the net so that the opponent can't return the ball back. Points are awarded when one player isn't able to get the ball back over the net.
Scoring tennis is a bit weird and wacky. Each is made up of sets made up of games. That's where the phrase 'Game, Set, Match' comes from! The score of each game goes from zero (called love), to 15, 30 and finally 40. If the game is tied 40-40, that's called deuce, and players have to win two straight points (the first is called advantage) in order to win the game. Get full details on scoring .
How is it organized?
Men play under the ATP (Association of Tennis Professional) and women play under the WTA (Women's Tennis Association). Each league hosts tournaments throughout the world and throughout the year, but the most important are the 'grand slam' events, also called majors, which are the Australian Open, French Open, Wimbledon and US Open. These events get the most media attention, have the highest payouts, attract the best players and offer the most ranking points (i.e. are the most important to becoming No. 1 in the world).
The most prominent of the majors is Wimbledon which is played in London, England every July. Wimbledon started more than 125 years ago and is played on a grass surface, which makes the game move a lot faster. Wimbledon also has a strict dress code where players must wear only white, a tradition dating back to the 1800s when players were concerned with . Yup, you read that right.
The best of the best
Although tennis might be old school at heart, it is the only mainstream sport that pays out women and men equal prize money in tournaments and, for the most part, gives males and females the same airtime on TV. The U.S. Open (atta be, USA!) was the first of the majors to award equal prize money in 1973, while the oldest tennis tournament in the sport's history, Wimbledon, didn't reach that milestone until 2007.
Some of the best in the world on the women's circuit include Romania's Simona Halep, Japan's Naomi Osaka and Australia's Ashleigh Barty. However, the number one in our hearts is superstar American Serena Williams, who blew us away by climbing back into the Top 10 of the WTA rankings after being OOO while she was pregnant with her first baby,
Prior to giving birth, Serena dominated the courts as the world record holder for the most Grand Slam wins across female singles and doubles play! You may also recall Serena absolutely slaying in Beyonce's "" music video. And did we mention that she was pregnant when she won the Australian Open in 2017? Like WHAT!?
On the men's side, being the best in the world continues to be a three-way battle between Switzerland's Roger Federer, Spain's Rafael Nadal and Serbia's Novak Djokovic (pronounced JOKE-OH-VITCH). But Federer is often touted as the best male tennis player of all time with 20 Grand Slam titles. Off the court, he's a total gentleman and remarkably has two sets of twins!
What about Americans?
We already talked up tennis GOAT Serena Williams, but we also have to give major props to young up-and-comer Coco Gauff! At just 15 years old, she became the youngest player ranked in the top 100 by the WTA and has a career-high ranking of No. 68 in the world. Is that a future tennis queen in the making we see?
On the men's side, John Isner is the highest ranked American player and has been ranked as high as No. 8 in his career. He's never won a Major tournament, but made it to the semis of Wimbledon in 2018, and twice to the quarter-finals of the U.S. Open. Not too shabby.
Don't get The GIST's twice-weekly newsletter yet? Let's make it email official.