⛳

Guide to Golf

March 18, 2020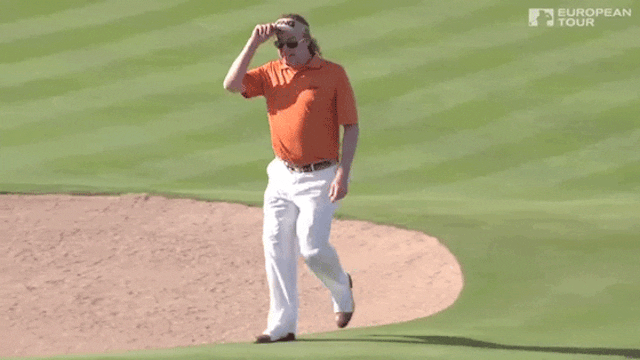 SOURCE: GIPHY.COM
The GIST
A full round of golf is 18 holes. Holes generally range from 100 to 500 yards. Unlike most other sports, the goal is to have the lowest score (counted by ) at the end of the game — meaning take the least amount of swings or putts to get the ball in the hole. Each hole on the course is given a number of strokes that it should take for a person to get the ball in the hole (this is called par) and typical championship courses have a full value of 72.
How is it organized?
Similar to tennis, men's professional golf players play in PGA (Professional Golf Association) Tour and women play in LPGA (Ladies' Professional Golf Association) tournaments. A tournament consists of four rounds of golf (one per day from Thursday until Sunday). The biggest tournaments are called major championships and in the PGA that includes the Masters, the US Open, the British Open and the PGA Championship.
Outside of the majors, there are also various other tourneys the pros can partake in. A player's world ranking is based on how they do in each tournament. The most well-known and prestigious tournament is the Masters, played in Augusta, Georgia. In addition to winning copious amounts of cash money, players also receive the (super cool to win, super impractical to wear). The Masters is unique because winners are automatically invited back to play in the tournament annually for the rest of their lives!
Golfin' greats
This isn't just your grandparents' game anymore! While golf is a sport where experience is incredibly important, the past decade has shown that you can be young and still be at the top of your game. The best golfers today include Dustin Johnson (American who is married to Wayne Gretzky's daughter, ), Rory McIlroy (Irish sweetheart), Brooks Koepka (American who won back-to-back US Open and PGA Championship tourneys) and Jordan Spieth (young American stud).
And then there's Tiger Woods. Tiger dominated the game for over a decade, winning 14 major tournaments. And then things crashed (literally) and burned for the golfing superstar. Tiger was caught cheating on his wife and Swedish model, Elin, claiming that he had a "sex addiction". More recently, Tiger was arrested in Florida in 2017 for a DUI after crashing his SUV. He has since made a rather spectacular comeback and is back to being one of the top ranked golfers in the world.
Gals who golf
It's a myth that 'golf' stands for "Gentlemen Only Ladies Forbidden", but only just barely. For decades, golf has been seen almost exclusively as a man's game, but thankfully ladies have continued to break down those barriers. Professional women play in the LPGA (Ladies PGA) which is organized similarly to the men's. Keep your eye on American sensations Nelly Korda and Danielle Kang, who remain ranked near the top of the LPGA world rankings.
In 2019, the LPGA awarded its largest ever prize ($1.5M USD) to South Korea's Sei Young Kim at the CME Group Tour Championship. That's $500k more than the previous record prize. Even though the overall prize money handed out in the LPGA pales in comparison to the PGA, there is reason for optimism. The LPGA's 2020 schedule features 32 events with record prize money and at least 500 hours of televised content. Keep making moves, ladies!
Prep for your next trivia night by making sure you know these facts:
A means you took just one stroke to get the ball all the way into the hole. Tradition says that that golfer must then buy a drink for each person in the clubhouse. But fear not, most courses have hole-in-one insurance so that you actually don't have to pay. Hilarious.
Jack Nicklaus is strongly considered the best golfer of all-time winning 18 majors, which remains the record for most ever.
Have you ever sipped on an Arnold Palmer, that delicious blend of iced tea and lemonade? Well, the drink is named after a very successful pro golfer who was known to request the combination! The late Arnold Palmer won four (!!!) Masters tournaments and seven majors over his career.
Don't get The GIST's free twice-weekly newsletter yet? Let's make it email official.
🏀

Guide to Basketball

March 17, 2020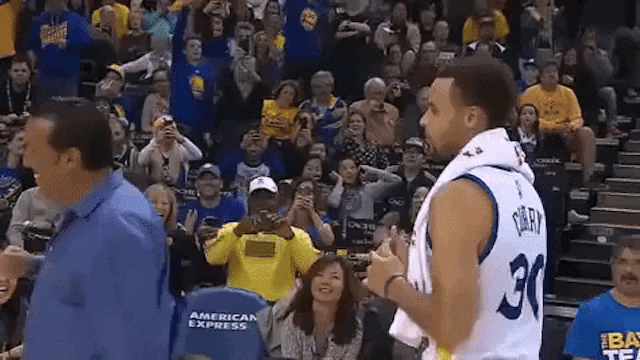 SOURCE: GIPHY.COM
The GIST
Professional basketball is made up of four quarters lasting 12 minutes each. Five players on each team are on the court at the same time. The point of the game is to shoot a basketball in a hoop to get the most baskets (and the most points). A basket counts as either two or three points, depending on how far the shooter was from the basket they hit the shot. Courtside seats gives fans unprecedented access to the players, so basketball brings out celebrity sightings like no other sport. Just check out the dynamic combo of Chris Rock, Amy Schumer, Tracy Morgan and Leslie Jones . Can we get in on that or what?
How is it organized?
The highest level of the sport is the National Basketball Association aka NBA and the Women's National Basketball Association aka the WNBA. Let's start with the NBA. The league is divided into two conferences (East and West), and each of those conferences are further divided into . There are 30 teams in the league, including 29 in the U.S. and one in Canada.
The best of the best
The reigning champions are the Toronto Raptors. In June 2019, they became the first time a team outside of the United States to win a NBA championship. How'd it happen? Well, a blockbuster deal in the summer of 2018 sent longtime Toronto favorite DeMar DeRozan to the San Antonio Spurs in exchange for superstar Kawhi Leonard. The rest, as they say, is history. Kawhi led the underdog Raps all the way to a championship with the help of supporting cast Kyle Lowry (a seven-season Toronto veteran), breakout star Pascal Siakam and three-point shooter Danny Green. Their championship came over the NBA powerhouse Golden State Warriors, who had previously won in 2015, '17 and '18.
But then…Kawhi switched gears and turned down a Toronto contract to play for the LA Clippers in sunny California where he grew up. He was joined by Paul George and the duo will be a force to be reckoned with. Meanwhile, LeBron James also built a of his own in the same city with Anthony Davis and Danny Green on the LA Lakers. And then there's 2019 NBA MVP Giannis Antetokounmpo (pronounced YAWN-IS ANT-TET-TA-KOOM-PO), whose Milwaukee Bucks will also be in the mix.
Play like a girl (it's better that way)
The WNBA is one of the best professional sports leagues for women in North America as these basketball bosses actually get airtime on top sports networks. Keep your eye on:
Wow! Can I get more info on the WNBA?
Absolutely! The WNBA season runs from May until late September or early October, with each of the 12 teams playing 34 regular-season games. The league has actually been around since 1997, though only three teams remain from inception: the New York Liberty, Los Angeles Sparks and Phoenix Mercury. Go deeper on how the league is organized .
These women still have a long way to go before reaching parity with their professional male counterparts, but it probably helped that the WNBA Final saw Connecticut Sun take the Mystics to a thrilling Game 5, winner-take-all showdown that garnered national attention and a sellout stadium in Washington.
And in 2020, we finally saw the WNBA bet on itself by signing a groundbreaking new collective bargaining agreement (CBA) that will significantly benefit the players. Among other things, players receive an increase in salary that improves the average compensation from $79k to $130k (!!!) with the league's top players set to earn $500k — more than three times the previous maximum. Cardi B would be so proud.
It also includes added bonuses for top players, guaranteed fully paid maternity leave, better travel conditions and mental health resources. And maybe the most notable addition: access to offseason job opportunities with the league to limit the number of women playing in leagues overseas to make ends meet, which has become a nagging necessity for WNBA players. Can we get a hell yeah?!
There's obviously still a long way to go before there's parity with the men's professional leagues. That being said, this is a BFD — the WNBA listened to its players and took their input into account more than ever before. It's refreshing to see a league partner with its players and bet on its women to move closer to closing the inequality gaps that still exist in women's sports.
Don't get The GIST's free twice-weekly newsletter yet? Let's make it email official.
⚾

Guide to Baseball

March 17, 2020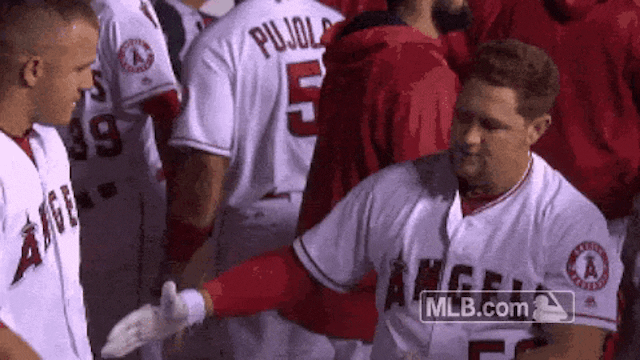 The GIST
Baseball is America's national pastime. Why? Well, it quite literally passes time. The average length of a baseball game is just over three hours of continuous fun.
Baseball is played on a field shaped like a diamond (its other name) with a base on each corner. A team scores a point (referred to as runs) when one of their players is able to make it all the way around the diamond and back to home plate. The team with the most runs at the end of the game, wins!
Rather than periods or quarters, baseball is divided into nine innings, each with a top and a bottom half. At the beginning of an inning, the visiting team goes up to bat while the home team sends nine players into the field to play defense. Then the teams switch to play the bottom of that inning. It's an advantage to be the last team up to bat because you have the last chance for a comeback win!
An inning is over after three outs (e.g., when a player strikes out on pitches, is thrown out at a base or their ball is caught in the air). And if the game is tied after nine innings, the game goes into extra innings until a winner can be decided.
But our fave part of baseball? It's got to be the .
How is baseball organized?
Baseball is played all over the world; however, the most popular league in the world is Major League Baseball (MLB) located in North America. There are 30 teams in the MLB and the league is divided into the National (NL) League and the American League (AL) which are further divided into three divisions: Central, East and West.
Here's where things get a little confusing (but that's what you've got us for!). The AL and NL each have a slightly different set of rules they follow. For instance, in the NL, pitchers also come up to the plate to bat, but they don't in the AL. Instead, the AL has a "designated hitter", or DH, that comes up to bat in that place.
There are 162 regular season games (that's not a typo… the MLB by far has the longest season in major league sports), followed by the playoffs. Ten teams, five from the NL and five from the AL, make it into the postseason where all of the players' blood, sweat, tears and go into winning the World Series (the MLB championship). More on the playoff structure .
Who's the current champ?
The Washington Nationals won the World Series in 2019, defeating the Houston Astros in a wild seven-game series where the home team didn't win a single game! That's right, the Nats took the championship by winning all four of their games in Houston. This was Washington's first World Series win in franchise history and they were big underdogs going into the final. Talk about a Cinderella story.
Looking at 2019…
This season, keep your eye on Bryce Harper (Philadelphia Phillies right field), Mike Trout (LA Angels centrefield and ), Mookie Betts (Boston Red Sox batting superstar) and Jacob deGrom (New York Mets pitcher and back-to-back Cy Young winner for best pitcher in the AL).
And expect big things from the defending champion Washington Nationals, the 'continues to be great' Houston Astros, the New York Yankees and the LA Dodgers.
Women who bat
For whatever reason, women do not have a pro league for "hardball" (another name for baseball). Instead, women play softball professionally — a similar game but with a bigger ball where pitchers throw underhand.
Women DO play baseball at the amateur level. It's an Olympic sport (including at Tokyo 2020!) and is played at the Pan Am Games (for North, South and Central America).
Channel your inner fan!
Here's some fun stats to break out at your next office ball game outing:
The lifespan of a MLB baseball is only five-to-seven pitches, meaning about 70 baseballs are used during a game. Just wild.
The New York Yankees have the most World Series titles, winning 27 in their 116 (!!!) year history. And they're not even the .
Unfortunately, no woman has ever played in an MLB game. BUT sports executive Effa Louise Manley (1897–1981) is the first and only woman inducted into the Baseball Hall of Fame. 'Atta be, Effa!
Don't get The GIST's free twice-weekly newsletter yet? Let's make it email official.
⚽

Stephanie Labbé

March 17, 2020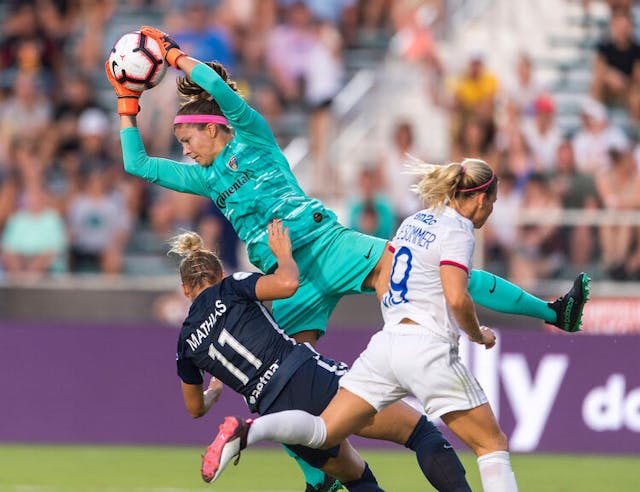 Stephanie Labbé is the goalkeeper for Canada's national women's soccer team, a 2019 National Women's Soccer League (NWSL) champion, a 2016 Olympic bronze medalist, and an all-around incredibly driven and talented human. While Stephanie's sights are set on bringing Canada home a medal at the Tokyo 2020 Olympics, she's also keeping busy as a co-creator of Project Athlete along with her partner (another friend of The GIST) Georgia Simmerling. Let's get to our interview with Stephanie:
Lexie, at The GIST (TG): Okay, you're a goalkeeper! You could not pay us enough money to have shots fired at our heads. How did you get into that position?
Stephanie Labbé (SL): Growing up, I played lots of sports. My older brother played hockey, so I was always tagging along. I played hockey in the winter and soccer in the summer. But hockey is very time consuming. Then, by the time I was 12 years old, I was the only girl on my team, and had to start changing in my own locker room, so that was isolating.

Around the same time my friends from school said I should play indoor soccer. I couldn't do both hockey and soccer though. But I totally loved indoor soccer, and had so much fun. So, in the summer I tried out for the rep team, and at the tryouts the coach asked if anyone would go in goal. There were about eight of us 12 year olds putting up our hands so we all rotated. Then, at the end of tryout, the coach asked how badly I wanted to be on the team, and if I was willing to be goalkeeper. I guess I was the least fearful of the ball.
c/o Stephanie Labbé
TG: And the rest is history. What did your parents think about that?
SL: Well, luckily growing up I played for a very good team. So, really just the extent of my mom's nerves would be her leg kicking a lot as I played. The older I get, the better she is with her nerves. Now, she's way more calm when I'm in net, and ironically she's actually more nervous when our strikers are shooting during the game.
TG: That's funny. Well, she definitely has a million reasons to feel calm about you in goal after seeing all the success you've had over the years…Do your own nerves ever affect you, or translate into weird soccer dreams?
SL: So, I actually never get to play soccer in my dreams. I do have recurring nightmares where I'm about to start a game and I don't have a cleat or can't find a glove, and something's gone wrong. It's probably why I am soooooo particular about checking my bag. *Steph chuckles*
TG: Reading your Player's Tribune article, you talked about playing men's soccer being a really mentally and physically challenging part of your career. Do you ever find it difficult to speak candidly about the differences in men's versus women's games without feeling like you're giving fuel to the haters to hold against women?
SL: I have never had a hard time comparing the women's game versus men's game. People can say what they want to say. I've heard a lot of negative things, but to be honest I wouldn't be where I am if I put a lot of thought into what people care about what I say. I don't give a sh!t to be frank (Editor's note: preach sister!). I know that not all men have a genetic, biological advantage, but on average, most do. I'm aware and recognize that. There are anomalies out there and women who can come overcome those. And what should stop you from pursuing any challenge? The risk is yours. I understand that every time I go out and play with men, or women, who are bigger, faster, stronger than me that I'm putting myself at risk. You can say that about anything in life.
If you're going to live your life being scared of the negative things that can happen, then you aren't going to go anywhere.
I always try to live optimistically.
TG: Amazing! So, a huge story with women's soccer has been what's going on with the U.S. women's team and the fight for equity. What is the relationship like pay equity-wise with the women's program in Canada and with Canada Soccer?

SL: Unfortunately in Canada, it's a bit untalked about in a sense. We, as a national team, have a fairly good relationship with Canada Soccer. Year over year, our talks and contracts get better and better, so it's moving in a positive direction. But it's still nowhere near where it should be.
The words "equal pay" and "equality" get thrown around interchangeably, but equality is a very complex issue, and it's not just about getting paid equally — it's marketing, support and investment.
You can see the direction it's moving, but you also see Canada Soccer investing in a brand new , while we're the only national women's program ranked in the top 10 in the world that doesn't have our own domestic professional league (Editor's note: As Canada is hosting the FIFA World Cup in 2026, they are required to have a domestic professional league). That is still so heartbreaking. We have proven time and time again, since 2012 when the team won Olympic bronze, that we are performing and getting results (Editor's note: The Canadian women's national team is currently ranked eighth in the world, while the men's team is 73rd).
I think the successful future of this program is based on developing players in Canada. And, as of right now, we have to go abroad and get contracts to play soccer in other countries. It hurts our depth. We don't have a league to give players the chance to grow and shine and prove they can play on the national team. Women stop playing after university because they can't get a contract abroad, but if we had our own domestic league those players wouldn't fall through the cracks because they'd have a place to play to develop.
So, it's moving in a positive direction, but there is still a long way to go. It's amazing the U.S. team is using their platform to talk about it and bring this subject to light. They're talking, they're acting, and they're paving the way.
TG: That is so important and so candid. Wow. Thank you for that. Looking ahead, what is your vision for 2020?
SL: Post-Olympics is a blur and unknown. The immediate thing that comes to mind is that January is Olympic qualifying. And, for the Olympics, we want to bring back a better colour than bronze. And, secondly, because I don't just play for Canada full-time, I'm also looking forward to playing with my pro team (North Carolina Courage) and trying to win a back-to-back national championship with them.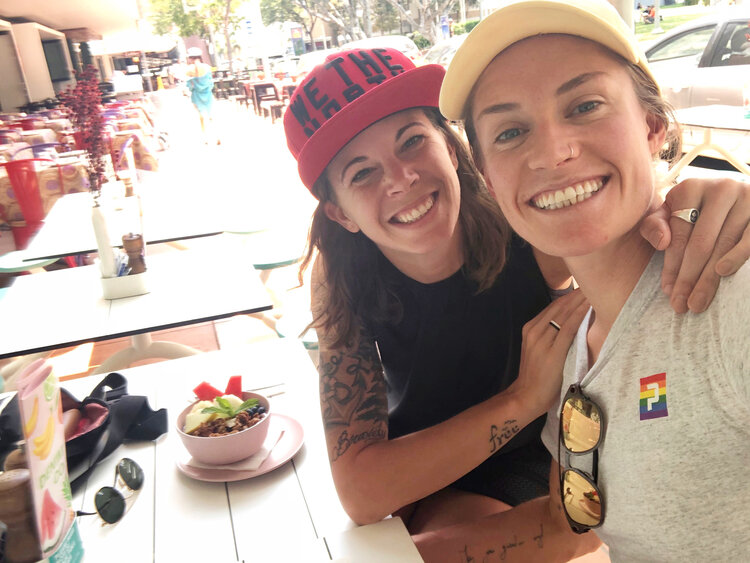 Stephanie & Georgia Simmerling
TG: That's great! Okay, let's end on some rapid-fire questions!
TG: If soccer had walk-out songs (like baseball), what would your song be?

SL: Oh my gosh. This is awesome. I want to say Cindy Lauper "." Everyone would love it!
TG: Would you rather sing or act?

SL: I would love to have a great singing voice, but I'm terrible. AIso, I don't know if the lifestyle of a singer would be what I want. So, actress.
TG: What is your favourite winter Olympic sport to watch?

SL: My gut is going to hockey. It's such a passion of mine and part of mine and my family's life. But I'll be honest, after meeting Georgia, I really enjoy watching skiing and ski cross. It's way more exciting for me when she is not racing, because then I am way less nervous. I got the chance to watch it live two years ago in the Alps. It was so fun and so much adrenaline. I have a short attention span so it caters to that.
TG: What is your favourite sports movie?

SL: Classic Mighty Ducks.
TG: What movie can you quote the best?
SL: Probably Billy Madison. "I got this shirt from Frank"... and Frank is written on the inside of it. I say it all the time. *Stephanie chuckles*
That's #thegistofit
Don't get The GIST's free twice-weekly newsletter yet? Let's .
⛷️

Dara Howell

March 17, 2020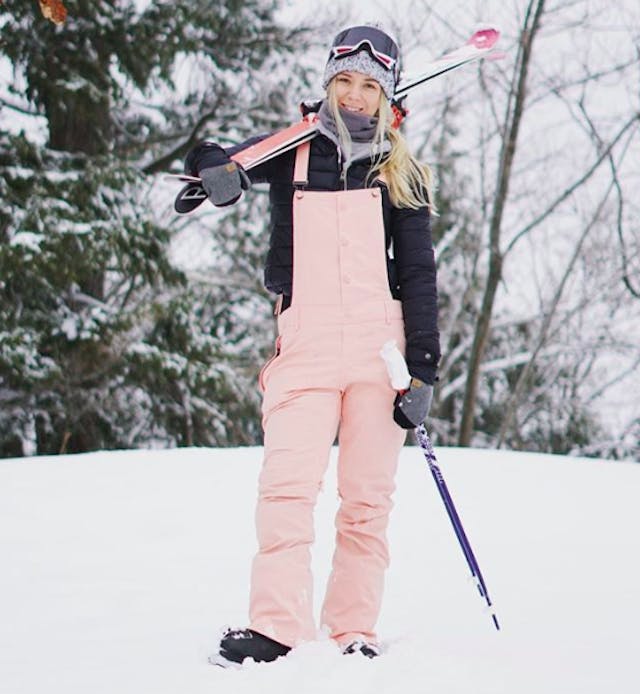 Two-time Olympian Dara Howell is truly amazing. At the ripe age of 19, Dara won a gold medal at the debut of at the Sochi 2014 Winter Olympics. No big deal! Dara competed in the PyeongChang 2018 Winter Olympics before being sidelined in late 2018 with a . Now she's back with a fresh perspective, a fresh podium finish at the most recent World Cup and...Dara wants to become the best freestyle skier in the world.
Lexie at The GIST (TG): Okay slopestyle skiing. You're essentially tossing yourself off of cliffs and doing jumps while on sticks. How did you get into it? Were you a daredevil as a kid?
DH: I was always a daredevil! *Dara chuckles* My mom always thought I would go to the Olympics in something, but she never knew which sport because I was always doing different things.
Growing up, my family owned a small family resort in Huntsville, ON (Pow Wow Point Lodge). My parents had it for 27 years, and my grandparents owned it for 25 years, so skiing was very much a part of my family. My granddad is actually still a skier, and he just turned 96. He still skis at 96!
It was always in my nature to be adventurous. My older brother and I were always outside and active, plus we basically grew up on the water living in Huntsville.

I think my parents just kind of threw me on skis around 18 months old because my brother was already into it *Dara chuckles*.
c/o Dara Howell
LH: That's so amazing. How did you get into slopestyle, especially given it was a new Olympic sport for Sochi 2014?
DH: I grew up ski racing and figure skating from an early age, those were my two biggest sports. I eventually quit those. I thought ski racing was too disciplined. And, it was cold! *Dara laughs* And figure skating I enjoyed, but I really just loved the jumps, and I wasn't as good at the dance component. So when I decided to stop around the age of 15, my dad told me I had to get a job, so I became a Level 1 ski instructor at Hidden Valley in Huntsville and taught little kids. Then, on my off time I would hang out with my ski friends in the park (Editor's note: the "park" is where all the jumps, half-pipes, etc. are), and got connected to doing tricks there.
Slopestyle skiing is basically downhill racing combined with the jumping aspect of figure skating, so it's weird how it's all come full circle and led me to this wild path.
TG: It was meant to be! In 2014, you won Gold at the inaugural Olympic slopestyle skiing event in Sochi, Russia, which is just unreal — what were your feelings going in?
DH: Going into Sochi 2014, I was hungry. I was fighting so hard because I believed in myself so much and just wanted to do the best that I could do...and I knew anything was possible. I was definitely the underdog. I wasn't really on the radar as someone who would win and it wasn't supposed to be my time.
So there was no real pressure, no one really knew who I was, and I was just set on what I was doing.
I wasn't going to let anything stop me from achieving what I knew I was capable of.
And, my family just bought in 100%. They have always supported me and told me I can achieve whatever I put my mind to. So I came in with no expectations, other than just wanting to do my best.
I look back on it now as a blessing. At the time, it was frustrating and hard. Luckily my family was amazing and supported me.
TG: That's unreal, but I know it wasn't easy for you and your feelings towards winning have been complicated. Can you talk about , and where you're at now?
DH: It's definitely better. I've really put in the work in myself, and my skiing. And I have a bit more perspective as I get older. I now appreciate my medal more, and what my family and community did to help me get that medal. I definitely was not bitter towards it, but I had some feelings after the Olympics. I think as you get older, you learn more about yourself, and to appreciate things more. I would never take my medal for granted, it's taught me so much about myself, both good and bad, and it's given me so many opportunities.
TG: How important is working on, and prioritizing, the mental aspect of being an athlete? What does your physical and mental workout regime look like?
DH: The mental side is huge! I think for any athlete it is. For me personally, I'm throwing myself off of massive jumps. So, the mental side is massive because of what you're putting your body through. And I think that's what really makes a good athlete ⁠— having that strong mental game. I really work at allowing myself to process and properly think things through. I try to be a very smart athlete. I listen to my gut a lot and learning to trust yourself is a really important thing. The stronger you are mentally, the better athlete you are. And the more prepared you are for success.
I work with a sports psychologist and I love it. She helps me become more aware of my thought process and what I need to do to bring the tension down. Just being more aware of what's going through your brain and making changes as you go so that you are in a healthy mindset, that will really help you be successful.
TG: So, you're coming off of a at your first World Cup appearance since your season-ending knee injury in October 2018. What was that like?
DH: Honestly it was pretty wild! I tore my ACL last year in my first contest of the year, and that kind of put things on a different path for me. So coming back a couple of weeks ago with a podium finish was pretty special to me.
I think before I left for it, my dad was telling me, "expectations, not too high!" Obviously my expectations were still going to be high, but it actually went better than even I was planning. I surprised myself a little bit. Now it's go time, and I have to find a way to keep building off of that.
TG: That's awesome. Now, what's next for you? What are you working toward?
DH: I'm just focused on coming back strong. I want to be the best athlete that I can be. I don't want to let the injury take over. Going through last year, I had to think about whether or not I was going to come back, and why I was going to come back.
I love skiing, love pushing myself, and now...I want to be the best. And I know that's a pretty bold statement, but I really feel if I continue to work hard and be smart, that's a real possibility for me.
So going into this season I want to be smart with my expectations, but push myself to get on the podium. I really want to push myself in Big Air, that's really where I see a lot of potential for me (Editor's note: Big Air is generally one large jump versus slopestyle which is a series of jumps and tricks on a short course). I love to jump, and it's a new discipline. It's got this fun, intense vibe about it. Do those words even go together? *Dara laughs* But that's where I'm at. I want to go to . I'm going to China for a competition soon. I just want to have fun, and set myself up for success. And it's really important to have fun, because good things happen when you do.
TG: Absolutely. That's what sports are really all about! You've also launched . Can you tell us more about it and why it's important to you?
DH: Yes! My family and I started "Dara's Fund" a few years ago. I grew up in a small community where I had a lot of support. But in a small community, it's especially hard to find the right facilities to excel in sports. You often have to travel for the sport, and there are a lot of extra costs versus in a larger city where the resources are more accessible. So, it was important for us to give back to the Muskoka community and encourage more girls to get into sport, and help them know they can succeed and excel. Coming from a small community shouldn't hinder young athletes, especially young girls, in any way and actually with the right support, you should be even more setup for success.
It's really cool to see the amount of girls that apply to the fund, and all of the different sports they play ⁠— it's really inspiring. There is a fencer that has the potential to go to the 2020 Tokyo Olympics, and it's so amazing to see. If we can help support them in any way possible, even in the smallest way, that's amazing.
It's important for me to give back when so many people have helped, and continue to help, me along my journey. So this fund really stems from that, and now I want to be able to pay it forward and help other female athletes.
TG: That is incredible, Dara! So awesome you're doing that.

TG: Okay, let's end on some rapid-fire questions.
TG: If you could be an athlete at Summer Olympics, what sport would you want to compete in?
DH: Trampoline!
TG: So on brand for you! What are you binge watching right now?
DH: Oh my gosh I watch everything on Netflix. I just watched Supergirl — it was good!
TG: Who is your favourite athlete?
TG: Do you believe in aliens?
DH: No!
TG: Ooh controversial! What stereotypical millennial item do you splurge on the most?
DH: Almond milk cappuccino
TG: What's your all-time favourite concert?
TG: Looking at your , when can we expect your pro career in golf to start?
DH: Hopefully tomorrow! *Dara laughs* I'm going for the longest drive after I'm done skiing. I'm going to get my ski coach to be my golf coach, he actually does both!
That's #thegistofit
Don't get The GIST's free twice-weekly newsletter yet? Let's .