🏀
🏒
New York City: Kyrie Irving Twists Ankle
June 14, 2021
Source: Adam Hunger/AP Photo
🏀Nets: The Nets not only lost to the Milwaukee Bucks yesterday, but they also lost star Kyrie Irving to a twisted ankle in the second quarter. Irving didn't return to the court, but he will be today. Yikes.
Although Kevin Durant still shone with 28 points and 13 rebounds, losing another third of the Big Three (with James Harden ) allowed the Bucks to take advantage.
The tied series returns to the Barclays Center for Game 5 tomorrow. Time to make some noise, Brooklyn!
🏒Islanders: After a scoreless first period in yesterday's Game 1 of the Stanley Cup semifinals, Isle Mathew Barzal found the back of the net in the second (with the puck and then ) to give New York the lead over the Tampa Bay Lightning. Comin' in hot.
🏀Liberty: The Liberty put an end to their three-game losing skid, beating the Phoenix Mercury 85–83 last night. Betnijah Laney carried the team with 23 points and 10 assists in the absence of star Sabrina Ionescu, who was sidelined due to in the ankle she had surgery on last year. You win some, you lose some.
⚽

Exciting Action Continues for Day 4 of Euros

June 14, 2021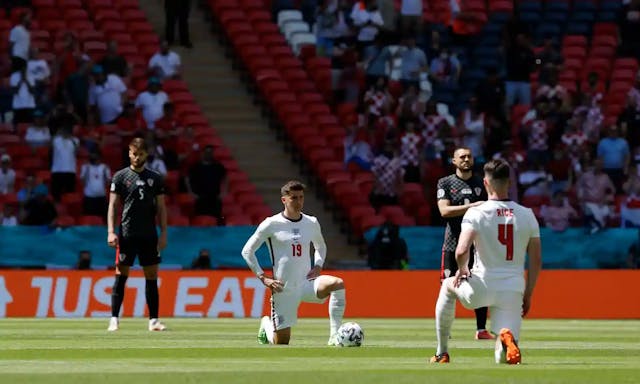 Source: Tom Jenkins/The Guardian
❤️Christian Eriksen is stable: In a very scary moment in Denmark's first match against Finland on Saturday, Danish footballer Eriksen collapsed on the field due to a now-confirmed cardiac arrest, requiring trainers to use a defibrillator and while on the pitch.
🏴󠁧󠁢󠁥󠁮󠁧󠁿England gets booed: Despite and players, the team was still booed by their home crowd when they took a knee ahead of yesterday's first match against Croatia (which England won 1–0). Disgusting. For more on this continuing act of racism, check out of The GIST of It.
🗓On the schedule: There are today, but only one is a can't-miss: Spain vs. Sweden at 3 p.m. ET. With both teams dealing with COVID-19 woes, some youngsters will be in the spotlight.
⚾
🏀
Chicago: Big Series Sweeps for White Sox and Cubs
June 14, 2021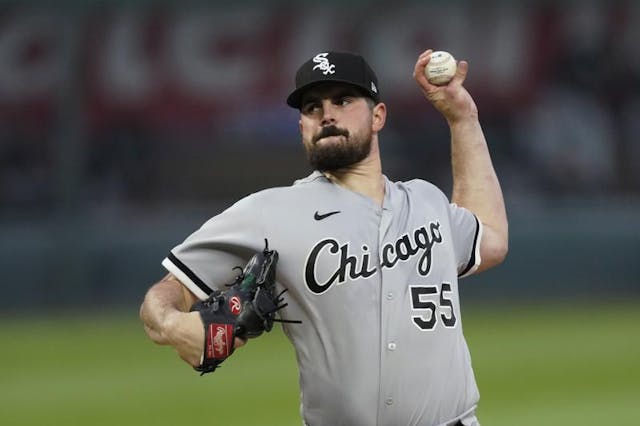 Source: Charlie Riedel/AP Photo
⚾️MLB: White Sox pitcher Carlos Rodón held a no-hitter (which would have been his ) for nearly sevening innings against the Detroit Tigers, until Tiger Eric Haase landed one deep in left field to halt Rodón's momentum. Still, the Sox walked away with the and the series sweep. Bring out the brooms.
The Cubs also earned a sweep of their own, sending the St. Louis Cardinals packing after last night's win.
🏀Sky: The Sky won their second game in a row against the Indiana Fever on Saturday 83–79. The victory marked Candace Parker's second game back from her ankle injury, and she showed just , earning her first double-double this season with 20 points and 14 rebounds. Queen.
In other major news, the Sky point guard Shyla Heal, whom the Sky drafted No. 8 overall this year, to the Dallas Wings in exchange for Dana Evans. Heal has so far, and the trade allows Chicago to repurpose her salary.
Since Evans was acquired last week, she's already seen the court in both games against the Fever, scoring nine points on Wednesday and five on Saturday. Wishing the best for Heal, but pumped to have Evans in Chicagoland!
🎓⚾️Notre Dame: After dropping Game 1 of their Super Regional playoff to the Mississippi State Bulldogs on Saturday, the Fighting Irish baseball team came firing back with a 9–1 win last night to force a deciding Game 3 tonight at 7 p.m. ET/6 p.m. CT. Not, not nervous.
🎾

Barbora Krejčíková and Novak Djokovic Take Home 2021 French Open Titles

June 14, 2021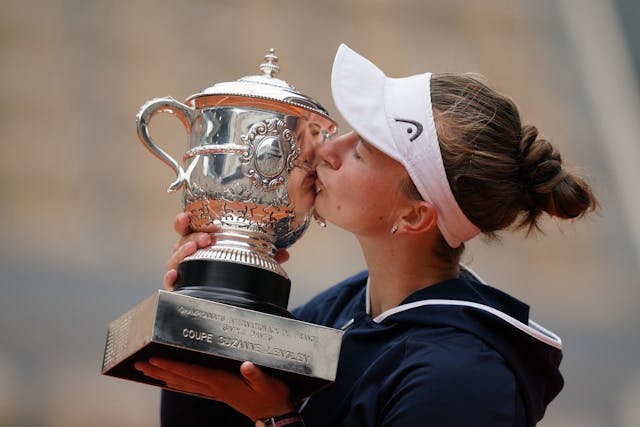 Source: Barbora Krejčíková/Twitter
Women's draw: Another year, another new women's singles champ. Barbora Krejčíková (pronounced krey-CHEE-koh-va), who had one singles title to her name before this tournament, beat Anastasia Pavlyuchenkova (pronounced pav-loo-CHEN-koh-va) on Saturday for her first ever major.
And yesterday, alongside partner Kateřina Siniaková (pronounced seen-yah-KOH-va), Krejčíková won the women's doubles title too, becoming the first woman since 2000 to win both the singles and doubles titles at the French Open. Get a girl that can do both.
Men's draw: World No. 1 Novak Djokovic continued his tennis world domination yesterday, winning his second French Open title and 19th Grand Slam title against No. 4 Stefanos Tsitsipas (pronounced see-see-PASS).
Up next: Wimbledon, mate. The next Grand Slam begins on June 28th, with Djokovic trying to tie Roger Federer (who is also playing) and Rafael Nadal () at 20 Grand Slam titles, whileSerena Williams is gunning for a . Mark your calendar.
🏀
⚾
Dallas: Wings to Start WNBA Commissioner's Cup on Thursday June 17th
June 14, 2021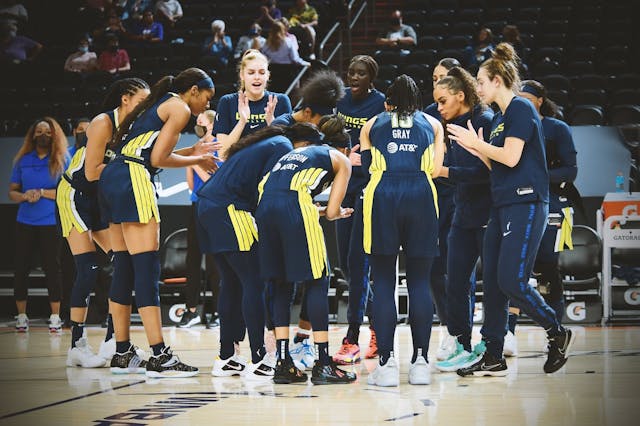 Source: Dallas Wings/Twitter
🏀Wings: After a dominant 77–59 win over the Phoenix Mercury on Friday, the Wings couldn't keep it up yesterday, falling 85–78 to the Las Vegas Aces. Luckily, Dallas will have a few days to regroup ahead of Thursday's 8 p.m. ET/7 p.m. CT battle with the Minnesota Lynx. Bring it on.
⚾️Rangers: The Rangers traded lopsided 12–1 wins with the LA Dodgers on Friday and Saturday, but LA claimed the series' rubber match, defeating Texas 5–3 yesterday. Womp. The Rangers are off today before making the trip to Houston for a two-game series with the Astros, beginning tomorrow at 8:10 p.m. ET/7:10 p.m. CT. Nothing like a Texas throwdown.
⚾️College baseball: After a thrilling 6–5 win over Virginia on Saturday, Dallas Baptist couldn't seal the deal yesterday, falling 4–0 in Game 2 of a best-of-three Super Regional series. It all comes down to today's 1 p.m. ET/12 p.m. CT Game 3, with a trip to what would be Dallas Baptist's first-ever College World Series on the line. Punch that ticket, boys.