🏀
⚾
Philadelphia: Sixers dominate in Game 2 of NBA Playoffs
May 27, 2021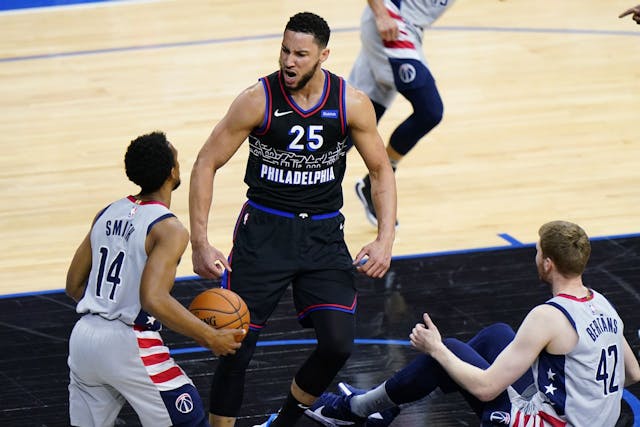 Source: Matt Slocum/AP Photo
🏀Sixers: Ben Simmons must've carb-loaded with the , because he had plenty of energy last night, tying Embiid for a team-high 22 points. Tobias Harris, Tyrese Maxey and Furkan Korkmaz also chipped in 10+ points each, helping the Sixers dominate in their 120–95 win.
We're still riding high from that win and are now seriously considering a long weekend road trip to D.C. for Game 3 on Saturday at 7 p.m. ET. Carpool, anyone?
⚾️Phillies: The Phils were hanging onto a one-run lead over the Miami Marlins last night until Marlin Jon Berti hit a two-RBI single in the eighth inning to give them the lead. Miami scored one more in the eighth, and the Phils couldn't come back in the ninth, losing . Womp.
Unfortunately, a lot of our offensive firepower was stuck on the sidelines last night as key players like Didi Gregorius, J.T. Realmuto and Bryce Harper are out for at least the next few days due to . Keep fightin', Phils.
🏀
⚽
⛳
Sports Quick Hits: May 27th, 2021
May 27, 2021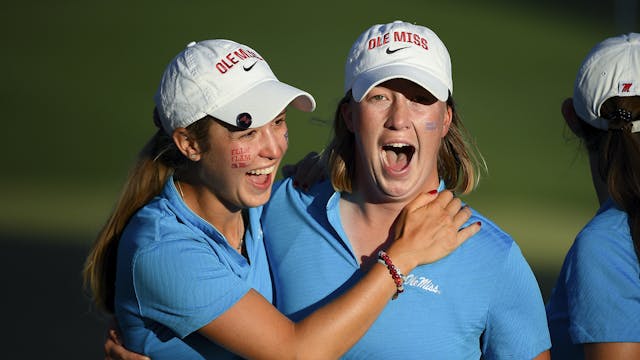 Source: Ole Miss Women's Golf/Twitter
🏀WNBA: The injury bug is making its grimy way through the W pushing at least . This includes Phoenix Mercury GOAT Diana Taurasi who's out at least four weeks with a fractured sternum, Chicago Sky's Candace Parker who has an ankle injury and Washington Mystic Elena Delle Donne whose lingering back injury is...well, still lingering.
⚽️NWSL: An update on a few weeks ago: 15-year-old Olivia Moultrie has been (weird language, we know) on the NWSL's age rule, which keeps players from signing contracts until the age of 18. Meaning, teams can now make Moultrie an offer she can't (or can!) refuse.
Meanwhile, the Orlando Pride, who finished the 2019 season in last place, beat the Challenge Cup champ Portland Thorns 2–1 last night, thanks to big goals from Alex Morgan and Sydney Leroux, propelling them to the league's top spot. A shocker.
⛳️Golf: The Ole Miss women's golf team won the NCAA Div I Women's Golf Championship title yesterday, with a win over favored Oklahoma State in the final at Grayhawk Golf Course in Scottsdale, AZ. It marks the school's first-ever championship victory in women's golf.
🏀

Highlights and lowlights from NBA Playoff action

May 27, 2021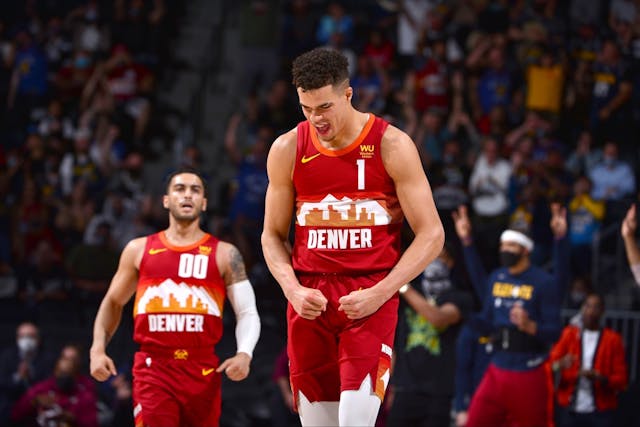 Source: Denver Nuggets/Twitter
Highlights: Sure, he scored 31 points (in just 31 minutes!) on Monday to lift his Milwaukee Bucks to a 132–98 victory over the Miami Heat (the Heat's second-largest playoff loss in franchise history...sheesh), but it's Giannis Antetokounmpo's (pronounced ah-dedo-KOON-bo) for us.
And I (alley) . LA Laker Anthony Davis connected with teammate LeBron James for during the Lakers' 109–102 win over the Phoenix Suns on Tuesday.
Lowlights: LA Clipper Paul George put Dallas Maverick Kristaps Porzingis on our lowlights reel with his fancy handles, on his way to the basket. Lucky for Porzingis, the Mavs still pulled out the win to go up 2-0 in the series.
Boston Celtics star Jayson Tatum missed the remainder of the Celtics' 130–108 loss to the Brooklyn Nets after being in the third quarter. It's all fun and games 'til...
What's next: The first of eight upcoming Game 3's tip-off tonight at 7:30 p.m. ET. .
🏀
🏈
⚾
Dallas: Luka Doncic shines as Mavericks win and move on to Game 3
May 27, 2021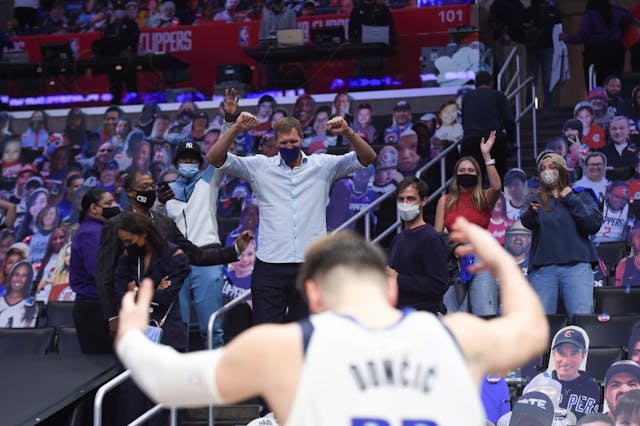 Source: Yahoo Sports NBA/Twitter
🏀Mavericks: Don't mess with Texas, or Luka Doncic. As we mentioned, the Mavs took a 2-0 series lead over the LA Clippers on Tuesday. Doncic poured in 39 points while Kristaps Porzingis — who was recently — had 20. The series now heads to the Big D, with Game 3 set for tomorrow at 9:30 p.m. ET/8:30 p.m. CT. Pop those bottles.
🏀Wings: The Wings battled in Monday's back-and-forth game with the NY Liberty, but came up just short, falling 88–81. They'll look to rebound in tonight's 7 p.m. ET/6 p.m. CT contest against the Atlanta Dream, before hosting the Phoenix Mercury in a Saturday tilt at 8 p.m. ET/7 p.m. CT. Bring home those Ws.
⚾️Rangers: The Rangers lost 9–8 to the LA Angels yesterday, taking their second loss in the two-game series. Luckily, they're back in action tonight at 10:10 p.m. ET/9:10 p.m. CT for the first of a four-game series against another AL West foe: the Seattle Mariners. Watch to see if outfielder Adolis García can claim sole possession of the home run leader spot. !
🏈Cowboys: They say you can't buy happiness, but turns out you can buy your favorite jersey number. Cowboys linebacker Jaylon Smith to change his number from 54 to 9. According to NFL rules, Smith had to buy out the current inventory of jerseys and shirts featuring his old No. 54. Worth it.
🏀
⚾
🥎
⚽
Seattle: Washington to face Oklahoma in Super Regionals Thursday at 3:00 pm EST
May 27, 2021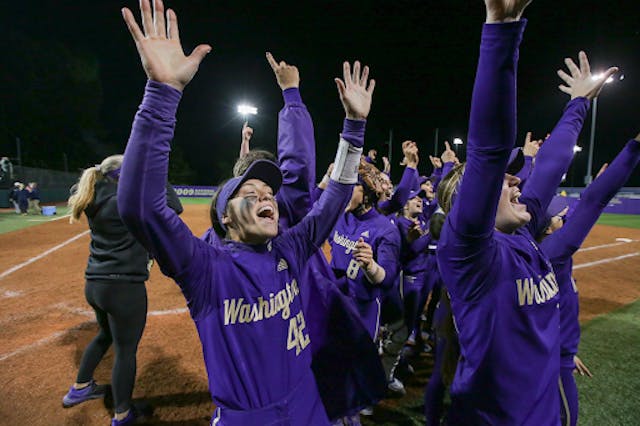 Source: Washington Softball/Twitter
🥎UW: No. 16 UW aims to upset No. 1 Oklahoma in the best-of-three Super Regionals starting tomorrow at 3 p.m. ET/12 p.m. PT. Fingers crossed that pitcher Gabbie Plain and shortstop Sis Bates can shut down OU's — the Huskies' three-year Women's College World Series streak is at stake. Game on.
🏀Storm: You know Sue Bird was mad at herself for throwing the ball away at the end of regulation on Tuesday. So she promptly in overtime to help the Storm beat the previously undefeated Connecticut Sun 90–87. Champ.
⚾️Mariners: Although the Mariners couldn't complete the sweep in yesterday's series finale against the American League (AL) West-leading Oakland A's, two out of three ain't bad. Hopefully outfielder Mitch Haniger and the M's a win against the Texas Rangers tonight at 10:10 p.m. ET/7:10 p.m. PT.
📺⚽️What to watch: Soccer all Sunday. USWNT star is expected to make her OL Reign debut against her old team, the Washington Spirit, at 7 p.m. ET/4 p.m. PT. Then the still-unbeaten Sounders play their last match before the , taking on expansion team Austin FC at 9:30 p.m. ET/6:30 p.m. PT. .