⚽

Guess who's back

February 27, 2020
The GIST: We have great news! Major League Soccer (MLS) returns this weekend with a fresh new season, two brand new teams and the same ol' superstars. And we couldn't be more excited.
How's it all organized?: The MLS is made up of 26 North American teams (23 in the US and three in Canada), split into two conferences: Eastern and Western. Each team plays 34 games and the top seven teams from each conference in the regular season make it to the playoffs. Slim pickings.
And those two new teams are?: Nashville SC (SC stands for Soccer Club) in the Western Conference, and in the East, the highly anticipated Inter Miami CF (CF standing for Club Internacional de Fútbol), which is partly owned by English soccer legend, Mr. Posh Spice David Beckham.
Who won it all last year?: The Seattle Sounders took home the MLS Cup for the second time in four years, after beating Toronto FC (FC stands for Football Club...we know, there are way too many acronyms) in the final (again).
So how's it looking this year?: The Sounders have a great shot at going back-to-back. Not only is their team stacked, but they also have the highest average attendance in the league, and that home field advantage is powerful. Toronto and Atlanta FC will be hot on their heels though, looking to repeat their 2017 and 2018 victories, respectively.
Tell me straight, is MLS really a big deal?: Well, it's not a bloody big deal like European soccer, but it's a work in progress. The MLS stock has been steadily rising over the past decade, with the average franchise value increasing from $37 million in 2008 to $313 million in 2019. The league also has the third highest per game attendance in North America, behind the NFL and MLB. A shock to us, too.
Awesome. When can I watch?: The season starts Saturday with a 1 p.m. ET matchup between D.C. United and the Colorado Rapids. Now's the perfect time to pick a favorite team and watch this beautiful game as much as you watched Switching Goals. Check out the full schedule here.
🏅

Say it ain't so

February 27, 2020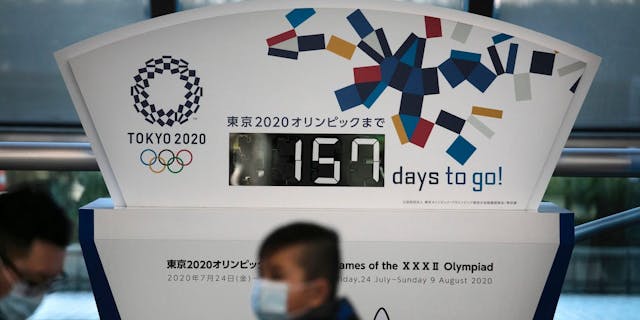 The GIST: Former International Olympic Committee (IOC) vice-president Dick Pound (seriously, that's his name) gave us a scare earlier this week when he suggested that the Tokyo 2020 Summer Olympics, set to start in late July, may be cancelled if the coronavirus becomes a true global pandemic.
The IOC and Tokyo organizers have kiboshed the rumors though, saying, "Our basic thoughts are that we will go ahead with the Olympic and Paralympic Games as scheduled," and that they'll take every precaution to ensure the Games are safe. Phew!
But…: It's not all good news. Dozens of sporting events have been cancelled or postponed, and others have banned fans in an effort to prevent the virus from spreading. Over in Italy, five Serie A (that's the Italian premier soccer league) matches will be played in empty stadiums this weekend, while the PWHPA is postponing a three-game showcase that was set to take place in Japan next week.
🏀

Who run the world?

February 27, 2020
NCAA Basketball: No. 3 Oregon Ducks superstar Sabrina Ionescu (pronounced YOH-NESS-COO) had a day for the ages on Monday: she started the day with a heartfelt speech at Kobe and Gianna Bryant's memorial in Los Angeles, before hopping on a plane to the Bay Area (while dealing with the flu, NBD) and making Division I basketball history (yet again).
Listen to this week's episode of our new podcast, The GIST of It, for more on how the undisputed queen of college basketball is blazing a brand new trail for sports, period.
WNBA: Speaking of basketball legends, WNBA superstar Sue Bird — one half of our fave sports power couple — re-signed with the Seattle Storm on Tuesday, meaning she'll return to the WNBA for a 19th season. The three-time WNBA champion holds the record for most WNBA games played, at 508, but missed last season after sustaining a knee injury in week one. Luckily for us, Bird rehabbed successfully and is ready to continue her legacy when the season starts in May.
Soccer: Last Thursday, the US women's national soccer team, led by Megan Rapinoe (the other half of our fave sports power couple), announced they are seeking $67 million in their continuing lawsuit against the US Soccer Federation (USSF) for gender discrimination. The team filed the lawsuit last year in response to unequal pay, practice facilities and team resources compared to the men's team.
The USSF is asking for the case to be dismissed based on their theory that the players on each team do vastly different jobs and compete differently, saying, "Men are bigger, stronger, faster." Excuse us while our eyes roll to the very back of our heads. The men have never won a FIFA World Cup, while the women have won four, so yeah, we guess winning is a vastly different job.
Tennis: One of the most divisive figures in tennis is retiring. Maria Sharapova, the Russian-born American player, announced her retirement yesterday at the age of 32. Sharapova began her professional career on her 14th birthday in 2001 and won 36 WTA titles, including a career Grand Slam (aka winning all four majors at least once).
Despite her amazing on-court accomplishments, she'll probably best be remembered for her 15-month suspension for using a banned substance and her bitter rivalry with legend Serena Williams. So long, Maria!
🏀

Get crazy, get wild

February 27, 2020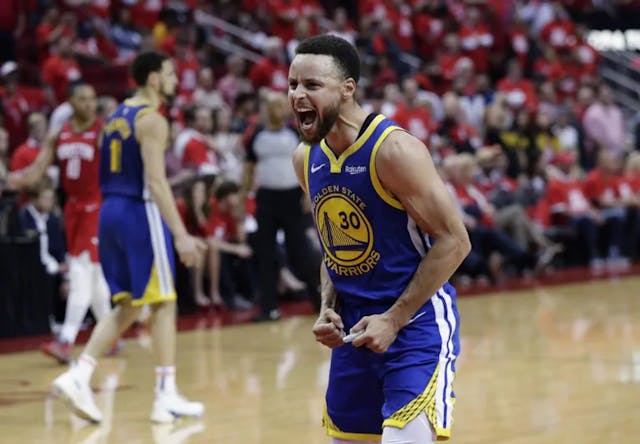 The GIST: With the All-Star Weekend behind us, we're officially in the back half of the NBA season — and to say things are really starting to heat up would be an understatement.
Like he never left: After months of rehabbing a broken left hand, Golden State Warriors star Steph Curry will return to the court on Sunday against the Washington Wizards, in his first game since October 30th. Without the popular #GirlDad or Klay Thompson (who tore his ACL in the 2019 NBA Finals), Golden State has claimed the status of worst team in the league, and Curry's return is desperately needed. And although it won't change the Warriors' postseason chances, he's a joy to watch and we're so happy to see him healthy.
Heir to the throne: The much-anticipated clash between former No. 1 overall draft picks LeBron James and 19-year-old rookie Zion Williamson lived up to all the hype and more on Tuesday. LeBron came out on fire and led the Los Angeles Lakers with a season-high 40 points on the way to a 118–109 win over the New Orleans Pelicans.
Meanwhile, Williamson bullied his way to his fifth-straight 25-point game, tied for the longest streak ever by a teenager, keeping him firmly in the Rookie of the Year race with fellow young phenom, Memphis Grizzlie Ja Morant. And it was all love between the two, with LeBron praising Zion, saying he's been "playing exceptional basketball."
Beasts in the East: We never know what to expect when the two best teams in the Eastern Conference, the Milwaukee Bucks (who somehow already secured a playoff spot) and Toronto Raptors, face off. But on Tuesday, Milwaukee put on a better show than Drake did courtside. They rallied from a 12-point deficit in the first half to beat Toronto 108–97, ending the red-hot Raptors' nine-game run at home and securing the Bucks' first win north of the border since losing in last season's Eastern finals. Sweet, sweet revenge.
🏀

Another one bites the dust

February 24, 2020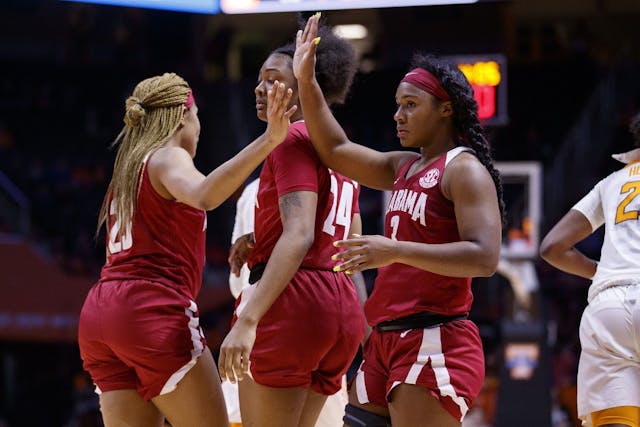 The GIST: Another week, another new top dog. This weekend's college basketball action more than lived up to the hype.
Women's basketball: As much as we were expecting some upsets this weekend, what we weren't expecting was for a chunk of the Top 25 to go down in one day — No. 8 UCLA, No. 9 Mississippi State, No. 11 Arizona, No. 12 DePaul, No. 17 Florida State, No. 21 Arizona State and No. 22 Arkansas all lost (!!!) to unranked teams on Sunday. Sheesh. With just two games remaining this season and rankings now up in the air, things are about to get interesting.
Meanwhile, No. 1 South Carolina kept their composure and locked up the SEC regular season championship with Sunday's 67–58 win over No. 14 Kentucky, which is v. important because March Madness rankings are based off of where teams finish in the regular season. Thatta way!
But wait, it gets better: No. 3 Oregon Ducks star Sabrina Ionescu has some famous new fans. Certified #GirlDad and Golden State Warrior Steph Curry took a page out of Kobe Bryant's book and brought his daughters to cheer on and support the Ducks phenom. Hopefully she picked up a tip or two, because we know the Currys will be watching when Oregon takes the court against No. 4 Stanford tonight at 9 p.m. ET, in one of the last showdowns of the regular season.
Men's basketball: The Baylor Bears' 23-game win streak and five-week run as the top-ranked team came to a close on Saturday, losing 64–61 to the No. 3 Kansas Jayhawks, making the Bears the seventh No. 1 seed to fall this season. Udoka Azubuike (pronounced AZ-UH-BOO-KEE) led the way for the Jayhawks, who are looking to return to the top spot just in time for March Madness.
But the shocking action didn't stop there: this season's last undefeated team, No. 4 San Diego State (SDSU) lost to unranked University of Nevada Las Vegas (UNLV), and No. 2 Gonzaga fell to No. 23 BYU on Saturday, so be on the lookout for some major ranking shake-ups this week.