🏈
🏒
Boston: I need a hero
March 25, 2021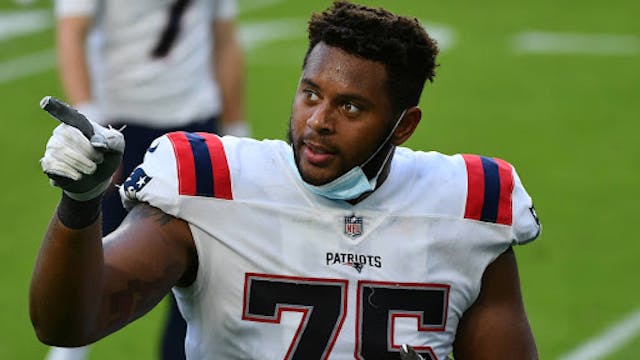 Source: Jasen Vinlove/USA TODAY Sports
🏈Patriots: Yesterday, the Tempe, Arizona police department honored Pats OT Justin Herron as a hero after he helped stop an attempted sexual assault over the weekend. Herron and another bystander intervened after a man attacked a 71-year-old woman in a park.
🏒Hockey: After two games were postponed due to COVID-19 protocols, the Bruins will return to the ice tonight, taking on the New York Islanders at 7 p.m. ET. Ironically, it'll also be the Commonwealth's first game with fans since March 2020, as the Garden is set to host a 12 percent capacity crowd, about 2,100 fans. , wear a mask.
And there's even more hockey action in the Hub. Not only will No. 1 seed B.C. and No. 3 BU compete in the first round of the on Saturday, the also resume their hunt for the Isobel Cup tomorrow.
Right before the playoffs were suspended in early February, the Pride had scored 13 (!!!) goals in two games to earn a spot in the semis. Here's to picking up right where they left off.
🏀
🏐
Seattle: The ceiling can't hold us
March 25, 2021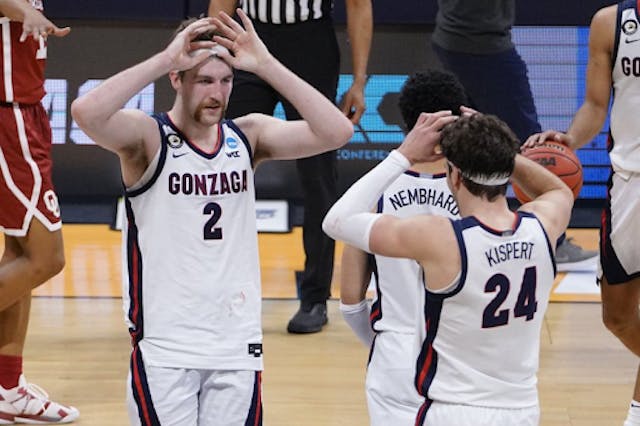 Source: AJ Mast/AP Photo
🎓🏀Gonzaga: While we bade a to Gonzaga women's basketball on Monday, the top-seeded Gonzaga men rolled through 8-seed Oklahoma in the second round. Next up for the 'Zags? Their sixth consecutive Sweet Sixteen appearance, against 5-seed Creighton on Sunday at 2:10 p.m. ET/11:10 a.m. PT.
Creighton's a decent three-point shooting team, but they're atrocious from the free throw line. It's hard to imagine the Bluejays knocking off the 'Zags.
🎓🏐Volleyball: No. 8 UW is back in action with a two-game slate against historically successful Stanford starting tomorrow at 8 p.m. ET/5 p.m. PT. Even though the Cardinal snagged three of the last four national titles, the dominant players on those teams have graduated. Look for the Dawgs — led by Ella May Powell and Samantha Drechsel (pronounced DREX-ULL) — to take advantage. Digging it.
Meanwhile, tomorrow's match for No. 13 Washington State has been canceled due to COVID-19 protocols, the third straight cancellation for the Cougs. Eek. Fingers crossed they'll be able to return against No. 12 Utah on Sunday at 1 p.m. ET/10 a.m. PT.
🏀

LA: Just dance

March 25, 2021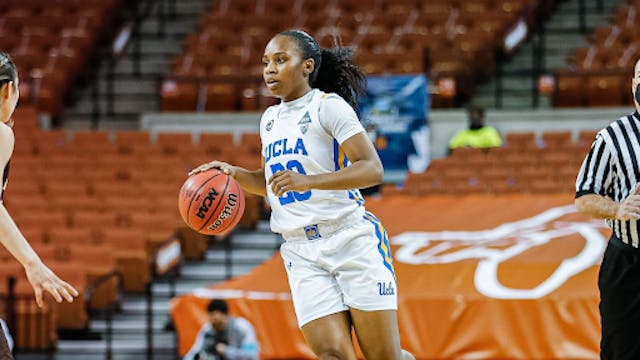 Source: Carlie Heuple
WBB: The 3-seed UCLA Bruins tried to mess with Texas, but fell to the 6-seed Longhorns 71–62 last night. The Texas defense stifled the Bruins early and Longhorn Celeste Taylor (surprisingly not Charli Collier, the presumptive No. 1 pick in next month's WNBA draft) was too hot to handle. Still, the Bruins should be proud of their season, especially playing with . Chin up.
MBB: We've said it before and we'll say it again: West Coast, best coast. USC and UCLA are two of the four Pac-12 men's teams through to the Sweet Sixteen. After demolishing No. 3 Kansas on Monday, 6-seed USC will face 7-seed Oregon on Sunday at 9:45 p.m. ET/6:45 p.m. PT.
As for 11-seed UCLA, no one expected them to , and Johnny Juzang and the Bruins have a tough test against 2-seed Alabama on Sunday at 7:15 p.m. ET/4:15 p.m. PT. Forget Roll Tide, let's send 'Bama rolling home.
🏀

D.C.: Go big or go home

March 25, 2021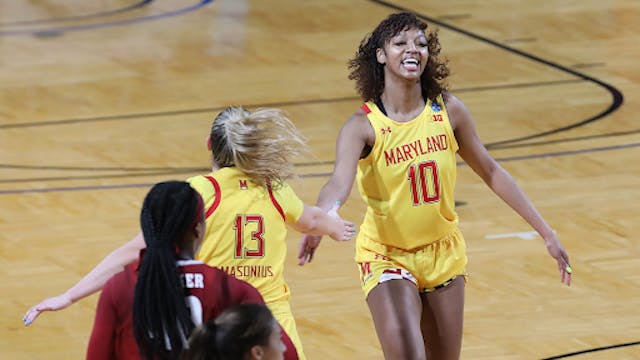 Source: Edward A. Ornelas
And then there was one: VCU, Virginia Tech and Mount St. Mary's are all out of the women's tournament. Either they , were shut down by an or had the misfortune of ...leaving Maryland as the lone DMV squad, women's or men's, remaining in March Madness.
The 2-seed Terps put on a clinic in yesterday's second round matchup against 7-seed Alabama, trouncing them 100–64. The Terps led 30–9 (!!!) at the end of the first quarter and never looked back. Damn. At least one Maryland team knows how to .
Up next: Maryland faces No. 6 Texas on Sunday at 9 p.m. ET in the Sweet Sixteen. Join the bandwagon; already on board.
🏈
🏀
Dallas: Bears are ballin'
March 25, 2021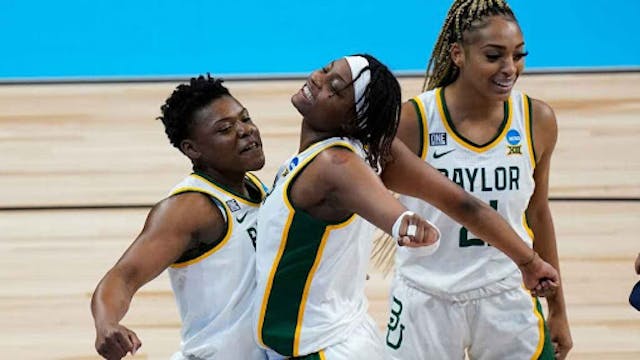 Source: Eric Gay/AP Photo
🎓🏀WBB: Our Texas teams continue to dominate the women's tourney in San Antonio, with three schools heading to the Sweet Sixteen. No. 2 seeds Baylor and Texas A&M, along with No. 6 Texas advanced through the first two rounds, with Baylor notably winning their first two games by 49 and 42 points. The defending champs came to play.
The Bears will face a scrappy No. 6 Michigan squad on Saturday at 3 p.m. ET/2 p.m. CT, while Texas A&M — fresh off their second round finish — will take on No. 3 Arizona this Saturday at 8 p.m. ET/7 p.m. CT.
And, after defeating No. 3 UCLA to earn their 16th round of 16 appearance (how sweet!), Texas will face No. 2 Maryland on Sunday at 9 p.m. ET/8 p.m. CT. Keep the upsets coming.
MBB: On the men's side, No. 1 Baylor is the only local favorite remaining, but the Bears are looking sharp. After two commanding wins, highlighted by Texan scoring 17 points off the bench, they'll face No. 5 Villanova on Saturday at 5:15 p.m. ET/4:15 p.m. CT. Elite Eight, we're coming for you.
🏈Cowboys: The 'Boys made some more defense-focused free agency moves yesterday, signing former Detroit Lions safety Jayron Kearse hours after they informed defensive end Aldon Smith they wouldn't be re-signing him. Smith says goodbye and .
While his Twitter fingers sparked wild speculation, there's no deal finalized just yet and Hooker later shared that he'll have "" soon. Keep an eye out for some more ink flowing in the coming days.