🏀

You say goodbye and I say hello

March 25, 2021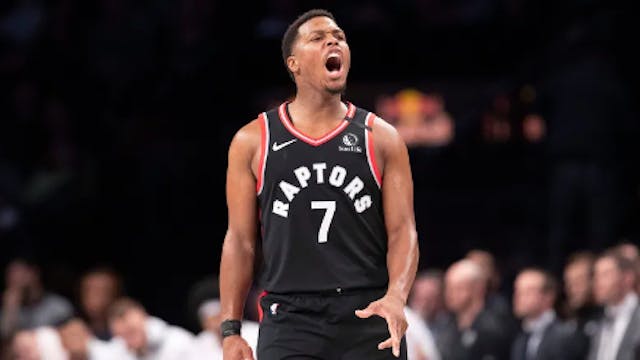 Source: Mary Altaffer/ AP
Up for grabs: NBA champion Lowry is quite possibly the biggest name on the trading block today, and along with his also-available teammate Norman Powell, the Raps may be saying goodbye to some real ones.
Word has it the Philadelphia 76ers and Miami Heat are both in the hunt for the northern stars, while the Sixers are also keeping an eye on Oklahoma City Thunder guard George Hill and New Orleans Pelican Lonzo Ball.
Ball should be a hot commodity today, too. The Chicago Bulls, Atlanta Hawks, NY Knicks and Denver Nuggets are all in the running, but Ball's alleged annual $20-million asking price may be too much for some teams to handle.
Staying put?: Aaron Gordon has been frustrated in Orlando for a while, but after requesting a trade from the Magic last month, it seems as though the star is getting cold feet. Gordon reportedly reneged on his request and could end up staying. Guess he's just not ready to leave The Most Magical Place on Earth yet.
🏀

Sweet Sixteen action begins on Saturday

March 25, 2021
Source: Joseph Cress/Iowa City Press-Citizen via Imagn Content Services, LLC
Women's: There were some , but all four No. 1 and No. 2 advanced to the Sweet Sixteen, including defending champs No. 2 Baylor. Notably, No. 1 UConn advanced to their 27th (!!!) consecutive Round of 16 and gave us all we've been waiting for.
Speaking of UConn, in the tourney's must-see matchup thus far, freshman Paige Bueckers (pronounced BECKERS) and the Huskies are set to take on freshman (and the nation's leading scorer) Caitlin Clark and No. 5 Iowa at 1 p.m. ET on Saturday.
Men's: The men's tourney has been , with 11 upsets through the first two rounds. If you're looking for an underdog to cheer for and, like us, had your No. 15 seed Oral Roberts after reading their code of conduct policy, we recommend No. 11 Syracuse.
Yes, it feels a bit strange to call Syracuse an underdog, as the Orange are making their 24th Sweet Sixteen appearance, but we'll be on upset alert when they take on No. 2 Houston Saturday at 9:55 p.m. ET.
🏈
🏀
Philadelphia: Now or never
March 25, 2021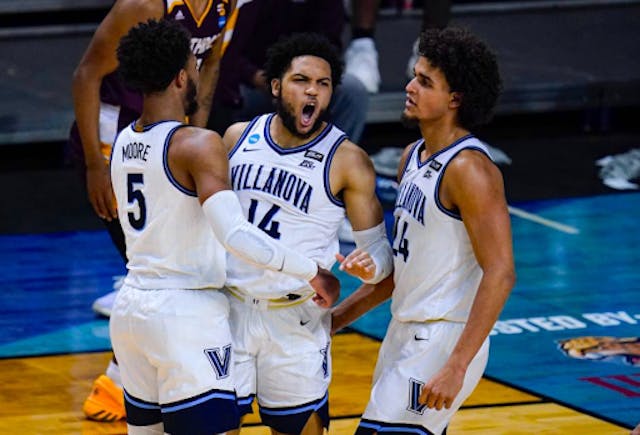 Source: Villanova MBB/Twitter.com
🏈Eagles: The Eagles (QB) Joe Flacco to a one-year, guaranteed $3.5 million contract on Tuesday. We know what you're thinking: WTF? Yes, 36-year-old Flacco won a Super Bowl in 2012. But...he also went 0-4 in the games he started last season. Yikes.
🎓🏀WBB: The Drexel Dragons lost in the first round of the NCAA Tournament on Monday, to a rock-solid Georgia Bulldogs team. Senior guard Hannah Nihill was the lone Dragon to score in the double-digits, draining 22 points for the squad. Her career might've ended this week, but at least she went down scoring.
MBB: After cruising through the first two rounds of the tournament, the No. 5 Villanova Wildcats will have to battle the No. 1 Baylor Bears in the Sweet 16 on Saturday at 5:15 p.m. ET.
The Bears, led by Big 12 Defensive Player of the Year Davion Mitchell, are best-in-class three-point shooters, and many have them picked to go all the way. Once again, the world is betting against the 'Cats, but they're thriving as the under...cats.
🏀

New York: Bust 'em

March 25, 2021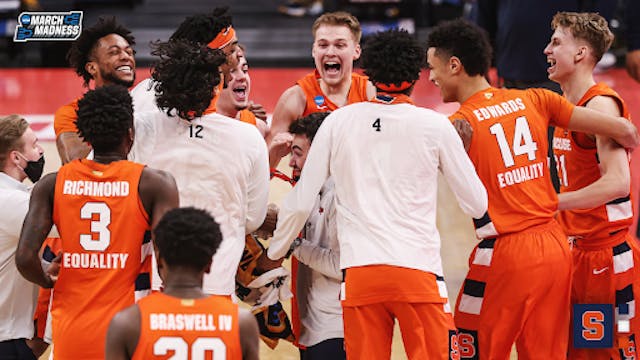 Source: Syracuse MBB/Twitter.com
🎓🏀WBB: The No. 1 UConn Huskies held our Syracuse Orange to a season-low number of points during their in the second round of the NCAA Tournament on Tuesday. Sooner or later, the Huskies come for us all. Sigh.
MBB: The Syracuse men's team had a better second-round outcome, the No. 3 West Virginia Mountaineers and earning themselves a spot in the Sweet 16 (in the of the tournament, no less). The 'Cuse is on the loose!
Next, the Orange will face the No. 2 Houston Cougars on Saturday at 9:55 p.m. ET. The Cougars, led by offensive star Quentin Grimes, were in the Round of 32 by No. 10 Rutgers. This time, the Cougs won't be so lucky.
🏀Nets: The Nets, who played without (Kevin Durant, Kyrie Irving, and James Harden) as well as sharp-shooter Landry Shamet, lost 118–88 to the top-of-the-West Utah Jazz last night. Without their leading scorers, the rest of the squad, including Blake Griffin, couldn't quite pull out the win. Womp.
🏒
🏈
The GIST's Quick Hits: WTF Edition (March 25, 2021)
March 25, 2021
Soure: Danny Murphy/Icon Sportswire
🏒NHL: Referee Tim Peel must've missed last week's newsletter when we reminded assholes everyone that . Peel "no longer will be working NHL games" after admitting that he wanted to call a penalty against the Nashville Predators and found a way to make it happen. Power trip much?
🏈NFL: Washington Football Team (WFT) part-owner Dan Snyder was given the all-clear from the NFL the team's minority investors and (along with his mother and sister) obtain nearly full ownership. That said, Snyder has not been cleared yet by Beth Wilkinson, the attorney for 15 years' worth of sexual harassment allegations.
🏈High school football: The head coach from Duxbury High School's football team in Massachusetts was fired after in the team's recent home opener. Horrifying and disgusting. Can people stop being terrible so we don't have to keep sharing awful news, please?