🏀
🏈
Chicago: Bop to the top
March 25, 2021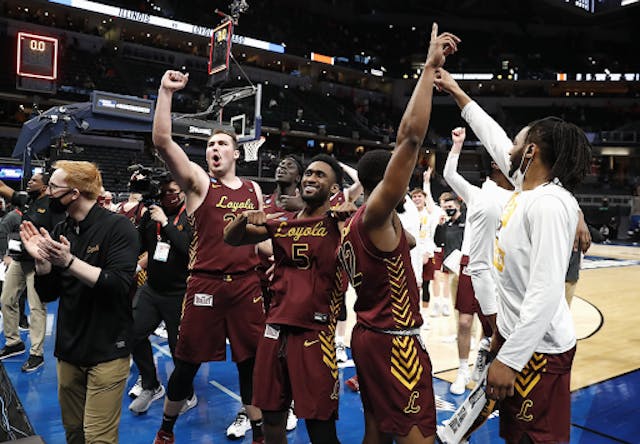 Source: Loyola MBB/Twitter.com
🎓🏀WBB: The No. 7 Northwestern Wildcats lost in the second round of the NCAA Tournament yesterday, to the No. 2 Lousiville Cardinals. Despite leading at the half and staying close in the third quarter, the 'Cats couldn't keep up with the Cards' fourth-quarter push. Sigh.
MBB: After overtaking No. 9 Georgia Tech and No. 1 Illinois, Loyola will face an unlikely opponent in the Sweet 16: the No. 12 Oregon State Beavers. To get to this game, the Beavs first beat No. 5 Tennessee before on Sunday. But the question remains: which bracket-buster is better?
So far, Oregon State has succeeded by spreading the wealth: they don't have one star to rely on. The Ramblers, however, have leaned heavily on senior center (and ) Cameron Krutwig.
🏈Bears: The Bears signed former Kansas City running back (RB) Damien Williams to a after he opted out of the 2020-21 season and was released by the team. Williams last took the field in the Chiefs' Super Bowl LIV victory, when he became the first RB to ever run for 100+ yards while scoring both rushing and receiving touchdowns in a Super Bowl. Offense? Must be nice!
🏀

The kids are alright

March 25, 2021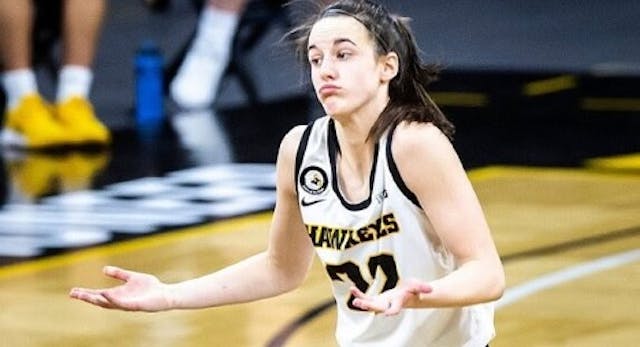 Source: Joseph Cress/ Iowa City Press-Citizen via Image Content Services LLC
Women's: There were some close calls, but all four No. 1 and No. 2 seeds advanced to the Sweet Sixteen, including defending champs No. 2 Baylor. Notably, No. 1 UConn advanced to their 27th (!!!) consecutive round of 16 and gave us all the reunion we've been waiting for.
Speaking of UConn, in the tourney's must-see matchup thus far, freshman Paige Bueckers (pronounced BECKERS) and the Huskies are set to take on freshman (and the nation's leading scorer) Caitlin Clark and No. 5 Iowa at 1 p.m. ET on Saturday.
Then tune in on Sunday at 7 p.m. ET to watch No. 2 Louisville take on No. 6 Oregon. Louisville staved off No. 7 Northwestern in the second round while Oregon toppled No. 3 Georgia. Can the Ducks and TikTok star Sedona Prince pull off another upset?
Men's: The men's tourney has been historically wild, with 11 upsets through the first two rounds. If you're looking for an underdog to cheer for and, like us, had your No. 15 seed Oral Roberts fandom cut short after reading their code of conduct policy, we recommend father-son led No. 11 Syracuse.
Yes, it feels a bit strange to call Syracuse an underdog, as the Orange are making their 24th Sweet Sixteen appearance, but we'll be on upset alert when they take on No. 2 Houston Saturday at 9:55 p.m. ET.
Sunday's slate also features an unexpected lower seed. No. 11 UCLA has a record 11 NCAA titles, but they'll need to upset No. 2 Alabama at 7:15 p.m. ET to snag title number 12. Check out the full Sweet Sixteen schedule here
⚽

Guide to Soccer

March 23, 2021
The GIST
Soccer is played on a field called a pitch with nets on both ends. Each team has 11 players (including a goalkeeper). A game is made up of two 45 minute halves. The object of the game is to score goals by kicking or heading the ball into the other teams' net. The soccer ball cannot be touched with hands or arms unless you're the goalkeeper or completing a throw in. Consequently, the game is known as "football" pretty much everywhere except North America. This name, of course, makes much more sense in comparison to NFL or CFL football, a sport played primarily using your hands. SMH at whoever came up with that name.
How is it organized?
Soccer is a wildly popular global sport mostly due to its accessibility — you literally just need a ball to play it. As a result, almost every single continent has its own professional soccer league (which can get a little confusing). The most popular men's leagues are the English Premier League (EPL), Spanish La Liga and Major League Soccer (MLS). MLS is played in North America.
Unlike other sports with a regular season and playoffs, teams collect points for wins at home or away, and goals home or away, so that at the end of the season a champion can be named. Playoffs start after the season champ is determined. On top of that, because soccer is a worldwide sport, there are huge tournaments where players represent their countries rather than the professional teams they're signed to. These are the World Cup (played every four years) and the Euro Cup (also every four years but in the even-numbered year between World Cups).
Women in Soccer
Unlike men's soccer, which is well established in Europe, women's soccer is most popular in North America. The best league in the world is the National Women's Soccer League (NWSL) with all teams based in the US. The NWSL was the first pro sports league in the US to return from the COVID-19 sports shutdown, with the Houston Dash winning the inaugural Challenge Cup. And with the regular season being disrupted, the North Carolina Courage will be going for a NWSL title three-peat this year after hoisting the trophy in 2018 and 2019.
Another major tournament to have on your radar is the Union of European Football Associations (UEFA) Champions League. The tournament is an international competition, pulling together the best club teams from across Europe. Check here for more deets on the Champions League structure and keep your eyes on USWNT members Sam Mewis and Rose Lavelle, lighting up the UEFA Champions League with Manchester City. So proud.
And, speaking of the USWNT, we have to talk more about our favorite squad. Most recently they made epic headlines for winning back-to-back World Cups in 2015 and 2019. In fact, dating back to the first women's World Cup, our American squad has never placed worse than third place. Unreal.
Though she is retired, Abby Wambach is the team's all-time top scorer and second on the all-time list for international goals scored. More recently, Megan Rapinoe dominated headlines in 2019 for her and vocal fight for , earning her Sports Illustrated honors (an article that is worth every second of your time). We aren't worthy.
Stuff to Know About Soccer
Soccer is the most popular sport in the world, being played in over 200 countries!
No one knows exactly when soccer was created, but the earliest versions of the game can be traced back 3,000 years. Woah.
Don't get The GIST's free twice-weekly newsletter yet? Let's make it email official.
⚽

Bend it like Beckham

March 23, 2021
Source: USSF Giphy
QUOTE OF THE DAY
"It fires her up, for sure...it's just the perfect nickname for her. She is such a 'Tower of Power,'... just look at her."
—Kristie Mewis on her sister and USWNT teammate Sam, who's about to kick off the UEFA Women's Champions League quarterfinals.
⚽️ How it works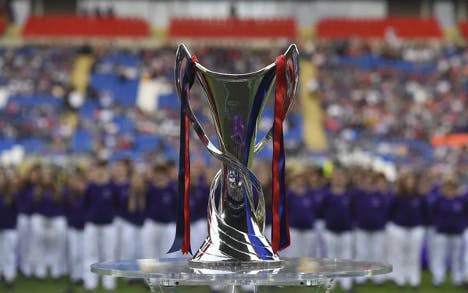 The UEFA Champions League is the biggest club (not country) soccer tournament in the world. UEFA, which stands for Union of European Football Associations, is the governing body for European soccer, and the top-tier teams from around the continent make up the Champions League.
The tournament is held annually and over the entire club regular season. Club teams play within their national leagues, and those rankings determine their entry into the Champions League.
The top two teams from the strongest 12 national associations are entered, and one team from each of the rest. From there, teams play in as many as two qualifying rounds before moving to a knockout round of 32, then round of 16, and so on.
The knockout phase consists of two legs (odd phrase, we know) for each round, meaning teams play one home and one away match. The goals from each match are added together, and the team with the better aggregate score moves on. If there's a tie, the team with more away goals advances. If they're still tied, then the teams go to extra time and if needed, a penalty shootout.
The qualifiers took place in November and the round of 32 in December. The round of 16 happened in early March, quarterfinals begin tomorrow, semis start at the end of April and the final is set for May 16th in Sweden.
This is the last season that the women's Champions League will run this way, because starting next year, the qualification system and early rounds will be structured much more like the men's Champions League.
The new structure will feature mini-tournaments and a group stage to start. Say hello new format, goodbye gender disparity (just kidding, we'll get to that in a bit).
😎 The stars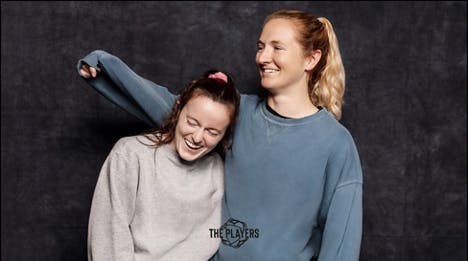 Sure, soccer is a team sport, but that doesn't mean there aren't standouts. And you might need to watch with sunglasses because of how bright these Champions League stars shine.
Rose Lavelle and Sam Mewis: These two are the best Americans not playing in America right now. The Manchester City midfielders already have a FIFA Women's World Cup under their belts (remember Lavelle's three-goal performance in that 2019 tournament?), but now they're looking for their first Champions League title.
Kadeisha Buchanan: This Olympique Lyonnais (aka Lyon) defender and 2020 Canadian Player of the Year is no stranger to winning. Buchanan's won both the Champions League and France's league title four times, as well as the Coupe de France thrice. Magnifique.
Pernille Harder: The reigning UEFA Player of the Year (she's won it twice, BTW) is looking to make a third Champions League final. She lost twice when she was with VfL Wolfsburg, but after a record-breaking transfer in September that sent her to Chelsea FC, she's trying to bring victory to England this time.
🤩 The favorites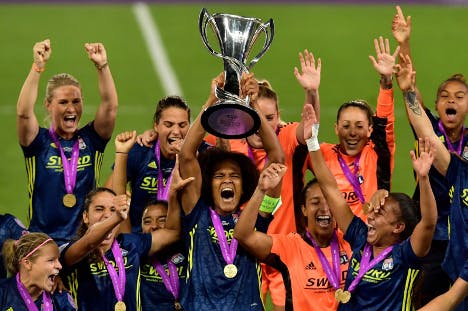 Olympique Lyonnais: Already the most successful club in women's soccer history, Lyon are the heavy favorites to win it all...again. Since the inception of the women's Champions League in 2001, Lyon have won it a record seven times, including the last five. Can you say dynasty?
They'll kick off their quarterfinal matches against national rival Paris Saint-Germain (PSG) tomorrow at 1 p.m. ET.
Bayern Munich: As Germany's best team, Bayern have sailed into the quarterfinals, winning 9-1 on aggregate over Kazakhstan's BIIK Kazygurt in the round of 16. Now they face Sweden's FC Rosengård, who are good, but probably the weakest in a very stacked field.
😴 The sleepers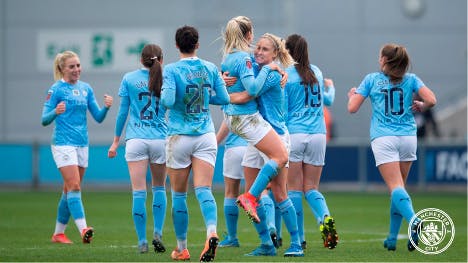 Manchester City FC: Man City are propelled by not only their North American stars, but also a number of English players looking for their first Champions League title. Here to help this year is former Lyon defender Lucy Bronze, who joined Man City after winning last year's Champions League. Nothing like a vet.
They're facing the top team in the Spanish league, FC Barcelona, who had an easy road to the quarters but will face their toughest challenge yet in England's second-best team...
VfL Wolfsburg: It's hardly fair to call the 2020 runners up a sleeper pick, but they come into this tournament as the second-best German team. And considering how strong the field is, Wolfsburg has their work cut out for them. Their matches against England's top team, Chelsea FC, are the ones we're most looking forward to.
💰 Show me the money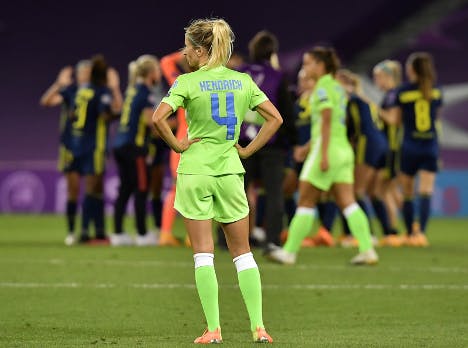 Because you know we have to talk about the prize money disparity. While this is the second biggest event in women's soccer behind the FIFA World Cup, the Champions League champions will win a mere €250,000 (equivalent of $298,477 USD). The runners up will make a bit less at €200,000, and it only drops from there.
Teams that advance to the knockout phase are also paid €20,000 for each match they play in, but considering the travel for their away games, that often doesn't cover the cost to play.
In stark contrast, any team that makes it to the men's Champions League group stage earns €15 million. Teams that make it to the quarterfinals are guaranteed €35 million (plus bonuses for wins and draws) and the champions stand to earn a minimum of €76 million.
Add to that even more money for something called the "UEFA coefficient," and we're in the nine figures. Bayern Munich earned an estimated €130 million from their 2020 win. We're speechless.
Like basically every other sport, soccer has a lot of catching up to do to close the pay gap. UEFA has yet to say if next year's structure change includes a prize money increase, but we doubt it'd be even close to what the men are making.
There's still a long way to go, but we'll continue to support these amazing women until they get there (and beyond).
So there you have it: Your primer for the UEFA Champions League quarterfinals. Now let's watch some soccer. Find the full schedule here and check out the matches live on DAZN in Canada and on Univision or CBS All Access in the U.S.
⛳

Guide to Golf

March 22, 2021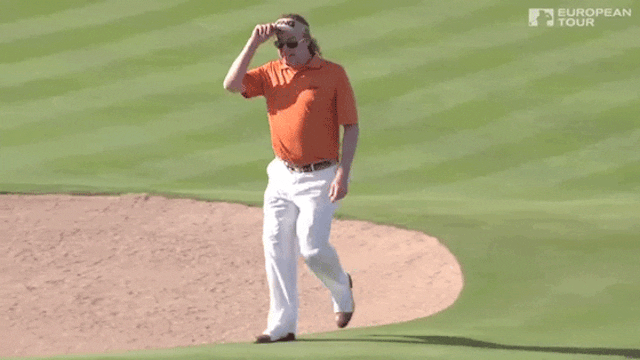 SOURCE: GIPHY.COM
The GIST
A full round of golf is 18 holes. Holes generally range from 100 to 500 yards. Unlike most other sports, the goal is to have the lowest score (counted by ) at the end of the game — meaning take the least amount of swings or putts to get the ball in the hole. Each hole on the course is given a number of strokes that it should take for a person to get the ball in the hole (this is called par) and typical championship courses have a full value of 72.
How is it organized?
Similar to tennis, men's professional golf players play in PGA (Professional Golf Association) Tour and women play in LPGA (Ladies' Professional Golf Association) tournaments. A tournament consists of four rounds of golf (one per day from Thursday until Sunday). The biggest tournaments are called majors. The PGA hosts four majors each year: the Masters, the US Open, the British Open and the PGA Championship. The ladies have one additional major on the LPGA circuit. Their five majors are the ANA Inspiration, U.S. Women's Open, Women's PGA Championship, Women's British Open and the Evian Championship.
Outside of the majors, there are various other tourneys the pros can partake in. A player's world ranking is based on how they do in each tournament. The most well-known tournament is the Masters, played in Augusta, Georgia. In addition to winning copious amounts of cash money, players also receive the green jacket (super cool to win, super impractical to wear). But, while the Masters is known for the coveted jacket and its prestige, the tournament also has a disturbing sexist and racist past. Change is long overdue.
Golfin' greats
This isn't just your grandparents' game anymore! While golf is a sport where experience is incredibly important, the past decade has shown that you can be young and still be at the top of your game. The best golfers today include Dustin Johnson (American who is married to Wayne Gretzky's daughter, ), Rory McIlroy (Irish sweetheart), Brooks Koepka (American who won back-to-back US Open and PGA Championship tourneys) and Jordan Spieth (young American stud).
And then there's Tiger Woods. Tiger dominated the game for over a decade, winning 14 major tournaments. That rapid rise was followed by a sudden fall from grace, when Tiger was caught cheating on his wife and Swedish model Elin in 2009. While the golf legend had been mounting a spectacular comeback, he was injured in a scary single car crash in February 2021. Here's to a speedy recovery.
Gals who golf
It's a myth that 'golf' stands for "Gentlemen Only Ladies Forbidden", but only just barely. For decades, golf has been seen almost exclusively as a man's game, but thankfully ladies have continued to break down those barriers. Professional women play in the LPGA (Ladies PGA) which is organized similarly to the men's. Keep your eye on American sensations Nelly Korda and Danielle Kang, who remain ranked near the top of the LPGA world rankings.
In 2019, the LPGA awarded its largest ever prize ($1.5M USD) to South Korea's Sei Young Kim at the CME Group Tour Championship. That's $500k more than the previous record prize. And, even though the overall prize money handed out in the LPGA pales in comparison to the PGA, there's reason for optimism. After the pandemic disrupted much of the 2020 season, the 2021 LPGA schedule features a record 34 events with over $75 million in prize money on the line. Keep making moves, ladies!
Prep for your next trivia night by making sure you know these facts:
A means you took just one stroke to get the ball all the way into the hole. Tradition says that that golfer must then buy a drink for each person in the clubhouse. But fear not, most courses have hole-in-one insurance so that you actually don't have to pay. Hilarious.
Jack Nicklaus is strongly considered the best golfer of all-time winning 18 majors, which remains the record for most ever.
Have you ever sipped on an Arnold Palmer, that delicious blend of iced tea and lemonade? Well, the drink is named after a very successful pro golfer who was known to request the combination! The late Arnold Palmer won four (!!!) Masters tournaments and seven majors over his career.
Don't get The GIST's free twice-weekly newsletter yet? Let's make it email official.