🏈
🏀
Giants Without QB Daniel Jones
December 03, 2020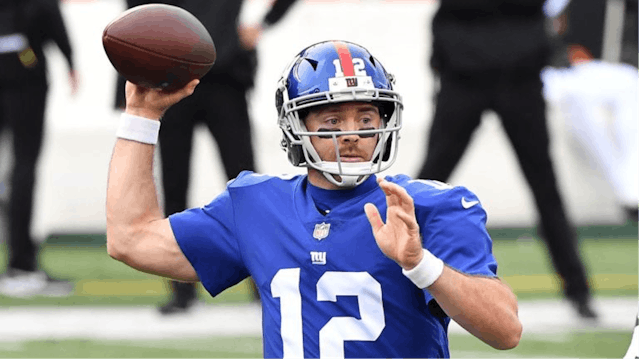 SOURCE: JAMIE SABAU/GETTY IMAGES
🏈On the field: The good? Jones' hamstring isn't seriously injured. The bad? No one is sure when he'll be ready to return. The ugly? The Giants will probably have to start backup QB Colt McCoy against the Seahawks on Sunday. Thirty-four-year-old McCoy hasn't started a game and won since 2014 and is 7-21 in the games he has started in over his 11-season career. Womp.
The Seahawks are a tough matchup, with or without Jones, but thankfully, the rest of the NFC East are also facing some tough opponents this week. Here's hoping that the Giants can hold onto their divisional lead while Jones gets some R&R.
🏀On the court: As the NBA gears up for their December 22nd start date, the Nets have a key player suiting up: Kevin Durant is finally healthy after his 18-month Achilles recovery and is "not holding back" this season. Joined by new head coach Steve Nash and recent pickup Landry Shamet, Durant and the Nets are primed to have a championship-caliber season.
Over in the W, the top draft picks will be determined by a lottery this week. The Liberty is most likely to snag the first pick, meaning they can grab another No. 1 to join last year's top pick, Sabrina Ionescu (pronounced YO-NESS-COO). Can you say, dream team?
🏈
🏀
This Week in College Hoops: Didi Richards
December 03, 2020
SOURCE: ROD AYDELOTTE/WACO TRIBUNE-HERALD
Tell me about the postponements: Men's basketball seems to be following the lead of college football, which just surpassed over 100 postponed or canceled games because of COVID-19. Most recently, fresh off an upset victory over then No. 10 Kentucky, No. 19 Richmond has paused all activities, adding its Wednesday contest to a growing list of disrupted games. Yeesh.
Now give me the good news: Happy to! Back in October, Baylor guard DiDi Richards inadvertently collided with her teammate during a preseason practice. The freak collision temporarily paralyzed Richards just weeks before the season was set to tip off.
One doctor wasn't sure that Richards would ever play again...but the reigning Defensive Player of the Year was determined. Just 38 days (!!!) after the accident, she made her season debut in No. 4 Baylor's 67–62 victory over South Florida. Talk about grit!

There's a great slate of ranked matchups in the next few days, but you already know we're most excited to watch Richards take the floor again when the undefeated Bears battle No. 16 Arkansas on Sunday. Bring that energy, DiDi.
🏈

Rams Must Win Division Matchup

December 03, 2020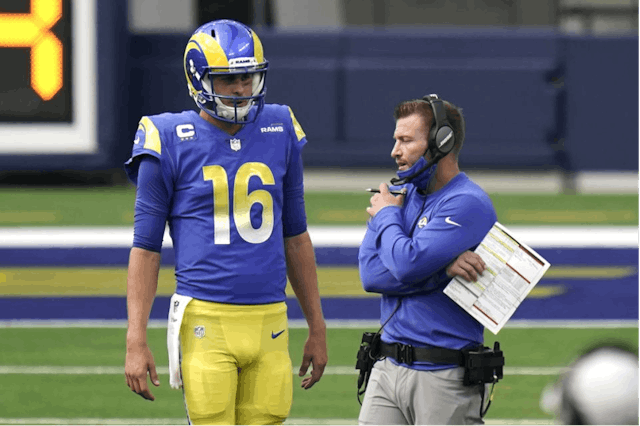 SOURCE: AP PHOTO/JAE C. HONG
The race is on: The Rams face the Arizona Cardinals, another NFC West foe, on Sunday. After embarrassingly falling to the v. injured San Francisco 49ers last week, the Rams cannot afford to lose another critical divisional matchup. But, we're pretty sure quarterback (QB) Jared Goff won't let that happen, considering head coach Sean McVay called him out for last week's poor performance. That will light a fire under your ass.
The Rams' defense, led by defensive tackle Aaron Donald, will have the difficult task of managing dynamic Cardinal QB Kyler Murray. Downfield, Ram cornerback Jalen Ramsey is expected to be "full-speed" this week following a hip injury. Look for him to battle it out against Cardinal wide receiver DeAndre Hopkins. Let's get this bread.
Came in like a wrecking ball: The last time the Chargers faced the New England Patriots, QB Tom Brady was still the face of the franchise and the Pats were perennial favorites. Now it's Cam Newton leading a middling 5-6 New England squad...though, we'll never count a Bill Belichick-led team out.
If Charger defensive end (DE) Joey Bosa (whose fellow DE Melvin Ingram is done for the season) builds on last week's monster performance, it'll bode well for the Bolts on Sunday. And none of those questionable clock management decisions this week, okay? Okay.
🏈

Jets Remain Winless, Giants Atop NFC East

November 30, 2020
SOURCE: NY GIANTS/TWITTER.COM
Sad, beautiful, tragic: After missing the last two games with a shoulder injury, Jets QB Sam Darnold returned to the field yesterday and looked...just so-so. Although the Jets' three top receivers started together with Darnold for the first time this season, he completed only 16 of 27 passes, failed to throw a ball into the end zone and threw two interceptions in the 20–3 loss.
The Jets are 0-11, Darnold hasn't thrown a touchdown since September, and fans are desperately asking what will fix it. Many think a new head coach is needed, and others are asking: Trevor, is that you?
Top of the heap: It wasn't pretty, but the Giants beat the Bengals 19–17 yesterday, securing their third straight win in the process. Even though it was great to watch the G-men force turnovers and make crucial field goals, it came at a cost with QB Daniel Jones leaving in the third quarter with a "pretty bad" hamstring injury. Jones will be undergoing tests today to determine the extent of the damage. Sad.
🏈
🏀
Bears Extend Losing Streak
November 30, 2020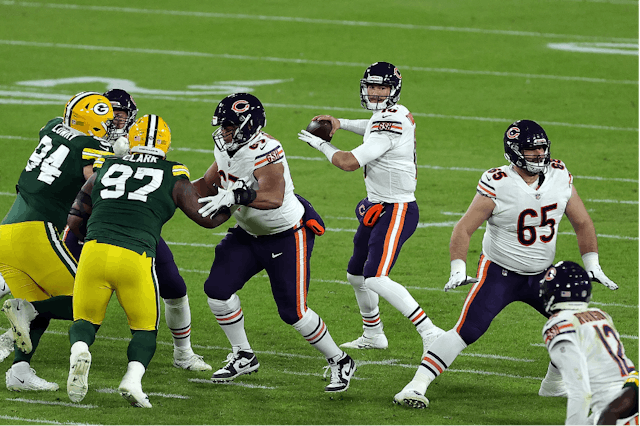 SOURCE: STACY REVERE/GETTY IMAGES
🏈When will it end?: QB Mitch Trubisky earned his first start since Week 3, but despite a serviceable performance, the switch from Nick Foles didn't seem to make much of a difference. He threw for three touchdowns and 242 yards, but was not without missteps: he also threw two interceptions, a direct result of poor decisions to throw into heavy coverage.
Aside from the Bears' usual offensive woes, Green Bay's offense marched down the field all game, seemingly unaffected by the Bears top-ranked defense. Usually it's the defense which keeps Chicago in the game, but last night they left us wanting more.
🏀College rundown: The U of I Fighting Illini's basketball season is already off to a hot start. The women won their opener against the Indiana State Sycamores 68–49 while the No. 8 ranked men's team is 3-0. Yessir!
The men face their first top 25-ranked opponent on Wednesday when they travel to Texas to take on the No. 2 Baylor Bears. Game on!