🏀
⚽
Kelley O'Hara Joins Washington Spirit
December 03, 2020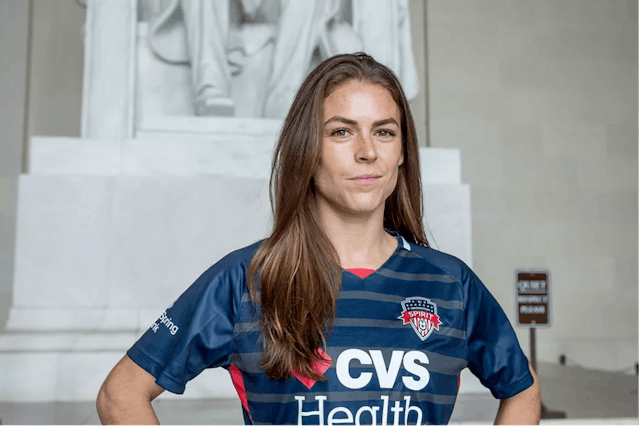 SOURCE: HANNAH WAGNER/WASHINGTON SPIRIT
🏀Tell me about the Wiz: Yesterday, we bid a sad farewell to John Wall, a stalwart of the D.C. community, and gave a warm welcome to superstar Russell Westbrook. Head coach Scott Brooks coached Westbrook in their Oklahoma City Thunder days and if Brooks can work some magic, Russ and Bradley Beal could form a dynamic backcourt duo. 2021's looking up.
⚽️And the Spirit?: At long last, former Utah Royals FC defender, USWNT legend and podcast host extraordinaire Kelley O'Hara is making her way downtown to D.C.! Rumors of this trade have swirled since the summer, so it's exciting to see O'Hara finally coming home.
Amazingly, the Spirit didn't give up a player in the trade, just $75,000 in allocation money (such a deal) and "additional consideration" and consternation to the dumpster fire that is Utah Royals FC.
🏀You said something about the Mystics: Natasha Cloud was named to the Forbes 2021 30 Under 30 sports list. Well-deserved! Cloud opted out of the 2020 WNBA season to fight racial injustice and continues to do so while raising awareness about gun violence. A true icon.
🏆

Bits & Bites: This Week in Sports

December 03, 2020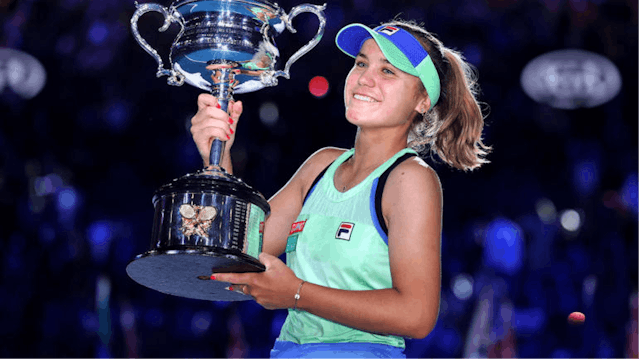 🎾Tennis: First it was the wildfires in 2020, now the pandemic in 2021...who's taking a murder hornet infestation to threaten the 2022 Australian Open? The first tennis major of the year, usually set to start at the end of January, will likely be pushed back by three weeks to February 8th to better accommodate a mandatory two-week quarantine. We can wait.
Speaking of next season, the Women's Tennis Association (WTA) is adopting a new naming system for their 2021 tournaments to better align with the men's Association of Tennis Professionals (ATP). Just one more step towards the WTA-ATP merger we've all been waiting for.
🏈NFL: This one's a head scratcher. Commissioner Roger Goodell stated that the NFL probably won't proceed with bubble environments for the playoffs after all, saying, "We feel strongly our protocols are working."
Goodell said this yesterday, the same day that the Pittsburgh Steelers and Baltimore Ravens finally played their Thanksgiving game after it was postponed three times due to COVID-19 outbreaks. The league also announced that there were 156 positive cases among players and personnel in the last two weeks of November. The irony.
🏀NBA: Christmas came early for LeBron James. The almost 36-year-old superstar signed a two-year, $85 million extension with the NBA champion LA Lakers yesterday. The new contract will take him into 2023, which is the same year his son Bronny could enter the league.
Russell Westbrook got his Christmas wish already, too. After asking for a trade from the Houston Rockets, where he spent one season, Russ is heading to the Washington Wizards in exchange for John Wall and a first-round pick. He must've been on Santa's nice list.
For the rest of us, the NBA gave us something to look forward to...five somethings, actually. The tentative Christmas Day schedule was released this week with five games scheduled over 12 hours. Deck the halls balls!
🏈
🏀
Notre Dame Looks to Keep Perfect Record
December 03, 2020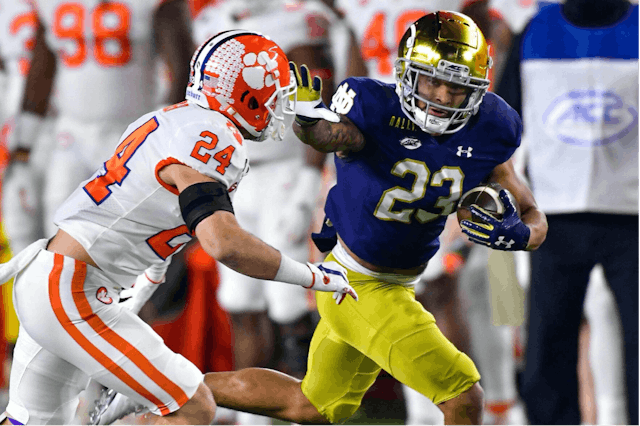 SOURCE: MATT CASHMORE/USA TODAY
🏈Play like a champion today: The Fighting Irish benefited from the ACC's schedule changes this week when their previously postponed game against Wake Forest was canceled, allowing them to clinch a role in the conference championship game and secure a bye week. The Irish will close out the regular season this weekend instead, facing the Syracuse Orange at home.
The 9-0 Irish are ranked No. 2 overall, and if they can hold onto one of the top four slots, they'll have a chance at the title in the College Football Playoffs. Fight on!
🏀Beaten by the Bears: The Illini and the Bears were neck-and-neck all game, keeping the score within a point or two (our palms are still sweaty) until Baylor started to gain momentum midway through the second half. The Bears ended up running away with this one, topping the Illini 82–69.
Although it wasn't the victory Illini fans craved, they'll get another shot at a top-10 team this week when they take on the No. 6 Duke Blue Devils on Tuesday.
🏆

Patriots Take Trip to California

December 03, 2020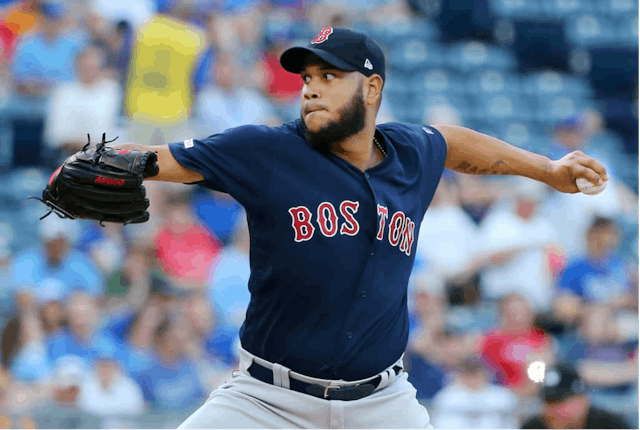 SOURCE: JAY BIGGERSTAFF/USA TODAY
🏈California dreamin': The Pats are going on a road trip to sunny LA, taking on the Chargers on Sunday at 4:25 p.m. ET. Quarterback (QB) Cam Newton will be in for a tough competition against Charger defensive end and "one-man wrecking crew" Joey Bosa, who's coming off a tremendous showing against Buffalo.
Meanwhile, the Pats' pass defense needs to contend with another dynamic QB, this time Charger rookie sensation Justin Herbert, who's been showing off his incredible arm. Although the Chargers are better than their 3-8 record suggests, we can probably bank on their cursed Charger energy to gift the Pats a win.
🏀⚾️Health is wealth: When the Celts host former Celtic Kyrie Irving and the Brooklyn Nets on Christmas Day, the C's will be without Kemba Walker. Welp. He won't be available until at least January after receiving a stem cell injection to his balky left knee. We're sore just thinking about it.
While Kemba's undergoing a minor setback, Red Sox pitcher Eduardo Rodríguez — whose 2020 season was cut short after developing COVID-19 related myocarditis — is primed for a major comeback. Rodríguez avoided arbitration by signing a one-year, $8.3 million deal on Tuesday. A heartwarming payday.
⚽️Two wins away: Before Sunday's Pats game, enjoy a playoff footy appetizer. The Revolution will take on Columbus Crew SC in the Eastern Conference finals on Sunday at 3 p.m. ET. It's showtime.
🏈
🏀
Eagles Prepare for NFL Sunday Matchup with Packers
December 03, 2020
SOURCE: KATE FRESE/PHILLYVOICE
🏈The final countdown: Sunday's matchup against the Packers feels like a clash of two teams headed in opposite directions. The Eagles are coming off a loss to the Seattle Seahawks, while the Packers are riding high after a massive win over the Chicago Bears. And while Green Bay recently climbed to the top of the NFC North, the Eagles have seen the NFC East slowly slip away. Sigh.
Although we're not feeling too hopeful about the Eagles snagging this win, we are curious to see if they make any short-term changes (like, ahem, more Jalen Hurts please). With only five remaining regular-season games, all of Philly is dying to know, what's next?
🏀Finals? We don't know her: As if we're not still grieving the loss of March Madness earlier this year, college basketball is back, and the Villanova Wildcats are full speed ahead. No. 12 'Nova is 3-1 after now-No. 16 Virginia Tech upset them last weekend.
Fans are excited about this year's squad, especially stud veterans Jeremiah Robinson-Earl and Collin Gillespie. The Wildcats will have another chance to beat a top 25-ranked team this weekend when they skip exams to take on the No. 17 Texas Longhorns. 'Nova Nation, please stand up!