⚽

Stephanie Labbé

March 17, 2020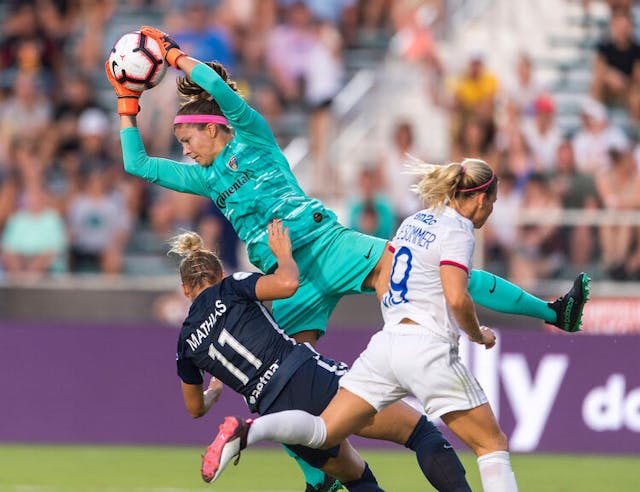 Stephanie Labbé is the goalkeeper for Canada's national women's soccer team, a 2019 National Women's Soccer League (NWSL) champion, a 2016 Olympic bronze medalist, and an all-around incredibly driven and talented human. While Stephanie's sights are set on bringing Canada home a medal at the Tokyo 2020 Olympics, she's also keeping busy as a co-creator of Project Athlete along with her partner (another friend of The GIST) Georgia Simmerling. Let's get to our interview with Stephanie:
Lexie, at The GIST (TG): Okay, you're a goalkeeper! You could not pay us enough money to have shots fired at our heads. How did you get into that position?
Stephanie Labbé (SL): Growing up, I played lots of sports. My older brother played hockey, so I was always tagging along. I played hockey in the winter and soccer in the summer. But hockey is very time consuming. Then, by the time I was 12 years old, I was the only girl on my team, and had to start changing in my own locker room, so that was isolating.

Around the same time my friends from school said I should play indoor soccer. I couldn't do both hockey and soccer though. But I totally loved indoor soccer, and had so much fun. So, in the summer I tried out for the rep team, and at the tryouts the coach asked if anyone would go in goal. There were about eight of us 12 year olds putting up our hands so we all rotated. Then, at the end of tryout, the coach asked how badly I wanted to be on the team, and if I was willing to be goalkeeper. I guess I was the least fearful of the ball.
c/o Stephanie Labbé
TG: And the rest is history. What did your parents think about that?
SL: Well, luckily growing up I played for a very good team. So, really just the extent of my mom's nerves would be her leg kicking a lot as I played. The older I get, the better she is with her nerves. Now, she's way more calm when I'm in net, and ironically she's actually more nervous when our strikers are shooting during the game.
TG: That's funny. Well, she definitely has a million reasons to feel calm about you in goal after seeing all the success you've had over the years…Do your own nerves ever affect you, or translate into weird soccer dreams?
SL: So, I actually never get to play soccer in my dreams. I do have recurring nightmares where I'm about to start a game and I don't have a cleat or can't find a glove, and something's gone wrong. It's probably why I am soooooo particular about checking my bag. *Steph chuckles*
TG: Reading your Player's Tribune article, you talked about playing men's soccer being a really mentally and physically challenging part of your career. Do you ever find it difficult to speak candidly about the differences in men's versus women's games without feeling like you're giving fuel to the haters to hold against women?
SL: I have never had a hard time comparing the women's game versus men's game. People can say what they want to say. I've heard a lot of negative things, but to be honest I wouldn't be where I am if I put a lot of thought into what people care about what I say. I don't give a sh!t to be frank (Editor's note: preach sister!). I know that not all men have a genetic, biological advantage, but on average, most do. I'm aware and recognize that. There are anomalies out there and women who can come overcome those. And what should stop you from pursuing any challenge? The risk is yours. I understand that every time I go out and play with men, or women, who are bigger, faster, stronger than me that I'm putting myself at risk. You can say that about anything in life.
If you're going to live your life being scared of the negative things that can happen, then you aren't going to go anywhere.
I always try to live optimistically.
TG: Amazing! So, a huge story with women's soccer has been what's going on with the U.S. women's team and the fight for equity. What is the relationship like pay equity-wise with the women's program in Canada and with Canada Soccer?

SL: Unfortunately in Canada, it's a bit untalked about in a sense. We, as a national team, have a fairly good relationship with Canada Soccer. Year over year, our talks and contracts get better and better, so it's moving in a positive direction. But it's still nowhere near where it should be.
The words "equal pay" and "equality" get thrown around interchangeably, but equality is a very complex issue, and it's not just about getting paid equally — it's marketing, support and investment.
You can see the direction it's moving, but you also see Canada Soccer investing in a brand new , while we're the only national women's program ranked in the top 10 in the world that doesn't have our own domestic professional league (Editor's note: As Canada is hosting the FIFA World Cup in 2026, they are required to have a domestic professional league). That is still so heartbreaking. We have proven time and time again, since 2012 when the team won Olympic bronze, that we are performing and getting results (Editor's note: The Canadian women's national team is currently ranked eighth in the world, while the men's team is 73rd).
I think the successful future of this program is based on developing players in Canada. And, as of right now, we have to go abroad and get contracts to play soccer in other countries. It hurts our depth. We don't have a league to give players the chance to grow and shine and prove they can play on the national team. Women stop playing after university because they can't get a contract abroad, but if we had our own domestic league those players wouldn't fall through the cracks because they'd have a place to play to develop.
So, it's moving in a positive direction, but there is still a long way to go. It's amazing the U.S. team is using their platform to talk about it and bring this subject to light. They're talking, they're acting, and they're paving the way.
TG: That is so important and so candid. Wow. Thank you for that. Looking ahead, what is your vision for 2020?
SL: Post-Olympics is a blur and unknown. The immediate thing that comes to mind is that January is Olympic qualifying. And, for the Olympics, we want to bring back a better colour than bronze. And, secondly, because I don't just play for Canada full-time, I'm also looking forward to playing with my pro team (North Carolina Courage) and trying to win a back-to-back national championship with them.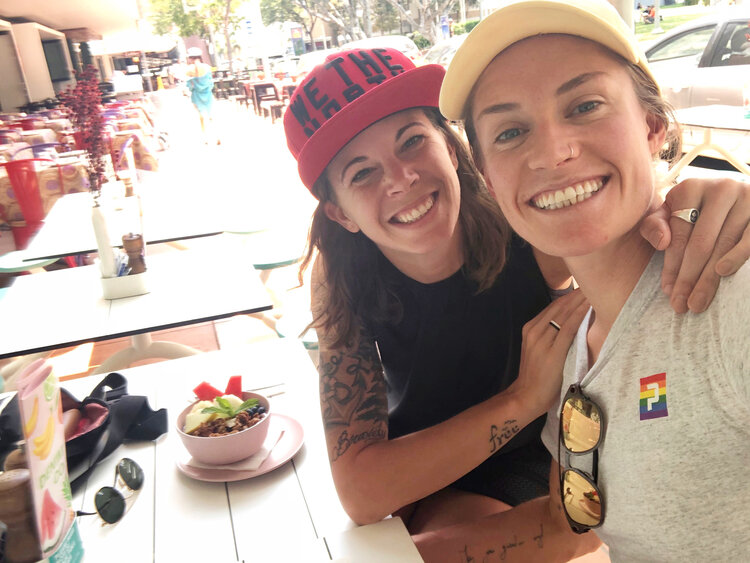 Stephanie & Georgia Simmerling
TG: That's great! Okay, let's end on some rapid-fire questions!
TG: If soccer had walk-out songs (like baseball), what would your song be?

SL: Oh my gosh. This is awesome. I want to say Cindy Lauper "." Everyone would love it!
TG: Would you rather sing or act?

SL: I would love to have a great singing voice, but I'm terrible. AIso, I don't know if the lifestyle of a singer would be what I want. So, actress.
TG: What is your favourite winter Olympic sport to watch?

SL: My gut is going to hockey. It's such a passion of mine and part of mine and my family's life. But I'll be honest, after meeting Georgia, I really enjoy watching skiing and ski cross. It's way more exciting for me when she is not racing, because then I am way less nervous. I got the chance to watch it live two years ago in the Alps. It was so fun and so much adrenaline. I have a short attention span so it caters to that.
TG: What is your favourite sports movie?

SL: Classic Mighty Ducks.
TG: What movie can you quote the best?
SL: Probably Billy Madison. "I got this shirt from Frank"... and Frank is written on the inside of it. I say it all the time. *Stephanie chuckles*
That's #thegistofit
Don't get The GIST's free twice-weekly newsletter yet? Let's .
⛷️

Dara Howell

March 17, 2020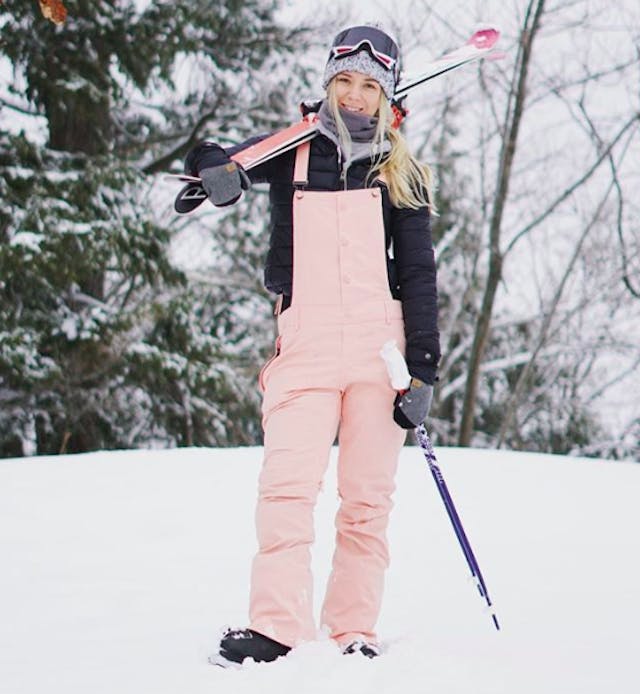 Two-time Olympian Dara Howell is truly amazing. At the ripe age of 19, Dara won a gold medal at the debut of at the Sochi 2014 Winter Olympics. No big deal! Dara competed in the PyeongChang 2018 Winter Olympics before being sidelined in late 2018 with a . Now she's back with a fresh perspective, a fresh podium finish at the most recent World Cup and...Dara wants to become the best freestyle skier in the world.
Lexie at The GIST (TG): Okay slopestyle skiing. You're essentially tossing yourself off of cliffs and doing jumps while on sticks. How did you get into it? Were you a daredevil as a kid?
DH: I was always a daredevil! *Dara chuckles* My mom always thought I would go to the Olympics in something, but she never knew which sport because I was always doing different things.
Growing up, my family owned a small family resort in Huntsville, ON (Pow Wow Point Lodge). My parents had it for 27 years, and my grandparents owned it for 25 years, so skiing was very much a part of my family. My granddad is actually still a skier, and he just turned 96. He still skis at 96!
It was always in my nature to be adventurous. My older brother and I were always outside and active, plus we basically grew up on the water living in Huntsville.

I think my parents just kind of threw me on skis around 18 months old because my brother was already into it *Dara chuckles*.
c/o Dara Howell
LH: That's so amazing. How did you get into slopestyle, especially given it was a new Olympic sport for Sochi 2014?
DH: I grew up ski racing and figure skating from an early age, those were my two biggest sports. I eventually quit those. I thought ski racing was too disciplined. And, it was cold! *Dara laughs* And figure skating I enjoyed, but I really just loved the jumps, and I wasn't as good at the dance component. So when I decided to stop around the age of 15, my dad told me I had to get a job, so I became a Level 1 ski instructor at Hidden Valley in Huntsville and taught little kids. Then, on my off time I would hang out with my ski friends in the park (Editor's note: the "park" is where all the jumps, half-pipes, etc. are), and got connected to doing tricks there.
Slopestyle skiing is basically downhill racing combined with the jumping aspect of figure skating, so it's weird how it's all come full circle and led me to this wild path.
TG: It was meant to be! In 2014, you won Gold at the inaugural Olympic slopestyle skiing event in Sochi, Russia, which is just unreal — what were your feelings going in?
DH: Going into Sochi 2014, I was hungry. I was fighting so hard because I believed in myself so much and just wanted to do the best that I could do...and I knew anything was possible. I was definitely the underdog. I wasn't really on the radar as someone who would win and it wasn't supposed to be my time.
So there was no real pressure, no one really knew who I was, and I was just set on what I was doing.
I wasn't going to let anything stop me from achieving what I knew I was capable of.
And, my family just bought in 100%. They have always supported me and told me I can achieve whatever I put my mind to. So I came in with no expectations, other than just wanting to do my best.
I look back on it now as a blessing. At the time, it was frustrating and hard. Luckily my family was amazing and supported me.
TG: That's unreal, but I know it wasn't easy for you and your feelings towards winning have been complicated. Can you talk about , and where you're at now?
DH: It's definitely better. I've really put in the work in myself, and my skiing. And I have a bit more perspective as I get older. I now appreciate my medal more, and what my family and community did to help me get that medal. I definitely was not bitter towards it, but I had some feelings after the Olympics. I think as you get older, you learn more about yourself, and to appreciate things more. I would never take my medal for granted, it's taught me so much about myself, both good and bad, and it's given me so many opportunities.
TG: How important is working on, and prioritizing, the mental aspect of being an athlete? What does your physical and mental workout regime look like?
DH: The mental side is huge! I think for any athlete it is. For me personally, I'm throwing myself off of massive jumps. So, the mental side is massive because of what you're putting your body through. And I think that's what really makes a good athlete ⁠— having that strong mental game. I really work at allowing myself to process and properly think things through. I try to be a very smart athlete. I listen to my gut a lot and learning to trust yourself is a really important thing. The stronger you are mentally, the better athlete you are. And the more prepared you are for success.
I work with a sports psychologist and I love it. She helps me become more aware of my thought process and what I need to do to bring the tension down. Just being more aware of what's going through your brain and making changes as you go so that you are in a healthy mindset, that will really help you be successful.
TG: So, you're coming off of a at your first World Cup appearance since your season-ending knee injury in October 2018. What was that like?
DH: Honestly it was pretty wild! I tore my ACL last year in my first contest of the year, and that kind of put things on a different path for me. So coming back a couple of weeks ago with a podium finish was pretty special to me.
I think before I left for it, my dad was telling me, "expectations, not too high!" Obviously my expectations were still going to be high, but it actually went better than even I was planning. I surprised myself a little bit. Now it's go time, and I have to find a way to keep building off of that.
TG: That's awesome. Now, what's next for you? What are you working toward?
DH: I'm just focused on coming back strong. I want to be the best athlete that I can be. I don't want to let the injury take over. Going through last year, I had to think about whether or not I was going to come back, and why I was going to come back.
I love skiing, love pushing myself, and now...I want to be the best. And I know that's a pretty bold statement, but I really feel if I continue to work hard and be smart, that's a real possibility for me.
So going into this season I want to be smart with my expectations, but push myself to get on the podium. I really want to push myself in Big Air, that's really where I see a lot of potential for me (Editor's note: Big Air is generally one large jump versus slopestyle which is a series of jumps and tricks on a short course). I love to jump, and it's a new discipline. It's got this fun, intense vibe about it. Do those words even go together? *Dara laughs* But that's where I'm at. I want to go to . I'm going to China for a competition soon. I just want to have fun, and set myself up for success. And it's really important to have fun, because good things happen when you do.
TG: Absolutely. That's what sports are really all about! You've also launched . Can you tell us more about it and why it's important to you?
DH: Yes! My family and I started "Dara's Fund" a few years ago. I grew up in a small community where I had a lot of support. But in a small community, it's especially hard to find the right facilities to excel in sports. You often have to travel for the sport, and there are a lot of extra costs versus in a larger city where the resources are more accessible. So, it was important for us to give back to the Muskoka community and encourage more girls to get into sport, and help them know they can succeed and excel. Coming from a small community shouldn't hinder young athletes, especially young girls, in any way and actually with the right support, you should be even more setup for success.
It's really cool to see the amount of girls that apply to the fund, and all of the different sports they play ⁠— it's really inspiring. There is a fencer that has the potential to go to the 2020 Tokyo Olympics, and it's so amazing to see. If we can help support them in any way possible, even in the smallest way, that's amazing.
It's important for me to give back when so many people have helped, and continue to help, me along my journey. So this fund really stems from that, and now I want to be able to pay it forward and help other female athletes.
TG: That is incredible, Dara! So awesome you're doing that.

TG: Okay, let's end on some rapid-fire questions.
TG: If you could be an athlete at Summer Olympics, what sport would you want to compete in?
DH: Trampoline!
TG: So on brand for you! What are you binge watching right now?
DH: Oh my gosh I watch everything on Netflix. I just watched Supergirl — it was good!
TG: Who is your favourite athlete?
TG: Do you believe in aliens?
DH: No!
TG: Ooh controversial! What stereotypical millennial item do you splurge on the most?
DH: Almond milk cappuccino
TG: What's your all-time favourite concert?
TG: Looking at your , when can we expect your pro career in golf to start?
DH: Hopefully tomorrow! *Dara laughs* I'm going for the longest drive after I'm done skiing. I'm going to get my ski coach to be my golf coach, he actually does both!
That's #thegistofit
Don't get The GIST's free twice-weekly newsletter yet? Let's .
🏂

Calynn Irwin

March 17, 2020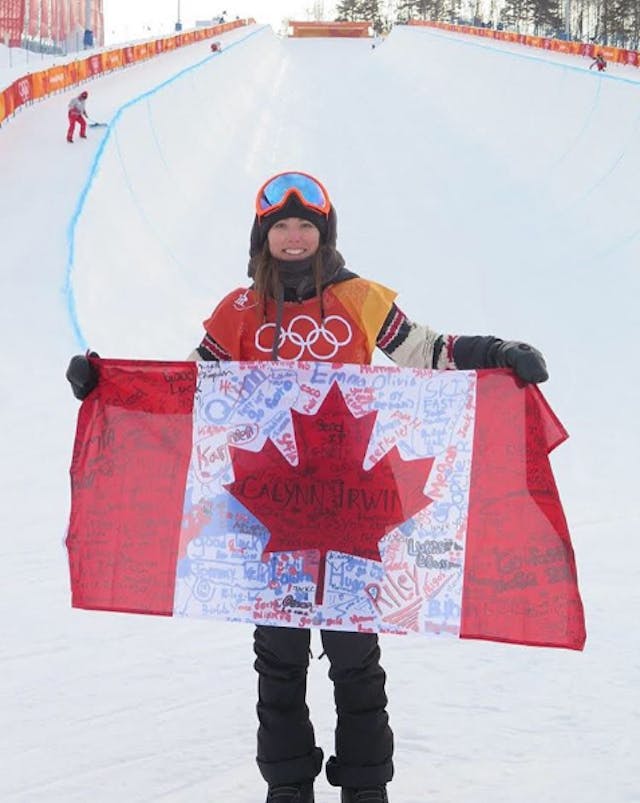 Calynn Irwin is an Olympic half-pipe snowboarder and all-around rad person. At the ripe age of 16, Calynn started her career with a bang participating in her first World Cup, and finished it off by competing at the PyeongChang 2018 Winter Olympics. Now, she's trading in her snowboard for home renovating (more on that later), and crushing another male-dominated field. Let's get to our interview with Calynn.
Lexie at The GIST (TG): Snowboarding! As a Torontonian! How did you first get into the sport?
Calynn Irwin (CI): I grew up in a family of ski racers at Georgian Peaks in Collingwood, ON. My grandparents were members of the club, so all of my family and extended family were members there as well. I grew up skiing at first and I think I just got bored ski-racing and just doing the same thing over and over again (nothing against ski racing!). I remember noticing a bunch of snowboarders in the park nearby where no skis (only snowboards) were allowed. So at eight years old, I started skipping ski lessons, found a snowboard at the rental shop and started to teach myself snowboarding by watching the older kids. I think I just about gave my parents a heart attack from skipping lessons… the instructors would tell them to just look for me in the park, and that's where they would find me.
I always had an obsession with the Olympics growing up, and as soon as 1998 Nagano Olympics introduced snowboarding, I turned to my parents and said, "that's what I'll go to the Olympics for." I saw it, and I knew it was possible.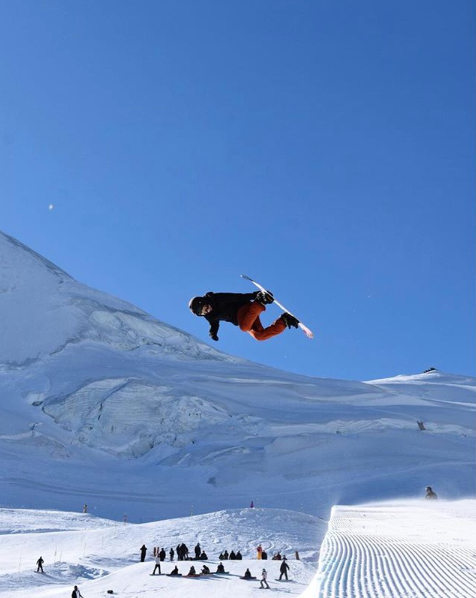 c/o of Calynn's Instagram @caleventures
TG: And you did! So amazing. Okay, so the rumour is that you're done competing. Is that true? What are you up to now?
CI: Yes, it's true. I'm in school full-time right now studying home renovation and project management at George Brown in Toronto. I'm also working for a contractor doing home renovations when I have time…it's fun to still do something physical and creative.
I always liked art and building things growing up, and a couple of summers ago my dad and I built a small cabin up at our cottage. I really liked that, and in my off-seasons I started working with different contractors. Then in June, after I retired I decided to go to school for home renovation. It's weird being back at school. Some of my classmates and friends are about 18-years-old. *Calynn laughs*
With sports and snowboarding, I'm so passionate, and I kind of felt that same spark of passion from building things as I do when I play sports, so it's really nice. It also made me realize that you can have more than one passion.
TG: That's really great that you've found another passion, but I'm sure it was still difficult to retire from snowboarding. What was that process like?
CI: It was hard, I definitely got sad. At the end of the day, it was the right choice to make. I remember when I made the decision to retire: it was last October while I was at a training camp in Switzerland. I just kept getting hurt. On the first day I hurt my neck. So I wasn't snowboarding much there. Then, I watched two of my friends get airlifted off the mountain doing tricks that I didn't even want to try, but knew if I wanted to stay relevant and compete with all of the young talent coming up, I would eventually have to try them. So seeing my friends, and knowing I would have to try tricks like that, I really wasn't getting fired up to snowboard like I used to.
My injury ended up sidelining me all season. I maybe went out three times. It turns out it was actually a concussion. But yeah, I was sidelined basically the whole season while watching people get injured doing tricks that I didn't want to try. So I had a decision to make — do I want to be able to play sports with my friends when I'm my parents age, or do I want to go on for another four years and potentially have a worse injury come along? I just had to think about the quality of life I wanted for the rest of my life. It comes to a point where you have to decide if the risk outweighs the reward.
TG: Wow, that's great perspective, but obviously easier said than done to actually make that decision...
CI: Yeah, for sure. So a little bit more on my background — I actually had a concussion when I was 17 that completely took me out of sports for two years. And at that time, they didn't really know much about concussions, and the doctors thought I probably wouldn't be able to compete in snowboarding again. That experience forced me to find other things that I'm interested in and not be so solely focused on snowboarding. In turn, when I did get back into snowboarding, it helped me have a nice balance in my life, and not put so much emphasis on this one sport.
I see so many kids picking one sport and pushing themselves so hard in only that, but I think it's so important to play a variety of different sports, and do different things to have a balance. Because if it comes to a point where you can't participate in the main sport you grew up with, then you'll at least have found other things that bring positivity to your life.
My goal in the future is to work with kids and help create more balance. I want to inspire people, especially young girls, to stay active, and that doesn't mean just in one sport.
TG: That's awesome, Calynn! You've overcome a lot, but what would you say is maybe the most "un-glorious" side of being an Olympian the average person doesn't see?
CI: In my sport specifically, our runs are less than 30-seconds long. And we have two runs so a total of 60-seconds. And that's what everyone sees. And, for someone like me, I fell on both of my runs at the Olympics. So it's difficult because whenever someone hears you're an Olympian they automatically say "how'd you do?" or "did you win a medal?" — that's the question I get asked all the time. You know, someone once told me that your chance of making the Olympics is something like one in a million. So then winning a medal, the odds of that are…I don't even know. But no one sees what you go through to get there.
I was at a wedding and this guy sitting next to me said, "Oh you're an Olympian? Did you have fun?" And I said, "Yeah, I had the best time ever. I'm really proud and so thankful to represent Canada." And he asked, "How'd you do? Did you win a medal?" And I said, "No, I fell on both of my runs, but I'm really proud just to have made it there." And he said, "How could you be proud of that? Were your parents there? Were they proud?" And I said, "Yeah, I think that's the most proud they've ever been." And he said, "How could they be proud of you falling at the Olympics?"
And I...I took the deepest breath ever, and I just said, "Well, I'm proud of myself because for the last 15-20 years all I've been working toward is to be at the Olympics, and my parents were proud of me because they've seen every up and, more importantly, every down along the way that I went through just to be able to stand at the top of that half-pipe…" and then I told him he was being rude and I was going to politely remove myself from the conversation.
So, yeah, that's the toughest part. Those types of questions from people who don't understand what it takes to actually get there.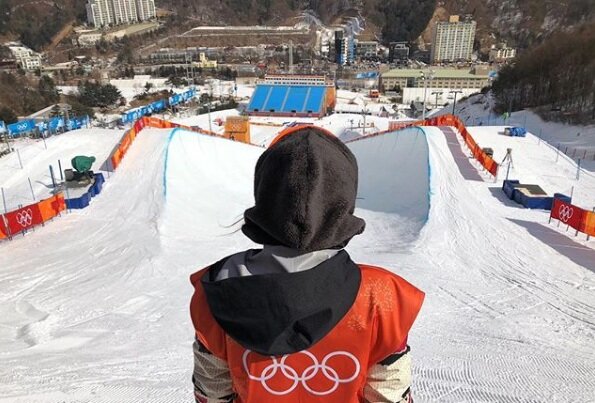 TG: Oh my gosh, that's actually so wild he said that. You were so patient with him. Kudos. So, snowboarding is traditionally a male-dominated sport… do you see that changing?
CI: When I first started on the provincial team it was all guys. I've never even had a female coach…that definitely needs to change. It's huge! Having female coaches is a big, big, BIG deal because if little girls only see male coaches and male athletes doing well in their sport, it's not a very promising outlook for their future.
While I have had some amazing male coaches, if there are more female coaches around and available to cultivate these young athletes and especially help young girls see that they can be successful too, it can make a huge difference. It would also help young female athletes have role models to relate to — growing up with all guys was really tough, I do wish I had more female coaches and teammates around. And now, you just hear such bad stories about, for lack of a better term, "locker room talk," and as a young girl that made me feel not great, so I really hope to see some changes.
It's still like that today in the half-pipe world. Right now, there's only one girl on the national team, but I know there are tons of girls that want to try it. There are a lot of barriers, and not just for young girls...
Half-pipe developed so quickly as a sport. When I first started riding half-pipe, the walls were 16-feet high. Now, they're 22-feet high. So as the walls got bigger, all of these ski clubs that had 16-feet half-pipes just got rid of them. So there aren't a lot of places for kids to learn the sport because there aren't even half-pipes on the hills. There's actually only one 22 ft. half-pipe and it's in Calgary. The Canadian Olympic Park in Calgary also has a mini-pipe for kids to learn on that's about 6-feet.
Because, that's the other thing, it's really tough for kids to learn on something that's basically eight-times their size. You wouldn't send a six-year-old off of that. It's so intimidating! When I was training in Calgary, I'd see all of the little kids learning on the mini-pipe, and it was awesome, there were about 50 of them, and they just looked like little blobs on their snowboards, they were just so pumped up. I wish that other provinces and ski resorts could see that, and see how excited these kids are. It's such a small thing, but so valuable in terms of getting kids to try the sport.

TG: That's really interesting, and unfortunate. Do you see Sport Canada or any governing body ever stepping in to help?
CI: It's tough because with all winter sports...especially snow sports that involve mountains like skiing and snowboarding, you're a bit at the mercy of weather, and now that we've kind of entered into this time period with climate change where sometimes a resort might not even have enough snow to make a half-pipe, it's really challenging.
These are all man-made, so the cost of that is enormous, and it's tough foreseeing anyone fork over that kind of money. And that's not to say that half-pipe is a dying sport by any means, but it will definitely become a sport you'll have to go to specific places to access a good facility.
TG: Very true. Okay, let's end on some fun, rapid-fire questions!
TG: What is your favourite TV show of all-time?
CI: Survivor!
TG: And what are you binge watching right now?
CI: This Is Us… lots of feelings!
TG: You're a huge Toronto sports fan, but if you had to pick only one Toronto team to watch, which one would you pick?
CI: Okay, that's like the hardest question I've ever been asked…I'll have to say the Toronto Blue Jays!
TG: Wow, you're a ! What Summer Olympic sport would you want to compete in?
CI: Archery.
TG: If the Toronto Maple Leafs got their own team dog, what would you name it?
CI: Bud!
TG: LOVE that! If there's a movie made about your life, who would play you?
CI: Anna Kendrick.
TG: What is the most embarrassing song you know every word to?
CI: "Baby Shark" *Calynn chuckles*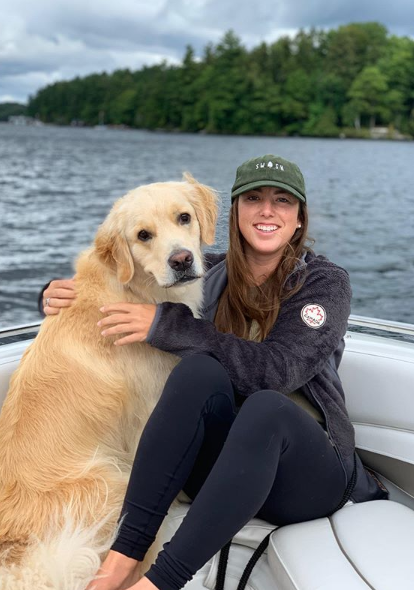 That's #thegistofit
Don't get The GIST's free twice-weekly newsletter yet? Let's .
⚽

Devon Kerr

March 17, 2020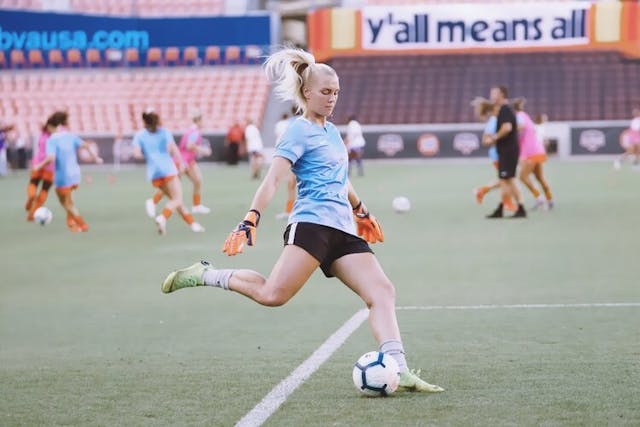 Devon Kerr is, in short, a powerhouse. Devon is a dual-citizen who just wrapped up her rookie season in the National Women's Soccer League (NWSL) with the Houston Dash. When she's not making saves for Houston (oh yeah, she's a goalkeeper!), this 22-year-old is heavily involved in that equal pay fight, and making the sport better for generations to come.
Let's get to our interview with Devon:
Lexie, at The GIST (TG): Okay, were you always a goalkeeper, or did you decide later on that you were just super cool with soccer balls being kicked at your face?
Devon Kerr (DK): *Devon chuckles* I was 10 or 11 and our goalkeeper got hurt and I was the only player who raised my hand willing to go in. I was saying "I'll do it! I'll do it." My mom and coach both realized that most kids would have a sense of fear, and I didn't seem to have that. So it was kind of a lightbulb moment for them thinking, "she doesn't seem to get scared of a cleat or soccer ball coming at her face." I loved it and adapted quickly. My parents got me proper training. And I absolutely loved it from then on.
TG: Oh my gosh. That must have been kind of wild for your mom to have that realization about your lack of fear…
DK: Oh yeah! My mom used to get very stressed out and then she realized it's fine. I wasn't getting hurt. I was good. So, she's supportive.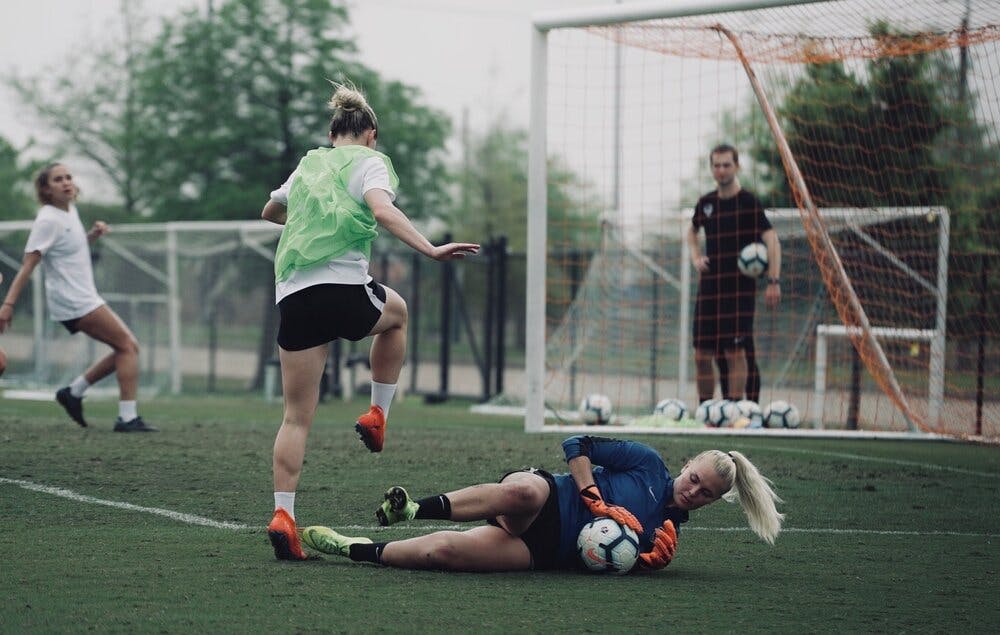 TG: Thank you, mom! This past season was your first in the NWSL with the Houston Dash. What was that transition like going from playing at The Ohio State University to playing professionally?
DK: I think that was one of the biggest changes of my life. The speed of play in the game and how fast it is, that was a huge transition I had to learn to adapt to pretty quickly. Playing professionally, where you're constantly surrounded by the best of the best, it is so fast-paced. And no one is going to give you any room for excuses just because it's your rookie year —it's professional soccer!
But we had a great coach and support staff that really helped me and other players transition. It makes a huge difference. We also had a really positive, competitive environment with a lot of veterans, like Rachel Daly (of the England national team), that welcomed rookies with open arms.
So now, because my rookie year just ended, I feel I've adjusted, and I would definitely tell girls in college to be ready and train in the off-season for a faster pace. The game is very quick, and a lot smarter.
TG: What does the off-season look like for most players? Do most go home, or stay in Houston and train?
DK: With Houston, a lot of our players went home. I'm back in Barrie, Ontario. There are a few that stayed there, but mostly players go back to their hometowns to live and train. After an almost eight month season, just being home around family and friends is what a lot of players need. There are some players that go play in Australia just to continue to play as their season is just about to start and the timing lines up with our off-season perfectly. I'm interested in doing that in the future.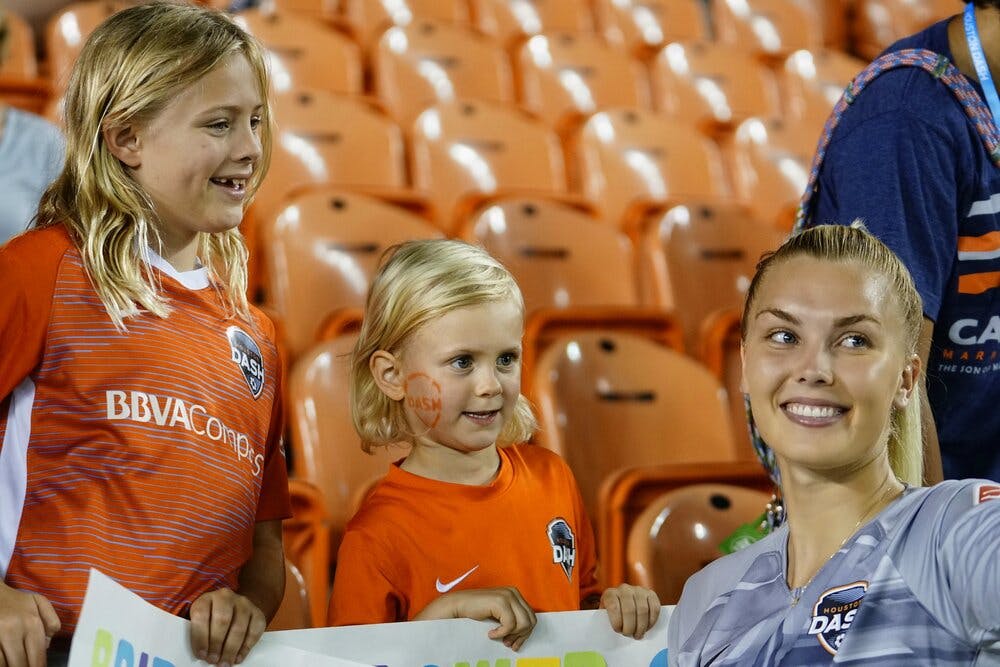 TG: It is an incredible time in women's soccer with all of the momentum and this sort of post-World Cup effect. What's it like to be a part of?
DK: It's pretty cool to be in the middle of this. It's not where it should completely be yet, but seeing how much change has already happened in such a short amount of time is really promising. In college, I had goals to play in the NWSL and, at the time, the salaries were only $5,000 per season. That's incredibly low and no one can live on that.
So, to see how much the salary has increased in just a couple of years is incredible. (Editor's note: As of this most recent season, the minimum player salary was US$16,538 and the maximum was US$46,200). It's not where we want it to be yet, but seeing the changes, and the recognition that's coming, it makes me excited. The U.S. national team is helping a ton.
Plus, FIFA is putting into women's soccer, so that alone is helping to close the pay gap between women and men on an international stage (Editor's note: FIFA's $1 billion commitment is still a bit vague in terms of how it will be distributed to grow the game, but it is still promising nonetheless). And hopefully that will trickle down and affect other professional teams in North America and beyond. It's a really exciting thing to be a part of playing during this time of growth.
TG: SO exciting. Growing up you had a dream of playing professionally, but now you're not just a player, but also part of something so much bigger than the game. What does that mean to you personally?
DK: To me, there's a real sense of pride in knowing that I'm helping and advocating for equality and recognition for generations to come.
I might not directly be affected or reap all the benefits during my playing career, but knowing I'm working for the next generation who wants to play at the top level and should see that pay gap closed is important.
I've wanted to play professional soccer my whole life and it's coming to fruition. Now, my generation has a good chance of making a huge difference for generations of athletes to come. Knowing that women's sport is going to survive and grow for a very long time because of my teammates' actions and so many others…that's the best feeling.
TG: Who's your role model?
DK: I would definitely say both my mom and dad. I know that's two people, but my parents have both sacrificed so many things in order to help me live out my dreams, and they have taught me so many invaluable skills that I am seriously so grateful for. Having two amazingly powerful presences for me growing up, and watching them be successful, has helped me shape my strength as a woman. They have truly helped create this strong woman I feel like I am today.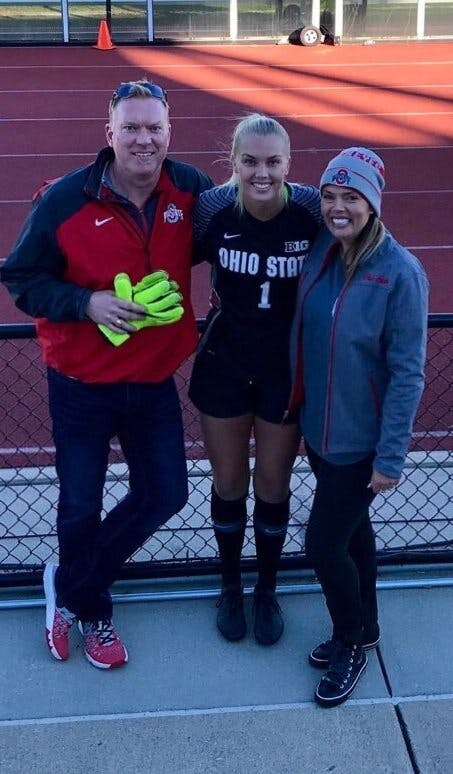 TG: That was great, Devon. Now, let's end on some rapid-fire questions!

TG: Who's your guilty pleasure to follow on social media?
DK: . It's not really a guilty pleasure because she's awesome and a fellow soccer player who gets it. But I just love the funny videos she posts on Instagram.

TG: What are you binge watching right now?
DK: I'm upset about this now, because I can't stream it here (reminder: Devon's in Barrie, ON right now) like I could in the U.S, but American Horror Story. It's super gross. I love gory TV shows. So, now I'm watching Riverdale...again.
TG: What movie can you quote the best? Can you give me a quote?
DK: Bridesmaids, hands down! "There's a colonial woman on the wing! There is something they're not telling us! She was churning butter!"
Also, that scene when she's on the plane and says, "Oh, you doooo?" I always say that to my mom. She loves it. *Devon laughs*
TG: If you could invite any three people to dinner, who would it be?
DK: Serena Williams would be number one for sure. Billie Jean King. And honestly, Leonardo DiCaprio! He's also been really involved with environmental change which would be cool to talk to him about.

TG: If you could have any soccer player in the history of the sport on your team... who would it be?
DK: I would probably say . I got to play against her this year when we played Orlando Pride which was very cool. Seeing her in person was awesome. All of the accolades, respect… and the passion she exerts. And the honesty. We need more of her.
TG: Switching Goals or Bend It Like Beckham?
DK: Ooooh Bend It Like Bendham for sure. I've seen it so many times.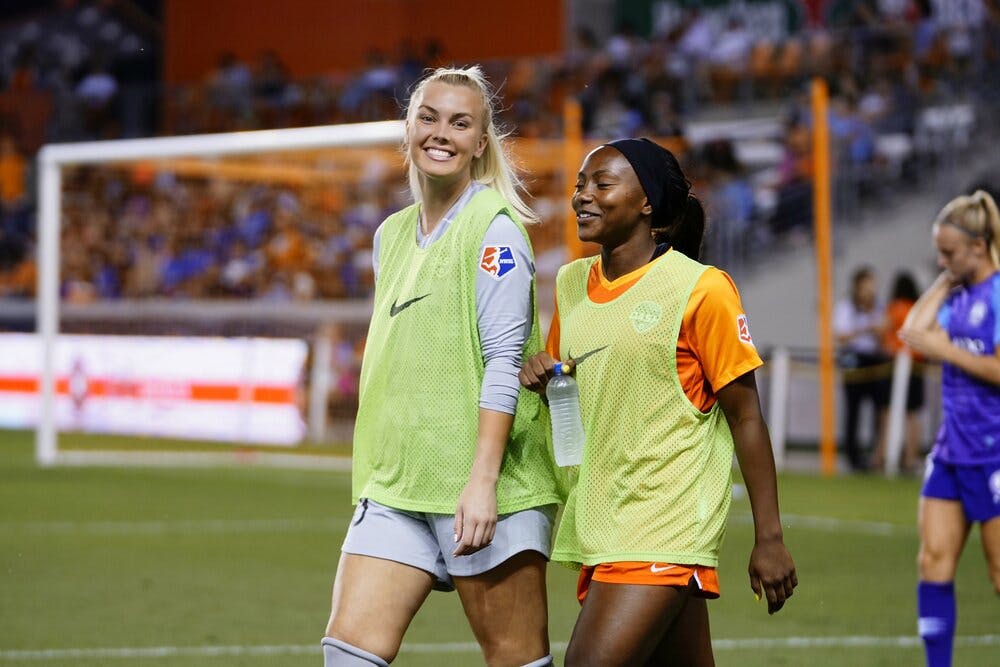 That's #thegistofit
Don't get The GIST's free twice-weekly newsletter yet? Let's
🏅

Melissa Bishop-Nriagu

March 17, 2020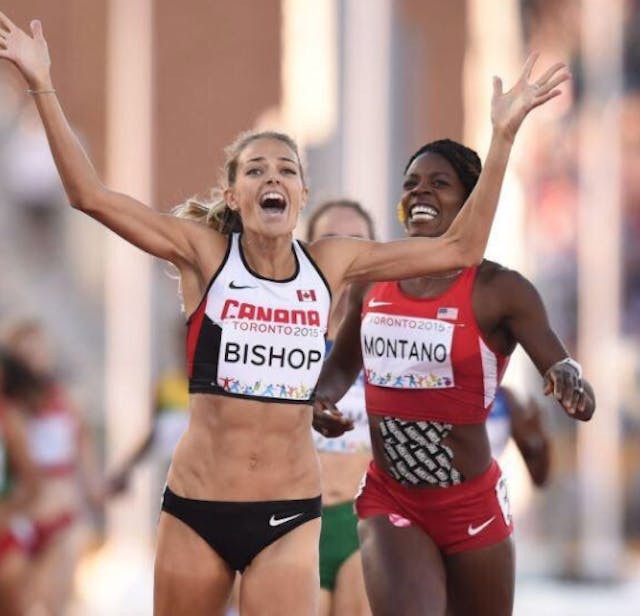 Melissa Bishop-Nriagu (pronounced "in-nree-ah-goo") is a B-O-S-S boss. Melissa is the Canadian national record holder in the 800m and is preparing for her THIRD Olympics at Tokyo 2020. Melissa shut her season down early this year to address post-pregnancy related injuries (she had a baby in July 2018) but when this mama comes back, look out. Read more on what makes Melissa so badass, what motivates her, and what Lizzo song she's getting down to at karaoke below.

Lexie, at The GIST (TG): Okay, so you shut down your season early this year to take care of your body and get ready for the Tokyo 2020 Summer Olympics. How has it been to step away?

Melissa Bishop-Nriagu (MB): I get time off every year but normally that comes after World Championship. The (2019 Doha) World Championship just ended this past weekend, so I really only ended my season a little earlier than usual. Still, it was really hard to watch it sitting at home. But, I've already started my 2020 campaign to get ready for Tokyo, and I'm feeling good, strong, healthy, trying to put weight on and I just have a fresh perspective. It's kind of like a mini-holiday to step away and disconnect from the work world.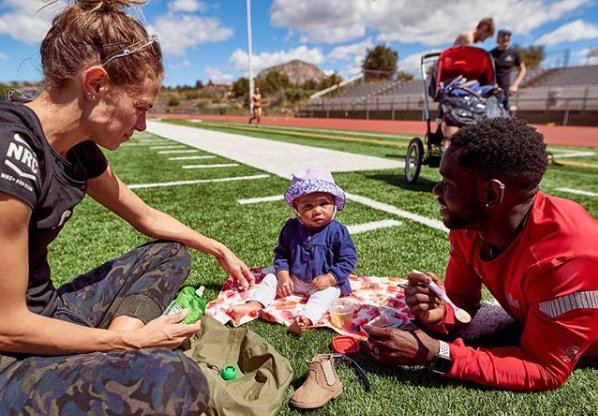 c/o of Melissa's Instagram @melissacorinneb
TG: It must be super tough to watch at home, but your mindset is great! Going back to the beginning, how did you first get into track?
MB: I remember in elementary school, I was always lining up to race the boys, and only one boy could beat me—he was super fast. That was a motivation. And when you're good at something, it's easy to like it, and that's kind of how I found my way into track and field.
I had a talent with running, but I wasn't a track and field athlete exclusively until university. I played competitive hockey, volleyball, basketball, and then it got to the point before going into Grade 12 my parents said, "Okay Melissa, it's time to choose hockey or track and field, we can't afford to keep doing both." I was still able to play hockey during school, but had to give it up outside of that, and I took the track and field route. It definitely wasn't easy and my dreams didn't come true all at once though.
Even entering University (of Windsor) I always had a dream of going to the Olympics but it wasn't until after I graduated university that my coach sat me down and said, "You have a great shot at making Olympic team, let's figure this out."
Up until then it was a dream. Then the last few years of university it turned into, "okay, this could become a reality" and it's all manifested itself. I absolutely love my job.
TG: You obviously made the right choice because you're crushing it, but why the 800m?
MB: So, I was a sprinter in the 200m and 400m in my early high school years. Then, my coach suggested I try the 800m and I hated it for a very long time. I grew to love it as I got better at it, and I've stuck with it ever since. Now, I just love it. It's an event I'm still trying to figure out. It's a challenge. Every race is a challenge obviously regardless of distance. But it's two laps around the track so it's like a sprint but with endurance...kind of the best of both worlds.
TG: Awesome. It must be super important to have a good support system to tackle the ups and downs of being an Olympian.
MB: Having support is huge. Especially for women in sport, too, because our challenges are taken to the next level. We aren't offered the [financial] opportunities that our male counterparts are… You see the fight right now in women's soccer, no equal pay. Women's hockey, no equal pay. Track and field is individualized, so it's different, and you don't know anyone's salaries. But knowing you have a support system makes a huge difference. And for me that includes my husband, coaches, family, trainers, therapists, sports psychologists, a lot of people.
TG: Yeah, great point! So, looking forward to Tokyo 2020...what is your mindset and what are you most looking forward to at your v. impressive third Olympics?
MB: My mindset hasn't changed. My goal is still to be on the podium. The goal was podium in Rio 2016 too, and I just missed it by one place. So my goal is still the same. But, I've been out for two seasons, so I'm looking forward to clawing my way back. I'm really looking forward to trying to keep a healthy body and get through a season and get a P.B. (aka personal best). There will be blips, but having a healthy season leading up that would be so great. I've really missed that.
TG: Amazing. What motivates you?
MB: It's knowing that my competitors are out there and they're training so hard every single day.
I don't want to regret the run that I didn't do.
In the end, the small things I fluff off will make the biggest difference come Tokyo.
TG: That was a really great, pointed answer! What are you most proud of for overcoming in your life or athletic career?
MB: I think I'm in it right now. Coming back to full-time athletics after having Corinne is really something I'm still striving to do and overcome...and proving to the world that women can be moms and athletes at the same time. There are so many examples just in track and field alone where women have come back after having babies and made it to the podium in two years. So that's it.
TG: So SO true! Obviously we're rooting for you. What are the biggest ways your life as a professional athlete has changed since having Corinne?
MB: I'm still finding my way. It's a hard balance that I'm learning. Last year was the test year of balancing full-time athletics and parenting. I'm finding a way to have the best of both worlds. It's okay to take the time you need as an athlete to do what you need to be the best and to recover, but still know that you can come home and be a mom and she'll be waiting for you. That's been the hardest part has been finding that balance.
TG: The challenge of athletes becoming parents and being athletes has been a big lately. Is that something you were affected by?
MB: When we first found out I was pregnant, the top of my "uh-oh" list was, "what will my sponsors say?" The majority were all for it and couldn't wait to see what I would do after pregnancy, but there was still this concern because there's this stigma around having a baby and coming back to sports and that you can't do it. But you can! We'll get there shortly as a country, and with sponsors, to support women through their pregnancies and after. Because imagine taking a mat leave and finding out your job wasn't there, which sadly still happens, but that's kind of what it's like as an athlete. Sponsors are our livelihood. And, having a baby coming into the world and knowing you may or may not have money coming in is scary as heck.
TG: That is super scary! Is it weird getting asked so many questions about being a parent now?
MB: It was weird in the beginning to be asked about it, but now it's part of who I am!
TG: This was so awesome Melissa. Thank you! Now, let's end on some v. fun rapid-fire questions.
TG: If you're celebrating a great race…what are you ordering first at a restaurant OR bar?
MB: A burger with all the toppings and french fries. We have this place in Windsor called Burger with this crazy array of burgers.
TG: What are you binge-watching right now?
MB: I'm actually binge-reading! It's called Where The Crawdads Sing.
TG: Wow. Good for you! You're the first to respond with a book!
MB: Okay, you caught me in a good moment to say that. *Melissa laughs* So, as soon as baby goes down, 90 Day Fiancé comes on!
TG: Do you have one song you listen to before you run?
MB: Nope. I just say "Hey Google, play music" — Oh my gosh. Hang on. Sorry, Google is playing music! *Melissa laughs*. Okay, sorry!
Okay, so, we're not allowed any music in our call room where we get our spikes on and get organized and get our numbers…no headphones or anything. But I'm pretty open to whatever music on the way there.
TG: What's your go-to karaoke song?
MB: Well, it's gotta be Lizzo's "Tempo"
TG: What other sport or athlete are you most looking forward to watching in Tokyo?
MB: Cycling, swimming, diving… oh, gymnast ! I got to know her recently. She is the epitome of down-to-earth. She's just this pint-sized super strong athlete you want to root for!
TG: Okay, and finally, how can someone get your abs?
MB: *Melissa chuckles* Well, a lot of running. And to be serious, I do core work and pilates has become my new core work, just, zipping everything back up. Pilates has been a killer but introducing something new other than sitting on a yoga mat and crunching has been good… and also, well, running!
That's #thegistofit
Want more from Melissa? Check out this episode of The GIST of It.
Don't get The GIST's free twice-weekly newsletter yet? Let's