🏐

Melissa Humana-Paredes

March 17, 2020
Melissa Humana-Paredes is one-half of one of Canada's most successful beach volleyball teams of ALL TIME. Melissa is fresh off a handful of HUGE World Tour wins this season, including winning Canada's first ever Beach Volleyball World Championship Gold. Amazing.
When Melissa isn't advocating for pineapple on pizza (keep reading for more on that), her sights are set solely on doing something Canada's never done before: winning a beach volleyball Olympic gold medal. Bring it on Tokyo 2020.
Let's get into our interview with Melissa:

Lexie at The GIST (TG): Beach volleyball is a pretty unique sport to play in Canada because of our freezing weather. How did you first get into it?
Melissa Humana-Paredes (MHP): I think my entrance to beach volleyball was unorthodox, because I started playing beach volleyball first, whereas most Canadians play indoor first and then transition to beach. For me, I was opposite mostly because of my dad. He was an Olympic men's beach volleyball coach for a few years (Editor's note: Melissa's father Hernán coached Canada to its first, and currently only, beach volleyball medal at the Atlanta 1996 Olympics. So cool.), and coached for the York University women's indoor team. So, growing up, a lot of my childhood was spent going to and from beaches, and to training, with him. Then, I started competing for Team Ontario at 12 years old and worked my way up to representing Canada by age 15.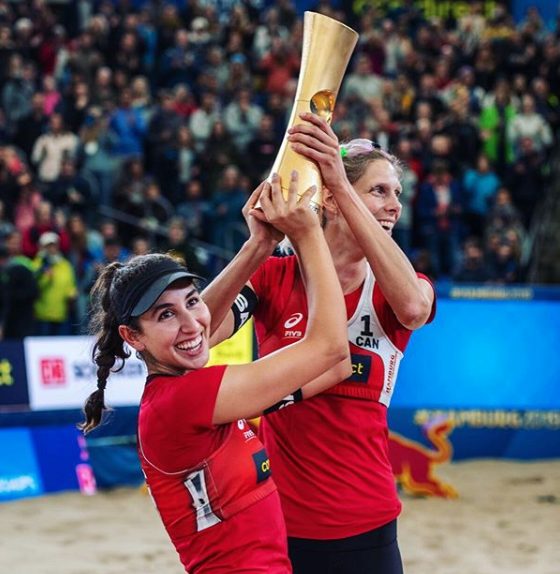 c/o of Melissa's Instagram @melissahumanaparedes
TG: How did you start playing with your partner ? What is that process of finding a partner like?

MHP: In Canada, we're lucky because we can pick our own partner to play with. Our pool of athletes to choose from isn't as deep as it is in other countries, so it's actually kind of incredible that we've done so well. When finding a partner, you're definitely looking for someone to complement your skills, commitment and work ethic.

After the Rio 2016 Olympics, Sarah and her former beach volleyball partner Heather split, so Sarah was looking, and according to her, I was first on her list. She had seen me play, and had really watched me for a few years, so she knew what kind of player and person I was. I didn't know how I was going to step into that big of a role (Editor's note: Sarah was a beach volleyball quarter-finalist at the Rio 2016 Olympics), but it was a no brainer for me to say 'yes' to her…the rest is history, obviously.
Everyone has skills at this level, but the relationship, and managing it, is important and one of the main dictators as to whether partnerships are successful or not. Sarah and I have taught each other a lot, and it's very give and take. It's how we're able to be successful.
TG: Yeah, that's a good point. So do you work together specifically on strengthening your relationship?
MHP: Yes, it's really important. In beach volleyball, your partner is your coach, teammate, and rock. That's all you have. There are no substitutes. If you're having a bad day you have to work it out with just you and your partner. They don't need to be your best friend, but you need to have mutual respect and learn to compromise.
In the last year, Sarah and I have worked a lot on communication. We brought on a sports psychologist to help guide us in having really tough conversations that we otherwise wouldn't want to have. We've been winning and finding success together lately, but even when you're winning, you're constantly learning. Our wins haven't been easy, we've grinded our way through, so having someone to help guide tough conversations has helped bring us closer together to continue to improve. We've also had really tough losses that have led to serious conversations and then mental exercises for us to work on together. We've come out stronger, and I couldn't be more grateful.
TG: That's awesome. And SO important to work on the relationship aspect. You have set a lot of Canadian records with your wins, including first Canadians to win a World Championship, so we assume your next goal is working toward Gold in Tokyo?
MHP: Yes *Melissa chuckles*. It's very surreal. This is something I've dreamt of my entire life, before I was even playing volleyball and I was just a toddler watching my dad with his team. When they brought home the bronze medal from Atlanta, I think I was 4 at the time and it really sparked an Olympic dream in me at a very young age.
Now, to be in a position to get to actually chase this dream and a Gold medal is hard to put into words…I don't want to get ahead of myself though, and there are a lot of tournaments between now and Tokyo. We want to use this time to work on our seeding (aka ranking), which we're fortunate to be able to do (Editor's note: Because they won the World Championships, *nbd*, they get an automatic spot in the Olympics. Therefore, they'll use the next ten months try to lock down the No. 1 ranking to get better matchups at the Olympics. Think of it similar to a tennis tournament).
The fact that Olympic Gold is very tangible, and not just a dream, but a realistic goal we've set up for ourselves to be able to pursue, it just goes to show that our process is actually working.
Chasing your dream is not a lost cause. It's not just this thing you write in a notebook. It's real, and it can be real for anybody.
We've accomplished incredible things this year that haven't even fully hit me yet (Editor's note: at the time of this interview, Melissa was fresh off a red-eye after winning the AVP Hawaii Open). I haven't had time to reflect on everything, but I'm going to be able to look back on that hopefully soon and be so proud of it, and use that as momentum.
Now, I'm going to put all of my energy and effort into Tokyo 2020.
When I get there, I want to be able to walk away knowing that I gave my all and did everything I could, regardless of the outcome. If it results in a gold medal, and hopefully it will, that will be incredible. If it doesn't, I'll know I can still be proud of my journey and what I gave to it.
TG: That's such an awesome mindset. Wow. So, are the resources and funding equal between the men's and women's programs?
MHP: For prize money, through the FIVB (International Volleyball Federation), it's equal for men and women. In Canada, we're carded (aka given the same government funding) equally across genders. Women actually get a bit more support in Canada because we have been more successful with our results and medal potential (Editor's note: the answer to this question is so incredibly refreshing. About time!). Now, leading into the Olympics, and will start to prioritize women's teams more since we have serious Olympic medal potential. And hopefully we'll see success on the men's side too!
TG: With the upcoming Olympic spotlight, you and Sarah will have an even bigger platform to champion beach volleyball in Canada. How does it feel to have that opportunity?
MHP: In terms of the responsibility of being a role model, I don't take that lightly. I used to be someone who would look up to experienced professionals and take in everything they would do, so I know what kind of impact that had on me, and how strong and how powerful that is.
I'm very careful with what kind of messages I portray, and who I want to be for young athletes. If I can have the kind of impact that Sarah has had on me to one young girl, then I'm doing my job right. I just want to help grow the sport and inspire a young generation. In beach volleyball, it's easy for girls to feel left out and honestly a bit sexualized sometimes. It has a bad reputation for female athletes, so that's something I'm trying to stand up for, and show that beach volleyball is inclusive, and there is room for strong women.
I don't censor a lot of my opinions, which doesn't always sit right with others. That doesn't really matter to me.
It's an honour and a privilege to have a voice, whether people agree with it or not.
If I can sleep well at night and step away from this career knowing I stayed true to my values and tried to make a difference, then I can be satisfied.
TG: Really powerful stuff. Hell yeah for strong women. Now, let's finish off with some rapid fire Qs.
TG: After you win a huge tournament, what are you ordering first at a restaurant/bar to celebrate?
MHP: Pizza! Most people would probably say a drink, but my instinct will always be pizza…Hawaiian pizza to be exact. I've made my opinion very publicly known about pineapple on pizza. I'm quite outspoken about this!
TG: This is one of those opinions you mentioned that not everyone agrees with. Okay! Who would you pick as your celebrity partner in a charity match?

MHP: First person in my head is Chrissy Teigen, but on further thought, Michelle Obama.
TG: Who's your guilty pleasure celeb to follow on social media?

MHP: Okay, NOW I'll answer ...but I don't actually feel guilty. She's hilarious, no filter, not afraid to speak her mind. We need more people unafraid to stand up like her!
TG: 100 percent agreed. What show are you binge watching?

MHP: Marvelous Mrs. Maisel.
TG: What one song are you listening to before you play?

MHP: I cringe saying it, but "I Don't Care" by Ed Sheeran and Justin Bieber. We request it and it loosens us up, even Sarah starts dancing… but all-time classic is DMX right before going into the stadium. It puts me in "beach mode" instantly. I'm ready.
Editor's note: Melissa is also actively involved with Sea Going Green, a non-profit environmental group that works with companies to create sustainable tourism development. Learn more on their web site.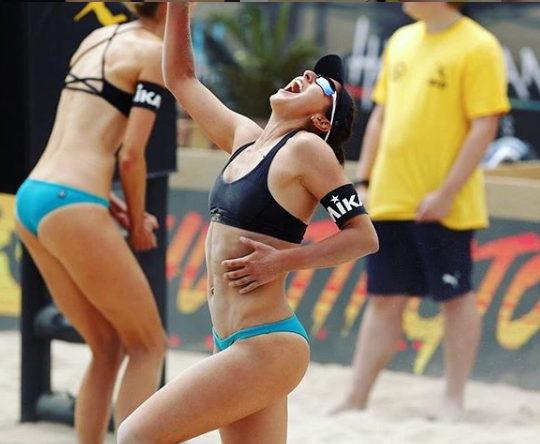 That's #thegistofit
Don't get The GIST's free twice-weekly newsletter yet? Let's .
🏒

Natalie Spooner

March 17, 2020
We're so excited to introduce our newest athlete ambassador *drum roll please* Natalie Spooner!
Natalie truly needs no introduction, but we'll give her one anyway. She's a two-time Olympic medalist, Clarkson Cup (the former Canadian Women's Hockey League Championship trophy) champion, Amazing Race Canada runner-up, and now a competitor on CBC's Battle of The Blades. In Natalie's downtime…just kidding, she doesn't have downtime. Natalie also runs a High Performance Hockey Academy for girls and works to inspire the next generation every damn day.
Let's get to our interview with Natalie:
Lexie at The GIST (TG): You just played in your first showcase games in Toronto. It looked very successful, what was that like to be a part of?
Natalie Spooner (NS): It was awesome! Going into it, I really wasn't too sure what to expect. It came together quickly and there was no precedent for what we were doing. Also, we weren't playing for a trophy, and it wasn't a big playoff game, so I didn't know what the level of intensity was going to be. But all four games were intense, fast, and close. And it was amazing to see all of the fans, and little girls, in the stands in our first showcase.
TG: Was was your favourite or most inspiring interaction from last week's series?

NS: I saw this one little girl who was being interviewed, and she was holding a sign that said, The fact that she was even thinking of that at such a young age was so inspiring, and she wasn't even the only one. There were so many young girls with signs and messages. These young girls have a dream to have a career playing hockey, and we're trying to help pave the path for them to do it.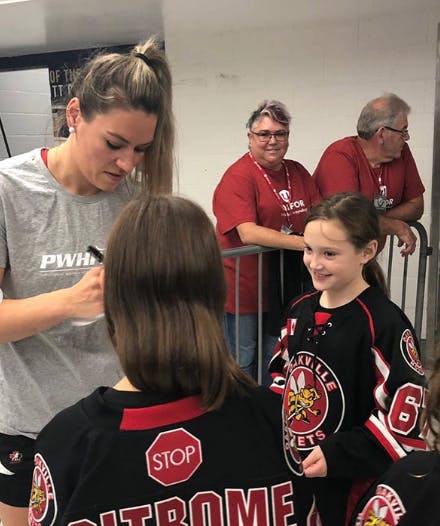 TG: Is anyone getting paid on the Dream Gap Tour?
NS: No. Everyone is volunteering. Players, coaches, game day staff, organizers...everyone. (Editor's note: despite the volunteering, the Professional Women's Hockey Players Association (PWHPA) landed some great sponsors. Although the players aren't paid to play, other aspects of the Dream Gap Tour are covered, including food, transportation, accommodation, ice time and some equipment. Baby steps)
TG: When the Canadian Women's Hockey League (CWHL) officially folded in May, the National Women's Hockey League (NWHL) was a potential option to play in. Instead, you and a group of the best 200 players in the world banned together to not play professional hockey in North America. Why did you opt into the movement?
NS: There's really not one specific answer. When the CWHL folded, we were completely blindsided. Then we collected ourselves and tried to figure out the best way forward. So, as players, we all put our voices together, talked, heard each other out, and collectively made a decision. In women's hockey, being paid a career wage has never been an option. So it was important for us, as people who believe in this sport, to use this opportunity to work toward something that was sustainable, with the resources we would need (Editor's note: meaning work towards having a league that pays more than $2-15k annually and so that women don't have to have another job in addition to playing hockey). We wanted to use this as a step toward building something so that young girls won't have to be in this position we're in now, 10 or 100 years from now. So, we pursued the unknown as one, united voice. Now, we're really optimistic.
TG: As you should be! A lot of hockey players, like yourself, have always used your platforms to be positive, but with the #ForTheGame movement, it's brought in a lot of negativity and, well, trolls. Does that affect you?
NS: No, I try not to let anything like that affect me and bring me down. I believe in the game, how great the players are, and how hard we work.
We work just as hard as any other athlete and deserve to have a league and place to showcase our talents. Everyone is going to have people who don't agree with them when they stand up for something.
And, and at the same time, regardless of how those people are talking about us, they're still talking about us and giving us more exposure, so we'll take that.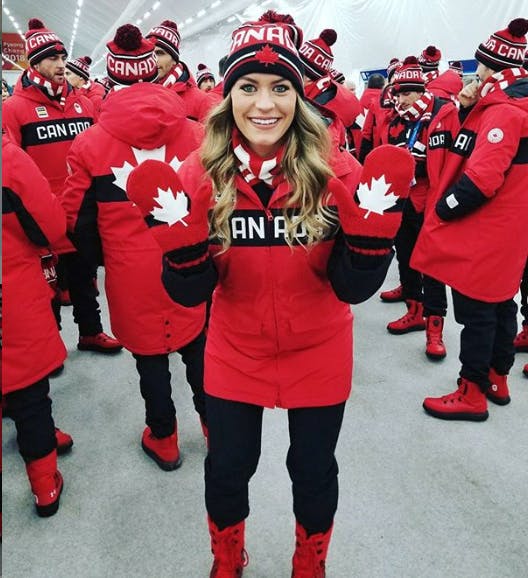 TG: That is a really good perspective to have. Okay, you've accomplished a lot in your career, but what's something you're personally really proud of?
NS: Before the Vancouver 2010 Olympics, I made it to Canada's top 35 players, then was cut before centralization (aka didn't make the team), and that was pretty disappointing. Honestly, it forced me to work harder, and showed me what I needed to do to get to another level to become an Olympian. So I'm proud of learning from that.
But I think, overall, I'm really proud of my efforts to get out and give back in the community, and to start my hockey school. I just try to interact with, and inspire, as many young girls as I can, and give back in that way.
TG: Totally! Speaking of your , what do you usually do or say to inspire young athletes beyond just teaching on-ice skills?
NS: Hockey has the ability to teach you a lot of skills: working hard, overcoming adversity, learning teamwork, communication…but none of that is going to feel rewarding if it's not fun. Hockey is a game, and you're supposed to be enjoying it. So, to keep more young athletes, especially girls, in sports, .
Also, we're now seeing a lot of kids playing only one sport all year long, and they are naturally getting worn out. I think it's important that kids play multiple sports and mix things up, so that when they come back to hockey and it's time to work, they're fully into it. If we teach kids to have fun and enjoy playing sports while working hard, that's when they'll get the most out of it and play their best.
TG: Growing up, you had so many role models of your own, but now you've become a role model for so many. At every game, fans are wearing your jerseys. People are lined up to meet you. What's that like?
NS: Honestly, it's still weird. *Natalie chuckles* I just feel like a regular person and just try to be myself. It's definitely weird, but I just try to do the right thing that sends the right message for kids to look up to. I was fortunate to have some role models growing up who did that for me.
When I was little, I had the opportunity to meet and that was really a turning point for me that sparked my dream, so to think I could be that for another little girl is… well, it's pretty craz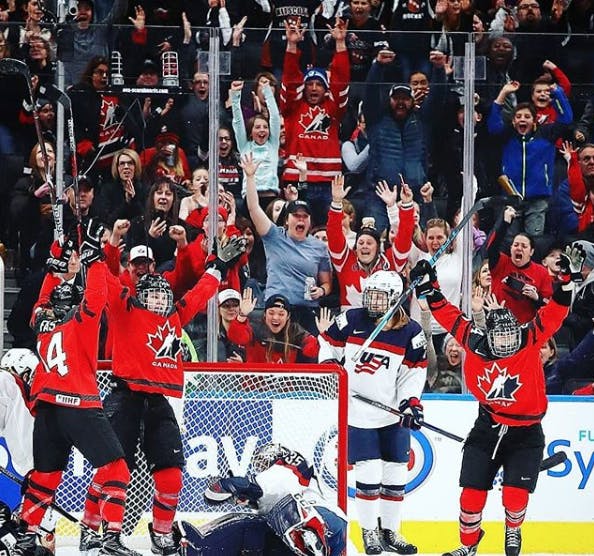 TG: That's really awesome. You're competing on Battle of the Blades as a figure skater, while still training and playing hockey. What has it been like transitioning between the two sports?
NS: It is really tough! At first, with the toe picks, I fell...a lot. My elbows are still bruised from falling. So the transition between the two has been pretty hard. When I go back to playing hockey, I feel like I have no edges. And then I go back to figure skating, I get in trouble because my tendency is to get low, so I'm always being told, "more upright!"
I think figure skaters are amazing skaters, though. The way they carry the weight and feel their edges. As hockey players, we're focused on being fast and powerful and just getting our job done. We never worry about looking pretty or pointing our toes. In figure skating, you have to work to look effortless and graceful.
TG: What is that like as a hockey player to now always be conscientious of how you look while skating?

NS: It's really weird! At first, I wouldn't smile, I wasn't thinking about any of that. Now the more I do it, the more I get used to it. Figure skating is actually a lot of fun, and I have a lot of respect for it.

Editor's note: You can watch Natalie compete on CBC's Battle of the Blades Thursdays at 8pm ET, then vote for her at cbc.ca/battlevote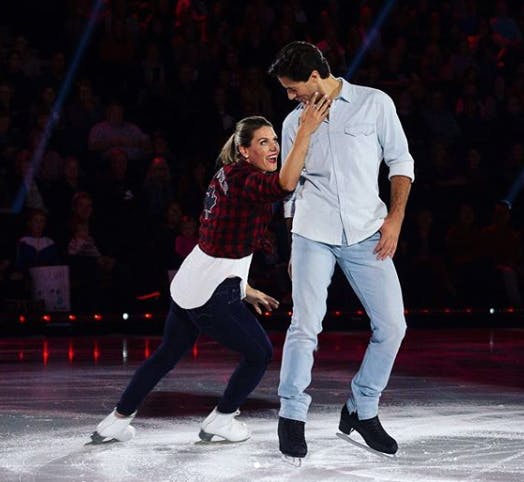 TG: You've been involved with for a few years, can you talk a bit about them and why it's important to you?
NS: Absolutely! I think it was my first year in the CWHL in 2012 when I started helping with HHTH events. It's a really important cause — their goal is to raise awareness and financial support for homelessness. I was really fortunate with the environment and the home I grew up in, but there are many people at-risk or homeless that could use help. So it's great to be part of something important, and the events are just really well-run. Anyone can play, and you get to play with professional female players and ex-NHL players. You're treated like a professional from the moment you walk in the door with the treatment you get. Jerseys, socks, it's all provided.
Anyone can , either as an individual, or as a team, and you just need to fundraise a certain amount of money. There are tournaments all over Canada. It's a really awesome event.
Editor's note: If you're interested in learning more about Hockey Helps The Homeless or getting involved, check out their .
TG: Awesome! Okay, now let's end on some v. fun rapid-fire questions.

TG: What are you binge watching right now?

NS: *Natalie laughs* I honestly don't have time right now! But before I got super busy, I was watching Bachelor In Paradise. I didn't get to finish it, but I watched the spoilers, so I'm good. Oh, and I love 90 Day Fiancé!
TG: Was your love for 90 Day Fiancé inspired by your ?
NS: No! I've really just always loved it!
TG: You love singing! What's your favourite song to sing?

NS: Celine Dion, "My Heart Will Go On"
TG: Audacious, we like it. You can invite any three people to dinner. Who are you inviting, and what are you eating?

NS: Oh, gosh! Okay for sure my grandma. She loved singing, too. The Queen! And I would invite…Ellen (DeGeneres...not The GIST's Ellen lol). We'd eat The Keg's Bleu Cheese Fillet.
TG: What movie can you quote the best?

NS: Pitch Perfect. "I'm doing horizontal running!" *Natalie laughs*
TG: What summer sport are you most looking forward to watching at Tokyo 2020?

NS: I used to swim, so I really like watching swimming. But I'm excited for surfing to be an Olympic sport. That will be cool to watch.
TG: Guilty pleasur-

NS: Chocolate covered almonds. Hands down. (Editor's note: Natalie confidently answered what her guilty pleasure is before the question was fully asked)

TG: Do you have a motto or mantra?

NS: Before I go on the ice I always tell myself to be unstoppable.
That's #thegistofit
Don't get The GIST's free twice-weekly newsletter yet? Let's make it inbox official.
🏉

Charity Williams

March 17, 2020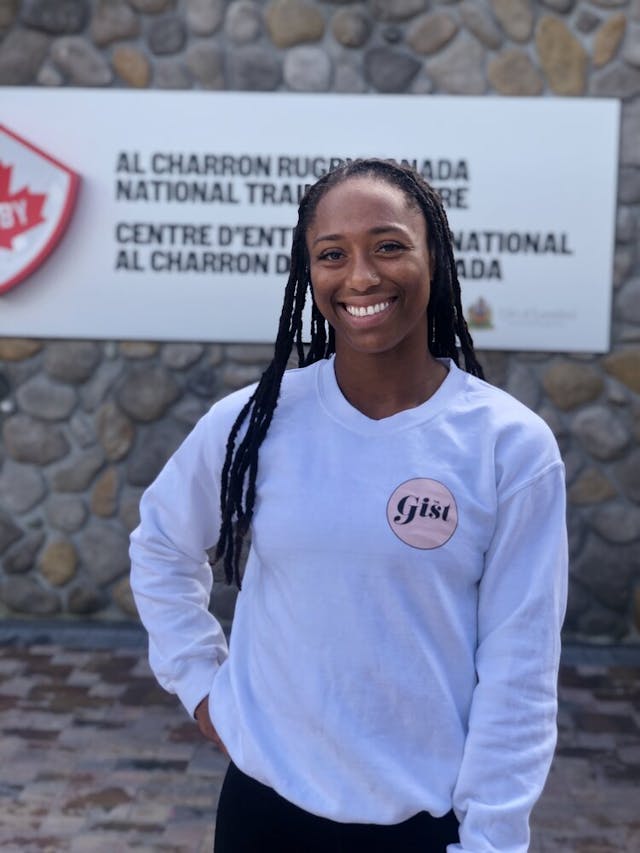 Introducing GIST Athlete Ambassador Charity Williams!
Charity Williams is, in one word, resilient. In two words: resilient and amazing. After overcoming a major setback in 2015 (keep reading for more), Charity became the youngest player on Canada's bronze-winning rugby sevens team at the Olympic debut of the sport in Rio 2016. Now, she's focused on two things: bringing home gold at the Tokyo 2020 Summer Olympics, and petting her friggin' adorable dog.
Let's get to our interview with Charity:

Lexie, at The GIST (TG): Okay, first of all, your adorable dog is named Arya. Arya as in Arya Stark?

Charity Williams (CW): Yes. I'm a huge Game of Thrones nerd.
TG: Do you want to talk about the ending of Game of Thrones?
CW: I...ugh. I disliked it. But you know, I really appreciated their work ethic and effort. I'll give them that.
TG: Nicely said. We could spend our whole interview on the GoT finale, but let's talk about you as an incredible athlete with a great story instead.
TG: First off, how did you first start playing rugby?
CW: Growing up, honestly, my only real dream was to be an Olympian. I was in gymnastics, but by the time I was 13 or 14 I realized that goal wasn't going to be accomplished in that sport. So then in high school, my buddy told me about this sport that I had never seen or heard of before called rugby…she was like yeah it's about to become an Olympic sport, you should give it a try. So, I went out for a practice and fell in love with it almost instantly.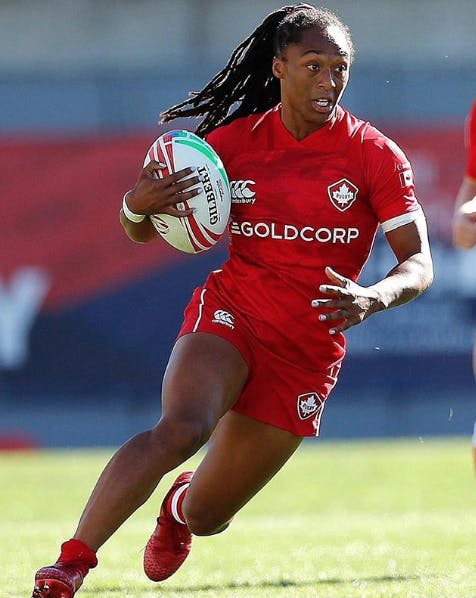 TG: That's great. What is it about rugby that stuck for you and made you fall in love with it?
CW: Rugby has always made me feel very included and appreciated.
Rugby has a place for literally everybody. There are so many working components to make a team, and so many different types of roles to fill. There are a lot of athletes, especially on my team, who were told they were too big or too small in other sports, and now they are national level athletes getting ready for the Olympics.
And, I also just really love the contact in rugby. Being a strong female is actually celebrated in this sport. I've always been strong, and I've always trained my body to be the best it can be, and this sport just really showcases that.
I've always had an athletic build, even growing up, and when you're young, kids can be a little mean if you're different or stand out. So it was really cool to find rugby where you need to be strong and tough and fit, so I've always felt comfortable here…and now it's become my job.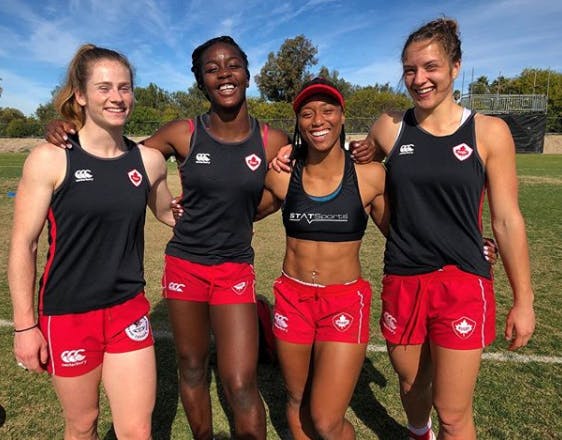 TG: What is something you're most proud of for overcoming or accomplishing so far in your career?
CW: Well, leading up to the Rio 2016 Olympics, I had been let go from the team at the beginning of the training season. So that was really, really hard. For one, it was my job, and I was living in Victoria to train for it, so it really changed my whole day-to-day living. And then, my dream of going to the Olympics seemed like it was over and it was hard to come to terms with that. It took me a couple of weeks to just feel really sad. Plus, the Pan Am Games were going on in my hometown of Toronto, and I wasn't part of that...it was just a really hard couple of weeks for me.
But then one of my strength and conditioning coaches sat me down and said, "let's make a plan… what do you want to do?" And I said, "I want this. This is where I want to be. I want to go to the Olympics."

So we wrote down all the steps to take to get back on the team. And step-by-step we went through that list. First, I emailed the coach to let him know I wanted to be part of the team and that I would show up and train and do whatever needed. So I did that for about six months, but I also had to get a job while going to the training sessions every day.
I was training three or four times a day on my own, or with a coach who took time out of his day to work with me, and eventually I got back to a place where I could be a threat physically on the field. Within six months, I was invited to join the team for a tournament in Dubai and got a "re-tryout". Then, they re-carded (Editor's note: "carding" or "carded athletes" refers to elite level athletes who are provided funding through Sport Canada. Otherwise known as the 'Athlete Assistance Program') me around January.
After being re-carded, my only goal was to stay there. I wasn't thinking about the Olympics. I didn't even think it was an option to actually go (Editor's note: While 19 players train with the team, only 12 players and 2 reserves are actually selected to go to the Olympics). My only thought every single day was to be helpful to everyone who was going. So I just put my head down and worked and continued to get called up to more and more tournaments.
Then, about two months before the Olympics started my coach told me I was going...and I just could not believe it. It was the most insane news I've ever gotten. Honestly. I thought I was working toward 2020 — 2016 wasn't even on my radar. I felt like my whole life flipped upside down. I was going to be an Olympian.
I was 19 and the youngest on the team. I went from cut from the squad in an Olympic year, to fighting and clawing my way back, to going to the Olympics.
TG: Wow. That is just...incredible. That takes so much perseverance. And it must be very isolating to deal with as there aren't a lot of people that understand what you're going through.
CW: Yeah, when I got cut I didn't tell any of my family. I was ashamed, but I almost didn't even believe it was happening. I sort of cut myself off from family and friends while I dealt with it. And, of course, I didn't want to be a distraction to my teammates who were getting ready for the Olympics. I held a lot of it in, but in some ways it gave me more of a fight because I processed it, and realized that the decision to stay there and keep fighting was something that I wanted to do for me. But that was the most insane experience of my life.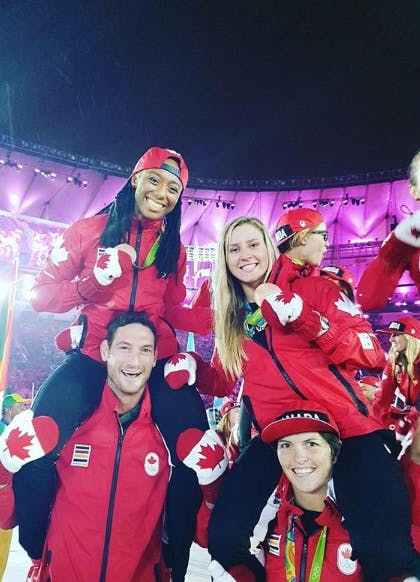 TG: Unreal. Major kudos to you. And it all happened within one season. Can you speak to that training season, and what that entails as an Olympic rugby player?
CW: Yeah. Well, we're very lucky. We're centralized (aka live and train out of one city) 11 months out of the year. We train Monday to Friday from 8 a.m. until about 4 p.m. — it's really a full-time job for us. We get a month off in the summer, and a couple of weeks at Christmas, but we're pretty much going all year long.
And for each tournament or competition (other than the Olympics), only 12 players go with one extra reserve (of the 19 centralized players), so it's almost like you're trying out for a team all the time.
But, we're also really lucky to be together because rugby is a very cohesive sport. It's really important to learn your teammates' patterns and tendencies to be successful, and we get to be together and do that.
And for resources, we get a lot of funding from Own The Podium (Editor's note: is a Canadian not-for-profit that provides resources to help athletes and teams medal at the Olympic Games), because we're gearing up to try to medal. Our program is top three in the world currently, so we do get a lot of funding support, which is great.
TG: Are the resources equal between the men's and women's rugby program?
CW: Um, no...It's a really sticky situation. There is a lot going on internally with Rugby Canada, but we do get more funding through Own The Podium because we're a very successful team. But inequality still exists between the funding for men's versus women's programs that the leadership on our team are really pushing to rectify.
TG: Sigh… We were really hopeful rugby would be different. But it's awesome to hear that the players are pushing for equality. Looking forward, what are some personal goals you want to achieve next?
CW: I mean, really, I want to be a core, important part of the team. When I went to the Olympics in 2016, it was amazing to be selected, but my purpose on the team was really to help the other players be the best they could be and support them.
So this time around, I've been training to be someone who's looked to in those moments. I want to become the best in the world. So I would say that my goal is to be a more important piece of the puzzle for my team and to really help us all bring home a gold medal.
TG: That's awesome. We're rooting for you! You've obviously overcome a lot so far in your career; what is something you've learned that you now pass along to others?
CW: Well, we recently had four new girls come on to the team who are fairly young, just coming out of their high school or university programs. And when you're coming in fresh, you feel like you're on top of the world, then all of a sudden, you come to a program where everyone is at the same level, or likely even a better level. So you can easily start to feel like you're not good enough, and get down on yourself.
But what I tell the younger players is, "you are here for a purpose. If you weren't good enough, or you didn't have enough potential, you wouldn't be here." It's easy to get discouraged if you're not at the level you want or need to be at yet, but if you put in the work and time, you can get there. So, work hard, respect where you are, appreciate the information and advice that's given, and every day just do the best that you can to improve. We've all been there. I was there for a really long time. I wasn't even on the team and I put my head down and worked and cracked that. So that's my advice in the longest way possible. *Charity chuckles*
TG: That's great. And for you to take what you've learned and so quickly be able to make it useful for younger players is unreal.

TG: On a separate but similar note, we know that young girls drop out of sport at double the rate of their male counterparts by the age of 14. How do you think we can combat this?
CW: I think it has a lot to do with what you see in the media. It's hard when you're young, kids can be so ruthless and you don't want to be embarrassed. I think kids just drop out of sports sometimes because it's so much easier than failing.
But, I think something that helped me when I was growing up, was seeing athletes' failures as much as their successes. Oftentimes, all we see is this person as the best in the world, but kids need to see that they don't have to be perfect right away, or win every single time. It doesn't help you learn or understand what it takes to be the best. So I think kids just need to see that everyone messes up at all levels. The best in the world make mistakes and it doesn't make them any less of an athlete.
TG: That is a really, really great point. Thank you!
TG: Now, let's mix it up with some rapid-fire questions. Here we go:

TG: What are you binge-watching right now?
CW: Glee right now! I've seen it so many times. It's just so good.
TG: What movie can you quote the best?
CW: Ah. It's so embarrassing! One of my favourite movies is Talladega Nights…it's just so funny. Should I say that? I don't know if I should. *Charity laughs* Okay, please don't print that. I'm embarrassed.
TG: You can invite any 3 people to dinner… who would it be? And what are you eating?
CW: Um, Serena Williams, obviously. Leonardo DiCaprio, he's amazing and I want to know everything about him… and Michelle Obama. And we'd have some nice medium rare steak and some mashed potatoes and asparagus. (Editor's note: Please invite us, too!)
TG: We also interviewed your teammate Bianca… if we asked her to give us one thing we don't know about you, what would she have said?
CW: Maybe she would say that I have a sugar addiction that I'm trying to fix.
TG: What is one thing we don't know about Bianca?
CW: Um… oh my gosh… Bianca. She's the funniest person of all time. Should I try to say something nice or no? There's not much she does wrong. She totally laughs like she is…a hyena. No! I don't know! She's really awesome.
TG: What song do you have on repeat right now on Apple music/spotify?
CW: Oh! Beyoncé - Partition
TG: What are your favourite and least favourite workouts?
CW: Favourite is …I feel so strong, I love them! And my least favourite workout is any sort of conditioning. We do these 100m sprints that really suck…
TG: Okay, and finally regarding a recent Instagram story, fans want to know when can we expect to see you go pro in golf?
CW: Omg that's so embarrassing! That's funny… I shouldn't have posted it. I don't even know how that happened. Hilarious.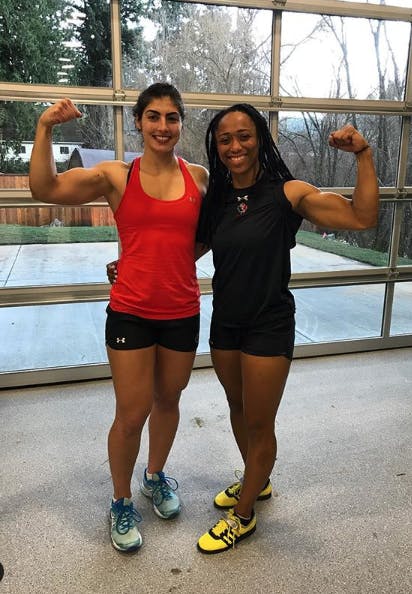 That's #thegistofit
Don't get The GIST's free twice-weekly newsletter yet? Let's
🏈

A little bit extra

March 16, 2020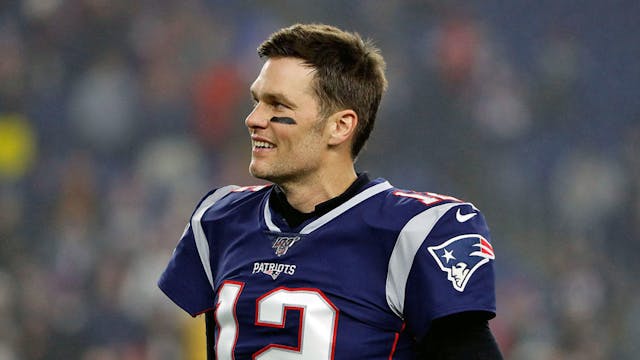 The GIST: On that note, we do have a few non-COVID-19 related sports updates, because we just can't go cold turkey.
NFL: On Saturday night, the NFL Players Association narrowly voted to accept the NFL's proposed collective bargaining agreement (CBA). This was a surprise, as many big name players initially criticized the proposal. The new CBA, which was ratified with 51% of the vote, means we'll see the 16-game regular season increase to 17 games, a 12-team postseason increase to a 14-team postseason and, most interestingly, no suspensions for positive marijuana drug tests. Radical.
The NFL's free agency begins at 4 p.m. ET on Wednesday, which means any player with an expiring contract will be free to sign with a new team. Three big-time quarterbacks will be on the market: New England Patriot Tom Brady, Dallas Cowboy Dak Prescott and Los Angeles Charger Philip Rivers. Something to look forward to...unless you're a Pats or Cowboys fan.
🏆

The big picture

March 16, 2020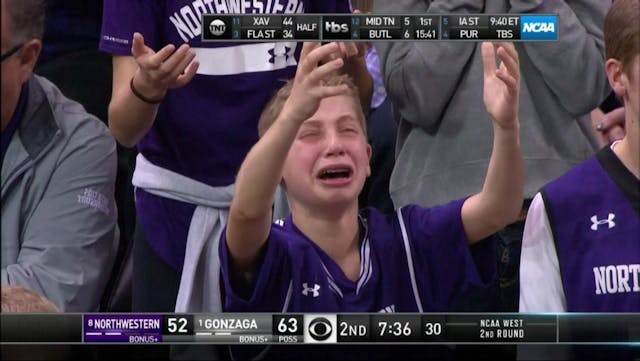 The GIST: Here's how we see it: yes, during a pandemic, sports are pretty insignificant. But, it's okay to be bummed about all this. You can understand the reasons behind the cancelations and postponements and appreciate the efforts to keep athletes, coaches, staff and fans safe and still be sad that we'll be without sports for a while. For so many, sports are an escape. We use them as a distraction, a getaway, a respite from the real world. They provide unity and hope in times of tragedy and struggle.
This is the first international event that any of us will go through without the comforting distraction of sports. It's going to be difficult. It's going to be long. It's probably going to be boring. But we'll still be here (in our respective homes, self-isolating) and we encourage you to reach out to us. Send us a tweet, drop us a line, slide into our DMs. Sports may be on hold, but the sports community is still going strong.