🏉

Guide to Rugby

May 26, 2021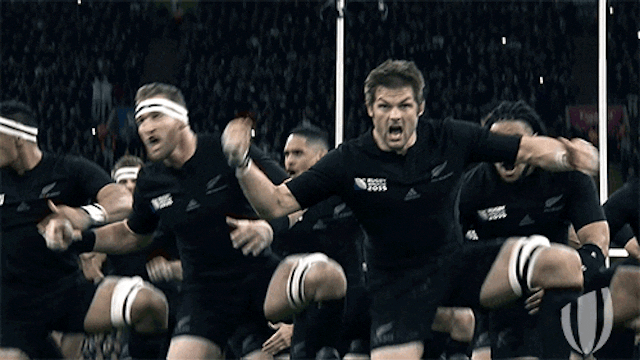 The GIST
Rugby is played on a grassy field (known as a pitch) with 15 players per team. It can, however, also be played with just seven players per team in a version that's called sevens rugby or often just 'sevens' (which made its Olympic debut in 2016). There are also other variations of rugby, including rugby football and Aussie rules, which are most commonly played in Australia.
The scoring system in a rugby match is similar (but not exactly) to good ol' American . Scoring a try is worth five points and occurs when a player touches the ball down in the end zone (similar to football). After every try is scored, the scoring team has the opportunity to kick a conversion (like a field goal) for two extra points. Games are divided into two 40-minute halves and time expires when the ball is "dead" (kicked out of bounds) after the 80-minute mark. In sevens rugby, the games are only seven minute halves because there's a lot fewer players covering the same size of field, and that's just tiring AF!
How is rugby organized?
Rugby has had some trouble gaining a foothold in the American sports market, but MLR (Major League Rugby) is trying to change that. The league formed in 2016 when five amateur teams signed on to start a professional league. Two years later, in 2018, MLR had a multi-year television broadcast deal with CBS Sports Network and hosted its first regular season game on April 21.
This league is the highest level of professional rugby in North America and the league is set to expand in 2020 with three additional teams (Atlanta, Boston and Washington, D.C.) to bring the total to 12. Because of this, MLR will switch to a conference format for the first time in 2020 with a Western and Eastern Conference each consisting of six teams with a scheduling running from February through to the end of June. More on the format . The Seattle Seawolves were the MLR champions in both the 2018 and 2019 seasons.
The best of the best
Rugby is extremely popular in England, Scotland, Ireland, South Africa, New Zealand and Australia. Now, if we had to narrow it down to the two best teams in the world, it would be the New Zealand All Blacks and the South African Springbok. Both teams have won the Webb Ellis Cup (the trophy for the Rugby World Cup title) three times, the most of any team. New Zealand's came in 1987, 2011 and 2015 while South Africa took the Cup in 1995, 2007 and most recently in 2019.
All Blacks stud retired from international play in 2015 but remains the highest point-scorer in test match rugby (a fancy way to say an international match between two senior national teams). Carter still plays club rugby for the Kobelco Steelers in Japan and plays the of center or fly-half. plays for the English national team, as well as the Saracens in London, England. He is one of the best (looking) converters in rugby, with more than 100 successful conversions in international play. Not too shabby!
Didn't your mama tell you not to ruck with a girl?
The US fields both a regular (15 person) and sevens rugby team at the national level. But because sevens is currently the only Olympic sport, it tends to get the most attention outside of big rugby countries like New Zealand and South Africa.
The US women's sevens team has participated in the World Rugby Sevens Series (a series of tournaments where national teams play for points and eventually the World Rugby Sevens title) since its inaugural season in 2012. They're lowest ranking was seventh in 2013-14 and have been as high as second in the world in the 2018-19 season. In that season, scored the most tries (18) and scored the most points (141), so keep your eye on these two rucking awesome ladies.
The US did not medal when rugby sevens made its Olympic debut at Rio 2016, but they'll definitely be looking to capture some hardware at the Tokyo 2020 Games.
And you know we have some trivia…
This is more of a FYI but, you cannot "forward pass" the ball in rugby — it must be thrown backwards to a teammate. However, you can kick the ball forward along the ground and then run to grab it!
The Rugby World Cup (RWC) is hosted every four years. The most recent RWC was hosted in Japan in 2019 (won by South Africa) and the women's is set for 2021. FYI, in a landmark decision in 2019, the Rugby World Cup decided to from its tournament names meaning the 2021 women's edition will be known simply as the Rugby World Cup 2021. #EqualityAF
You don't get to pick your jersey number in rugby because jersey numbers are assigned to specific positions. Example: 9 = scrumhalf, 15 = fullback.
Rugby was invented when William Webb Ellis was playing soccer, caught the ball and ran to the goal while carrying it. Rules are made to broken we guess?

That's #thegist of it!
Written by Guest Writer & Rugby Guru: Victoria Spanton
Don't get The GIST's twice-weekly newsletter yet? Let's make it email official.
🤼

Guide to MMA

May 26, 2021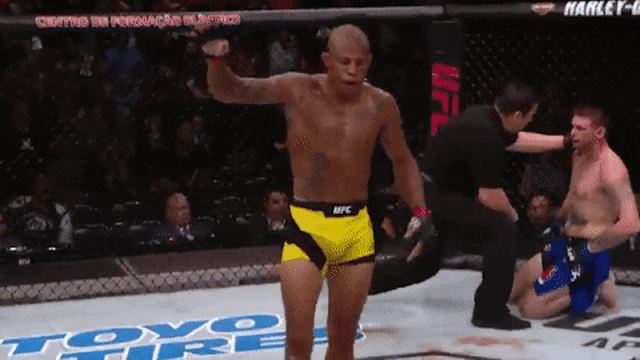 The GIST
MMA stands for Mixed Martial Arts. As the name suggests, an MMA fight can involve many different fighting styles including judo, Muay Thai, Brazilian jiu jitsu, boxing, wrestling, karate and more. Each of these fighting styles has several different forms of striking and grappling — so you're actually watching many different sports in one. More bang for your buck, what's not to love?!
WTF is striking and grappling, you ask? Well, striking is where you use your limbs to hit your opponent.
While grappling involves different techniques like throws, clinches, takedowns, joint locks and chokes in order to control your opponent at close range.
How do you win an MMA fight?
You can win an MMA fight in several different ways. Usually, the goal is to win by either knockout or submission. A knockout is when you render your opponent unconscious by punching or kicking them hard enough. Yeesh. A submission is when your opponent either physically taps your body to let you know that they give up or a verbal tap to the opponent or referee. If there is no knockout or submission, the fight will be decided by the judges who score each round. There are only a few things that aren't allowed during a fight like strikes to the back of the head, eye gouging, hair pulling, etc.
How do they score?
MMA fights are scored based on a few criteria. The most important criteria in a fight is effective striking and grappling. Second, effective aggression, and third, cage or ring control. Rounds are scored out of 10 points, with the winner of a round scoring 10, and their opponent usually scoring eight or nine, depending on how well they performed. While it's theoretically possible for both fighters to score 10 in the same round, it's very rare as they would have had to perform with the exact same effectiveness and impact.
How is it organized?
Leagues
Like other professional sports (football having the NFL and CFL, for example), there are a number of different MMA leagues. We're guessing the first league that comes to mind for you in the UFC (Ultimate Fighting Championship). However, the UFC is not the only company that runs MMA fights, they're just the biggest and richest (like the NFL). There are several other companies like Invicta (which runs exclusively women's fights…love it), Bellator and One Championship that also host MMA leagues. That said, UFC is considered the 'top' league, so it's basically every professional fighter's dream to be signed by them (because there are no teams —players get signed directly with the leagues).
Weight Classes
MMA fights are organized into , so you'll hear a lot about fighters needing to "make weight" for a fight. Often, fighters will fight in a lower weight class than their average day-to-day weight. Why? Because they can manipulate their water weight just prior to the fight to lose a lot of weight quickly (like Channing Tatum in ). Then, as soon as the athlete weighs in just before the fight at their lower weight (each athlete has to weigh in the day before the fight to make sure they meet the rules), they can immediately rehydrate and fight the next day at their usual higher weight. This gives them a potential size advantage. And as they say, the bigger, the better.
Fights
Fights are typically three or five rounds in length, depending on the event or title. Rounds are typically five-minutes long with a one-minute rest period between rounds. We know it doesn't sound like a lot BUT these fights are tiring AF.
The best of the best
The 'best of the best' is whoever is the of their division (aka weight class) at any given time. The winner of a weight class can change any time there's a title fight, which generally happens every few months. A title fight determines who is considered 'champion' of that division. For example, you've probably heard of someone being 'heavyweight champion.'
Some of the best fighters of all time include: Anderson Silva, Fedor Emilianenko, Georges St. Pierre, Conor McGregor and some badass women that we mention below (keep reading). Some people would argue also deserves to be on this "best of the best list", but he's basically failed every drug test he's ever been handed so — v debatable.
The women
The women's division of the UFC is only about ten years old (check trivia below for why that is!). One of the most recognizable names in MMA is because she was the first woman signed in the UFC (back in 2012) and consistently won her fights in spectacular fashion. Rousey was the first American woman to medal in judo at the Olympics, so it's not surprising that she dominated fights with her grappling. Rousey has since moved on from the UFC (she's now performing in the ), so there's a new Queen in town. At the end of 2018, became the first female double champion.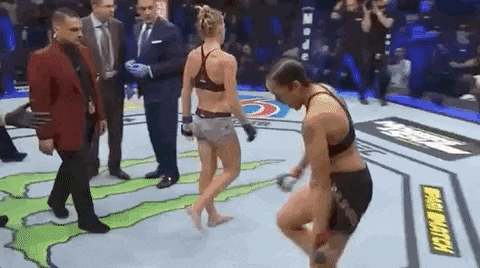 While that's all amazing to see, there's unfortunately still tons of sexism in the fighting world. When asked what advice he would have for women trying to make it in the fighting industry, lightweight champ Khabib Nurmagomedov responded with: "For females, I have very good advice, be fighters at home. And one more advice, all the time, finish your husband." LIKE, ARE YOU KIDDING ME?! Georges St. Pierre (GSP) was once quoted saying that while he can watch a men's fight and admire the technique, he does not watch female fights because he just feels bad for them. We don't want your empathy, dude.
Trivia
The next time you're at a bar and the fights are on, throw one of these facts out and let people bask in the glory of your MMA wisdom...
The oldest UFC fighter to win a title is Randy Couture, who did it at age 45. There is a pretty good chance this record will never be broken.
In 2011, when asked when women would fight in the promotion (the main fight that the league is promoting), Dana White, owner of the UFC (who is a man, don't be confused by the name) responded, "Never." Ronda Rousey was then signed to the UFC in 2012 after Dana took notice of her skills and athletic accomplishments. Get it, girl!
That's #thegist of it!
Written by Guest Writer: Kaeli Sweigard
Don't get The GIST's twice-weekly newsletter yet? Let's make it email official.
🏒

Guide to Hockey

May 26, 2021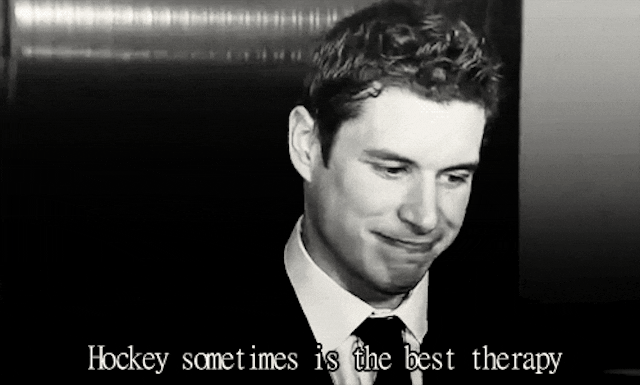 The GIST
The point of the is to have the most goals after three, 20 minute periods of play. Each team has five players (three forwards and two defense) plus one goalie on the ice at a time.
How is it organized?
The most popular hockey league in the world is the National Hockey League, aka the NHL or "chel" if you're a true "hockey beauty" *rolls eyes*. Teams are divided into the Eastern and Western Conferences and are then further divided by divisions. There are 31 teams (until Seattle's expansion team begins its franchise in 2021-22) and 82 regular-season games.
At the end of the regular season, the top three teams in each division and then the remaining top two teams in the conference, regardless of the division (this playoff format is v. controversial because sometimes one division is stronger than the other, meaning that two of the best teams in the conference may have to play each other in the first round) will move on to the playoffs. This means each division will have a minimum of three and a maximum of five teams in the playoffs. The playoffs consist of four rounds of best-of-seven series (teams must win four of the possible seven games to advance) with a chance to win the coveted Stanley Cup aka "Lord Stanley" in the end.
The best of the best
The 2020 Stanley Cup Champions are the Tampa Bay Lightning! The Lightning claimed the first (and hopefully last) bubble championship and their second Stanley Cup in franchise history, defeating the Dallas Stars in six games. Center Brayden Point led the Lightning offense with 14 goals and 19 assists (!!!) throughout the playoffs. On the defensive side, defenseman Victor Hedman was awarded the Conn Smythe trophy (the award for the MVP during the playoffs). Other top players in the league include Sidney Crosby (Pittsburgh Penguins), Nathan MacKinnon (Colorado Avalanche), Connor McDavid (Edmonton Oilers) and Patrick Kane (Chicago Blackhawks)
When will the next NHL season start?
COVID-19 paused the NHL regular season in March forcing a four-month hiatus in play. In a normal year, the new NHL season would begin in October...but we all know 2020 is certainly not normal. With the 2020 season wrapping up in late September, the league is targeting January 1st as the potential start date for the 2021 season, although nothing's set in stone just yet. We'll be waiting for that puck to drop!
All my ladies, let me hear y'all!
The women's hockey scene has gotten mighty messy as of late. At the end of its 2019 season, the (CWHL) (one of two professional women's hockey leagues based in North America at the time) unexpectedly folded due to unsustainable business operations. It consisted of six teams, four based in Canada, one in the U.S., and one in China, and left a lot of female hockey stars without a team.
Then there's the (NWHL) which now has six teams with five in the US and a new expansion team in Toronto, Canada. However, in both the former CWHL and the current NWHL, players get paid next to nothing compared to their male counterparts. Most of the NWHL's players juggle full-time work and pro-hockey as the league's average salary is just $15k. To put this in perspective, the lowest amount an NHL player can get paid is $700k. Can you say #WageGap?
So in 2019, more than 200 of the world's best female hockey players joined forces to fight for change through the Professional Women's Hockey Players Association (PHWPA). They are (refusing to play) in the current professional hockey league structure with the goal of creating a viable cross-border league with better working conditions (is health insurance so much to ask?) and better pay. That means no Amanda Kessel, no Hilary Knight and no Breanna Decker to watch this season. Welp.
But, you can watch them on their this year. It's a short-term band aid but will hopefully help create a long-term solution. For now, the conversation seems to be at a standstill and the future of women's hockey hangs in a kind of uncomfortable limbo. Subscribe to The GIST and follow our social channels to stay up-to-date on more of this news.
Fun facts
The Stanley Cup was created in 1893. It was named for Lord Stanley of Preston, a Canadian Governor General.
The Pittsburgh Penguins (that's Sidney Crosby's team!) used to have a real-life penguin mascot. Pete, as he was affectionately called, was introduced in 1968 before a game against the Pennsylvania state rival Philadelphia Flyers.
There are more than 2,200 names engraved on the Stanley Cup (FYI, each team has their names engraved after winning), but only 12 women have made the cut, either as owners or team executives. Let's get to adding to this tally, shall we?
Don't get The GIST's twice-weekly newsletter yet? Let's make it email official.
🏈

Guide to Football

May 26, 2021
The GIST
To start, it's important to know that football is really only played in North America where there are two main leagues: the National Football League (NFL) played in the U.S. and the Canadian Football League (CFL) played in Canada. Talk about a sport called "football" anywhere else in the world and they'll for sure assume you're talking about (or 'footy', as it's affectionately nicknamed).
The NFL
Let's start by giving you #thegist of the NFL, the most popular football league in the world where the best players aspire to compete.
NFL football is played on a 100-yard field with goal posts (called uprights because the posts face into the sky rather than the ground like soccer) at each end. There are 11 players from each team on the field at once. Through passing or running the football, the point of the game is to score and to have the most points at the end of four quarters. Each team has four attempts (called ) to advance the ball 10 yards before the ball is turned over to the other team. TBH, we know this can be confusing, but stay with us! It's well worth all the hype.
How's it organized?
There are 32 teams in the NFL, which is divided into two conferences (NFC and AFC) which are further split up into four divisions (North, South, East and West). There are 16 regular season games leading to the playoffs which culminates with the Super Bowl. From the wildly overpriced commercials, to the star-studded halftime show, to eating until you explode – the Super Bowl is an event like no other.
The best of the best
The best team from the 2019-20 season was the Kansas City Chiefs, who beat the San Francisco 49ers 31–20 marking KC's first Super Bowl title in 50 years. Kansas City was led by their exceptional quarterback (QB), Patrick Mahomes (who recently signed a record-breaking $503 million dollar (!!!) contract). Determining who's the best player in the NFL is tough because there are so many different positions that require different skills. But it's pretty undisputed that Tom Brady, who is now a Tampa Bay Buccaneer is, quite literally, the greatest QB of all time with six Super Bowl rings. Other players to know in the league right now are Ciara's husband and Seattle Seahawks QB Russell Wilson, and wide receiver Michael Thomas (New Orleans Saints). You can check out the 2020 top 100 list as voted on by the players here.
Female footballers
Think football is a man's sport? Think again! There are actually three full-contact 11-on-11 leagues in the U.S., the biggest being the (WFA). Formed in 2009, the WFA has continued to expand and now includes 60 teams (!!!) across three divisions, each crowning its own champion at the end of every season.
And for those who dig the game but not the tackling, there's always flag football — a similar game where players have to stop running when their flag is pulled off their belt rather than when they're tackled to the ground. 10/10 would recommend.
Ramp up your trivia game
Brett Favre (of Green Bay Packers fame) and Tom Brady are the only 40-year-olds to ever win a playoff game, and Brady is the only QB above 40 to win a Super Bowl.
Just 18 teams played in the NFL's inaugural season way back in 1922. We've come so far!
The CFL
Okay, we know the CFL is seen as the NFL's less exciting cousin BUT if you really want to impress your friends with your sports knowledge, let's get into #thegist of it. Here's what makes the CFL different from the NFL.
A CFL field is 110 yards long vs. the 100 yard NFL field. It's also a little bit wider.
The CFL has 12 players on the field at one time vs. 11 players in the NFL, partially because the field is bigger.
How's it organized?
There are nine teams in the CFL, which is divided into two divisions: East and West. There are 18 regular season games and then six teams make the postseason for the chance to win the . The season runs from June until the end of November, meaning the playoffs are generally played in sub-zero/snowy weather. Just check out the in Hamilton, Ont.!
The best of the best
The reigning Grey Cup champions are the Winnipeg Blue Bombers who beat the Hamilton Tiger-Cats 33-12, thus ending the longest Grey Cup drought in the league (29 years!)
The first Grey Cup was won in 1909 (!!!) by the University of Toronto Varsity Blues, because back then it was awarded only to amateur teams. Today, the Grey Cup is property of the professional CFL, while the Vanier Cup is award to top amateur University teams across the country.
Did you know…
There used to be some American teams in the CFL. The first team from the U.S., the Sacramento Gold Miners, was admitted to the league in 1993. American teams only played in the CFL for three seasons during the glory days of the early 90s.
The Winnipeg Blue Bombers have made the most Grey Cup appearances (25), while the Toronto Argonauts have won the most championships (17).
Don't get The GIST's free twice-weekly newsletter yet? Let's make it inbox official.
🎮

Guide to Esports

May 26, 2021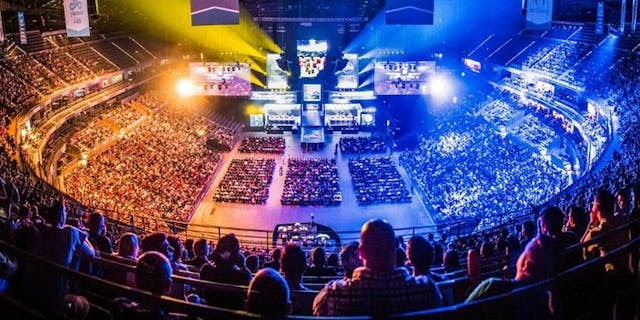 The GIST
Unlike more traditional sports (soccer, basketball, baseball, hockey, etc.) that have been around for decades, esports is a newer 'sport' to hit mainstream markets. The simplest way to think about them is as "electronic sports." Essentially, esports is competitive/professional video gaming. Esports is kind of an umbrella term similar to saying "sports" as there isn't one specific video game that all competitors play. So take football, basketball and soccer and sub them in for , and . Make sense?
How are esports organized?
Esports are normally played in . In their infancy, esports tournaments were predominantly played online. However, in the early 2010s, streaming and esports took off and these gaming tournaments started taking place IRL.
There are currently thousands of tournaments around the world being hosted online and offline where competitors vie for millions of dollars in prize money. That's right. These high-level gamers are competing professionally for a chance to win millions of dollars for playing their favorite video game. Literally living the dream. Apparently our parents may have been wrong when they said: "Go outside and play, you'll never get anywhere sitting in front of a screen."
Back up, what do you mean tournaments?
We totally get it — it's hard to picture. The same way you play a soccer tournament, gamers play against each other in teams of players or individually. It's generally round-robin style with the winner of each game moving on to some sort of playoff. Tournaments can be played and watched online, but when they're hosted IRL, they're normally played in large stadiums or arenas where fans can watch too. Some tournaments are even held in the same arenas as major league sports like the Barclay's Centre in New York and the Wells Fargo Centre in Philadelphia. Pretty cool, right?
In fact, both of these venues have hosted the Overwatch League Grand Finals in previous years. In 2018 the winners received a cool $1M and one year later, the grand prize was upped to $1.1M. Millionaires in the making.
How big is esports? Why is it all the rage these days?
Esports is a big, big industry and it's been rapidly growing for years. By the year 2020, sources estimate the global esports industry will be worth MORE THAN $1.65 BILLION. Damn, that's a lot of zeroes.
One of the biggest reasons for industry growth is the investments being made by traditional sport owners like Robert Kraft. Kraft owns the New England Patriots, and also purchased pro esports team Boston Uprising, a part of the Overwatch League. The COO of the New York Mets, Jeff Wilpon, also owns the New York Excelsior from the Overwatch League. Three-time NBA Champion Rick Fox, yes , bought a League of Legends team called the Gravity Gaming and renamed it Echo Fox. His purchase was largely based on the bond Rick and his son had built while playing League of Legends. What better way to bond over a mutual love of a video game than buying a professional team!? Don't you wish your dad was like Rick Fox?
The games
Not all video games are played professionally (unfortunately for our talents, you won't find a Sims league in esports). However, there are a lot of different "leagues" out there. And that's really the beauty of esports — there is something for everyone. Do you enjoy fast-paced shooting games? You should check out CS:GO. Do you fancy a fantasy-based game where strategy is at the forefront? Dota 2 might be your next obsession. Are you a huge soccer fan? Rocket League is basically monster trucks playing soccer. The possibilities are limited only by your imagination and literally anyone and everyone can play.
And that's why we love esports so much — unlike a lot of traditional sports where physical fitness is key (so a lot of athletes retire around the age of 40), esports players don't have to worry about ageing out of the game. You can be a professional esports player at as you can play the game!
The international superstars
Let's take a look at some of the top gamers in the world:
Dota 2: Kuro "KuroKy" Takhasomi (Germany) has been playing Dota 2 for almost a decade is currently the highest net earner with more than in total income. He surpasses every other esports player in the entire industry. Damn!
League of Legends: Lee "Faker" Sang-hyeok (Korea) is the highest-paid League of Legends player with career net earnings of more than $1.1M USD and adds even more to that playing with his team.
Counter-Strike: Global Offensive: Andreas "Xyp9x" Højsleth (Denmark) is CS:GO's highest-earning player with an impressive career total of almost $1.5M USD.
Where our girls at?
The sad reality in esports is that, much like many other professional sports leagues, women are still being left out of professional teams. Esports has predominantly been a "man's world" with issues of sexism and . Ugh. But that doesn't mean there aren't ANY women competing.
(Overwatch), (CS:GO), Sasha "Scarlett" Hostyn (Starcraft II), and Kristen "KittyPlays" Michaela (Fortnite) are some of the top female players. Unfortunately, their earnings to the multi-millions made by their male counterparts.
Although women make up half the population of amateur gamers, we're still incredibly under-represented in pro-gaming esports. Slowly more women are being signed to top tier organizations, but it's been a very slow process.
Did you know...
"The International", Dota 2's biggest tournament of the year, has the record for the world's largest esports prize pool of more than ! And that's just at the time of writing, it has continued to go up year-after-year and shows no signs of slowing down.
Professional esports players train the same way traditional athletes do. They focus on their health, physical fitness (reaction times are key) and mental stamina.
That's #thegist of it!
Written by Guest Writer: Gillian Scott
Don't get The GIST's free twice-weekly newsletter yet? Let's