🏀
🏐
⚾
Chicago: Build me up, buttercup
April 15, 2021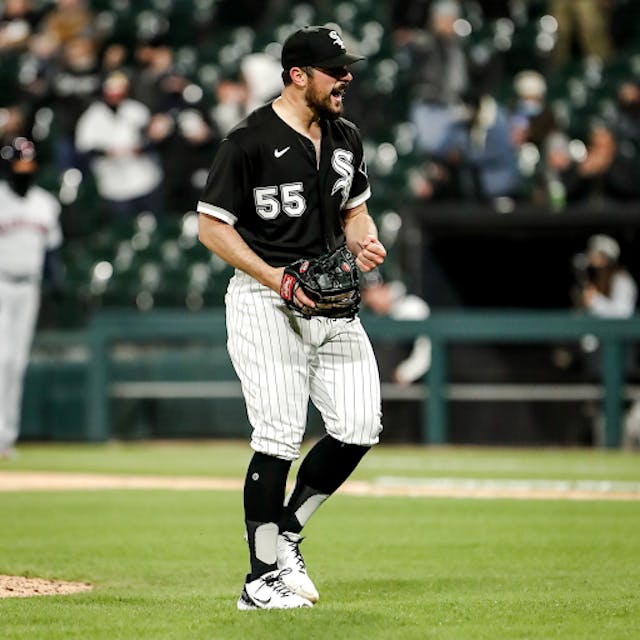 Source: White Sox/Twitter.com
⚾️Sox: After the White Sox scored six runs on the Cleveland Indians in the first inning, Chicago pitcher Carlos Rodón — who barely made the starting rotation this season — decided to have himself a day and went on to throw a no-hitter and . The South Siders beat Cleveland 8–0, and left us all wondering...?
Cubs: Being a Cubs fan is like being in a toxic relationship: they get your hopes up just to tear them down. On Tuesday, the Cubs beat their rival Milwaukee Brewers when Chi-town catcher Willson Contreras — who was hit by Brewer pitches in seven of the teams' last 14 meetings — in the eighth inning, . Drama.
🏐Notre Dame: The Fighting Irish women's volleyball team beat the Army Black Knights in the NCAA Tournament's Round of 64 yesterday. The Irish defense stole the show, racking up 17 blocks and keeping the Knights to a .006 . Straight up embarrassing.
The No. 22 Irish face the No. 10 Oregon Ducks in the Round of 32 at 12 p.m. ET/11 a.m. CT today. Survive and advance, baby!
🏀Sky: With the No. 8 overall pick in tonight's draft, we're expecting the Sky to who can back up star Courtney Vandersloot and avoid turnovers — one of the team's biggest pain points last season.
Top contenders for the spot include Arizona's , Louisville's and Stanford's , any of which we'd be pumped to see swap their red college jerseys for Sky blue.
⚾
⚽
D.C.: East, west, home's best
April 15, 2021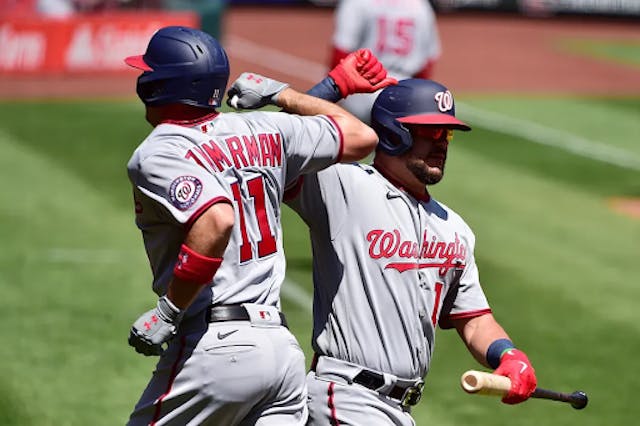 Source: Jeff Curry/USA TODAY Sports
⚾️Baseball: The Nationals won a series for the first time this season, taking two of three games from the St. Louis Cardinals. Yesterday's 6–0 shutout featured pitcher Joe Ross throwing six scoreless innings and himself, Ryan Zimmerman, hitting a .
⚽️Soccer: and the Spirit are back home at Audi Field for tonight's 7 p.m. ET Challenge Cup match against expansion team Racing Louisville FC. After forward Trinity Rodman's last week, we can't wait to see what else she has up her sleeve cleat.
On Saturday night, it's United's turn to show off in their MLS season opener against NYC FC. And hopefully will leverage her analytics background to fast track United's rebuild.
🤸
🏀
🏈
LA: Stick the landing
April 15, 2021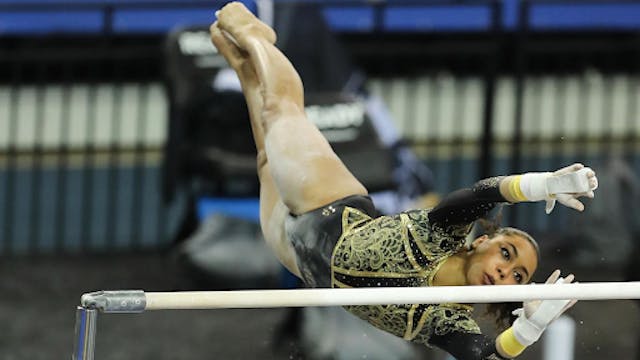 Source: Rand Bleimeister via UCLA Gymnastics
🎓🤸‍♀️Gymnastics: For the first time since 2006, UCLA didn't qualify to NCAA Championships, but three gymnasts will represent the Bruins at nationals. Nia Dennis, Margzetta Frazier and Chae Campbell will compete for individual titles in tomorrow's 6 p.m. ET/3 p.m. PT semifinal.
Dennis and Frazier are competing on vault and uneven bars, respectively, so we won't see either of their floor routines. Bummer.
🏀Basketball: Limited fans are back for tonight's edition of the Lakers' historic rivalry with the Boston Celtics. However, the talk of the town isn't about seeing the defending champs in person, but instead Staples Center's . Who approved this?
🏈NFL: The Rams aren't in season, but defensive tackle Aaron Donald is in the news. A criminal complaint was filed against him yesterday for . Stay tuned.
⚽
🏀
New York: Get it while it's good
April 15, 2021
Source: Business Wire
⚽️Gotham FC: The newly rebranded Gotham FC beat the Orlando Pride 1–0 in their first match of the NWSL Challenge Cup last night. It was scoreless until the 80th minute, when Gotham forward Paige Monaghan channelled her inner hero and off an assist from forward Ifeoma Onumonu. Undefeated in the new .
🏀Liberty: The Liberty made major moves this offseason when they added forward and shooting guard to complement star point guard . What New York is still missing? A big woman.
Knicks: After Monday's against the LA Lakers, the Knicks stayed hot against the New Orleans Pelicans, beating them 116–106. Julius Randle led the team with 30 points, followed by shooting guard Alec Burks — whose recent has fueled the Knicks' offense as of late — with 21. A winning Knicks team: who is she?
Nets: The Nets, who were due to injury, lost 123–117 to the Philadelphia 76ers, dropping to the No. 2 spot behind the Sixers in the Eastern Conference standings in the process. Sigh.
⚽
🏐
🏀
Philadelphia: Bop to the top
April 15, 2021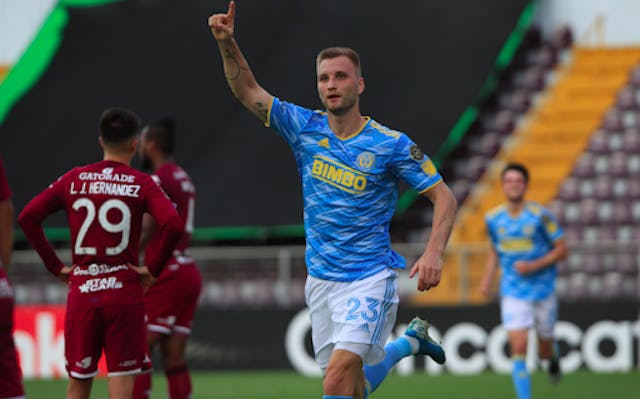 Source: Scotiabank CONCACAF Champions League
⚽️Union: After beating Deportivo Saprissa in last night's second leg (aka match) of the Round of 16, the Union are off to the CONCACAF Champions League quarterfinals. The quarters will begin in two weeks, but first, the Union will have to face Columbus Crew FC in their MLS season opener on Sunday at 5:30 p.m. ET. Never too much fútbol.
🏀Sixers: The Sixers beat the Brooklyn Nets, who were short-staffed without Kevin Durant and James Harden, last night. Joel Embiid led with a staggering 39 points, showing us that he is fully back and vying for that .
🏐Nittany Lions: Thanks to a first-round bye, the No. 13 Penn State women's volleyball will open the NCAA Tournament against the N.C. A&T Aggies in the Round of 32 tonight at 10:30 p.m. ET. The road to an eighth National Championship starts now!