⚽
⚾
🏐
Seattle: Start of something new
April 15, 2021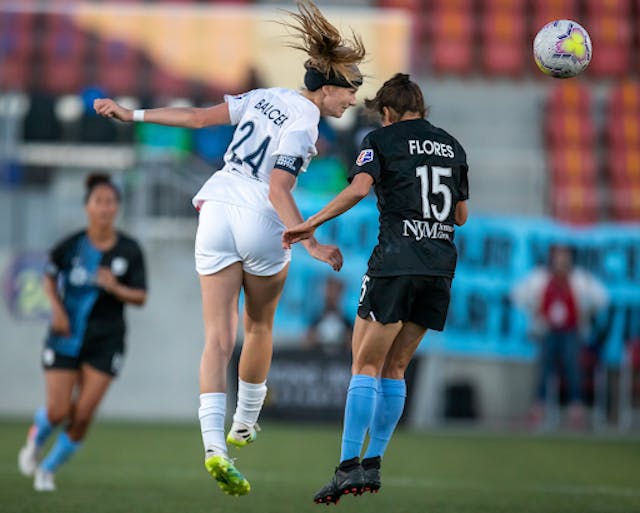 Source: OL Reign/Twitter
⚽️Soccer: OL Reign has entered the chat. They play their first Challenge Cup match tomorrow at 10 p.m. ET/7 p.m. PT, against the 2020 tourney champs, the Houston Dash. Watch for Reign forwards Bethany Balcer and Tziarra King on the attack.
⚾️MLB: After just 24 pitches, Mariner pitcher James Paxton's season is over. The M's announced on Tuesday that Paxton would need . Not only were we excited to see Big Maple back for his second stint with the M's, but his absence leaves a hole in the pitching rotation. Sigh.
🎓🏐Volleyball: It's postseason! Both the No. 6 UW Huskies and No. 15 Washington State Cougars had byes into the NCAA Tournament's Round of 32. They'll dig in tonight with the Huskies serving at 3:30 p.m. ET/12:30 p.m. PT and the Cougs following up at 10:30 p.m. ET/7:30 p.m. PT.
🏀
🏒
⚾
⚽
Dallas: I'm gonna be your number one
April 15, 2021
Source: Eric Gay/AP Photo
🏀Wings: After trading the No. 7 pick to the LA Sparks yesterday, the Wings still have three (!!!) top-10 picks in tonight's WNBA draft and we're stoked that expected No. 1 overall Texas' Charli Collier is likely staying close to home. As for the No. 5 pick, keep your fingers crossed for two-time Pac-12 Defensive Player of the Year Aari McDonald still being available.
🏒Stars: Following yet another tough overtime loss on Tuesday, Stars fans got more bad news yesterday with the announcement that goalie Ben Bishop and right winger Alex Radulov will miss the remainder of the season due to injuries. Is it October yet?
⚾️Rangers: Thanks to a five strikeout, 5.2 inning gem from pitcher Kohei Arihara, the Rangers picked up a 5–1 win over the Tampa Bay Rays yesterday to take a 2-1 series lead. Pitcher Jordan Lyles will look to keep the lockdown defense rolling tonight at 7:10 p.m. ET/6:10 p.m. CT as the Rangers hunt for the series win and their third straight.
⚽️FC Dallas: After advancing to the conference semifinals last season, FC Dallas is back this Saturday, taking on the Colorado Rapids at 8 p.m. ET/7 p.m. CT. With 2020 team-leading scorer Franco Jara returning for his second year and veteran goalkeeper Jimmy Maurer in net, this team is poised for another deep playoff run. !
🏆

Boston: Boston Strong

April 15, 2021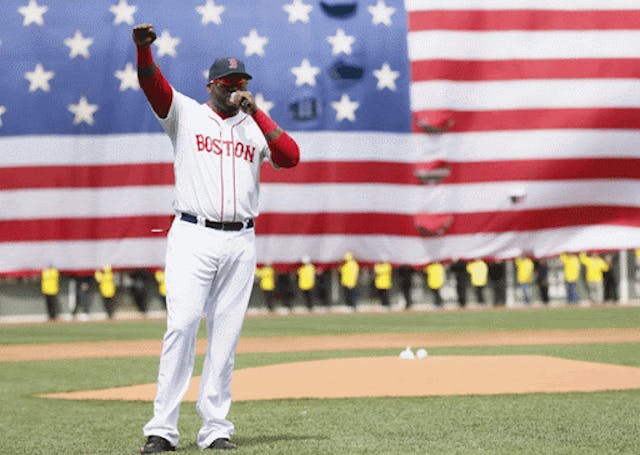 Source: Damien Strohmeyer/Sports Illustrated
April 15, 2013: Marathon Monday typically brings joy and celebration to Boston, but eight years ago the city was rocked when two bombs exploded near the finish line. Three people tragically lost their lives, hundreds were injured and an MIT police officer for the suspects in the following days.
The response: The Bruins were the first hometown team to return to play following the tragic attacks, as their Marathon Monday game was postponed to Wednesday. Their return to the ice offered the city a sense of normalcy and longtime national anthem singer Rene Rancourt still gives us goosebumps.
The Red Sox returned to the field on Saturday, April 20th, a day after the last remaining suspect had been apprehended. Pregame ceremonies honored local officers and, of course, fans . Chills.
2021: The Red Sox are on the road today, but they'll don their new at Fenway this weekend. And while we'll have to wait until for another Marathon Monday, today we remember that we're always Boston Strong.
⛳

Hideki Matsuyama Wins Masters Tournament

April 12, 2021
Source: The Masters/Twitter
The winner: Right on time for the Tokyo Summer Olympics, Matsuyama became the first Japanese man to win a golf major yesterday with his 10-under par final score. It was his first PGA Tour win since 2017 and sixth of his career.
The historic win came 10 years and a day after Matsuyama , awarded to the lowest-scoring amateur at the Masters. At the time, it was also a bright spot as the win came just a month after the devastating 2011 Tōhoku earthquake and tsunami.
The rest of the pack: Matsuyama won with a one-shot lead after facing a late-round push from American Xander Schauffele (pronounced SHAW-flea), who finished in a tie for third with Jordan Speith. Will Zalatoris (not to be confused with ), finished second, and Justin Rose, who led the tournament until late Saturday, had a rough Sunday and finished seventh.
Canadian Corey Conners made a good run too, finishing tied for eighth with a four-under par, a during his third round, and a ticket to return next year (thanks to his top 12 finish). Not a bad weekend for a kid from Letterkenny Listowel.
⚾
🏒
🏀
⚽
New York: Can't win 'em all
April 12, 2021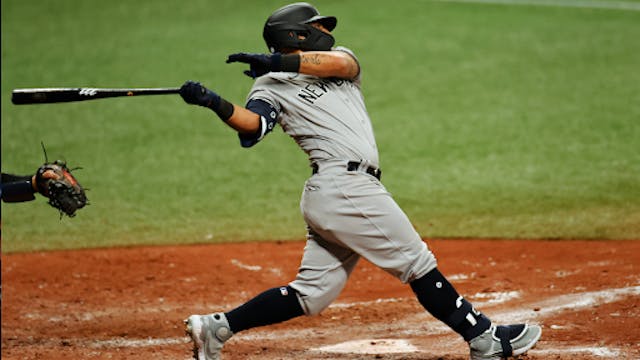 Source: Yankees/Twitter.com
🏒NHL: After the Rangers clobbered the Islanders on Friday, the teams' rematch last night ended with an Islanders victory. Defenseman Ryan Pulock's overtime goal, which happened to be his first goal of the season, tipped the scales in favor of the Isles. Now that's good timing.
⚾️Yankees: The Yankees lost the first two games of their series with the Tampa Bay Rays, but they bounced back to beat their divisional rival 8–4 yesterday. Old between the teams resurfaced, culminating in both teams being issued warnings in the first inning yesterday after Yank pitcher Jordan Montgomery Ray Austin Meadows. Fiery.
🏀Nets: The Nets lost to the LA Lakers on Saturday. Normally this wouldn't be a BFD, but it's a tad embarrassing considering the Lakers were without stars LeBron James and Anthony Davis.
The Lakers came out strong and controlled the game, and after Kyrie Irving and Laker Dennis Schroder were in the third quarter for fighting (allegedly over a ), the Nets lost what little energy they had.
⚽️Gotham FC: ICYMI, the and so is Gotham FC (formerly known as Sky Blue FC), who takes on the Orlando Pride in their first game of the Challenge Cup on Wednesday at 7 p.m. ET.