🏀

Hey now

February 13, 2020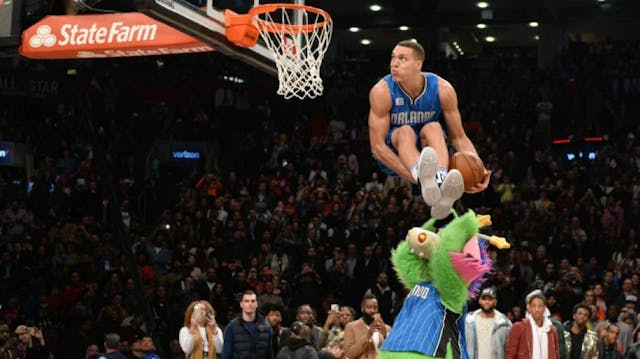 The GIST: It's NBA All-Star Weekend, baby! Cue Smash Mouth.
What's the NBA All-Star Weekend all about?: Every February, the NBA takes a break to showcase the league's biggest stars in a skills competition on Saturday and main event game on Sunday. The All-Star Weekend doesn't really mean anything, it's just a for fun event in the middle of the season before the big postseason push.
But unlike other men's professional leagues, these festivities are a BFD and a lot of fun to watch.
Cool! How is it set up?: This year's All-Star Weekend is being hosted in Chicago for the first time in 32 years. The weekend kicks off on Friday with the celebrity game — featuring a mixture of stars, including perfect 10 and viral gymnast sensation Katelyn Ohashi — and a next generation game called "Rising Stars."
Tell me about the dunk contest: Keep your eye on a couple of dunkers who are coming for the 2020 crown with a vengeance: LA Laker and 2008's champion Dwight "Superman" Howard wants to reclaim his throne, while Orlando Magic's Aaron Gordon wants redemption after being robbed losing despite a stunning performance in 2016.
And on Sunday?: It's time for the game. The teams are captained by the top fan-voted stars from each conference: Laker LeBron James in the West and Milwaukee Buck Giannis Antetokounmpo (pronounced YONNIS ANDEDO-KOONPO) in the East. In a good ol' fashioned schoolyard pick (sorry if this brings up bad memories), LeBron and Giannis each drafted their own squads who will battle it out for bragging rights and local charities.
Anything else?: This weekend will largely be a tribute to the late 18-time All-Star Kobe Bryant who, along with his 13-year-old daughter Gianna and seven others, died in a tragic helicopter accident in January. In honor of Kobe and Gianna, No. 24 (one of Kobe's numbers) will be worn by Team Giannis while Team LeBron will wear No. 2 in honor of GiGi. Every player will also wear a patch with nine stars in memory of all the victims.
Best of the rest
February 13, 2020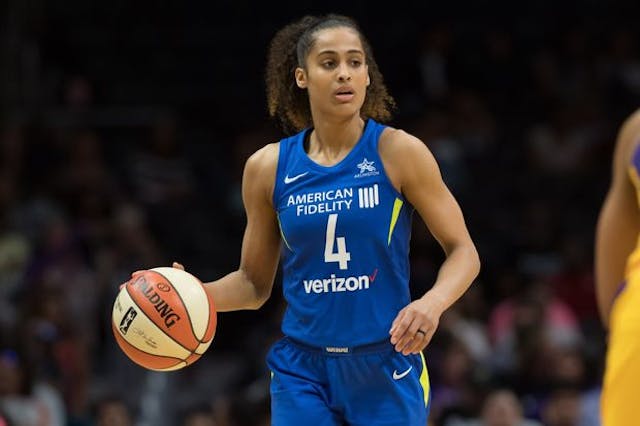 WNBA: We're only three days into the WNBA's (super undercovered) official free agency period and we already have a blockbuster move: former Dallas Wings superstar Skylar Diggins-Smith is heading to the Phoenix Mercury to link up with fellow heavy hitters Diana Taurasi and Brittney Griner, essentially creating the WNBA's first "Big Three" (it's giving us real early 2010s Miami Heat vibes).
Thanks to the newly signed CBA, teams have more cap space (aka total amount of money they're allowed to spend) and therefore can offer more enticing max contracts to the elite players. For example, the reigning champ Washington Mystics just extended their star Elena Delle Donne. Just a casual reminder of how opportunities for women can make a huge difference!
NHL: It was a scary scene in Anaheim on Tuesday night when St. Louis Blues defenceman Jay Bouwmeester suffered a cardiac episode while on the bench during a game against the Ducks. Bouwmeester's teammates noticed him collapse and called for the team's training and medical staff.
Thanks to the staff's quick action and an on-site defibrillator, the 17-year NHL veteran was stabilized and is said to be doing well in hospital. Let this be a lesson to us all: get CPR certified!
Gymnastics: A basketball analyst is in big trouble (and rightfully so) after making an inappropriate comment on-air. Barry Booker, who commentates on the SEC Network, said he'd like to spend Valentine's Day watching "scantily clad women," in reference to the gymnasts participating in this weekend's NCAA tournament.
Booker immediately — and we repeat, rightfully so — faced online backlash, with one former gymnast calling him out for sexualizing a sport that has already been the unwilling face of sexual abuse. Booker has since apologized, but he's now facing an internal investigation. It's 2020 and there's absolutely no room for sh!t like this.
NFL: Yesterday the NFL announced that Cleveland Browns pass rusher Myles Garrett will be reinstated from his indefinite suspension — the "indefinite" only lasting six games — for smacking Pittsburgh Steeler Mason Rudolph in the head with his own helmet during a game in November. The NFL's not exactly known for sticking to harsh punishments, so despite the controversial response, we're not surprised about this one.
⚾

Save the drama for your mama

February 13, 2020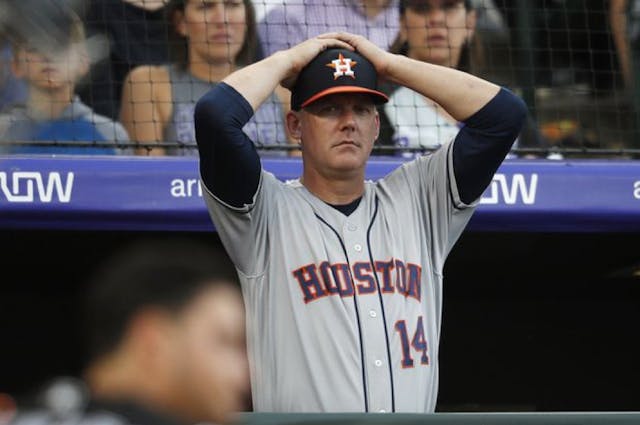 The GIST: Just when you thought you'd seen the end of Major League Baseball's (MLB) sign-stealing saga, they come out and hit you with more. After originally placing most of the blame on their coach A.J. Hinch and general manager Jeff Luhnow, it turns out the Houston Astros front office has some 'splainin to do.
Wait. Remind me how it started?: In January, the Astros were found guilty of illegal sign-stealing — using technology to record and decipher the hand and body signals of the opposing team's catcher, pitcher and coaches to predict the next pitch — during their championship winning season in 2017.
As a result, the MLB fined the 'Stros a measly $5 million, gave one-year bans to Jeff Luhnow and A.J. Hinch (who were subsequently fired) and revoked a few important draft picks.
So now what's happened?: A couple of new details have emerged. First, apparently the sign-stealing scheme started with one of the MLB's most famous players: the now-retired Carlos Beltrán. According to anonymous teammates, when Beltrán signed with the Astros for the 2017 season, he came with a plan and was the so-called "Godfather" of sign-stealing. We guess he made them an offer they couldn't refuse. He'd previously been with the New York Yankees, who were also accused of sign-stealing in 2015. Coincidence? We think not.
Second, it's also come out that the Astros' front office executives not only knew about the sign-stealing but also had an intern create an Excel algorithm they called "Codebreaker" (real subtle, guys) to help decipher signs more efficiently. This is a big deal because the MLB previously told the public that the sign-stealing scheme was not planned or directed by the front office. SMDH.
And what will the MLB do about it?: That remains to be seen. Spring training (aka preseason) starts in less than two weeks so the pressure is on for the MLB to discipline the 'Stros before then. In the meantime, some players who previously played against the Astros are taking it upon themselves to right the wrongs...
Yankees pitching legend CC Sabathia is calling for the Astros' World Series to be revoked, while former relief pitcher Mike Bolsinger is suing the team for $31 million, alleging the Astros interfered with and harmed his career. Following a bad game in 2017 in which he gave up four runs against the Astros, the Toronto Blue Jays terminated Bolsinger's contract and he hasn't played in the MLB since. Not good.
What's The GIST's take?: We said it once and we'll say it again: as fans, we feel cheated. Between steroid use, sign-stealing and everything in between, we have serious trust issues with baseball.
🏀

Can you feel it?

February 10, 2020
The GIST: With March Madness just around the corner, it's that time of the college basketball season where wins matter more and feel even better than usual.
Cause this is thriller: It's always intense when men's longtime rivals No. 7 Duke and North Carolina (UNC) face off, but Saturday's game took things to another level. Duke was down 13 with four minutes remaining and somehow rallied to hit a crazy shot that sent the game to overtime (OT). And when Duke was down by five with 20 seconds left in OT, they did it again, hitting a nail-biting buzzer beater to win 98–96. You can't make this sh!t up.
And get this: Saturday's game came exactly eight years after current Houston Rocket Austin Rivers (aka LA Clippers head coach Doc Rivers' son) hit Duke's classic heartbreaking game-winner over UNC. Mind-blowing, we know.
Who's bad?: No. 3 Oregon's Sabrina Ionescu — but bad in the good-bad, bad-b!tch type of way. She notched her 24th career triple-double in Friday's 85–52 rout over No. 12 Arizona, which she dedicated to her late mentor Kobe Bryant. Even though she followed with a quiet (for her) 19-point performance in last night's 79–48 beat down of No. 19 Arizona State, Sabrina proved she might indeed be a witch, she's that good.
🏒

On the bubble

February 10, 2020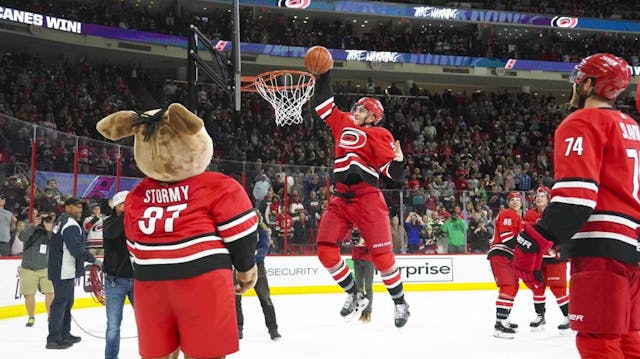 The GIST: We're two thirds of the way through the NHL and NBA seasons, which means it's crunch time for teams on the playoff bubble. So, here's #thegist of where we're at heading into April's playoffs.
The good old hockey game: Sixteen teams qualify for the Stanley Cup playoffs — eight from the Eastern and Western Conferences, respectively. Current divisional leaders, the Washington Capitals, Boston Bruins, Vancouver Canucks and reigning Stanley Cup champs St. Louis Blues all seem like shoo-ins (unless we just jinxed it). But the teams we really have to keep a close eye on are those hovering between seventh and 12th place in the conference.
In the East, we're keeping an eye on the battle between the Carolina Hurricanes and the Philadelphia Flyers for a final playoff spot. The real question is, will we see Gritty or Storm Surges in the playoffs?
Over in the West, it's a tighter race for a wild card spot, with six teams within reach. But if we were betting women, we'd put good money on the Calgary Flames and Arizona Coyotes making it in as wild cards.
We're playing basketball: Over in the NBA, it's pretty much the same. The top eight teams from each of the two conferences (East and West) qualify for the playoffs, and while the top six teams in each conference are basically set, the bubble teams will have to fight extra hard to claim those last two spots.
In the East, the Washington Wizards will have to channel their inner Harry Potter Hermione Granger as they chase the Brooklyn Nets and Orlando Magic for one of the last two remaining spots.
In the West, it's looking like it'll be a battle between the Memphis Grizzlies and the Portland Trail Blazers for the eighth seed. Buckle up.