🏈

Going back to back

November 10, 2020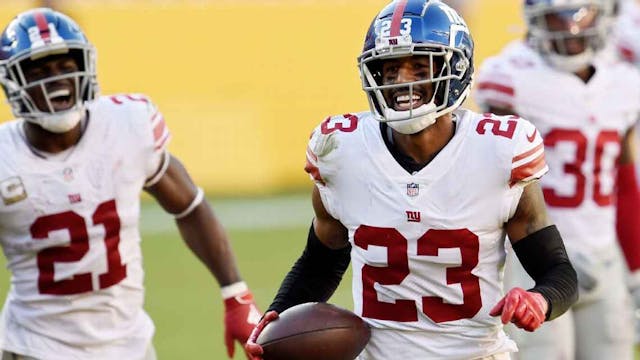 SOURCE: GREG FIUME/GETTY IMAGES
The GIST: It's the second week of multi-day football for New York, but this week we're hoping for back-to-back wins after the Giants scored their second win of the season against the Washington Football Team (WFT) yesterday.
Anotha' one: The Giants jumped out to an early lead and were able to fend off the WFT to secure their second win of the season 23–20. QB Daniel Jones looked cool and confident, completing 23 of 34 passing attempts, notching his longest completion of the season and committing no turnovers (ahem, who is he?).
The G-men also benefited from the WFT's sloppy play, as they committed five messy turnovers. The game ended on one of Washington's errors, when New York defensive back Logan Ryan intercepted back-up QB Alex Smith's pass. Ryan dedicated the game to his wife after a serious medical scare, and we're thrilled the team could help him snag this win for her.
It's Monday Night: The Jets will take on the New England Patriots on Monday Night Football, and while we probably wouldn't have said this at the beginning of the season, the 2-5 Pats might just be battered and bruised enough for the Jets to beat. The Pats still have a relatively strong defense, but their injury-decimated offense has struggled. Lately, the Pats have had to rely on their running game, something the Jets defend fairly well.
The Jets won't be playing at full steam either, as QB Joe Flacco will fill in for Sam Darnold while he's out with a shoulder injury. TBH, Darnold has gone three straight games without a touchdown pass, so it's about time someone else stepped in.
⚽

Key race alert

November 10, 2020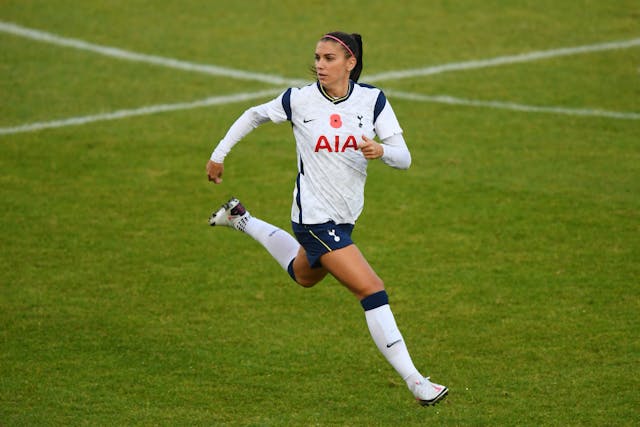 SOURCE: TOTTENHAM HOTSPUR WOMEN/TWITTER
The GIST: Wondering what to watch now that John King and Steve Kornacki have stored away their magic walls for another four years? Soccer, of course!
Tell me more!: The MLS regular season ended yesterday, with the Philadelphia Union winning the Supporters' Shield (for notching the best regular season record) and 18 teams — 10 from the Eastern Conference and eight from the Western Conference — making it to the postseason.
Wait...eight and 10?: To even it up at eight teams a side, the league introduced a play-in tournament for the bottom four qualifying teams in the Eastern Conference, based on the regular season standings: No. 7 will face No. 10 and No. 8 will face No. 9. The winner of each match will move on to the official first round.
The play-in matches are set for November 20th, and the first round begins November 21st (check out the full schedule here). The top four teams from each conference will host the first-round matches, meaning no (proven-successful) playoff bubble. Bold strategy, Cotton.
Any more soccer news?: After a few weeks off, women's soccer is back in England...and so is U.S. women's national soccer team superstar Alex Morgan! She made her debut for Tottenham Hotspur in the FA WSL this weekend, marking her first game since giving birth to baby Charlie in May and her first appearance in the league since her transfer from the NWSL's Orlando Pride.
Tottenham drew 1–1 against Reading FC (FC stands for Football Club) and will face Bristol City next. Check out the full league standings and schedule ahead of Saturday's matches.
🏈

The luck of the Irish

November 10, 2020
SOURCE: BLEACHER REPORT/TWITTER
The GIST: The Pac-12 returned to action, there's a new No. 1 in the top 25 rankings and the Irish went 2-0 against the "Orange." We're here for all of this weekend's shake-ups.
Tell me more about the Irish: With a 47–40 double-overtime victory over the former No. 1 Clemson Tigers on Saturday, the Notre Dame Fighting Irish earned their first win against a top-ranked team since 1993 and snapped Clemson's 36-game (!!!) regular season win streak. The Irish sure found their pot of gold.
Yikes! And what happened to Clemson?: The Tigers were without their starting QB and college football's biggest star, Trevor Lawrence, who tested positive for COVID-19 last month. Freshman QB D.J. Uiagalelei (pronounced OOH-EE-AHN-GUH-LAY-LAY) performed well in Lawrence's place, throwing for a whopping 439 yards and two TDs...but it just wasn't enough.
There's no definitive word on when Lawrence will return to the field, but the Tigers are off until November 21st, giving them some time to sort things out.
Who's the new No. 1?: Thanks to Notre Dame (the new No. 2), Clemson lost its hold on the top spot and was replaced by the Alabama Crimson Tide, marking the team's record-setting 13th consecutive season with at least one week at No. 1. The Tide keep on rolling.
With all of the ranking changes, the playoff picture remains super messy. All eyes will be on undefeated Alabama, now the favorite to make the College Football Playoff, but the race is still too close to call (sorry, too soon?).
🏈
⚾
It ain't pretty
November 10, 2020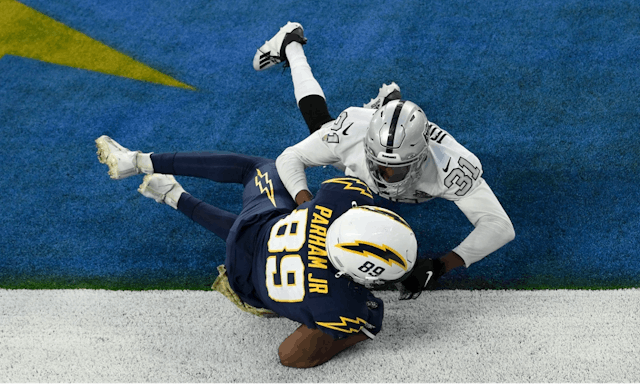 SOURCE: USA TODAY
The GIST: While LeBron was celebrating a future return to the White House, not all of LA's teams were popping champagne after this weekend's outcomes.
🏈Pac-12, start your engines: With only three minutes to save the game, USC said no problem. In a fan-less Coliseum, USC woke up from a sleepy and sloppy start to defeat Arizona State 28–27. However, with a shorter season and a weaker schedule, the Trojans will need sharper wins to make the College Football Playoff.
Unlike the Trojans, UCLA fell short of a comeback of their own with a 48–42 loss to Colorado. There weren't high expectations, but the underachieving Bruins still managed to disappoint. Womp womp.
In misery: Can't blow a double-digit lead if you never have one, right? Unfortunately, the Chargers found a new way to lose in a 31–26 heartbreaker to the Las Vegas Raiders. With one second left, it looked like tight end Donald Parham Jr. hauled in the game-winning touchdown, but it was overturned upon review. Pain.
⚾️Not dodging disaster: Dodger third baseman (now free agent) Justin Turner, who tested positive for COVID-19 during Game 6 of the World Series, will not face discipline from the league for his reckless decision to return to the field for the championship celebration. However, the damage is already done: county health officials announced that nine members of the Dodgers organization tested positive for COVID-19 as of Saturday. Yikes. Mask up!
🏈
⚽
We could have had it all
November 10, 2020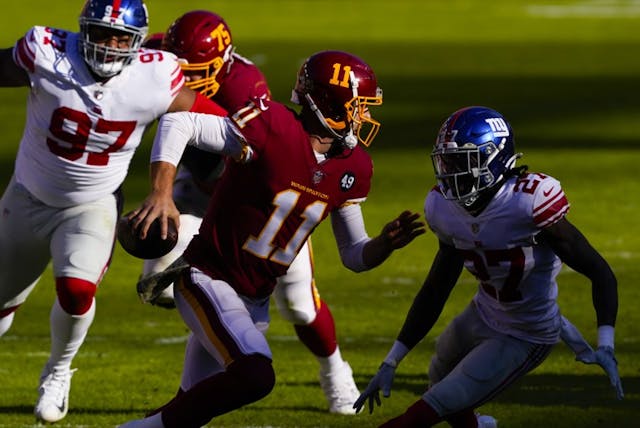 SOURCE: SUSAN WALSH/AP PHOTO
The GIST: The District's teams welcomed Joe Biden (a big fan of Mystic Elena Delle Donne) and Howard alumna Kamala Harris with...tragic losses. The Washington Football Team's (WFT) playoff hopes took a hit yesterday and the United ended their season in disappointing fashion.
🏈A giant missed opportunity: The WFT's NFC East title chances are very slim after yesterday's 23–20 loss to the NY Giants. Although wide receiver and new captain Terry McLaurin's 68-yard touchdown helped WFT get within three points, it wasn't enough to overcome a butterfingers start.
And the QB questions keep popping up like Whack-a-Mole. After QB Kyle Allen was carted off with an ankle injury, Alex Smith's relief performance included two costly interceptions in crunch time. Former starter Dwayne Haskins is expected to be the backup to Smith against the Detroit Lions on Sunday, but is it time to give him another chance to start?
⚽️Had a good run: The United fell just short of a postseason spot after yesterday's tough loss to the Montreal Impact. While interim head coach Chad Ashton did an impressive job of turning around United's season, the offseason means all our focus is on who the next head coach will be. The idea of two Jills in D.C. seems pretty great to us.