⚽

Houston Dash Victorious in NWSL Challenge Cup

July 27, 2020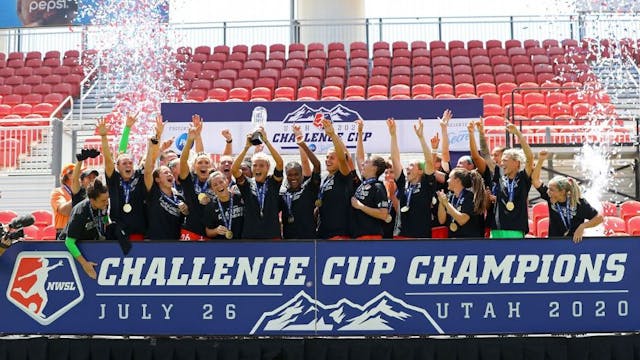 MADDIE MEYER/GETTY IMAGES
The GIST: If 2020 has taught us anything, it's to expect the unexpected. The Houston Dash reminded us of that lesson yesterday, when they became the unlikely (but very welcome) winners of the NWSL Challenge Cup.
How did they do it?: The Dash came out swinging in yesterday's final against the Chicago Red Stars, the heavy favorites. Just five minutes into the game, Canadian and Megan Rapinoe look-alike Sophie Schmidt scored on a penalty kick, and striker Shea Groom made it 2–0 during stoppage time to solidify the win.
The Challenge Cup marks the Dash's first-ever season title and their first postseason appearance. Unfortunately for the Red Stars, it marked their second straight year of being runners-up. Third time's a charm?
Who won the Golden Boot?: The award for top scorer went to Dash striker Rachel Daly, who notched three goals and two assists during the tournament and also earned the title of Challenge Cup MVP. No biggie. The Golden Glove (for best goalie) went to Sky Blue FC keeper Kailen Sheridan, and Washington Spirit rookie Ashley Sanchez was named Future Legend.
But the biggest award should go to the tournament organizers and everyone involved in keeping the league's bubble safe and secure. In the five weeks of practice and gameplay in Utah, not a single player tested positive for COVID-19. Nailed it!
And what's up in the MLS?: The MLS is Back Tournament is going strong. We're smack dab in the middle of the Round of 16 knockout stage, with another two matches today (don't miss the Seattle Sounders vs. LAFC tonight, it should be a goodie) and two tomorrow. Quarterfinals start on Thursday, so check out the full bracket for the can't-miss matchups.
🏀
⚾
MLB and WNBA Support Black Lives Matter Movement and Honor Breonna Taylor
July 27, 2020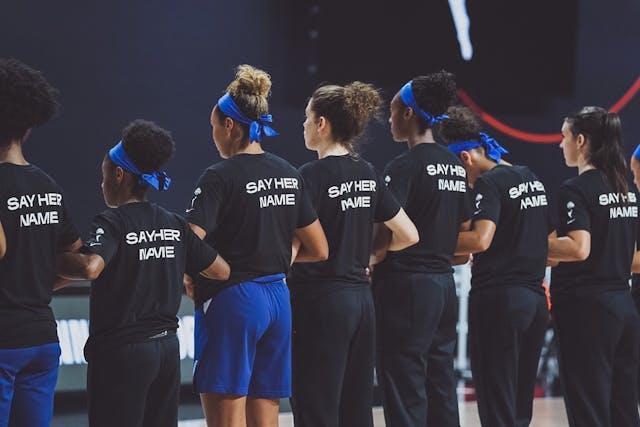 MINNESOTA LYNX/TWITTER
The GIST: Baseball and basketball regular seasons began this weekend, and while the season starts were fun to watch, it was the leagues' calls for social justice that really blew us away.
What happened?: The MLB had been relatively quiet during the recent Black Lives Matter protests, but support for the movement was abundant this weekend. "BLM" has been stamped into pitchers' mounds, players can choose to wear a "Black Lives Matter" patch on their jerseys and many players knelt before games after messages of unity played on the loudspeaker. Unprecedented, and long overdue.
After Dr. Fauci's cringeworthy pitch started the season off, Thursday's Opening Day matchup between the Washington Nationals and the New York Yankees saw all players kneel for the national anthem as they each held a single black ribbon stretched between the two teams.
Awesome. Any other MLB news?: Elsewhere in the league, the Miami Marlins had to find a new pitcher for yesterday's game against the Philadelphia Phillies, after starter Jose Urena was one of four players to test positive for COVID-19. They still won 11–6.
The Boston Red Sox are down a pitcher, too. Ahead of summer training, Eduardo Rodriguez tested positive for COVID-19 but was cleared to play on July 18th. Unfortunately, during a recent routine medical check, doctors found a heart issue that's likely linked to the virus. Scary.
And in basketball?: The WNBA season started Saturday, and ahead of the opening matchup between the Seattle Storm and the New York Liberty, all players returned to their locker rooms for the anthem. Upon returning, the players stood for 26 seconds of silence in honor of Breonna Taylor, who was killed at age 26.
Storm's Breanna Stewart and Liberty's Layshia Clarendon also spoke about Taylor before the game and assured fans that her name, along with Sandra Bland, Vanessa Guillén and other victims of police brutality and racial violence, will not be forgotten.

Players will wear the names of these women on their jerseys throughout the season and will wear "Black Lives Matter" and "Say Her Name" t-shirts during pregame warm-ups. Some players even have customized "Say Her Name" shoes. Powerful.
Love it. And how were the games?: Most notably, Seattle won the season-opener 87–71 over the Liberty, which wasn't a shock based on last season's standings. And unsurprisingly, superstar Stewart led the Storm with 18 points while veteran point guard Clarendon led the Liberty with 20 points. What was surprising, though, was rookie Sabrina Ionescu's (pronounced YOH-NESS-COO) relatively quiet Liberty debut.
Ionescu, a bonafide superstar after an unprecedented college career, put up just 12 points on Saturday, which is average by her standards. Regardless, it was so fun to see her back in action.
🤸
🎾
🏈
🏆
Australian Gymnastics Addresses Abuse in the Sport, Halep Opts Out of Palermo Open, Tyson to Return the the Ring In Exhibition Match
July 27, 2020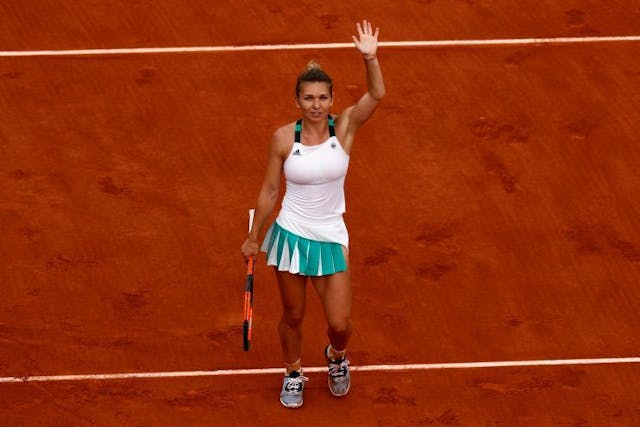 GETTY IMAGES
Gymnastics: Following the lead of their British and American counterparts, several Australian gymnasts recently publicized their personal accounts of abuse and harassment during their time with Gymnastics Australia.
Former gymnast and Commonwealth Games gold medalist Chloe Gilliland released a series of Facebook messages describing some of the abuse she faced and revealing that it led to bulimia, anxiety and suicidal ideations. Horrible.

In response, Gymnastics Australia CEO Kitty Chiller released an open letter, saying the organization applauds its athletes for speaking out and acknowledging that it has plenty of work to do. Damn right.
Tennis: World No. 2 Simona Halep is caught in a sticky situation. The 2019 Wimbledon champ was supposed to headline the Palermo Open, the first WTA International series tournament scheduled since the pandemic began, but pulled out after Italy's health ministry announced a mandatory 14-day quarantine for anyone entering the country from Romania (where Halep lives).
The Open's organizers are v. upset, arguing Halep could skip the mandatory quarantine as a pro athlete. But citing "the recent rise in COVID-19 cases in Romania and [her] anxieties around international air travel at this time," Halep withdrew anyway. We were excited to see her play, but we're much happier to see her stay healthy. Safety first!
Boxing: In this week's "but why though?" news, Mike Tyson is getting back in the ring. The former heavyweight world champion, who just turned 54, will take on another former world champ, 51-year-old Roy Jones Jr., in an exhibition match on September 12th.
Tyson, who's best known for his appearance in The Hangover films and for biting a part of Evander Holyfield's ear off during a 1997 fight (yes, that actually happened), hasn't boxed professionally in 15 years, but is still favored to win. TBH, we're not really sure what to make of this. Just protect your ears, Roy.
NFL: In our continuing quest to "look for the helpers," we've found our first opt-out of the upcoming NFL season. Kansas City Chiefs guard Laurent Duvernay-Tardif, who last year became the first M.D. to ever win a Super Bowl, has decided to forgo the 2020 season so he can continue helping those in need. Good guys do exist!
⚽

Houston Dash and Chicago Red Stars to Face Off in Challenge Cup Final

July 23, 2020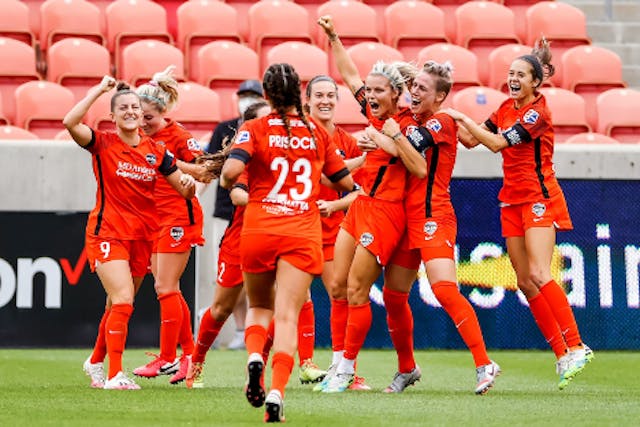 HOUSTON DASH/TWITTER
The GIST: The NWSL season has just one game left — the Challenge Cup final! — but dang, we miss it already. After an exciting month of amazing soccer, it all comes down to the Houston Dash and the Chicago Red Stars.
How'd they get here?: The Dash earned a hard fought 1–0 win against Portland Thorns FC in the first of yesterday's two semifinals. Rachel Daly scored her third goal of the tournament to give the Dash the W and move herself into a tie for most goals scored. One more in the final could win her the Golden Boot.
In the second semi, the Red Stars came out v. strong, scoring three straight goals. Still, Sky Blue FC tried to claw their way back and ended up making it a 3–2 game. A for effort.
Who's going to win the Cup?: This Cup has been nothing if not unpredictable, so we're hesitant to pick a winner. Also, confession time: we have a soft spot for both teams. Despite having a strong roster, the Dash have never finished better than fifth place in a season and have never even made the playoffs before. Who doesn't love an underdog?
The Red Stars, on the other hand, have been here before. They almost tasted victory last season, when they found themselves in the final against the North Carolina Courage. The Courage ended up with the win then, so we'd love to see the Red Stars finally get their championship.
Any other NWSL news?: Oh heck yeah! A new Los-Angeles expansion team was announced on Tuesday: Angel City will officially join the NWSL in 2022. And get this: the megastar ownership group includes former U.S. women's national team stars Mia Hamm and Abby Wambach and celebs such as Eva Longoria, Jennifer Garner, Uzo Aduba and founder Natalie Portman.
Power couple Serena Williams and Alexis Ohanian are part of the group too, and even their two-year-old daughter, Olympia, is listed as an investor. For more on this awesome addition to the NWSL, take a listen to this week's episode of our podcast, The GIST of It.
⚾

MLB Season Starts Off with Rule Changes and Covid-19 Precautions

July 23, 2020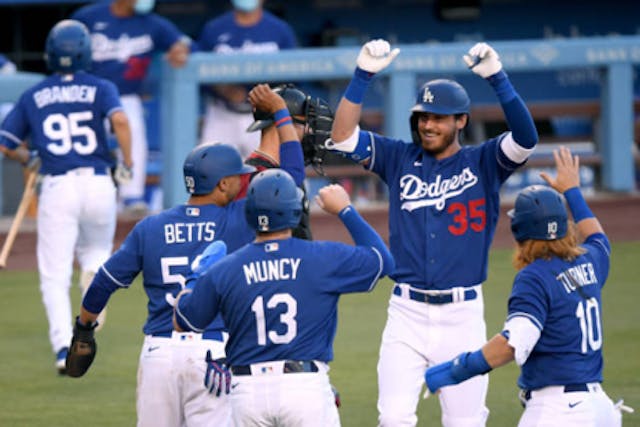 HARRY HOW/GETTY IMAGES
The GIST: Three cheers because America's favorite pastime is back! A shortened 60-game MLB season opens up tonight with two Opening "Day" games, and we couldn't be happier.
Remind me, how's this season organized?: You got it. First, some basics. There are 30 teams in the MLB, and the league is divided into the National League (NL) and the American League (AL), which are further divided into three divisions: Central, East and West.
Amidst the COVID-19 pandemic, the MLB chose to forgo the "bubble" option and opt for limited travel to still allow teams (well...most teams) to play in their home stadiums. Risky, we know.

So, of the 60 games played, 40 will be against divisional opponents (each division has five teams) and the other 20 will be against opponents from the other league's geographic counterpart (AL East vs. NL East, etc.), to cut down on travel.
I heard there are some rule changes?: You heard right. In addition to plenty of COVID-19 precautions, the MLB also implemented a few rule changes just for the 2020 season, including adding a universal designated hitter (DH) — the National League usually plays without a DH and has pitchers hit instead — and starting each extra inning (basically overtime if a game is still tied after nine innings) with a runner on second base to help teams score faster. And people say baseball is boring!
So who's going to win it all?: The Washington Nationals took home their first-ever World Series trophy last year, defeating the Houston Cheaters Astros in a thrilling seven-game series. The Nats certainly have a shot at defending their title (and they have America's favorite doctor on their side) but the New York Yankees and the Los Angeles Dodgers are this year's top contenders.
Both teams stacked their rosters in the offseason, with the Yankees signing star pitcher (and new dad!) Gerrit Cole, and the Dodgers signing star right fielder Mookie Betts (who, just yesterday, agreed to a jaw-dropping $365 million, 12-season extension). Nothing like an East vs. West showdown.