🏀

Philadelphia: Stepping up and stepping out

March 22, 2021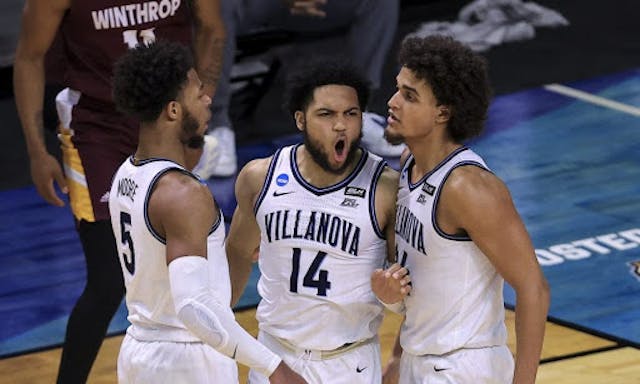 Source: Skip Snow/USA Today
🎓🏀MBB: Thanks to co-Big East Player of the Year Jeremiah Robinson-Earl and the Wildcats' strong defense, No. 5 Villanova danced past the No. 12 Winthrop Eagles in the first round on Friday. That'll show 'em to .
And the good times kept rolling last night when 'Nova trounced the North Texas Mean Green , booking their ticket to the Sweet Sixteen. The Mean Green briefly led in the first half, but the Wildcats then went on a breathtaking 34–6 run and never slowed down. Not so mean now, huh?
Next, they'll hunt for an upset vs. No. 1 seed Baylor on Saturday. Get hyped.
WBB: Down in San Antonio, No. 14 Drexel has their first test against the No. 3 Georgia Bulldogs at 12 p.m. ET today. While you tune in during lunch, look for the Dragons' top scorers, Hannah Nihill and Keishana Washington, to lead the quest for their own upset.
🏀76ers: The Sixers put us through a nail-biter last night, eking out a over the NY Knicks. BRB, trying to stop our hearts from pounding.
With Joel Embiid and Seth Curry still out with injuries and Ben Simmons just returning from one, we were nervous to take on the surging Knicks. But Shake Milton and Tobias Harris stepped up in a big way with 21 and 20 points, respectively.
We also had no reason to worry about Simmons, who played 37 minutes and finished with 16 points and 8 rebounds. .
🏀

Seattle: Ballin' out

March 22, 2021
Source: USA Today Sports Images
MBB: As expected, the top-seeded Gonzaga men steamrolled 16-seed Norfolk State 98–55 in the first round on Saturday. What wasn't expected? Anton Watson, not Gonzaga's , stealing the show. Watson scored 17 points and was 7-for-7 from the field. Sheesh.
Catch Gonzaga's second round matchup against 8-seed Oklahoma today at 2:40 p.m. ET/11:40 a.m. PT. We'll be cheering for Jalen Suggs, who called the inequitable treatment of the women's teams compared to the men's "." Respect.
WBB: Ninth-seeded Washington State made their first trip to the Big Dance in 30 years, but lost a tight first round game against 8-seed South Florida last night. Still, what a magical season for the Cougs, who earned their . Heads held high.
Hopefully and 5-seed Gonzaga can notch a win for the Evergreen State against 12-seed Belmont today at 4 p.m. ET/1 p.m. PT. LFG.
🏀

LA: Like Tim Gunn says, make it work

March 22, 2021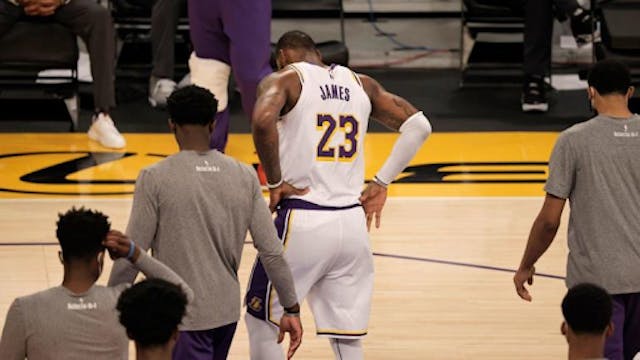 Source: Getty Images
Lakers: Life without LeBron is rough. With King James and Anthony Davis out with injuries, the Lakers shot poorly from three-point range to drop a 111–94 affair to the Phoenix Suns last night. The Purple and Gold need to find ways to win games in LeBron's absence. Eek.
Clippers: With LeBron out indefinitely, our other LA team could take advantage. The Clippers are currently fourth in the Western Conference, just one game behind the Lakers. The Clips can make that gap even smaller with a win against the surging Atlanta Hawks tonight at 10 p.m. ET/7 p.m. PT. Spicy.
College: Both the USC and UCLA men's squads could make our Sweet Sixteen dreams come true with wins tonight. After defeating Drake in the first round on Saturday, 6-seed USC faces 3-seed Kansas tonight at 9:40 p.m. ET/6:40 p.m. PT. We bet (projected as a top-two NBA draft pick) will power the Trojans to the upset victory.
Meanwhile, after pulling through the First Four, 11-seed UCLA upset 6-seed BYU in the first round. With a favorable matchup against 14-seed Abilene Christian today at 5:15 p.m. ET/2:15 p.m. PT, and the Bruins have a great shot at advancing.
Cap off your night by watching the 3-seed UCLA women. The Bruins kick off their March Madness campaign tonight at 10 p.m. ET/7 p.m. PT against the 14-seed Wyoming Cowgirls. Saddle up.
🏀

New York: Orange you glad it's March?

March 22, 2021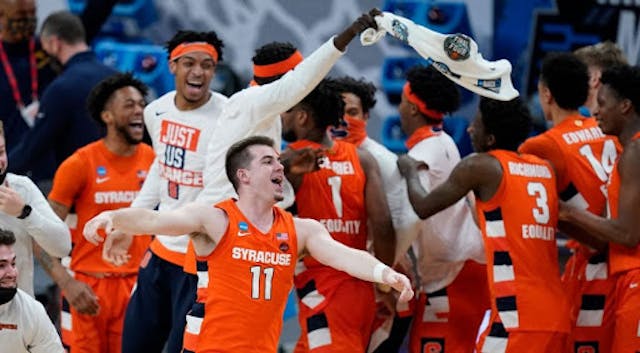 Source: Darron Cummings/AP
The GIST: The Knicks might on Lonzo Ball, the Yankees and Mets are ready to take us and Syracuse basketball is making a splash in both the men's and women's NCAA tournaments. Smell that? .
Syracuse MBB: The No. 11 seed Orange pulled out a huge upset yesterday when they beat No. 3 West Virginia. In , head coach Boeheim's was the real MVP...closely followed by Boeheim's son Buddy, who led the team with 25 points. The rest of the world is shocked, but the true fans .
Syracuse WBB: In 2019, the team took an unexpectedly early exit from the NCAA tournament after the South Dakota State Jackrabbits pulled off the upset. So when the No. 8 seed Orange were matched up with the No. 9 Jackrabbits in the first round this year, they came ready for revenge.
Our gals took off in the fourth quarter, outscoring the Jackrabbits 22–7 to finish off the 72–55 win. Five Syracuse players scored in the double digits, led by Emily Engstler with 18 points, and the squad dominated on defense with 14 blocks (!!!).
Tomorrow, the Orange will face No. 1 seed and perennial powerhouse UConn in the second round. Not, not nervous.
🏀

D.C.: Dancing away with our hearts

March 22, 2021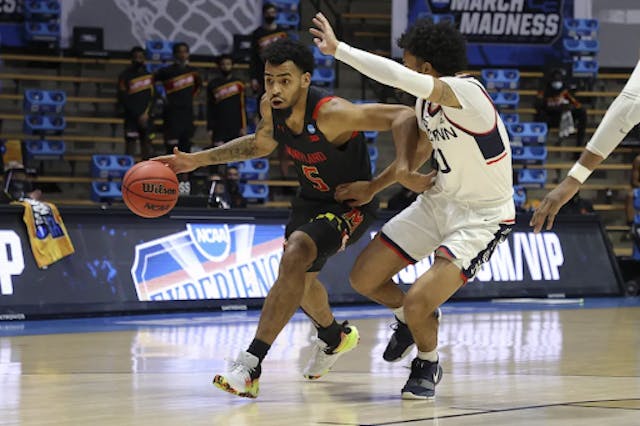 Source: Gregory Shamus/Getty Images
MBB: With seven men's teams in the first round of March Madness, we were hopeful about the DMV's chances...then only one team advanced to the second round. And that was 10-seed Maryland who took down 7-seed UConn, setting up a second round date with 2-seed Alabama tonight at 8:45 p.m. ET. At least we have the Terps.
WBB: Elizabeth Kitley's 23-point performance helped 7-seed Virginia Tech hold off 10-seed Marquette 70–63 in yesterday's first round matchup. No nerves in the Hokies' first March Madness appearance in 15 years.
The other three DMV schools play in the first round tonight: 13-seed VCU vs. 4-seed Indiana at 2 p.m. ET, followed by an Old Line State showdown between 2-seed Maryland and 15-seed Mount St. Mary's at 4 p.m. ET. Dancing queens.