🏀

They woke up like this

June 22, 2020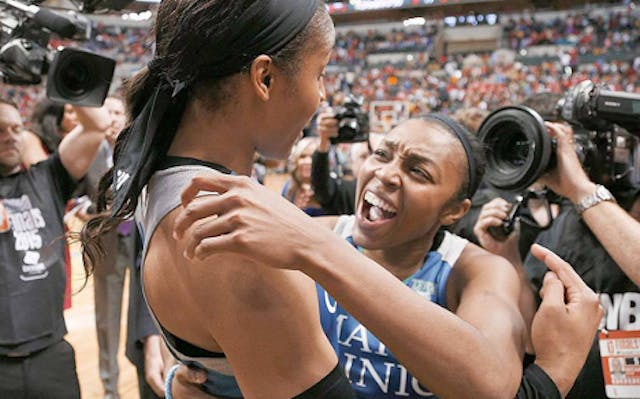 USA TODAY SPORTS
The GIST: For weeks, NBA players have been debating whether returning to play will take momentum away from the protests surrounding George Floyd's murder and the Black Lives Matter movement. Instead of simply talking about it, some WNBA players are getting sh!t done.
How so?: Last week, the Atlanta Dream's Renee Montgomery tweeted that when the WNBA returns next month, she won't be there. Why? The two-time WNBA champ is skipping the 2020 season to focus on fighting for social justice instead.
Montgomery will use her foundation, the Renee Montgomery Foundation, to help facilitate change for young Black people through sport and will host speaking engagements and events around Atlanta, her adopted hometown.
She's an inspiration: And she's not alone. Montgomery is following in the footsteps of her former teammate Maya Moore, a four-time WNBA champion (yes, she's a BFD) who took an indefinite sabbatical ahead of the 2019 season to focus on criminal justice reform.
In January, Moore informed her team (the Minnesota Lynx) that she would sit out for a second straight season, after spending 2019 advocating for the release of Jonathan Irons, a man wrongly convicted 23 years ago for burglary when he was just 16. Irons' conviction was overturned earlier this year, largely thanks to the work put in by Moore.
These women are incredible — will they still get paid?: Nope. Montgomery and Moore are not only giving up playing the game they love while in the prime of their careers, they're also giving up the paycheck that comes along with it.
So yes, they're literally giving up everything to fight for social justice and reform. Feel free to give them a round of applause — we sure are.
🏈
🎾
⛳
🏀
⚾
Around and around and around we go
June 18, 2020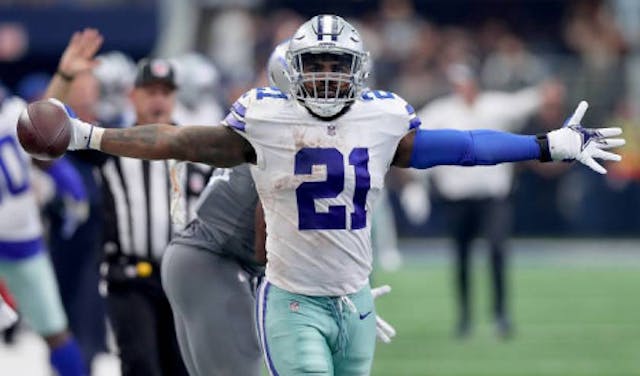 TOM PENNINGTON/GETTY IMAGES
The GIST: Sports are coming back. But, unfortunately, so are some athletes' positive COVID-19 test results.
Oh no. Who?: Most recently, several players from the Houston Texans and Dallas Cowboys have tested positive, including Cowboys star running back Ezekiel Elliott. Elliott is the third NFL player, and arguably one of the biggest stars in sports, to be publicly named.
Despite this, the NFL still seems to be planning for a normal regular season with fans (!!!) and for training camps to start in late July. Does this seem dangerously (in a literal sense) optimistic to you or is it just us?
Yikes. What about college football?: Many of the most prolific NCAA football teams — including Auburn, Mississippi State, Texas A&M and Alabama — have reported coronavirus cases among their players recently as well. Not good. Oklahoma State linebacker Amen Ogbongbemiga said he tested positive after attending a protest in Tulsa.
The NCAA is continuing to monitor the situation before making any drastic decisions, but yesterday, the Southern Heritage Classic — an annual matchup between Tennessee State and Jackson State played in Memphis in September — became the first NCAA football event to be canceled because of coronavirus. And we're thinking it won't be the last.
Wow. Can you give me some good news?: For sure! The PGA Tour tested all players, caddies and staff ahead of today's RBC Heritage tournament (the second event since the season restart), and for the second week in a row, there wasn't a single positive test. Let's polite golf clap to that.
Speaking of golf, the LPGA is returning on July 31st. The women's tour has added a new tournament called the LPGA Drive On Championship, which will kick off the season with back-to-back events in Ohio. Mark your calendars.
Amazing! Keep it rolling: Despite rumors that the WTA and ATP's US Open would be canceled, it's now officially scheduled to start on August 31st, thanks to New York governor Andrew Cuomo giving it the go ahead. Thanks, man! While not everyone is happy about the announcement, Serena Williams is stoked so we're stoked too.
And on Monday, the WNBA officially confirmed that the regular season will start in late July and will feature 22 games followed by a traditional postseason. Untraditionally, there won't be any fans, and all teams will play, practice and live at the IMG Academy in Florida. Quite the destination these days.
And...I'm afraid to ask...what's up with the MLB?: Don't be afraid — we have progress! The MLB and the players union are talking again, and they seem to have come to an agreement on a "jointly developed framework." The new plan would have the season start on July 19th with players receiving their full salaries for the amount of games played (as they wished).
The number of games is a sticking point, though. The suggested number was 60, but there seems to be some flip flopping on that. The league and union still have work to do (someone call these guys a couples' counselor), but one thing's for sure: the players are ready.
🏆
🏈
Keep the conversation going
June 18, 2020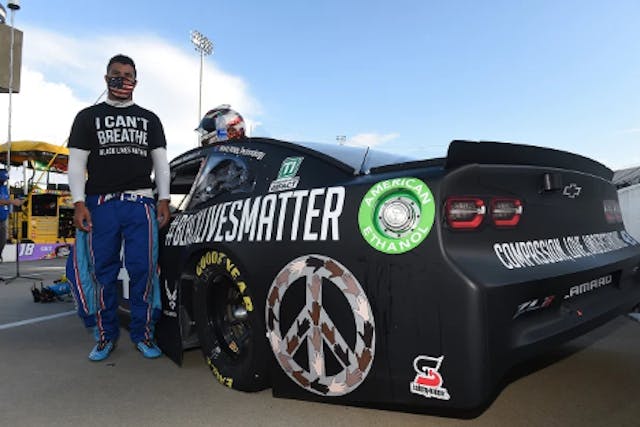 JARED C. TILTON/GETTY IMAGES
The GIST: The Black Lives Matter movement has found an unlikely but long-overdue ally in the sports world: NASCAR.
Really?: Really! NASCAR has a long history of racism, an overwhelmingly white fanbase and up until last week, a sea of Confederate flags at most races. But the stock car racing series is working to change: this week, NASCAR hired Brandon Thompson as their vice president of diversity and inclusion, a new role within the organization.
Thompson's promotion comes at a time when NASCAR is looking to expand its fanbase and attract new and diverse talent to the sport. Moves like this prove the value and the power of the Black Lives Matter movement — let's keep it going.
Awesome. Any other news?: It looks like Colin Kaepernick, the quarterback (QB) who began the #TakeAKnee national anthem protests and was subsequently banished from the NFL in 2016, has a great chance to return to the league in 2020.
The Los Angeles Chargers might be adding Kaepernick to their workout list, and the Philadelphia Eagles are showing interest in bringing him on as a backup QB. And apparently the Las Vegas Raiders (who recently moved from Oakland) are trying to do the same. Yes, please!
Kaepernick even has the backing of two unlikely sources: NFL Commissioner Roger Goodell and president Donald Trump. Well, well, well how the turn tables.
🏀

Will they or won't they

June 18, 2020
NICK WASS/ASSOCIATED PRESS
The GIST: Similar to Kawhi's famous Game 7 buzzer beater, the NBA season restart is still up in the air. While the league pushes forward with their Disney World bubble plan, Kyrie Irving & Co. are asking their fellow players to sit out.
What's the plan?: On Tuesday, the NBA sent a 100-page document to its players, outlining what life will be like while living and playing in "the bubble." Players will be tested for COVID-19 regularly, must wear masks indoors and will have the option to wear "proximity alarms" when off the court, which will go off when a player spends more than five seconds within six feet of someone else wearing one. TBH, we could use those too.
Players have until June 24th to opt out of the restart and will give up their paychecks if they do. Some players will be exempted if they're deemed high-risk for coronavirus complications, but in those cases they'll retain their salaries.
And what's Kyrie up to?: Even though the restart doesn't directly affect Kyrie Irving, as he's out with a shoulder injury, it hasn't stopped him from making his voice heard. Along with LA Laker Avery Bradley, Irving's co-leading a coalition of players calling for real change before the season restarts.
The coalition wants to know what the NBA is going to do about social justice reform. They're looking for a framework that includes better hiring practices, donations to help the Black community and investment in Black-owned businesses, and they're calling for their fellow players to sit out until they get it.
So will players sit out?: Some might. But it seems like the majority will play. Most players are all for what the coalition is proposing, but a lot are also saying, why can't we do both?
🤸

Say my name, say my name

June 18, 2020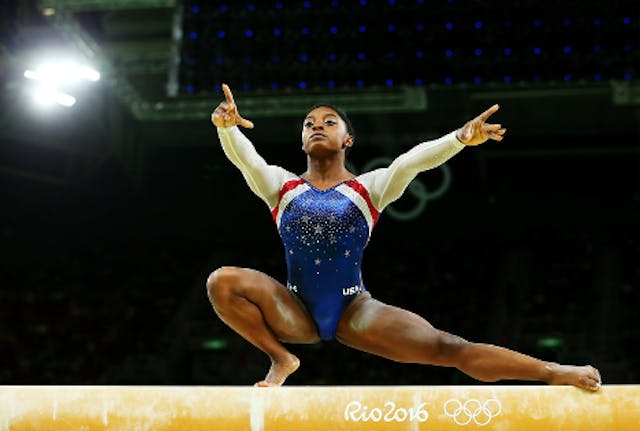 ALEX LIVESEY/GETTY IMAGES
The GIST: It's been quite the week for GOAT gymnast Simone Biles. On Monday, she was named as a plaintiff in the lawsuit against USA Gymnastics (USAG). Then on Tuesday, she performed a triple-double dismount — a move never been seen before. Get that dirt off your shoulders.
Wow: Wow is right. Biles is now one of more than 140 plaintiffs suing USAG for failing to protect them from disgraced former USAG team doctor Larry Nassar, who sexually assaulted over 300 female athletes and at least one male athlete under USAG's nose. Disgusting.
Although Biles kept her name out of the criminal and civil proceedings since the case was first made public in 2016, she hasn't remained silent. At last year's US Championships, she made her feelings very well known. So strong.
Can she compete for an organization she's also suing?: It seems counterintuitive, but yes. Similar to the US women's national soccer team and their ongoing lawsuit with the US Soccer Federation, Biles will still compete for Team USA. And you better believe she won't be missing next year's Tokyo Olympics — rumor has it they might just be her last.