Women's College World Series seeing record viewership
June 06, 2022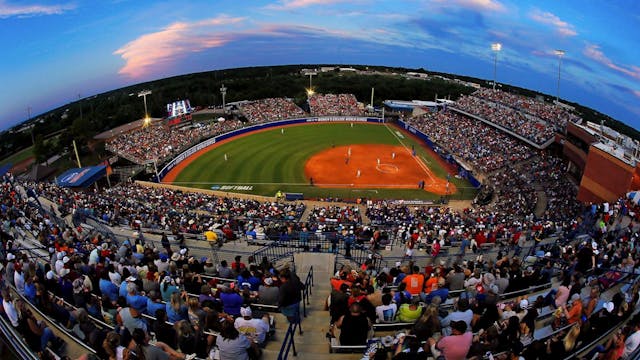 SOURCE: BRIAN BAHR/GETTY IMAGES
The GIST: This year's Women's College World Series (WCWS) is scoring win after win. Over one million viewers tuned in to Texas' victory over Arkansas on May 28th and the tourney is breaking IRL attendance records, too, selling out the recently renovated 13K capacity USA Softball Hall of Fame Stadium in Oklahoma City.
Long story short? Softball may be the next women's sport on the rise (ball).
The context: The softball boom isn't exactly new. An average TV audience of 1.2 million caught the 2021 WCWS, which also set the previous 11.5K attendance record — a record only possible after 2018–2020 renovations increased stadium seating by 4K. If you build it, they will come.
The brand support: Fastpitch's growing media exposure has brands stepping up to the plate. The sport slides in fifth in name, image and likeness (NIL) compensation, raking in 2.1% of all deals. The WCWS has big-name sponsors, too — it counts Capital One, Pizza Hut, Coca-Cola, Powerade and more as partners.
And brands are getting creative in how they work with the WCWS. Capital One sponsors "Rewarding" highlights on ESPN, while Pizza Hut hosts delivery challenges. Logos are featured in dugouts, on broadcast headsets and even on player-fashioned rally caps.
Zooming out: The WCWS' victories can be attributed to its de facto status as the main event in softball. No U.S. or international equivalent has hit the same heights yet — softball is an on-and-off Olympic event, returning for the 2020 edition after being left off the permanent roster following the 2008 Games.
The college tourney's wins could translate into success for Athletes Unlimited and its big bet on softball — especially since its third season opens on the heels of the WCWS. The startup pro league scored a broadcast deal with ESPN in April, and could be the next BFD in the sport. Batter up!