🏈

SEC Football and the NFL to Have Fans in the Stands this Fall

August 20, 2020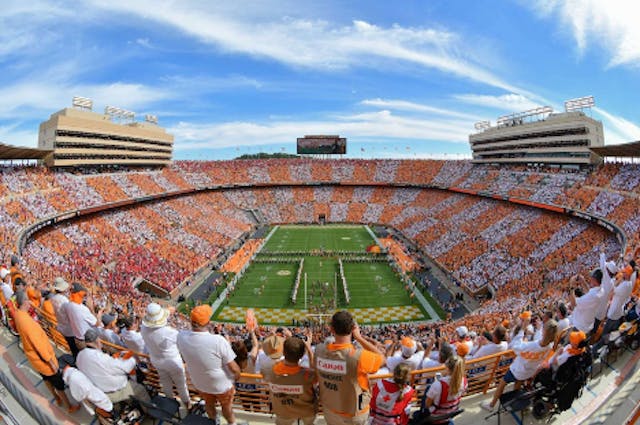 RANDY SARTIN/USA TODAY SPORTS
The GIST: Despite being in the middle of a global pandemic, the still-competing college football conferences and the NFL insist on playing in front of fans this season. Wish we were kidding.
Remind me where we're at: In college football, the Big Ten and Pac-12 have postponed all fall sports. The Big 12, SEC and ACC will forge ahead with sports this fall. And get this: those conferences are also preparing to have fans in the stands.
Seriously?: Sadly, yes. On Tuesday, the SEC released their guidelines for fan attendance. Luckily, masks are required, but the conference is leaving most other decisions up to the schools. The schools that have released their plans will all limit stadium capacity to under 30%.
And what about the NFL?: On Monday, the NFL announced that the first game of the season (Kansas City Chiefs vs. Houston Texans on September 10th — mark your calendar!) will be held with fans, filling the stadium to 22% capacity. Just like college football, fans will be required to wear masks in the stadium, but tailgating will be permitted...with masks "encouraged." Hmmm.
Also similar to college football, NFL teams are making patchwork decisions regarding in-person attendance, too. You can't beat live sports, but we'll be happy to watch this NFL season cozied up on the couch.
I heard Washington's in the news again?: You heard right. Two former LSU students said they were raped by former LSU and recently released (for domestic violence allegations) Washington Football Team running back Derrius Guice in 2016. It appears that LSU did not investigate the women's allegations. A sad, stark reminder that we still have a lot of work to do and must continue to support survivors.
⛳
🏀
🏆
Women's British Open Begins Today, Seattle Storm en Route to League Record, Athletes Unlimited to Introduce Women's Lacrosse
August 20, 2020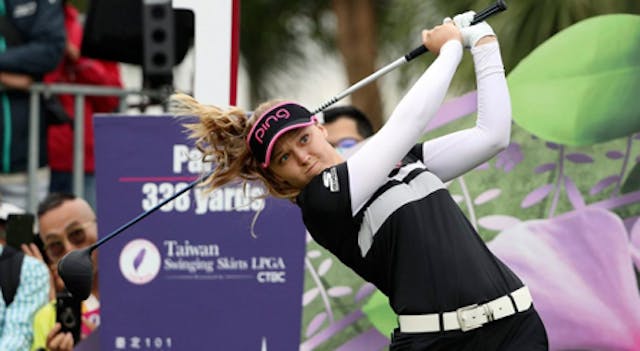 CHIANG YING-YING/AP
LPGA: This weekend belongs to women's golf, as the first major of the season gets underway today. The Women's British Open teed off early this morning at the legendary Royal Troon in Scotland, where most of the top golfers in the world are facing off once again.
While Americans Danielle Kang and Stacy Lewis have already notched wins in this stunted new season, this will be the first LPGA tournament since January for the Canadian phenom Brooke Henderson, a top contender who's looking to win her second major.

Unfortunately, world No. 1 Jin Young Ko and No. 3 Sung Hyun Park, both South Korean superstars, have opted out of the major, so it won't truly be the battle of the best we've been waiting for.
WNBA: Don't look now, but the league-leading Seattle Storm have won nine games in a row in the Wubble. Led not only by the legend that is Sue Bird, but also 2018 WNBA MVP Breanna Stewart, the Storm are halfway to setting a new league record.
The Storm can beat the 2001 Los Angeles Sparks' record of 18 consecutive wins if they win their next nine games, which actually seems feasible. Their 10th win should come tonight against the ho-hum Indiana Fever, but the real test will be the No. 2 Las Vegas Aces on Saturday. Follow their run here.
Lacrosse: We have some good news and some bad news. The bad news? The Women's Professional Lacrosse League (WPLL) has folded after just two seasons. The league, which also acted as a national development program, had to cancel its 2020 season due to the COVID-19 pandemic and wasn't able to recover. Sad.
The good news? Athletes Unlimited, a new organization of underrepresented sports leagues, is planning to introduce women's lacrosse as its latest venture (adding to softball and volleyball, which are already on the way), giving the WPLL players a chance to continue their careers on a national stage.
🏒
🏀
⚽
Podcast Episode 31: Playoffs, COVID-19 and the USWNT walk into a bar
August 19, 2020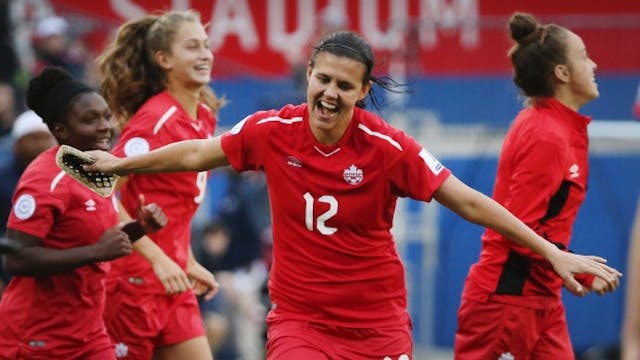 The Canadian Press
Listen to this episode of The GIST of It here.
Ellen: What's up, GISTers? Welcome to The GIST of It. I'm Ellen Hyslop.
Steph: And I'm Steph Rotz.
Ellen: And we're just two old pals and two gals that are here to give you the gist of what's going on in the sports world. Thanks for listening.
Hello, Steph, it's great to see you again and to be speaking with you again, I don't know about you, but life this last week seemed to go by super slow, but also wildly fast at the same time, it's one of those weeks for me.
Steph: The gif that comes to mind when I try to think about this past week is Joey Tribbiani in Friends sitting in front of that waterfall feature in his home. I feel like that's me. I feel like I'm watching the world happen, but it's happening so slowly. It's been a weird world in sports I think.
Ellen: I would never in my life compare you to Joey Tribbiani. So the fact that you even have something remotely related to him is saying a lot as to where you're at right now Steph.
Steph: My technology is failing, my brain wants a break. You know, I'm ready for the playoffs to keep moving.
Ellen: Yeah. Ready for it to continue. I mean, you know what? I love that the NBA playoffs are back and that it's already dramatic and wild and upsets and all of that sort of stuff going on. So that has been a saving grace that hasn't felt like it's too fast or too long. It's just the perfect timing for the NBA to come back.
Steph: What a Goldilocks moment. Speaking of all these sports, we're going to do things a little bit differently today, spending a bit of time on three different topics. We're going to be giving the gist and our opinions on the NBA and the NHL playoffs. And then we're going to hit you with a COVID-19 sports update. There's still stuff going on here, so we definitely have things to talk about. And finally, we'll chat about the U.S. Women's National Soccer Team going overseas to play versus staying with the NWSL.
Ellen: Oh, yes. The drama is real.
Steph: Oh drama.
Okeydokey, let's start talking about the NHL and the NBA playoffs, but let's go with NHL first, Ellen. So as we mentioned last week, we're currently in the official first round of the NHL playoffs with the top eight teams in the Eastern Conference, and the top eight teams in the Western Conference playing. And everything has gone back to the best of seven games format that we love.
Ellen: Yes. And thank goodness that it has, because compared to the qualifying round as well as the round robin round that happened just before this, that was a best of five series in the qualifying round at least, it feels like it's finally playoff hockey. The boys are finally grooving. They're working hard out there. There's some fights, there's some drama. Absolutely love it. And most surprising to me is that as of this recording, the New York Islanders are up three games to none over the Washington Capitals. They're playing right after we're recording/during while we're recording. And they're either going to be up three to one or they're going to sweep the Washington Capitals, which either way is crazy.
So while you're listening to this, check the Google, go on, check the Google and see what's up. But it's just totally unexpected because the Capitals are a team that's incredibly talented, have a ton of playoff experience, were some of the favorites to win the Stanley Cup, especially when you have a captain like Alexander Ovechkin, so something's going on in the capital. And I mean, you know, there's a lot going on in Washington, D.C. right now that we don't need to get into on this podcast. But I don't know, maybe it's karma for what's happening there right now. I don't know.
Steph: I don't know why, the salty part of me really wants them to be swept. I don't know why.
Ellen: Bring out the brooms!
Steph: I can't even give you a reason. But I will not be forgetting the New York Islanders next year, this time around, next year at all. My favorite series, though, Ellen, has been the Tampa Bay Lightning and Columbus Blue Jackets. I think I said last week that I saw this going to seven games and when they went into five overtime, I was thinking maybe that might actually happen. But Tampa Bay is currently leading the series three to one. So I might be wrong there. But it's so fascinating. I'm loving that match up and a close matchup that I'm definitely going to be keeping my eye on in the West is the Vancouver Canucks and the St. Louis Blues, who at the time of this recording are currently tied two to two. So I love a close match up. So I'm going to keep my ear to the ground with that one.
Ellen: Yeah. And going back to Columbus and Tampa, it's been super fun to watch them also because the Blue Jackets goalie Korpisalo has just been standing on his head and really pulling the team through, which is kind of exactly what he did against the Leafs. I still think that there's no way the Lightning are going to take it 4-1. I do think that there needs to be at least a second win from Columbus, because at this point, watching the hockey, they deserve it. They're not out of any game.
Steph: Oh, no. They're such a strong defensive team. I frickin love watching them play.
Ellen: They're great. Speaking of defense, the Boston Bruins have a big hole in theirs, mostly because their goalie, Tuukka Rask, has opted out of the season, stating that "some things are more important than hockey." And where we're at in the world right now. He is definitely not wrong and we definitely can't blame him for wanting to spend more time with his family. Whatever is going on there definitely takes more priority. And, you know, the Bruins are still up 3-1 over the Carolina Hurricanes. But I wonder, you know, we talked about this in our last podcast episode, Steph, that the Bruins could win the cup. Do you still think that they're cup contenders without Tuukka Rask?
Steph: Ooh, again the salty part of me wants to say no.
Ellen: You salty dog.
Steph: I want to see the Carolina Hurricanes take this one. They're also such a fun team to watch. And I mean, I got to give it to the guy, while I'm appreciative of sports to be back and of the entertainment. I truly thought I would see more people opting out. And I've got to respect the man's choice, so I don't want to go against him now and be like, "I hope your team loses," because that doesn't seem like the most sportsmanlike thing of me to say. But I don't know, I'm going to be wishful and put my money on Carolina.
Ellen: So true stuff Steph. So now let's switch things over to the NBA, because that's the second league in playoffs right now. The NBA playoff is set up the exact same as the NHL playoffs, four rounds, eight teams in the east, eight teams in the west, best of seven series. And it just started on Monday.
Steph: The Toronto Raptors won their first game on Monday night against the Brooklyn Nets. They did almost blow a 33 point lead, but I was not stressed watching that game. Fred VanVleet, a Raptor, had his best game of the season. But Ellen, if I have to be a little bit distracting here, I think that the game highlight was the introduction that happened by the Raptors' families with Fred VanVleet's Kids making a little appearance as well as Kyle Lowry's kids making an appearance. That was the game highlight for me.
Ellen: Totally. Lowry's kids, his two boys being like L-L-L-L-Lowry I think melted me to my core. It was amazing and I can just hope that I have two little rugrats one day that do that when I go into the beer league women's soccer field and they're just like, El-El-El-El-Ellen!
Steph: Oh, I want that for you too.
Ellen: Thanks man. Much appreciated. Yes. So outside of the Raps, in the Eastern Conference, I was quite surprised to see the Milwaukee Bucks, who are number one lose to the Orlando Magic, who are number eight. But for any Bucks fans that are listening, don't fret too much because your championship winning Toronto Raptors lost their first game against the Orlando Magic last year and they ended up winning a championship. So don't worry about it as much as you might be freaking out, like how are the freaking magic stopping Giannis. They're not consistent, don't worry about it.
Otherwise I have to say I'm paying way more attention to the Western Conference than the Eastern Conference, especially the Houston Rockets versus the Oklahoma City Thunder series OKC. This is just a stacked series on both sides of the court. So for the Houston Rockets, they have James Harden, also known as the Beard, and they have fashionista Russell Westbrook. OKC, on the other hand, has Chris Paul and Steven Adams. He's the super tall Aussie who kind of looks like Khal Drogo to me for anyone who's watched Game of Thrones. Have you watched it Steph?
Steph: No, I haven't. I'm sorry
Ellen: Oh Steph, you need to watch it, what the heck.
Steph: I know.
Ellen: But anyway, super big heart eyes for Steven Adams, I think he's super cute. But anyway, what's interesting is that both James Harden and Russell Westbrook played for OKC beforehand and Chris Paul played for Houston. And the rumor mill said that Harden and Paul had a falling out, which is why Paul was traded. And although Harden denied the rumors, I think that it's B.S. that he denied the rumors and I think that they're true.
So I think that there's a lot of animosity that's going to be on this court throughout the entire series. And I believe that they were the four five. I could be mistaken. So we should fact check that. I'm pretty sure that they're the four five and so this series is going to be super tight.
Steph: Oh, my gosh. Lots of layers to unpeel with this one. Whenever I see OKC or hear OKC, I think, OK Cupid and I just can't shake that out of my head. I've got to rebrand in my brain for that team. Marketing teams everywhere. If you need an ad copywriter, an advertiser or marketer, please reach out to Stephanie Rotz. She'll be available outside of her podcasting hours.
Ellen: All right, let's switch things up to the COVID-19 updates, because unfortunately/fortunately, there are a lot of updates and I feel like because there's so much we can kind of rapid fire go through these.
Steph: Ok, so on Monday, the CFL, which is the Canadian Football League, announced that their 2020 season is canceled after the Canadian federal government rejected its request for a 30 million dollar loan, to be honest we're not that surprised. But it will be the first time that the Grey Cup, which is the CFL's Lombardi, won't be presented in over a century. I mean, do we think that this will impact the NFL's decision? Probably not.
Ellen: Yeah, absolutely not. They give a flying F about what's going on with Canada.
So speaking of football, let's talk about some college football. As mentioned in our newsletter lately, which gives us a great time to say go subscribe at thegistsports.com if you're not already. Of the power five conferences, the PAC-12 and the Big Ten have postponed all fall sports, including college football for 2020. And they've kept the opportunity for all of these fall sports to come back in the spring, especially college football.
But a lot of people are saying that spring football would just be a logistical nightmare. So since they said that they were going to be postponing all fall sports, there's been so much backlash from players and from coaches. And there's actually a petition going around trying to get football back that has over 200,000 signatures on it from players, coaches, fans, students, you name it. And it was actually started by Justin Fields who is a superstar college quarterback and was also a star in QB1 on Netflix, which I don't know. Have you seen that series Steph?
Steph: No, I haven't. But it's on the list.
Ellen: Oh, I am obsessed with it. But anyway, just because of these signatures, I still don't think that it's going to happen. People are still getting COVID-19 and it's not like the PAC-12 and the Big Ten made this decision lightly. You can even see in other cases in colleges, at UNC Chapel Hill, there's a bunch of new cases. And the same in Oklahoma there's a bunch of clusters. So it's really not good.
Steph: I'm really shocked to hear that there's that many signatures on it. But yeah, again, these are not easy decisions that were made. And keeping it moving too, what else isn't necessarily good in the world of sports is the U.S. Open. Top players are dropping like flies. Most recently, world number two, Simona Halep has dropped out of the U.S. Open due to COVID-19, saying "I always said I would put my health at the heart of my decision and I therefore prefer to stay and train in Europe." Totally fair girl.
And this comes right after reigning champ Bianca Andreescu dropped out due to feeling like she's not in proper match shape because of COVID-19. These are two huge blows to the U.S. Open, obviously. But women's tennis is so wide open, especially compared to men's tennis, it feels like the top 50 players can potentially beat out each other at any given moment in any given day. So it's still going to be worth a watch for sure.
Ellen: Totally. Basically, an unknown player beat Serena Williams in the top seed open last weekend. So you just never know what's going to happen with women's tennis. And that's why it's such a joy to watch. Nothing is ever guaranteed, unlike the top three in the men's side.
Ellen: But let's move on to some good news, because all of this has kind of been whomp whomp. So Steph, you and I have chirped the MLB for a very long time for not coming up with a better COVID-19 plan and staying with that regionalized travel schedule. Fortunately, it seems as though the league are listeners of The GIST of IT, and they have decided to explore options to have the playoffs in one or two hub cities, which would be amazing for all of the players involved and just for baseball and the health of everyone.
The second thing I also briefly wanted to mention is in the science realm and potentially business realm is that apparently there's some awesome new COVID-19 saliva testing going on thanks to Yale as well as the NBA and the NBA Players Association. So it's this thing called Saliva Direct, and it's a simple, low cost, saliva based COVID-19 test, which means no more of that nose picking that you see that just looks really not fun at all.
And so it was developed at Yale and apparently five hundred thousand dollars came from the NBA and the Players Association to fund it. It only costs ten dollars to do a test and the results could be available within a few hours. So it's really cool that the NBA did this because you could see that there's a lot of use for it within the NBA. But also there's a shit ton of use for this just in schools. Think of elementary schools that are going back. So this could be really really cool and a big game changer if they start deploying it.
Steph: Especially since we were concerned that sports going back would be pulling resources. It's awesome to see that they were then putting those resources back into the community.
Ellen: Great point.
Steph: Now let's talk about the U.S. Women's National Soccer Team players leaving their home league, the National Women's Soccer League, the NWSL, to play soccer overseas. First to set the stage, here's how women's pro soccer is organized. We have the NWSL largely seen as the best women's league in the world, which is based in the US and only has teams in the U.S. Other leagues include the F.A. Women's Super League, F.A.W.S.L in England and D1F in France.
Ellen: Recently, the NWSL has been losing a lot of U.S. Women's National Team as well as the Canadians Women's National Team players to England and to France, most notably and within the last week or so, U.S. Women's National Team stars Rose Lavelle and Sam Mewis have opted out to play in England. And these are really big deals because they are superstars. Rose Lavelle scored a bunch of goals in the FIFA Women's World Cup this year, and she's largely seen as an up and coming star as other players are starting to retire. A bunch of Canadian stars are actually already in England and France, Ashley Lawrence as well as Jordyn Huitema, who's pegged to be the next Christine Sinclair, is already over there. So it's nothing too new for Canadians.
And what's interesting is that there's obviously, being in Europe, way more support for soccer over there, there's sometimes better pay and better guarantees for players when they get injured in these leagues and they get more exposed to a European way and a European style of soccer, which arguably/definitely is probably a better style of soccer than what we're used to here in North America. But what's interesting is the Alex Morgans of the world, the Megan Rapinoe and the Christine Sinclairs are still over here playing in the NWSL.
And I just have a bone to pick with this. And I don't really like it because I feel like when you're looking at other pro sports, you're looking at the WNBA, the NHL, NBA, NFL, you name it here in North America, all of the best players from around the world come to play in one league. And that's what makes the league so special, infinitely better, infinitely more competitive. And from a viewer's perspective, it's absolutely amazing, whereas this is basically doing the exact opposite by spreading all of the top talent across the world.
What's interesting is with soccer, it's totally different, it's a bit of a crapshoot in Europe. Men's soccer is completely divided. There's a bunch of amazing leagues overseas with the top players playing across them. But the MLS in North America is almost seen as like a tier two league to all of those European leagues. And most of these European leagues, like the English Premier League, Bundesliga, which is in Germany, and La Liga, which is in Spain, generally have a chance to play amongst each other as well.
And so I just don't really have a clue as to how you don't have centralized top talent in one place and also what that's going to do to all of the leagues, like what's going to happen with the talent in all of them? How are people even going to watch some of these players now with rights and everything like that? So I don't know if I love it, like I love it because women's soccer needs to be expanding, it needs to be pushing boundaries and the NWSL obviously isn't perfect, but neither are these leagues. I don't know, I'm very torn.
Steph: I'm torn, too, because you obviously want the players to get the amount of money that they should get and get the exposure and develop talent as they should. But when you're thinking about trying to watch these games, like from a North American perspective too, that time difference really hits. And if you're trying to catch a game, it seems a little bit messy. And as a sports fan, I'm a little bit meh about it.
Ellen: Yeah. OK, one last thing. It's really tough, too, because I feel like soccer in North America has always been to me the women's game whereas soccer in Europe has always been the men's game. And so I'm having a really hard time of our sport here and what we've supported in terms of the women's side, now not all being over here as the tier one type thing and soccer in Europe for women should have been so much more developed years and years and years ago. But it was really the US Women's National Team that just changed everything in the 90s to put women's soccer on the map. And so, I don't know. I feel like it needs to be figured out and all the top players should be in Europe or all of the top players should be in the US. That's my two cents.
Steph: Let's end the pod talking about things that put a smile on our face this week.
Ellen: Yes. So earlier this week, Jason Wright was hired by the Washington football team to become their president, making him the league's first Black team president. And at 38, the league's youngest team president. He's a former running back in the NFL and also a partner at McKinsey, which is a very prestigious consulting firm. So you know that he has the chops.
Steph: This is so important too in a league where about 70 percent of the players are Black in the NFL, it's about time that we're seeing this translate into these organizations. And I think a positive takeaway here is that the external pressure being put on this team to change its culture is working and it's starting to manifest. And they've changed their name recently to Washington Football Team until they're able to settle on a new permanent name. So that's a huge positive thing coming out of this organization.
And a bunch of powerful men in the org have been fired or quote unquote, retired after 15 women went public with their accounts of sexual harassment and verbal abuse that they've experienced at the hands of senior members of this organization. So thinking about sports culture, it is culture, it's synonymous with it, it's certainly positive to see them acknowledging the harm that they've done as a sports organization and to see that they're slowly taking, you know, like bricks out of the brick wall that is the old white male club of the NFL leadership. And it's definitely putting a smile on my face to see that they're starting to dismantle that.
Steph: All right, that's The GIST of It from Ellen and I, thanks for tuning in. If you like what you heard. Be sure to tell all your friends and to drop us five stars in the rating and leave us a review. And you can be sure to tell your friends that they can find us on , , and .
Ellen: And if you like what you heard today, you have to sign up for our free twice weekly newsletter where every Monday and Thursday morning we give you the gist of what's going on in the sports world in less than five minutes. And you could sign up for The GIST at thegistsports.com. Otherwise, Steph and I would love to hear from you. You can get in touch with us over email at pod@thegistsports.com DM us on Instagram @thegistnews.ca or @thegistusa. Again, I'm Ellen Hyslop.
Steph: And I'm Steph Rotz.
Ellen: Thank you so much for listening. This has been The GIST of It. We'll see you next week.
🏀

NBA Playoffs Begin Today, August 17th

August 17, 2020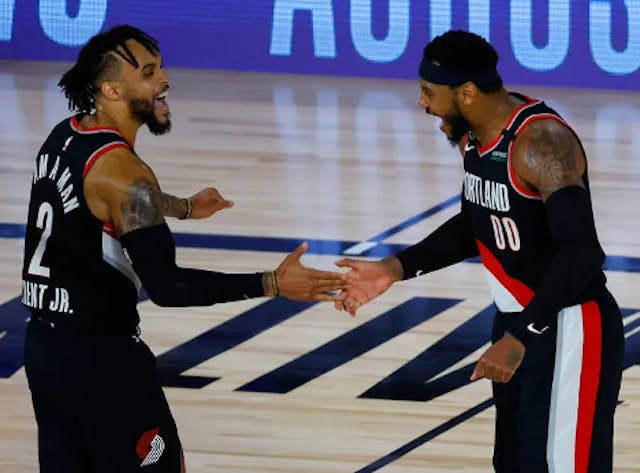 KEVIN C. COX/USA TODAY
The GIST: The NBA gave us two weeks of seeding games that literally no one asked for, but now that the snoozefest is over, it's time for the good part: playoffs!
Finally!: You said it. But first, the much-anticipated Western Conference play-in "tournament" (air quotes because it was actually just one game) had to happen. The No. 9 Memphis Grizzlies had to win against the No. 8 Portland Trail Blazers in Saturday's game to force a deciding Game 2 on Sunday...but they lost, so the Trail Blazers locked up the last available playoff spot.
And how do the playoffs work?: Sixteen teams will take part — eight in each conference — and teams are seeded based on their regular season record plus their seeding round record.
There are four rounds in the postseason, and all rounds feature best-of-seven series. Unlike the NHL, teams won't be reseeded after the first round and will stick to their tried-and-true bracket format.
Games start today at 1:30 p.m. ET, and we'll have the opportunity to watch four games per day for at least the next week. Check out the full schedule and playoff bracket.
Who's going to win?: In these unpredictable times, it's anyone's game, but if the LeBron James–led LA Lakers don't at least put up a good fight, we'll be shooketh. The best team from the West is expected to win it all, and we're guessing they'll meet up with the league-best Milwaukee Bucks in the final.
But until then, the first round features a few must-watch matchups: Dallas Mavericks versus LA Clippers (BTW, Clipper Kawhi Leonard is looking for his third NBA Championship, and second in two years) and Oklahoma City Thunder against Houston Rockets (so much talent in this one!).
Dark horses dinos to watch? The reigning champs Toronto Raptors who, without Kawhi, are sitting second in the Eastern Conference. Dangerous.
🏈

Football Player Petitions Big 10 to Reinstate Fall Football Season While Other Players Test Positive for COVID-19

August 17, 2020
ANDY LYONS/GETTY IMAGES
The GIST: Last week was a wild one for college football, but (in true 2020 fashion) a new day brings even more drama. With a petition circulating to reinstate the Big Ten season, players testing positive for COVID-19 and players' parents even getting in on the action, the possibility of fall football is still uncertain.
Tell me about this petition: On Sunday morning, Ohio State quarterback and QB1 star Justin Fields shared an online petition, titled #WeWantToPlay, asking the Big Ten to reinstate the fall 2020 season and give players a choice to opt-out or not, free of any repercussions. Fields posted the petition on Twitter and it reached over 100,000 signatures (!!!) in under four hours.
Will it actually work?: Probably not. The Big Ten (and the Pac-12) did not cancel the fall season on a whim. We're all about players using their platform, but even with a ton of signatures, we doubt this push will overturn such a big decision.
How's it going in the other conferences?: Not great. Nine players from the Oklahoma Sooners (Big 12) tested positive for COVID-19 after returning to campus following a team-sanctioned break from training camp. *facepalm*