🏈

Patriots Lose to Broncos

October 20, 2020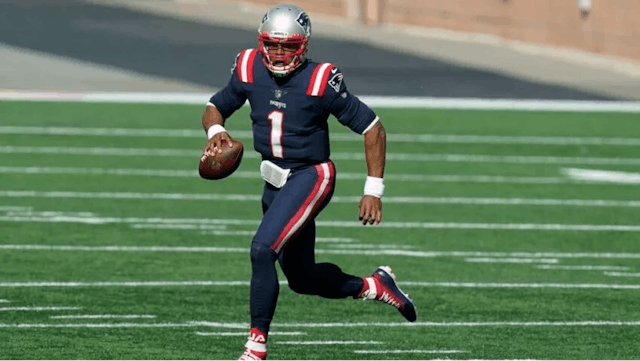 SOURCE: STEVEN SENNE/ASSOCIATED PRESS
The GIST: Surprisingly, the Patriots played a game yesterday. Unfortunately, their lack of practice was v. evident in their 18–12 loss to the Denver Broncos.
What do you mean, surprisingly?: With new COVID-19 developments, it wasn't clear if yesterday's game would even happen. The Pats shut down Friday's practice due to another positive COVID-19 test and placed three more players on the reserve/COVID-19 list on Saturday. Astonishingly (or not), the NFL didn't postpone the Pats' game for a third time against the Broncos. Play on, we guess?
How'd we look?: With very little practice over the last two weeks, pretty rusty. After falling behind 18–3 and sustaining several injuries just in the first half, the Pats attempted a comeback that included QB Cam Newton suddenly becoming a wide receiver (something the Patriots tried before...unsuccessfully).
Sadly, the Pats ultimately lost to kicker Brandon McManus a Broncos squad that scored only field goals, no TDs. Yikes.
What's next for the Pats?: The San Francisco 49ers, led by former Patriot backup QB Jimmy Garoppolo, on Sunday at 4:25 p.m. ET. Here's hoping the Pats turn things around — they're 2-3 through five games, marking their first time being under .500 since 2002. Eek.
🏈

Giants Earn First Win, Jets Take Brutal Loss

October 20, 2020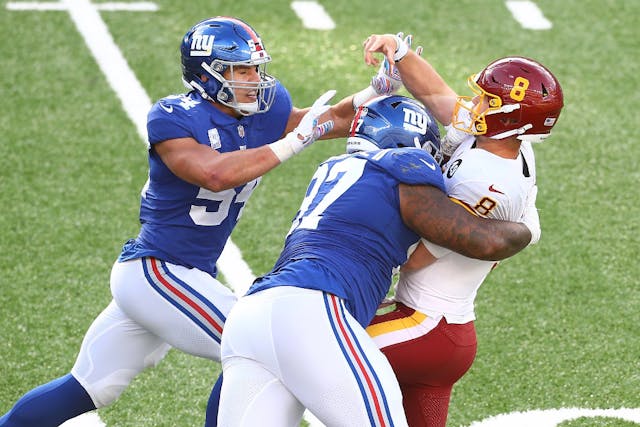 SOURCE: MIKE STOBE/GETTY IMAGES
The GIST: The Giants finally grabbed their first win yesterday, beating the Washington Football Team (WFT) 20–19 (!!!), but if you're a Jets fan, all we can say is...sorry.
LFG: At long last, the Giants looked like a functioning football team this week with solid defensive plays and properly executed TD passes. They led the majority of the game, until the WFT tied it up in the fourth quarter. Thankfully for the G-men, rookie linebacker Tae Crowder had a clutch scoop and score to give New York the 20–13 lead with just a few minutes remaining.
But Washington wasn't done fighting. With less than a minute remaining, they scored a TD to make it 20–19. Instead of going for a tie, the WFT tried for the two-point conversion, but, to the Giants' relief, were unable to make it to the end zone.
While it wasn't pretty, it was definitely a win, marking head coach Joe Judge's first victory in the NFL. Let's hope they can keep it going this week when the Giants face the Philadelphia Eagles on Thursday Night Football.
Rock bottom: The Jets lost 24–0 to the Miami Dolphins yesterday, their first shut-out loss against Miami since 1983. And yes, it was as brutal as it sounds. At 0-6, the Jets are the only winless team in the league, meaning it's time to start thinking about changes.
With this season lost (and increasingly more embarrassing), the Jets made another move right after yesterday's game by trading defensive tackle Steve McLendon to the Tampa Bay Buccaneers in exchange for the Bucs' 2022 sixth-round draft pick. Here's hoping the next move is to fire head coach Adam Gase. Harsh, but needed.
🏈

Clemson Cream Georgia Tech

October 20, 2020
SOURCE: UA ATHLETICS/COLLEGIATE IMAGES/GETTY IMAGES
The GIST: Week seven of college football action featured some thrilling upsets, but two games truly left us in disbelief. One because of a super lopsided score, the other because of a coach's startling, speedy return from a positive COVID-19 test. We're still shook.
Let's start with the lopsided score: No 1. Clemson has been one of the few teams to rely on throughout this upset-filled season. The undefeated Tigers continued their winning ways by scoring a whopping 73 (!!!) points in a no-doubter 73–7 win over Georgia Tech. Sheesh.
And what about the coach?: Amidst preparations for his Crimson Tide's highly anticipated Saturday matchup against rival Georgia, Alabama head coach Nick Saban tested positive for COVID-19 on Wednesday. Everyone rightfully expected Saban to be quarantined for the game, but (somehow) Saban registered three negative tests in three days and coached Alabama to a dominant 41–24 victory.
How is that even possible?: Thanks to the SEC quietly changing their COVID-19 policies surrounding potential false positive tests, Saban's three negatives enabled his return. Alabama doctors determined that Saban's initial positive test was a false positive result and cleared the asymptomatic coach to return to the field.
With Saturday's win, Alabama maintains their undefeated record and No. 2 spot in the top 25 rankings. And Saban's super rare false positive test will simply be remembered as another dramatic turn in this wild college football season.
⚾

Dodgers and Rays to Face Off in World Series

October 20, 2020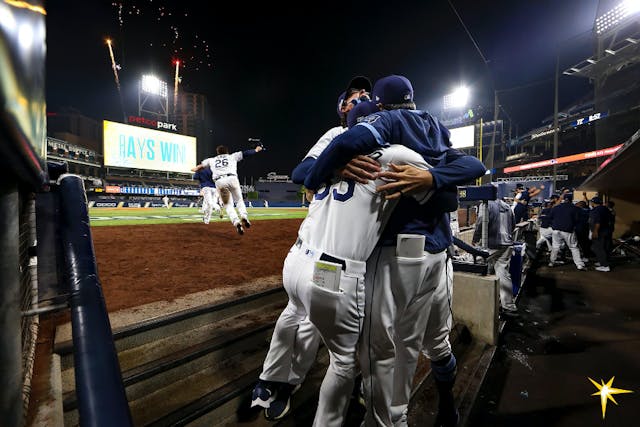 SOURCE: TAMPA BAY RAYS/TWITTER
The GIST: The World Series matchup is officially set! Both league championship series took all seven games and a whole lot of drama to be decided, building to a star-studded Fall Classic between the Tampa Bay Rays and the LA Dodgers.
Tampa Bay Rays: The Rays gave everyone something to celebrate by defeating the Houston Asterisks Astros with a nail-biting Game 7 victory on Saturday. With the win, the Rays punched their ticket to the World Series for the second time in franchise history and are now just four wins away from their first-ever title.
A key player to watch is rookie outfielder Randy Arozarena, who has seven (!!!) postseason home runs, a rookie record. On the defensive side, keep an eye on starting pitcher Charlie Morton. Morton boasts an incredible 0.57 earned run average (ERA) this postseason. Domination station.
LA Dodgers: The Dodgers defied the odds, coming back from a 3-1 series deficit to force Game 7 and win an epic 4–3 duel with the Atlanta Braves, thanks to outfielder Cody Bellinger's clutch go-ahead home run. Entering the season as the favorites to win it all, the Dodgers now look to avenge their World Series losses in 2017 and 2018 and claim their seventh franchise title.
This stacked team features a laundry list of talent, including shortstop Corey Seager, who has six home runs and a team-leading 15 RBIs this postseason. For pitching, the Dodgers will lean on starting pitcher Walker Buehler and his 29 strikeouts through four postseason starts.
Who's going to win it all?: This World Series matchup is sure to be one for the history books, with the winningest teams from each league squaring off. Riding their come-from-behind NLCS energy, we expect the star-powered Dodgers to keep that momentum rolling against the Rays and ultimately live up to their preseason favorite status.
First pitch of Game 1 is set for 8:09 p.m. ET tomorrow. Grab your favorite blanket and get cozy for the October baseball finale!
⚽

Star Power on Display in FA Women's Super League

October 20, 2020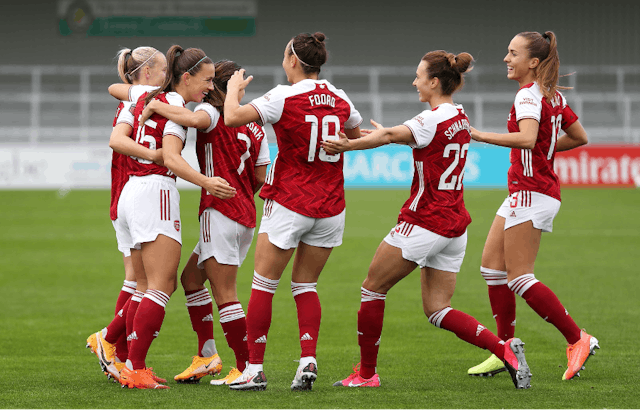 SOURCE: ARSENAL WOMEN/TWITTER
The GIST: With the NWSL Fall Series wrapping up on Saturday, it's time to turn your attention across the pond, where some of our favorite Olympians continue to play in the FA Women's Super League. Let's spill the tea.
Who's playing?: Star players like Tobin Heath, Christen Press, Ashley Lawrence and, most recently, new mom Alex Morgan have all taken their talents overseas. The mostly short-term moves were prompted by the uncertainty surrounding the COVID-19 pandemic in the States but could signal a broader movement of players looking for better salary opportunities and stability.
These players have already made a big impression, highlighted by Heath and Press jerseys outselling all Manchester United men's jerseys in the three days after their signing. No surprises there!

While we wait for the NWSL to announce details for the 2021 season, there's plenty of action in the Super League to tide us over until the Olympics begin next summer.
Any other news from the league?: Glad you asked! Arsenal's Vivianne Miedema broke a huge Super League record over the weekend, scoring her 50th goal in 50 (!!!) games to become the league's all-time leading scorer. After breaking the record, the Dutch star knocked in two more goals just for good measure. Have yourself a day.