🏈

NFL Week 7 Woes: Antonio Brown, COVID-19

October 26, 2020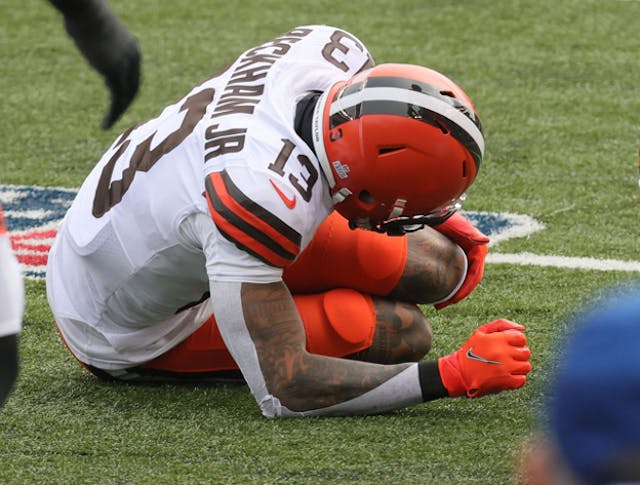 SOURCE: JOHN KUNTZ/CLEVELAND.COM
The GIST: If 2020 were an NFL week, Week 7 would be it.
Care to explain?: To start, Antonio Brown is about to return to the NFL. We can only scratch the surface on his long list of off-field drama, but suffice it to say, he's had a troublesome few years. His history — which includes an ongoing sexual assault lawsuit — apparently isn't bad enough for the Tampa Bay Buccaneers, however.
The Bucs will reportedly sign AB to a one-year, max $2.5 million deal that would reunite him with his old New England Patriots teammate, quarterback (QB) Tom Brady. Brown will be eligible to start for the Bucs in Week 9, once he's done serving the remainder of his eight-game suspension for violating the NFL's Personal Conduct Policy. Ugh.
What else?: COVID-19 continues to rear its ugly head. Jacksonville Jaguars running back (RB) Ryquell Armstead is out for the rest of the season due to COVID-19 complications. The second-year RB has been hospitalized twice since his diagnosis in August. Just awful.
Four Buffalo Bills tight ends (TE) had to sit out during yesterday's win after TE Dawson Knox tested positive, and the Las Vegas Raiders had to send their offensive line home from practice on Wednesday after tackle Trent Brown tested positive. Meanwhile the Tennessee Titans have been fined $350,000 for COVID-19 protocol violations.
Wow. Any on-field news?: You bet. Here are a few of Week 7's lowlights from the gridiron:
Dallas Cowboys QB Andy Dalton suffered a terrible head injury following an illegal helmet-to-helmet hit in a 25–3 loss to the Washington Football Team. Rattling.
The New England Patriots' 33–6 loss to the San Francisco 49ers saw three interceptions from QB Cam Newton and was the worst home defeat of Bill Belichick's Pats coaching career.
And king of the one-handed catch Odell Beckham Jr. suffered a nasty knee injury during his Cleveland Browns' close win over the Cincinnati Bengals. We're ready for Week 8 now, please.
🏈

Eagles vs. Giants on Thursday Night Football

October 22, 2020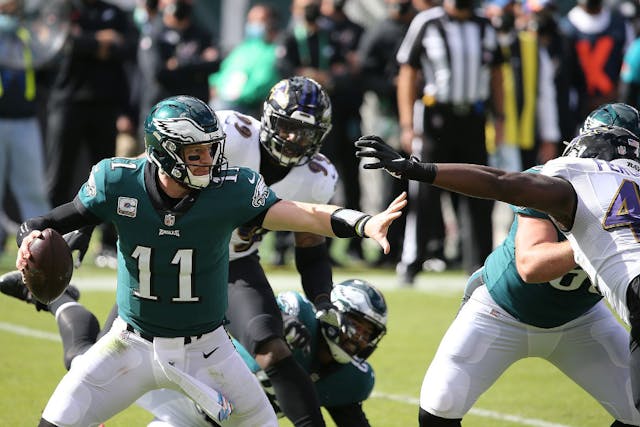 SOURCE: DAVID MAIALETTI/THE PHILADELPHIA INQUIRER
The GIST: The Eagles play the NY Giants tonight on Thursday Night Football (TNF). Even with a combined nine losses, this matchup is a battle for the top National Football Conference (NFC) East spot. 2020, you wild.
Bruised and beaten: The Birds are coming off a physically taxing game against the Baltimore Ravens on Sunday and have had little time for that much needed R&R. QB Carson Wentz took six sacks on Sunday (a lot for one game) but has to be ready to face the Giants' defense, which is very capable of powering through the Eagles' weak offensive line.
Don't expect a lot from the Eagles' offense tonight, with key players like tight end (TE) Zach Ertz and running back (RB) Miles Sanders out with injuries. While this doesn't not make us nervous, we're hopeful wide receiver (WR) DeSean Jackson, who is returning from injury after three games, will make up some of the difference.
Showing some depth: Let's not sugar coat it: the Eagles' running game has struggled this season, but RB Boston Scott and QB Jalen Hurts hope to turn that around despite a tough NY defense. Hurts has been featured sparingly to fake handoffs and move the ball down the field himself while Scott, who is filling in for Sanders, earned a career-high 59 rushing yards against the Giants last year. Let's hope he still has the G-men's number.
If the Eagles win, they'll overtake the Dallas Cowboys for the top seed in the NFC East (mind-blowing, we know). Head coach Doug Pederson is 5-0 on Thursdays in his Eagles career, so here's hoping there's more where those came from.
One last thing: GISTers, we're so grateful for your support of our regional content and would love your help to make it even better by completing this v. short survey. Thanks so much!
⚾

Tampa Bay and Los Angeles Are For 2020 Champions

October 22, 2020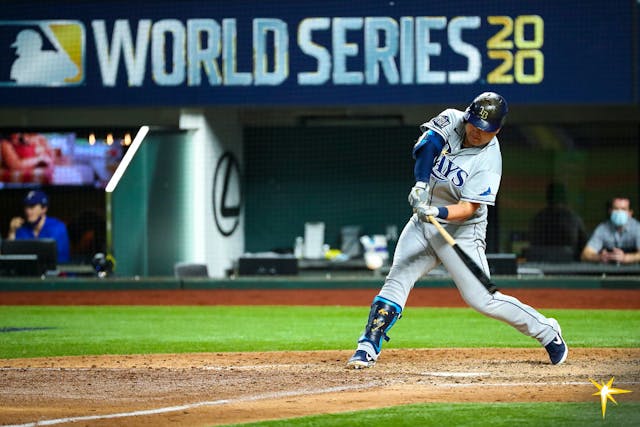 SOURCE: TAMPA BAY RAYS/TWITTER
The GIST: Tampa Bay has the Stanley Cup. LA has the NBA Championship. Now it's up to the Tampa Bay Rays and LA Dodgers to decide once and for all (for 2020, at least), which sports city reigns supreme.
Tell me about it: The World Series kicked off on Tuesday, and it's already proving to be a battle of the best. The Dodgers took Game 1 in a spectacular 8–3 win, with eight-time All Star pitcher Clayton Kershaw giving us a masterclass from the mound and fielder Mookie Betts stealing a base and winning tacos for the nation.
The Rays were having none of that last night, though. They started the game with an early home run from Brandon "Bamm-Bamm" Lowe and never looked back, taking Game 2 with a 6–4 win.
Still, history could be on the Dodgers' side here: 20 of the last 25 World Series winners won Game 1, including 14 of the last 17. But the Rays love to disprove their perennial underdog status, and after last night's dominating performance, we wouldn't be surprised if they disprove this stat.
Awesome. Any other news?: Oh, just a little herstory. With her Game 1 call on ESPN Radio, Jessica Mendoza became the first woman ever to serve as an analyst in a World Series national broadcast. Tune in tomorrow night at 8 p.m. ET to hear the softball Hall of Famer and Olympic gold medalist call Game 3. We love to hear it.
🏈
🏀
Good News From NCAA is Refreshing
October 22, 2020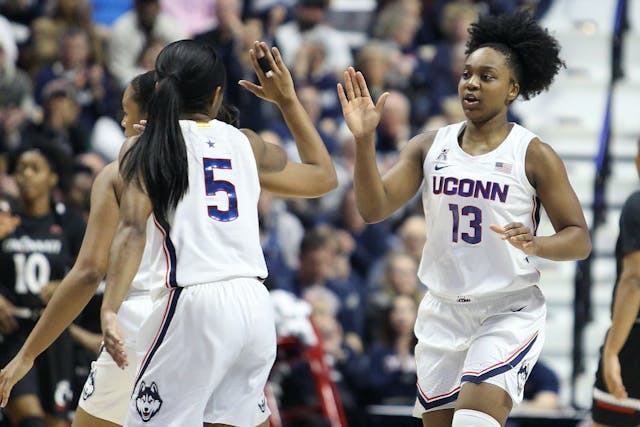 SOURCE: IAN BETHUNE/THE UCONN BLOG
The GIST: Four women's basketball coaches are finally getting paid, and Big Ten football teams are gearing up for their opening weekend of play. All good news from the NCAA...how refreshing!
Tell me about the women: The University of Connecticut (UConn) paid out nearly $250,000 to seven women after an investigation by the U.S. Labor Department found that they were underpaid. Four of these women were members of legendary coach Geno Auriemma's 2014 women's basketball coaching staff.
The 2013–14 UConn team, led by 2020 WNBA Finals MVP Breanna Stewart, went an incredible 40-0 before winning the 2014 NCAA Championship. Good on UConn for resolving the disparity! And because it's always a good time to say it loud and proud: Equal. Pay.
Hell yeah! And what's happening in the Big Ten?: After v. chaotic back and forth negotiations, Big Ten teams will finally begin their football seasons this weekend. The opening weekend matchup to watch is No. 5 Ohio State vs. Nebraska, featuring two of the coaches who most aggressively advocated for a return to play. Spicy.
Any other college sports news?: You bet. And it's even more good news: earlier this year, the NCAA Division 1 council designated Election Day (November 3rd) as a day off from games and practice to ensure student-athletes have time to participate in civic engagement.
Student-athletes across conferences and divisions are (unsurprisingly) stepping up to spearhead get-out-the-vote efforts on their respective campuses. We're less than two weeks (!!!) out from Election Day — follow their lead and make your voting plan here.
🏈

Giants to Face Eagles on Thursday Night Football

October 22, 2020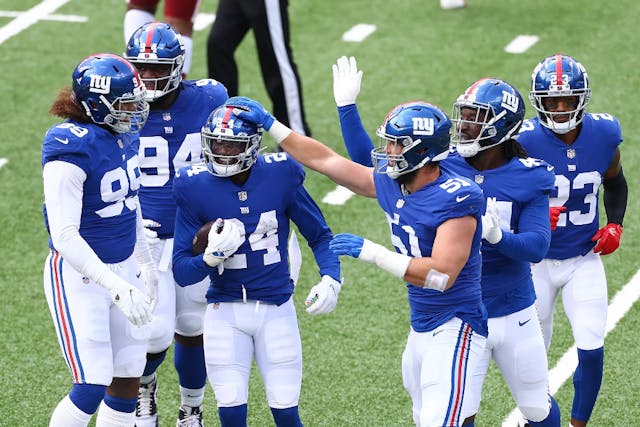 SOURCE: MIKE STOBE/GETTY IMAGES
The GIST: The Giants play the Philadelphia Eagles tonight on Thursday Night Football. Thanks to Sunday's win, if the G-men can take down the Birds, New York would tie the Dallas Cowboys for the top spot in the National Football Conference (NFC) East. 2020, you wild.
What to watch: While the Giants have their fair share of issues, the 1-4-1 Eagles have a struggling offensive line weakened further by injuries. Fortunately, this is something the G-men can take advantage of: they rank in the top 10 in sacks this season with 15.
Since New York's opponents have outscored them by 52 points overall so far this season, the game will depend on whether head coach and Philadelphia native, Joe Judge, can inspire QB Daniel Jones and the offense to put up enough points to beat the Birds.
Top of the bottom: The NFC East is by far the least competitive division in the NFL right now as the current No. 1 seed only has two wins. While tying the No. 1 Cowboys wouldn't be a huge deal, back-to-back wins could spark a significant momentum-swing for the struggling Giants. *knock on wood*
The Giants currently have a less than 10 percent chance of making the playoffs, but that's still a chance, and this win might make us start to believe this season isn't complete trash after all.
One last thing: GISTers, we're so grateful for your support of our regional content and would love your help to make it even better by completing this v. short survey. Thanks so much!