🏈
🏐
Philadelphia: No guts no glory
February 11, 2021
Source: PennStateVball / Twitter.com
🏈Eagles: ICYMI, QB Carson Wentz wants out of Philly, and his most likely landing spots are the Chicago Bears and the Indianapolis Colts. Da 8-8 Bears struggled at QB last season, flip-flopping all year between ex-Eagle Nick Foles and Chicagoland frenemy Mitch Trubisky, and the Colts' Philip Rivers retired after the season.
🏐Lions: The Penn State volleyball team finally kicked off their season last weekend, taking down the University of Illinois Fighting Illini in two straight matches, 3–1 and 3–2. Freshman wasted no time in her collegiate debut, notching 30 kills and 26 digs on the weekend. Get you a girl who can do both.
Now, in a battle of the undefeated, the No. 8 Nittany Lions will duke it out with the No. 5 Minnesota Golden Gophers on Saturday and Sunday. We are!
🎾

Serena Williams has yet to lose a set in Australian Open

February 11, 2021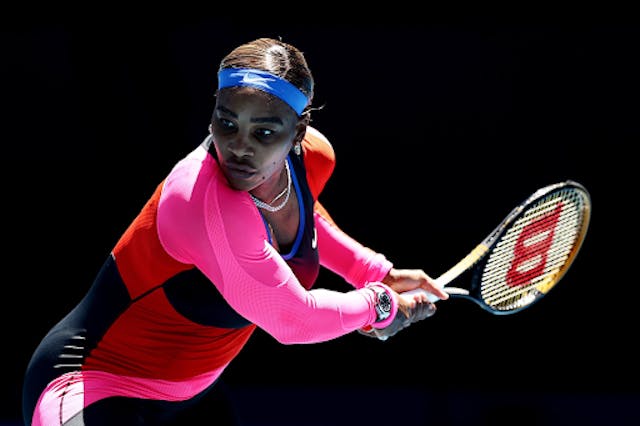 Source: Wilson Tennis/Twitter
The GIST: Messing up our circadian rhythms to watch tennis all night has been totally worth it, thanks to some stellar action in the Australian Open.
Staying put: First, the really important news: through two rounds, Serena Williams hasn't lost a set. Classic. And No. 1 Ashleigh Barty, who's playing in front of a home crowd, and most recent Grand Slam winner, No. 3 Naomi Osaka, are all still making a run for the title.
Going home: We've seen three surprising exits from this tournament already. We were pretty sad to see No. 8 Bianca Andreescu lose her second-round match on Tuesday — after her return to the court following a 15-month injury absence — and Venus Williams an ankle injury in her second-round match.
And last night, reigning champ and No. 4 seed Sofia Kenin lost in straight sets to Kaia Kanepi. Sports.
Up next: Serena, Osaka, and French Open winner Iga Swiatek are all on the Friday schedule (but tonight, our time) on the women's side, and over on the men's, our very own Taylor Fritz is facing No. 1 Novak Djokovic (pronounced JOKE-OH-VITCH). Check out the and follow the .
🏀

New York: Bring 'em out

February 11, 2021
Source: Julio Aguilar/Getty Images
Liberty: In a series of , the Liberty added two WNBA Champions to the roster yesterday. Forward and guard are both joining the squad after a combined seven years with the Seattle Storm, and while the Liberty may have lost this year's top draft pick in the trade, who says we need another ?
As part of this deal, the Liberty traded Kia Nurse and Megan Walker to the Phoenix Mercury and Stephanie Talbot to the Storm. The Liberty is betting on experience rather than youth (well, except for Sabrina), and we can't wait to see what the payout will be.
Net: The Nets beat the Indiana Pacers 104–94 last night. Without Kevin Durant on the court (he's expected to return ), fans were glad to see the Nets play to their full potential. So far, they are 4-8 against teams currently sub- and 11-4 against teams over .500. Guess they like to keep it interesting?
Knicks: The Knicks, on the other hand, are adjusting to their newest player, Derrick Rose, who was from the Detroit Pistons on Sunday. Rose will play his second game with the squad tomorrow when they take on the Washington Wizards at 7 p.m. ET.
🏀

The GIST's Bits & Bites: USA

February 11, 2021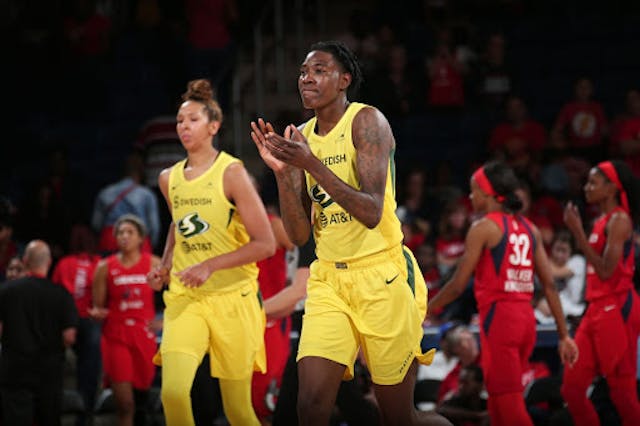 Source: NBAE via Getty Images
🏀WNBA: Here's a at us trying to keep up with yesterday's . We'll start here: three-time WNBA champion Natasha Howard was traded from the Seattle Storm to the New York Liberty and will join forces with 2020 No. 1 draft pick Sabrina Ionescu (pronounced YO-NESS-COO), making the Liberty instant playoff contenders.
Meanwhile, former UConn stars Kia Nurse and Megan Walker were traded from the Liberty to the Phoenix Mercury in exchange for draft picks. With UConn alumni Diana Taurasi returning for her 17th season, .
🎓🏀College basketball: Hoops fans, rejoice. There had been rumors of a bubble for the women's March Madness tournament, and the NCAA last Friday, announcing that the entire tournament will be held in San Antonio and the surrounding region. Swish.

🏀
🏈
Seattle: Gonna wish we had a storm warning
February 11, 2021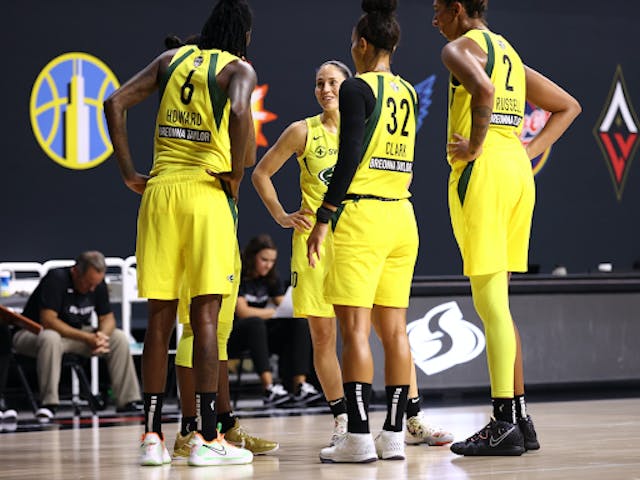 Source: Ned Dishman/NBAE via Getty Images
🏀Storm: The Storm are definitely not running it back. Yesterday, they 2019 Defensive Player of the Year Natasha Howard and sharpshooter Sami Whitcomb to the New York Liberty, and acquired Mikiah "Kiki" Herbert Harrigan from the Minnesota Lynx and Katie Lou Samuelson from the Dallas Wings. Jaw-dropping.
The Storm couldn't give Howard the she deserved. Understandable. But by trading Howard and Whitcomb, the Storm's defense and three-point shooting takes a big hit that was already diminished by Alysha Clark's last month.
Young newcomers Herbert Harrigan and Samuelson were college standouts, but haven't produced much in the WNBA yet. Though they're promising talents, we're still perplexed by all of the movement from the defending champs.
🏈Seahawks: The Seahawks and QB Russell Wilson aren't breaking up, but Wilson isn't happy. He made it on Tuesday that he wants better pass protection from the offensive line and more say in personnel decisions. Only time will tell what's next.
Alleah Taylor: Last month, we the initial domestic violence charges against former Seahawk Chad Wheeler. Yesterday, survivor Alleah Taylor about the harrowing events she endured. If you or someone you know is experiencing domestic violence, please contact the National Domestic Violence Hotline at 1-800-799-7233.