🏀

Ch-ch-ch-changes

April 02, 2020

The GIST: While some of us are using this self-isolation time to learn new skills, connect with old friends (virtually, of course) or binge-watch The Office again, sports leagues are using it to shake things up.

NFL: The NFL has officially adopted some of its new collective bargaining agreement, leading to an interesting change for the 2020 football season: the playoffs are getting a facelift.
The league is moving from a 12-team postseason to 14, which means one extra wild card team in each of the two conferences (the American Football Conference, AFC, and the National Football Conference, NFC). As a result, only the No. 1 seed in each conference will receive a bye instead of the top two seeds in each conference (fun fact: since 2012, no team has made it to the Super Bowl without a bye).
NBA: The NBA is making changes too, but these ones are all COVID-19-related. The league is currently looking at options to finish out the season (which was abruptly paused on March 11th) and one of the front-running options is to have all teams play just five to seven games to reach a total of 70 regular-season games (normally 82 games) in a neutral location (i.e., Las Vegas) without fans in attendance.
Ideally, they would play a full 16-team playoff, but we could see a super-shortened best-of-three series in the postseason instead of the regular best-of-seven. All weird, but at this point, we'll take anything.
NCAA: The NCAA had to make the tough decision this week to not make any changes. They won't reschedule any sporting event that was set to take place during the coronavirus shutdown, including the famed March Madness basketball tournament, or give any competing winter athletes an extra chance to participate next year.
Sadly, that means college basketball stars who were denied the chance to play for a national crown won't get an extra year of eligibility, and we won't get to see our faves, like the iconic Sabrina Ionescu, get a proper senior sendoff. The good news? Spring sport athletes will be getting another year of eligibility. So, that's something.
🎾

Goodbye yellow brick road

April 02, 2020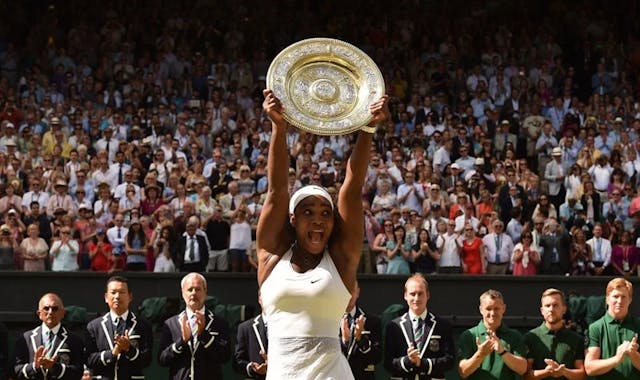 SOURCE: LEON NEAL/GETTY IMAGES
The GIST: The Brits have broken our hearts. Around the same time we learned that social distancing measures may last until summer (welp), we got the news that Wimbledon, the most prestigious tennis tournament in the world, has been officially cancelled for the first time since World War II (double welp).
Say it ain't so!: Oh, but it is so. With the extension of government mandated stay-at-home orders, organizers of the two-week Grand Slam tournament realized that there just wouldn't be enough planning and preparation time before the June 29th start date.
Because Wimbledon is a grass-court tournament, it's very weather dependent. Add that to the fact that there was no room to reschedule the tournament, as the French Open was already pushed from May to September, there was no choice but to cancel.
Jeez. So when could tennis be back again?: With the cancellation, the ATP and WTA jointly decided to extend the season's suspension from June 7th to July 13th, meaning a total of 20 men and women's tournaments have been canceled this year. Ugh.
What a bummer: Tell us about it. Wimbledon is one of those classic steadfasts in the sports world. Like the Masters in golf or the Kentucky Derby in horse racing, it's steeped in history and tradition, and it consistently brings the best of the best together. And it's the only sporting event that the Queen frequents, so you know it's classy.
We're going to miss some great tennis, aren't we?: We sure are. Wimbledon constantly spoils us with epic tennis. It gave us the single greatest match of all time — between Rafael Nadal and Roger Federer — and the longest match in history (three days long!).
It gave us seven singles wins for Serena, five for Venus, and six shared doubles for the sisters. And it gave us our favorite bad-ass press conference answer ever from Johanna Konta. Oh Wimbledon, summer 2020 just won't be the same without you.
🏆

Hey sister, soul sister

March 30, 2020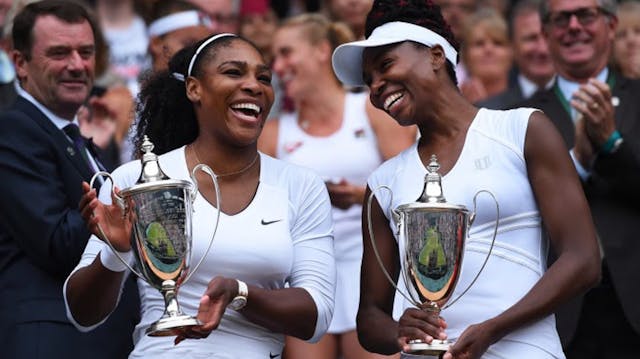 The GIST: Siblings. They're your loyal lifelong best friends and your most formidable foes wrapped up in one. And today we're celebrating that, shall we say, "special" relationship by giving #thegist of the top three sister acts in sports right now.
The Ogwumike (pronounced OH-GWOO-MIH-KAY) sisters: The Ogwumikes are the OG basketball family. The leader of this four-sister pack is big sis (no surprise there, right?) Nneka. At 6'2", Nneka is a force to be reckoned with: she was drafted No. 1 overall in the 2012 WNBA Draft, was named 2016 WNBA MVP and won the WNBA Championships in 2016. Sheesh. She currently plays for the Los Angeles Sparks where she packs a v. nice one-two punch with her little sister (although, at 6'3" she's not that little), Chiney, who is also a basketball analyst for ESPN.
The Lamoureux (LAMB-AH-ROW) twins: Americans love 'em, and Canadians...well, as much as they're too nice to admit it, don't. Team USA hockey stars Jocelyne and Monique Lamoureux have it all: speed, agility, grittiness and, most importantly, that eerie twin sixth sense that tells them exactly where the other one is on the ice at all times.
The pair have each won two silver Olympic medals, one Olympic gold and six world championships. Talk about #twingoals. And speaking of twins and sports, why not add Switching Goals to your isolation watch list?
The Williams sisters: These two need no introduction. Hands down, Venus and Serena are the most celebrated and popular sisters in the sports world. And rightfully so. Venus has racked up seven singles grand slams while little sister Serena has won 23, the most of any woman or man in the Open Era. And they've done so all while facing racism in a traditionally white sport.
Venus and Serena have the classic "you are my best friend I love you so much" but also "you are my biggest competitor" sister mentality. One day they'll be squaring off in a fierce singles match, and the next they'll be winning doubles matches together. We've been lucky to watch Venus and Serena play for over 25 years and can't wait for more.
⚽

Last man standing

March 30, 2020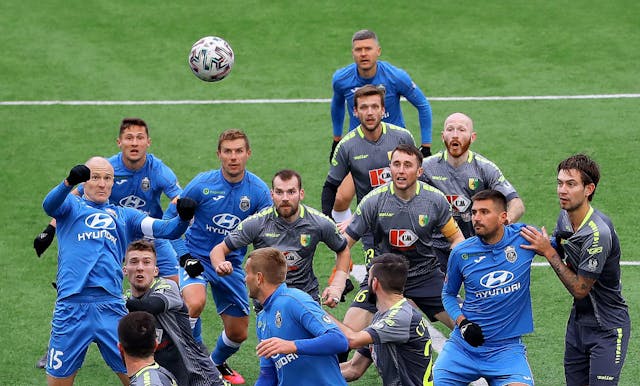 The GIST: Looks like there's only one country in the world that is completely ignoring social distancing suggestions, and like the true soccer, or shall we say, football-obsessed Europeans they are, have still allowed their professional soccer league to operate.
You're kidding. What country?: Belarus, a small eastern European country of 9.5 million people. They currently have 94 confirmed cases of COVID-19, but that doesn't seem to bother their president Alexander Lukashenko, who said last week that vodka, farmwork and saunas are the best pandemic prevention. Science.
Without a mandate from their leader, the country is continuing with business as usual, which includes filling up soccer stadiums for Vysheyshaya Liga, the Belarusian Premier League.
Isn't that dangerous?: Yes, incredibly. All other soccer leagues in Europe have suspended their seasons due to the pandemic, leaving the Belarusian league as the only professional sports league on the continent that is still actively playing matches.
The teams are taking some precautions though. Before entering the stadiums, which hold anywhere from 1,500 to 22,000 attendees, fans are screened for symptoms including fever, and some wear masks. Still seems super sketchy to us.
Surely they can't keep playing...: We wouldn't be so sure. The president staunchly believes "there are no viruses here" (uh, but there are though) and in the few weeks since literally all other sports were put on hold, the Belarusian league has signed TV rights in at least 10 different countries to broadcast their weekly games. Oh, capitalism.
With all that TV money flowing in and a pandemic-denier in charge, it looks like sports fans desperate for a fix will be FC Dinamo Minsk supporters before we know it.
🏆

Oh no she better don't!

March 30, 2020
The GIST: The coronavirus has crossed a line in sports. First it came for our players, and then our coaches, managers, arena staff and team owners. But now it has come for our lord and savior NBA analyst and ceiling smasher Doris Burke and we are not okay with it.
Not Doris!: Yes, Doris. During Friday's episode of The Woj Pod, the ESPN personality revealed that she had tested positive for COVID-19 after falling ill on March 11th. Her symptoms included extreme fatigue and headaches, and she's been in self-isolation for nearly two weeks.
Do any other sports folk have COVID?: The Colorado Avalanche said on Saturday that a second player has been diagnosed, and the Ottawa Senators' play-by-play announcer Gord Wilson, who was on a roadtrip with the team when the NHL season was suspended, also tested positive. The owner of the New York Knicks and New York Rangers, James Dolan, has it too.
Awesome. Any more good news?: But of course. Los Angeles Clippers owner Steve Ballmer and his wife Connie Ballmer are pledging $25 million for COVID-19 relief funds as well as vaccine research, despite Ballmer predicting that his team will lose around $10 million during the season suspension. Now this is what we're talking about!
Yes! Gimme more!: Over in Italy, soccer superstar Cristiano Ronaldo, coach Maurizio Sarri and the rest of the Juventus squad have agreed to give up four months' wages, allowing the team, which plays in one of the hardest hit areas in the world, to save €90 million. Ronaldo has already donated €1 million to pandemic relief in his home country of Portugal.