🏈

Shipping out of Boston

March 19, 2020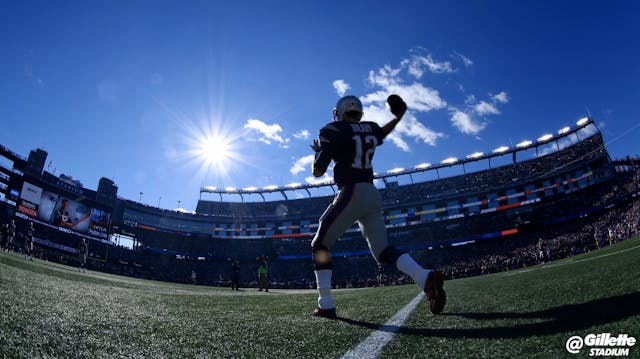 The GIST: No one is enjoying themselves less than New England Patriots fans right now. Self-isolation, no St. Paddy's parties, plus the loss of quarterback (QB) Tom Brady...it's not a good time for Pats Nation.
Quick, give me stats on Tom: Brady was a Patriot for 20 years (aka his entire football career), where he won six Super Bowls (the most of any player in NFL history). Although his contract expired at the end of the 2019–20 season, there was still a small chance that he would re-sign for one more year.
Until Tuesday, when, in a single Instagram post, the Uggs guy broke the hearts of millions, saying that his "football journey will take place elsewhere." The end of an era.
So where's he going now?: It's not yet official, but he's finalizing a contract with the Tampa Bay Buccaneers for a rumored $30M per year. Yeah, we were kind of confused by that, too. Seems a bit random, since the Bucs haven't been playoff contenders since 2007, have the worst winning percentage in NFL history and Brady, at 42, likely has only a few years in him to win one last Super Bowl.
But the Bucs have a pretty solid offensive team with wide receivers Mike Evans and Chris Godwin, and head coach Bruce Arians has a longstanding reputation as a great QB coach. Tampa is also hosting the Super Bowl next season, so it could mean home field advantage for another ring...or it could mean bad luck, as a Super Bowl host has never even made it to the Super Bowl.
This is a pretty big deal: It's a v. big deal. The struggling Patriots drafted Brady 199th in the sixth round of the 2000 Draft. And yet, somehow, this underdog became the greatest QB of all time and, with some help from head coach Bill Belichick, created a dynasty. All the best, Tommy — remember to lather up with SPF 60.
Any other NFL news?: A few other QB signings this week. Philip Rivers joined the Indianapolis Colts for a one-year, $25 million contract (wow!), Drew Brees signed a two-year extension with the New Orleans Saints, and the Jacksonville Jaguars traded 2018 Super Bowl MVP Nick Foles to the Chicago Bears for basically nothing a fourth-round draft pick.
🎾

Guide to Tennis

March 18, 2020
Giphy.com
The GIST
Today, tennis is a racquet sport that is played individually or in doubles. Tennis is played on a court — grass, clay or hard surface. The point of the game is to hit the tennis ball over the net so that the opponent can't return the ball back. Points are awarded when one player isn't able to get the ball back over the net.
Scoring tennis is a bit weird and wacky. Each is made up of sets made up of games. That's where the phrase 'Game, Set, Match' comes from! The score of each game goes from zero (called love), to 15, 30 and finally 40. If the game is tied 40-40, that's called deuce, and players have to win two straight points (the first is called advantage) in order to win the game. Get full details on scoring .
How is it organized?
Men play under the ATP (Association of Tennis Professional) and women play under the WTA (Women's Tennis Association). Each league hosts tournaments throughout the world and throughout the year, but the most important are the 'grand slam' events, also called majors, which are the Australian Open, French Open, Wimbledon and US Open. These events get the most media attention, have the highest payouts, attract the best players and offer the most ranking points (i.e. are the most important to becoming No. 1 in the world).
The most prominent of the majors is Wimbledon which is played in London, England every July. Wimbledon started more than 125 years ago and is played on a grass surface, which makes the game move a lot faster. Wimbledon also has a strict dress code where players must wear only white, a tradition dating back to the 1800s when players were concerned with . Yup, you read that right.
The best of the best
Although tennis might be old school at heart, it is the only mainstream sport that pays out women and men equal prize money in tournaments and, for the most part, gives males and females the same airtime on TV. The U.S. Open (atta be, USA!) was the first of the majors to award equal prize money in 1973, while the oldest tennis tournament in the sport's history, Wimbledon, didn't reach that milestone until 2007.
Some of the best in the world on the women's circuit include Romania's Simona Halep, Japan's Naomi Osaka and Australia's Ashleigh Barty. However, the number one in our hearts is superstar American Serena Williams, who blew us away by climbing back into the Top 10 of the WTA rankings after being OOO while she was pregnant with her first baby,
Prior to giving birth, Serena dominated the courts as the world record holder for the most Grand Slam wins across female singles and doubles play! You may also recall Serena absolutely slaying in Beyonce's "" music video. And did we mention that she was pregnant when she won the Australian Open in 2017? Like WHAT!?
On the men's side, being the best in the world continues to be a three-way battle between Switzerland's Roger Federer, Spain's Rafael Nadal and Serbia's Novak Djokovic (pronounced JOKE-OH-VITCH). But Federer is often touted as the best male tennis player of all time with 20 Grand Slam titles. Off the court, he's a total gentleman and remarkably has two sets of twins!
What about Americans?
We already talked up tennis GOAT Serena Williams, but we also have to give major props to young up-and-comer Coco Gauff! At just 15 years old, she became the youngest player ranked in the top 100 by the WTA and has a career-high ranking of No. 68 in the world. Is that a future tennis queen in the making we see?
On the men's side, John Isner is the highest ranked American player and has been ranked as high as No. 8 in his career. He's never won a Major tournament, but made it to the semis of Wimbledon in 2018, and twice to the quarter-finals of the U.S. Open. Not too shabby.
Don't get The GIST's twice-weekly newsletter yet? Let's make it email official.
🏉

Guide to Rugby

March 18, 2020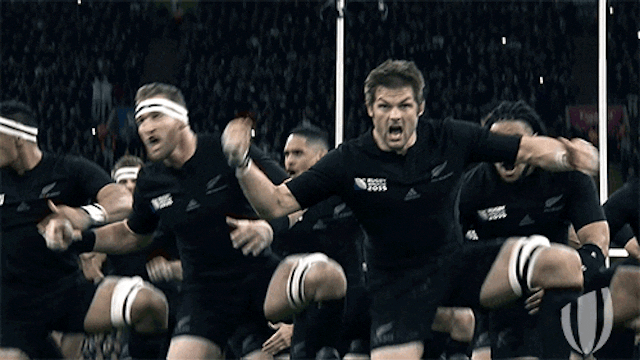 The GIST
Rugby is played on a grassy field (known as a pitch) with 15 players per team. It can, however, also be played with just seven players per team in a version that's called sevens rugby or often just 'sevens' (which made its Olympic debut in 2016). There are also other variations of rugby, including rugby football and Aussie rules, which are most commonly played in Australia.
The scoring system in a rugby match is similar (but not exactly) to good ol' American . Scoring a try is worth five points and occurs when a player touches the ball down in the end zone (similar to football). After every try is scored, the scoring team has the opportunity to kick a conversion (like a field goal) for two extra points. Games are divided into two 40-minute halves and time expires when the ball is "dead" (kicked out of bounds) after the 80-minute mark. In sevens rugby, the games are only seven minute halves because there's a lot fewer players covering the same size of field, and that's just tiring AF!
How is rugby organized?
Rugby has had some trouble gaining a foothold in the American sports market, but MLR (Major League Rugby) is trying to change that. The league formed in 2016 when five amateur teams signed on to start a professional league. Two years later, in 2018, MLR had a multi-year television broadcast deal with CBS Sports Network and hosted its first regular season game on April 21.
This league is the highest level of professional rugby in North America and the league is set to expand in 2020 with three additional teams (Atlanta, Boston and Washington, D.C.) to bring the total to 12. Because of this, MLR will switch to a conference format for the first time in 2020 with a Western and Eastern Conference each consisting of six teams with a scheduling running from February through to the end of June. More on the format . The Seattle Seawolves were the MLR champions in both the 2018 and 2019 seasons.
The best of the best
Rugby is extremely popular in England, Scotland, Ireland, South Africa, New Zealand and Australia. Now, if we had to narrow it down to the two best teams in the world, it would be the New Zealand All Blacks and the South African Springbok. Both teams have won the Webb Ellis Cup (the trophy for the Rugby World Cup title) three times, the most of any team. New Zealand's came in 1987, 2011 and 2015 while South Africa took the Cup in 1995, 2007 and most recently in 2019.
All Blacks stud retired from international play in 2015 but remains the highest point-scorer in test match rugby (a fancy way to say an international match between two senior national teams). Carter still plays club rugby for the Kobelco Steelers in Japan and plays the of center or fly-half. plays for the English national team, as well as the Saracens in London, England. He is one of the best (looking) converters in rugby, with more than 100 successful conversions in international play. Not too shabby!
Didn't your mama tell you not to ruck with a girl?
The US fields both a regular (15 person) and sevens rugby team at the national level. But because sevens is currently the only Olympic sport, it tends to get the most attention outside of big rugby countries like New Zealand and South Africa.
The US women's sevens team has participated in the World Rugby Sevens Series (a series of tournaments where national teams play for points and eventually the World Rugby Sevens title) since its inaugural season in 2012. They're lowest ranking was seventh in 2013-14 and have been as high as second in the world in the 2018-19 season. In that season, scored the most tries (18) and scored the most points (141), so keep your eye on these two rucking awesome ladies.
The US did not medal when rugby sevens made its Olympic debut at Rio 2016, but they'll definitely be looking to capture some hardware at the Tokyo 2020 Games.
And you know we have some trivia…
This is more of a FYI but, you cannot "forward pass" the ball in rugby — it must be thrown backwards to a teammate. However, you can kick the ball forward along the ground and then run to grab it!
The Rugby World Cup (RWC) is hosted every four years. The most recent RWC was hosted in Japan in 2019 (won by South Africa) and the women's is set for 2021. FYI, in a landmark decision in 2019, the Rugby World Cup decided to from its tournament names meaning the 2021 women's edition will be known simply as the Rugby World Cup 2021. #EqualityAF
You don't get to pick your jersey number in rugby because jersey numbers are assigned to specific positions. Example: 9 = scrumhalf, 15 = fullback.
Rugby was invented when William Webb Ellis was playing soccer, caught the ball and ran to the goal while carrying it. Rules are made to broken we guess?

That's #thegist of it!
Written by Guest Writer & Rugby Guru: Victoria Spanton
Don't get The GIST's twice-weekly newsletter yet? Let's make it email official.
🤼

Guide to MMA

March 18, 2020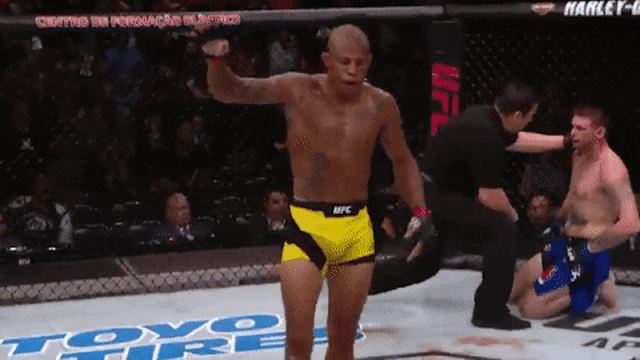 The GIST
MMA stands for Mixed Martial Arts. As the name suggests, an MMA fight can involve many different fighting styles including judo, Muay Thai, Brazilian jiu jitsu, boxing, wrestling, karate and more. Each of these fighting styles has several different forms of striking and grappling — so you're actually watching many different sports in one. More bang for your buck, what's not to love?!
WTF is striking and grappling, you ask? Well, striking is where you use your limbs to hit your opponent.
While grappling involves different techniques like throws, clinches, takedowns, joint locks and chokes in order to control your opponent at close range.
How do you win an MMA fight?
You can win an MMA fight in several different ways. Usually, the goal is to win by either knockout or submission. A knockout is when you render your opponent unconscious by punching or kicking them hard enough. Yeesh. A submission is when your opponent either physically taps your body to let you know that they give up or a verbal tap to the opponent or referee. If there is no knockout or submission, the fight will be decided by the judges who score each round. There are only a few things that aren't allowed during a fight like strikes to the back of the head, eye gouging, hair pulling, etc.
How do they score?
MMA fights are scored based on a few criteria. The most important criteria in a fight is effective striking and grappling. Second, effective aggression, and third, cage or ring control. Rounds are scored out of 10 points, with the winner of a round scoring 10, and their opponent usually scoring eight or nine, depending on how well they performed. While it's theoretically possible for both fighters to score 10 in the same round, it's very rare as they would have had to perform with the exact same effectiveness and impact.
How is it organized?
Leagues
Like other professional sports (football having the NFL and CFL, for example), there are a number of different MMA leagues. We're guessing the first league that comes to mind for you in the UFC (Ultimate Fighting Championship). However, the UFC is not the only company that runs MMA fights, they're just the biggest and richest (like the NFL). There are several other companies like Invicta (which runs exclusively women's fights…love it), Bellator and One Championship that also host MMA leagues. That said, UFC is considered the 'top' league, so it's basically every professional fighter's dream to be signed by them (because there are no teams —players get signed directly with the leagues).
Weight Classes
MMA fights are organized into , so you'll hear a lot about fighters needing to "make weight" for a fight. Often, fighters will fight in a lower weight class than their average day-to-day weight. Why? Because they can manipulate their water weight just prior to the fight to lose a lot of weight quickly (like Channing Tatum in ). Then, as soon as the athlete weighs in just before the fight at their lower weight (each athlete has to weigh in the day before the fight to make sure they meet the rules), they can immediately rehydrate and fight the next day at their usual higher weight. This gives them a potential size advantage. And as they say, the bigger, the better.
Fights
Fights are typically three or five rounds in length, depending on the event or title. Rounds are typically five-minutes long with a one-minute rest period between rounds. We know it doesn't sound like a lot BUT these fights are tiring AF.
The best of the best
The 'best of the best' is whoever is the of their division (aka weight class) at any given time. The winner of a weight class can change any time there's a title fight, which generally happens every few months. A title fight determines who is considered 'champion' of that division. For example, you've probably heard of someone being 'heavyweight champion.'
Some of the best fighters of all time include: Anderson Silva, Fedor Emilianenko, Georges St. Pierre, Conor McGregor and some badass women that we mention below (keep reading). Some people would argue also deserves to be on this "best of the best list", but he's basically failed every drug test he's ever been handed so — v debatable.
The women
The women's division of the UFC is only about ten years old (check trivia below for why that is!). One of the most recognizable names in MMA is because she was the first woman signed in the UFC (back in 2012) and consistently won her fights in spectacular fashion. Rousey was the first American woman to medal in judo at the Olympics, so it's not surprising that she dominated fights with her grappling. Rousey has since moved on from the UFC (she's now performing in the ), so there's a new Queen in town. At the end of 2018, became the first female double champion.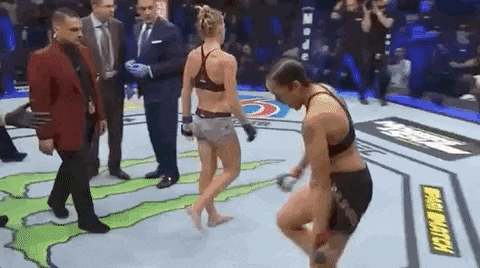 While that's all amazing to see, there's unfortunately still tons of sexism in the fighting world. When asked what advice he would have for women trying to make it in the fighting industry, lightweight champ Khabib Nurmagomedov responded with: "For females, I have very good advice, be fighters at home. And one more advice, all the time, finish your husband." LIKE, ARE YOU KIDDING ME?! Georges St. Pierre (GSP) was once quoted saying that while he can watch a men's fight and admire the technique, he does not watch female fights because he just feels bad for them. We don't want your empathy, dude.
Trivia
The next time you're at a bar and the fights are on, throw one of these facts out and let people bask in the glory of your MMA wisdom...
The oldest UFC fighter to win a title is Randy Couture, who did it at age 45. There is a pretty good chance this record will never be broken.
In 2011, when asked when women would fight in the promotion (the main fight that the league is promoting), Dana White, owner of the UFC (who is a man, don't be confused by the name) responded, "Never." Ronda Rousey was then signed to the UFC in 2012 after Dana took notice of her skills and athletic accomplishments. Get it, girl!
That's #thegist of it!
Written by Guest Writer: Kaeli Sweigard
Don't get The GIST's twice-weekly newsletter yet? Let's make it email official.
⚽

Stephanie Labbé

March 17, 2020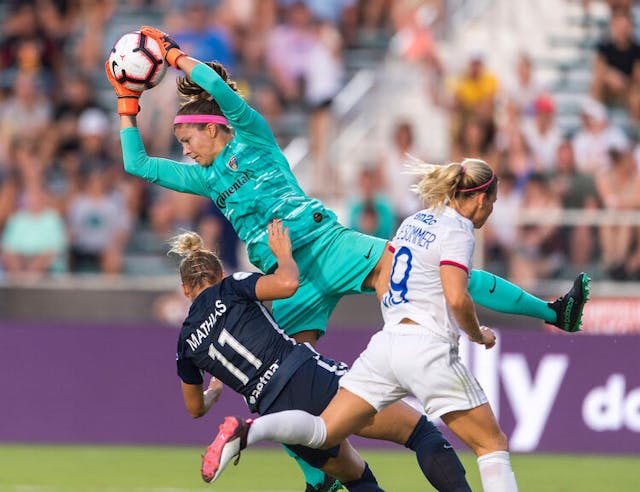 Stephanie Labbé is the goalkeeper for Canada's national women's soccer team, a 2019 National Women's Soccer League (NWSL) champion, a 2016 Olympic bronze medalist, and an all-around incredibly driven and talented human. While Stephanie's sights are set on bringing Canada home a medal at the Tokyo 2020 Olympics, she's also keeping busy as a co-creator of Project Athlete along with her partner (another friend of The GIST) Georgia Simmerling. Let's get to our interview with Stephanie:
Lexie, at The GIST (TG): Okay, you're a goalkeeper! You could not pay us enough money to have shots fired at our heads. How did you get into that position?
Stephanie Labbé (SL): Growing up, I played lots of sports. My older brother played hockey, so I was always tagging along. I played hockey in the winter and soccer in the summer. But hockey is very time consuming. Then, by the time I was 12 years old, I was the only girl on my team, and had to start changing in my own locker room, so that was isolating.

Around the same time my friends from school said I should play indoor soccer. I couldn't do both hockey and soccer though. But I totally loved indoor soccer, and had so much fun. So, in the summer I tried out for the rep team, and at the tryouts the coach asked if anyone would go in goal. There were about eight of us 12 year olds putting up our hands so we all rotated. Then, at the end of tryout, the coach asked how badly I wanted to be on the team, and if I was willing to be goalkeeper. I guess I was the least fearful of the ball.
c/o Stephanie Labbé
TG: And the rest is history. What did your parents think about that?
SL: Well, luckily growing up I played for a very good team. So, really just the extent of my mom's nerves would be her leg kicking a lot as I played. The older I get, the better she is with her nerves. Now, she's way more calm when I'm in net, and ironically she's actually more nervous when our strikers are shooting during the game.
TG: That's funny. Well, she definitely has a million reasons to feel calm about you in goal after seeing all the success you've had over the years…Do your own nerves ever affect you, or translate into weird soccer dreams?
SL: So, I actually never get to play soccer in my dreams. I do have recurring nightmares where I'm about to start a game and I don't have a cleat or can't find a glove, and something's gone wrong. It's probably why I am soooooo particular about checking my bag. *Steph chuckles*
TG: Reading your Player's Tribune article, you talked about playing men's soccer being a really mentally and physically challenging part of your career. Do you ever find it difficult to speak candidly about the differences in men's versus women's games without feeling like you're giving fuel to the haters to hold against women?
SL: I have never had a hard time comparing the women's game versus men's game. People can say what they want to say. I've heard a lot of negative things, but to be honest I wouldn't be where I am if I put a lot of thought into what people care about what I say. I don't give a sh!t to be frank (Editor's note: preach sister!). I know that not all men have a genetic, biological advantage, but on average, most do. I'm aware and recognize that. There are anomalies out there and women who can come overcome those. And what should stop you from pursuing any challenge? The risk is yours. I understand that every time I go out and play with men, or women, who are bigger, faster, stronger than me that I'm putting myself at risk. You can say that about anything in life.
If you're going to live your life being scared of the negative things that can happen, then you aren't going to go anywhere.
I always try to live optimistically.
TG: Amazing! So, a huge story with women's soccer has been what's going on with the U.S. women's team and the fight for equity. What is the relationship like pay equity-wise with the women's program in Canada and with Canada Soccer?

SL: Unfortunately in Canada, it's a bit untalked about in a sense. We, as a national team, have a fairly good relationship with Canada Soccer. Year over year, our talks and contracts get better and better, so it's moving in a positive direction. But it's still nowhere near where it should be.
The words "equal pay" and "equality" get thrown around interchangeably, but equality is a very complex issue, and it's not just about getting paid equally — it's marketing, support and investment.
You can see the direction it's moving, but you also see Canada Soccer investing in a brand new , while we're the only national women's program ranked in the top 10 in the world that doesn't have our own domestic professional league (Editor's note: As Canada is hosting the FIFA World Cup in 2026, they are required to have a domestic professional league). That is still so heartbreaking. We have proven time and time again, since 2012 when the team won Olympic bronze, that we are performing and getting results (Editor's note: The Canadian women's national team is currently ranked eighth in the world, while the men's team is 73rd).
I think the successful future of this program is based on developing players in Canada. And, as of right now, we have to go abroad and get contracts to play soccer in other countries. It hurts our depth. We don't have a league to give players the chance to grow and shine and prove they can play on the national team. Women stop playing after university because they can't get a contract abroad, but if we had our own domestic league those players wouldn't fall through the cracks because they'd have a place to play to develop.
So, it's moving in a positive direction, but there is still a long way to go. It's amazing the U.S. team is using their platform to talk about it and bring this subject to light. They're talking, they're acting, and they're paving the way.
TG: That is so important and so candid. Wow. Thank you for that. Looking ahead, what is your vision for 2020?
SL: Post-Olympics is a blur and unknown. The immediate thing that comes to mind is that January is Olympic qualifying. And, for the Olympics, we want to bring back a better colour than bronze. And, secondly, because I don't just play for Canada full-time, I'm also looking forward to playing with my pro team (North Carolina Courage) and trying to win a back-to-back national championship with them.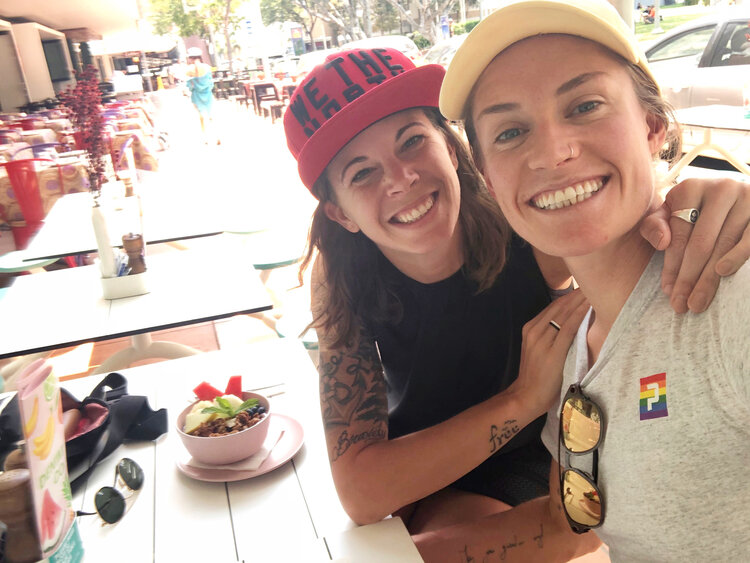 Stephanie & Georgia Simmerling
TG: That's great! Okay, let's end on some rapid-fire questions!
TG: If soccer had walk-out songs (like baseball), what would your song be?

SL: Oh my gosh. This is awesome. I want to say Cindy Lauper "." Everyone would love it!
TG: Would you rather sing or act?

SL: I would love to have a great singing voice, but I'm terrible. AIso, I don't know if the lifestyle of a singer would be what I want. So, actress.
TG: What is your favourite winter Olympic sport to watch?

SL: My gut is going to hockey. It's such a passion of mine and part of mine and my family's life. But I'll be honest, after meeting Georgia, I really enjoy watching skiing and ski cross. It's way more exciting for me when she is not racing, because then I am way less nervous. I got the chance to watch it live two years ago in the Alps. It was so fun and so much adrenaline. I have a short attention span so it caters to that.
TG: What is your favourite sports movie?

SL: Classic Mighty Ducks.
TG: What movie can you quote the best?
SL: Probably Billy Madison. "I got this shirt from Frank"... and Frank is written on the inside of it. I say it all the time. *Stephanie chuckles*
That's #thegistofit
Don't get The GIST's free twice-weekly newsletter yet? Let's .