🏀
⚾
⚽
D.C.: Ahh, that's interesting
April 22, 2021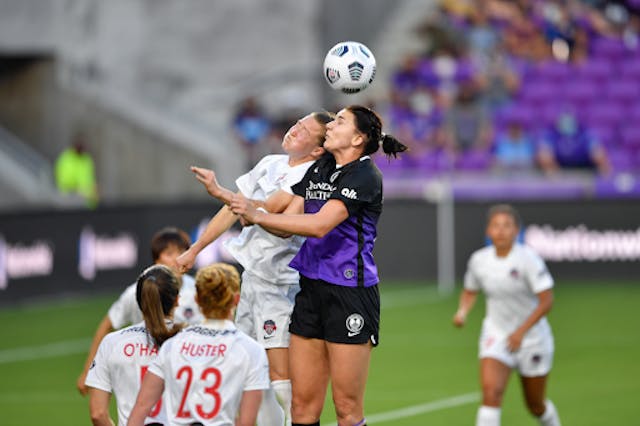 Source: NWSL/Twitter
⚽️Spirit: Despite putting on the pressure, the Spirit took an L on the pitch and in the to the Orlando Pride last night. Refs, we are not-so-politely asking you to give defender Kelley O'Hara her ...and while you're at it, how about fewer yellow cards?
🏀Wizards: Fans in Capital One Arena — including future UConn basketball teammates and Paige Bueckers (pronounced BECK-ers) — were treated to a show last night when the Wizards held off the Golden State Warriors 118–114 in a . Our hearts are still racing.
⚾️Nationals: The Nats won two of three games against the St. Louis Cardinals this week, wrapping up the series with a 1–0 win yesterday. Even without star outfielder Juan Soto — who was placed on the on Tuesday with a shoulder strain — the Nats are stayin' alive.
🏐
🥎
🏆
Badgers and Bulldogs and Huskies, oh my!
April 22, 2021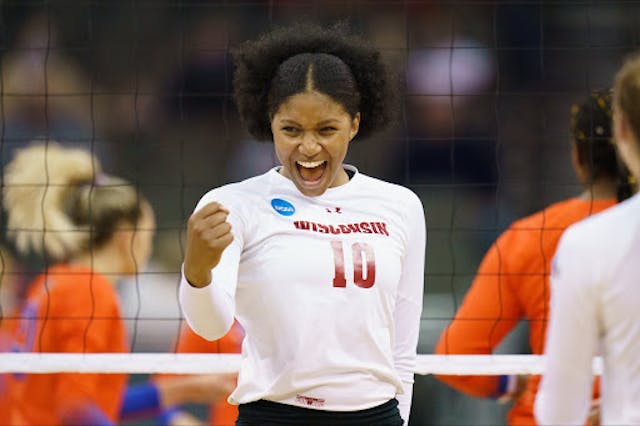 Source: Wisconsin Volleyball/Twitter
🏐Volleyball: And then there were four. The NCAA volleyball semifinals begin later today, with No. 2 Kentucky squaring off against No. 6 Washington at 7 p.m. ET. Kentucky has handled their opponents with ease, while Washington has had a tougher road, including a five-set quarterfinal stunner against Pittsburgh.
The following matchup features 2019 runner-up No. 1 Wisconsin vs. No. 4 Texas. Wisconsin is undefeated, but had to overcome a five-set battle in the quarters, while Texas hasn't advanced to the final since 2016.
🥎Softball: No. 1 Oklahoma was looking to extend their 40-game win streak on Tuesday, but No. 21 Georgia had other plans. After failing to touch home plate when she hit a homerun in the fourth inning (semantics), Jaiden Fields (sister of QB1 soon-to-be NFL star Justin Fields) hit a single in the ninth inning to lift Georgia to their 7–6 win. Sweet redemption.
🚣Rowing: On Monday, after UConn failed to respond to a letter stating that a lawsuit would be filed if the rowing team was not reinstated, members of the UConn women's rowing team marched in protest of the school (UConn is also cutting men's cross country, swimming & diving and tennis).
Twenty-three team members also filed a complaint against the university on March 29th. And protestors wrote "IX" on their bodies as they marched through campus yesterday, referencing .
UConn responded on Monday saying that they will not be revisiting the decision to reinstate the four teams that were cut. Stay tuned...
🏀
⚾
⚽
🏒
Chicago: Won't stop now
April 22, 2021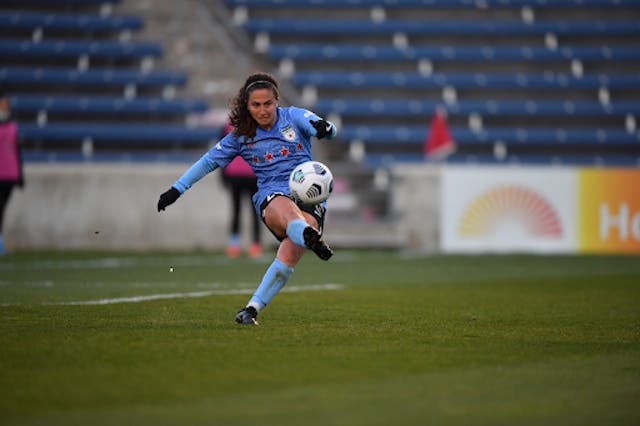 Source: Red Stars/Twitter.com
⚽️NWSL: The Red Stars recorded their second Challenge Cup draw after tying Kansas City FC 1–1 last night. The match was a tight, scoreless battle until the 80th minute, when the teams within two minutes of each other. It's not a win, but we'll take it.
⚾️MLB: It was a great day for the Cubs' offense and a tough day for the NY Mets' outfield. Thanks to a , followed by a three-run fifth and a four-run sixth, the Cubs beat the Mets 16–4 last night for their second-straight victory over the National League East leader. Fly that dub.
🏀🏒Last night in Chicagoland: The city's buzzing with all our teams back in action. Last night, the Bulls lost to the Cleveland Cavaliers , and the Blackhawks beat the Nashville Predators in overtime. You win some, you lose some.
⚽
🏒
🏅
The USWNT's Olympic opponents were announced yesterday
April 22, 2021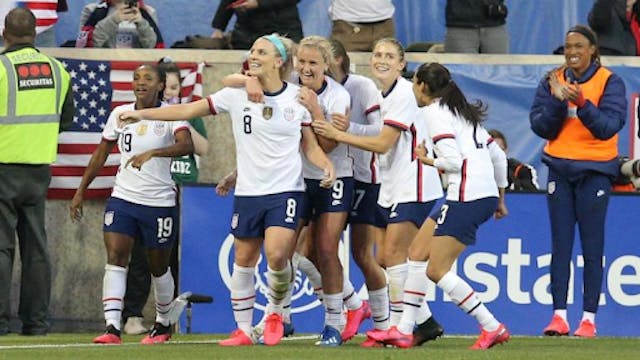 Source: USATSI
⚽️Soccer: The USWNT's Olympic opponents were announced yesterday, and to say we're fired up is an understatement. Team USA will face world No. 5 Sweden, No. 9 Australia and No. 22 New Zealand in the group stage. When the world's top team emerges from the group stage, we could see a quarter or semifinal against our "favourite" rivals, Team Canada. Fingers crossed.
🏒Hockey: For the second straight year, the International Ice Hockey Federation (IIHF) Women's World Championship (WWC) is . The premier annual event for women's hockey was to be held in Halifax starting May 6th. It's going to take us a while to get over this one.
🥇Olympics: The Olympics, as far as we know, are still a go, but things look dicey. The torch relay, which sees the Olympic flame carried through a tour of Japan, had to be rerouted multiple times since starting on March 25th; and qualifying events for the host nation had to be moved out of Japan for the time being. Outlook: .
⚾
🏀
🏒
D.C.: Through the looking glass
April 19, 2021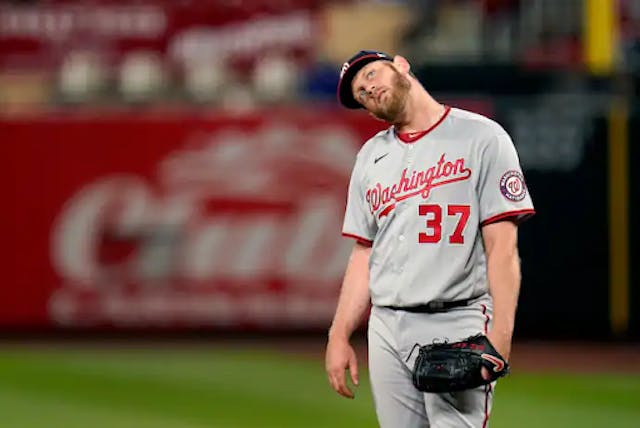 Source: Jeff Roberson/AP Photo
⚾️Nationals: After splitting their Thursday-Sunday series 2-2 with the Arizona Diamondbacks, the Nats now hold a 5-8 record. But more concerning than yesterday's 5–2 loss are the rapidly accumulating injuries. Star pitcher Stephen Strasburg — who was scheduled to start yesterday — was with shoulder inflammation. Eek.
That's not all. Relievers Wander Suero (strained oblique) and Luis Avilán (torn elbow ligament) are also dealing with health issues. And here we thought 2021 was going to be better.
🏀Wizards: The very streaky Wizards will look to extend their four-game winning streak tonight against the Oklahoma City Thunder — and every one of the Wiz's remaining 16 games counts. They're currently neck-in-neck with the Chicago Bulls and Toronto Raptors for 10th in the .
🏒Capitals: The Caps dropped a to the Boston Bruins yesterday. Despite the loss, the Caps are still atop the East Division with 10 regular season games remaining. If the started today, their first-round opponent would be the Bruins. Spicy.