⛳
🏎
🏆
Kentucky Derby winner fails drug test
May 10, 2021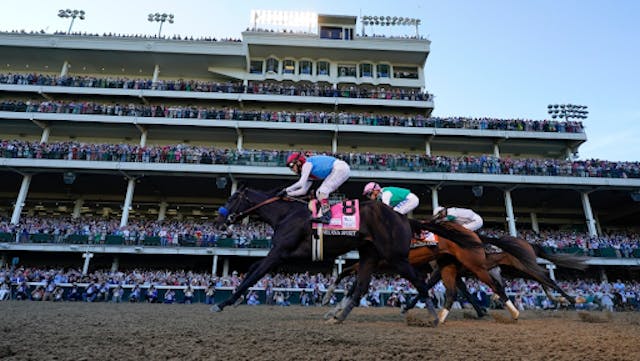 Source: Jeff Roberson/AP Photos
🏇Horse racing: Recent Kentucky Derby winner Medina Spirit failed his drug test. Yes, the horse. The American thoroughbred owned by Bob Baffert is at risk of having his title revoked, in what was Baffert's record seventh win. Baffert has been banned from Churchill Downs (the Derby's venue) while investigations continue.
This isn't the first time Baffert has been his winning horses, with at least 30 in his career. Maybe the regulators will go after him and the law can get involved about the animal abuse?
🏎 Formula One: To absolutely no one's surprise, Sir Lewis Hamilton won the Spanish Grand Prix yesterday, thanks to some sneaky strategy from his Mercedes team. F1 is on hiatus until the May 23rd Monaco Grand Prix, so while you wait, check out the latest podcast episode featuring the first-ever female F1 team principal, Monisha Kaltenborn.
🥌 Curling: Switzerland won the World Women's Curling Championship yesterday, earning a spot in next year's Olympics. Meanwhile, Team USA won the bronze and Team Canada earned an Olympic berth.
⛳️ Golf: A couple of longtime droughts ended in the golf world this weekend. Former world No. 1 Rory McIlroy yesterday, his first win since November 2019, while Ariya Jutanugarn in her home country. It marked her 11th career victory, but the first in 1,015 days (almost four years!).
🏐
🏒
⚽
🏈
College championships this week
May 10, 2021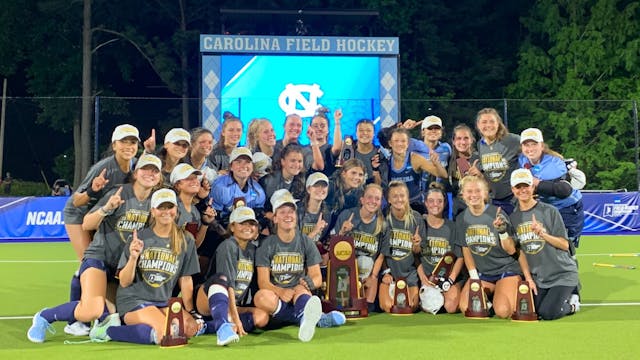 Source: UNC Tar Heels/Twitter
🏑Field hockey: Behind from junior Erin Matson (her second of the game!), No. 1 North Carolina defeated No. 2 Michigan in a thrilling 4–3 contest for the national title last night. North Carolina is 65-1 in their last three seasons, winning three straight national titles. Talk about dynasty.
🏐Beach volleyball: In a battle of LA's best, No. 2 USC defeated reigning champ No. 1 UCLA 3–1 yesterday to give the Trojans their third beach volleyball national championship. USC's duo of Sammy Slater and Julia Scoles delivered the final blow, when Slater to secure the title. (Southern) girls women, they're undeniable.
⚽️Soccer: The women's soccer semifinals are set. After advancing on penalty kicks, No. 1 Florida State kicks things off against Virginia on Thursday at 6 p.m. ET. The other semi features two teams who advanced behind narrow 1–0 wins, with No. 2 North Carolina taking on No. 11 Santa Clara Thursday at 8:30 p.m ET. Can't wait.
🏈Football: Don't call it a comeback. No. 2 Sam Houston rallied from a 21-point deficit to earn their 38–35 win over No. 3 James Madison in yesterday's semifinal. Meanwhile, No. 1 South Dakota State pummelled Delaware 33–3 en route to clinching South Dakota's first ever FCS national title game appearance. A brand new winner will be crowned .
⚽

Portland Thorns win 2021 NWSL Challenge Cup

May 10, 2021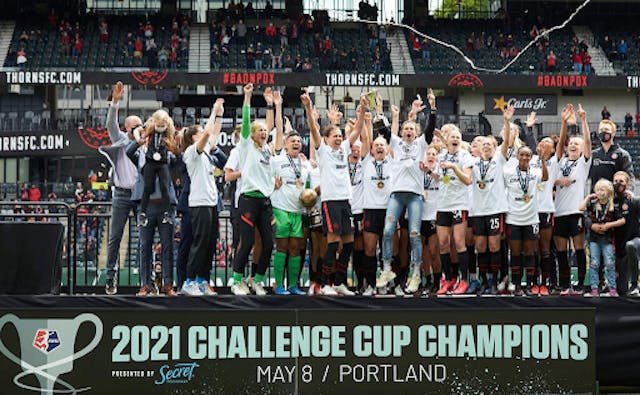 Source: Christine Sinclair/Twitter
NWSL: On Saturday, Portland Thorns FC won the second inaugural Challenge Cup on penalty kicks over NJ/NY Gotham FC. Thorns and CanWNT superstar Christine Sinclair (her 60th NWSL goal, no less) eight minutes in, becoming the league's leading goal scorer among active players in the process.
In the second half, Gotham's Carli Lloyd of USWNT lore at 1–1. And because there's no overtime in the Challenge Cup, the match went through seven rounds of penalty kicks before Portland won 6–5 in the shootout.
Luckily, we don't have to wait long for more NWSL excitement: the regular season starts on Saturday, so be sure to keep your eyes out for our special guide to the season then.
Women's Super League: Before your flare up, a quick reminder that England's top tier women's club soccer is called the Women's Super League (WSL), the counterpart of the men's Premier League. And this weekend, won the league title for a record fourth time.
🏒
⚾
🏀
New York: Knicks and Nets on the road
May 10, 2021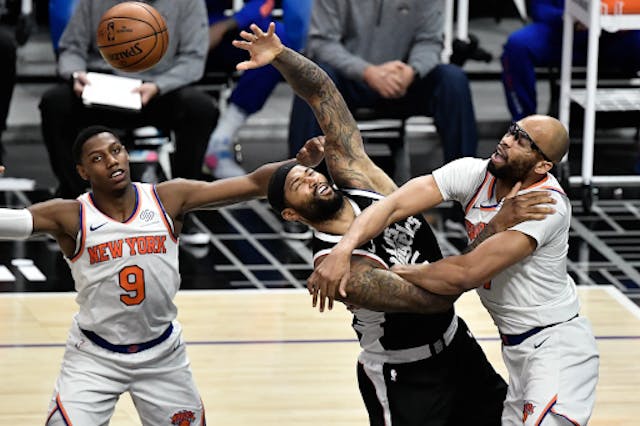 Source: Robert Hanashiro/USA Today Sports
🏀Knicks: Everyone — and we mean — is loving this Knicks team right now. With their victory over the LA Clippers yesterday, our beloved Knickerbockers will return to the Garden having won at least half of the games on their trip out West.
🏀Nets: The Nets toughed it out against the Denver Nuggets on Saturday, winning 125–119 and ending their four-game skid. This one came down to the wire, with the Nets overcoming a 21-point deficit in the fourth to take their first lead since the start of the game. The cherry on top? Keep an eye out for a soon. *crosses fingers*
⚾️MLB: Despite some confusing (apparently the boys don't know the difference between ), the Mets shone in their sweep of the Arizona Diamondbacks this weekend. They'll ride their five-game win streak into a two-game series versus the Baltimore Orioles, starting tomorrow at 7:10 p.m. ET.
🏒Rangers: The Rangers wrapped up their season in Boston this weekend, beating the Bruins 5–4 on Saturday. Unfortunately, the Broadway Blueshirts will be watching the Stanley Cup playoffs on the couch with the rest of us. At least one New York hockey team is .
🏒
⚾
🏀
Chicago: Gabby Williams traded after suspension
May 10, 2021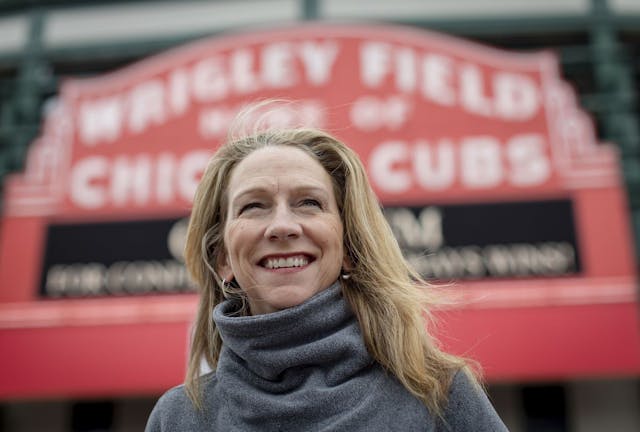 Source: Brian Cassella/Chicago Tribune
🏀Sky: The Sky for the 2021 season (for salary reasons, not disciplinary ones), then traded her to the LA Sparks in a move that surprised everyone — including Williams. The Sky's 2018 first-round pick is a reliable power forward who will likely play for France at the Tokyo Olympics.
The Sky, already undermanned due to their , couldn't risk Williams missing the bulk of their season for overseas commitments, so they suspended her contract, then . No official comment from Williams, but her Twitter makes her seem….
⚾️MLB: The Cubs may have lost 6–5 to the Pittsburgh Pirates yesterday, but we're still psyched because Beth Mowins made herstory as the first female broadcaster of a regular season Cubs game. on us next time, Beth!
🏒Blackhawks: The 'Hawks missed the playoffs for the third time in the last four years. Welp. Catch them one last time before they hit the golf course when they host the Dallas Stars tonight at 8 p.m. ET/7 p.m. CT.