⚾

Save the drama for your mama

February 13, 2020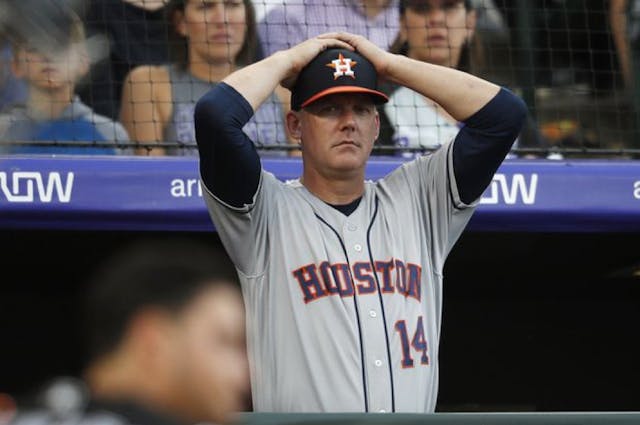 The GIST: Just when you thought you'd seen the end of Major League Baseball's (MLB) sign-stealing saga, they come out and hit you with more. After originally placing most of the blame on their coach A.J. Hinch and general manager Jeff Luhnow, it turns out the Houston Astros front office has some 'splainin to do.
Wait. Remind me how it started?: In January, the Astros were found guilty of illegal sign-stealing — using technology to record and decipher the hand and body signals of the opposing team's catcher, pitcher and coaches to predict the next pitch — during their championship winning season in 2017.
As a result, the MLB fined the 'Stros a measly $5 million, gave one-year bans to Jeff Luhnow and A.J. Hinch (who were subsequently fired) and revoked a few important draft picks.
So now what's happened?: A couple of new details have emerged. First, apparently the sign-stealing scheme started with one of the MLB's most famous players: the now-retired Carlos Beltrán. According to anonymous teammates, when Beltrán signed with the Astros for the 2017 season, he came with a plan and was the so-called "Godfather" of sign-stealing. We guess he made them an offer they couldn't refuse. He'd previously been with the New York Yankees, who were also accused of sign-stealing in 2015. Coincidence? We think not.
Second, it's also come out that the Astros' front office executives not only knew about the sign-stealing but also had an intern create an Excel algorithm they called "Codebreaker" (real subtle, guys) to help decipher signs more efficiently. This is a big deal because the MLB previously told the public that the sign-stealing scheme was not planned or directed by the front office. SMDH.
And what will the MLB do about it?: That remains to be seen. Spring training (aka preseason) starts in less than two weeks so the pressure is on for the MLB to discipline the 'Stros before then. In the meantime, some players who previously played against the Astros are taking it upon themselves to right the wrongs...
Yankees pitching legend CC Sabathia is calling for the Astros' World Series to be revoked, while former relief pitcher Mike Bolsinger is suing the team for $31 million, alleging the Astros interfered with and harmed his career. Following a bad game in 2017 in which he gave up four runs against the Astros, the Toronto Blue Jays terminated Bolsinger's contract and he hasn't played in the MLB since. Not good.
What's The GIST's take?: We said it once and we'll say it again: as fans, we feel cheated. Between steroid use, sign-stealing and everything in between, we have serious trust issues with baseball.
🏀

Can you feel it?

February 10, 2020
The GIST: With March Madness just around the corner, it's that time of the college basketball season where wins matter more and feel even better than usual.
Cause this is thriller: It's always intense when men's longtime rivals No. 7 Duke and North Carolina (UNC) face off, but Saturday's game took things to another level. Duke was down 13 with four minutes remaining and somehow rallied to hit a crazy shot that sent the game to overtime (OT). And when Duke was down by five with 20 seconds left in OT, they did it again, hitting a nail-biting buzzer beater to win 98–96. You can't make this sh!t up.
And get this: Saturday's game came exactly eight years after current Houston Rocket Austin Rivers (aka LA Clippers head coach Doc Rivers' son) hit Duke's classic heartbreaking game-winner over UNC. Mind-blowing, we know.
Who's bad?: No. 3 Oregon's Sabrina Ionescu — but bad in the good-bad, bad-b!tch type of way. She notched her 24th career triple-double in Friday's 85–52 rout over No. 12 Arizona, which she dedicated to her late mentor Kobe Bryant. Even though she followed with a quiet (for her) 19-point performance in last night's 79–48 beat down of No. 19 Arizona State, Sabrina proved she might indeed be a witch, she's that good.
🏒

On the bubble

February 10, 2020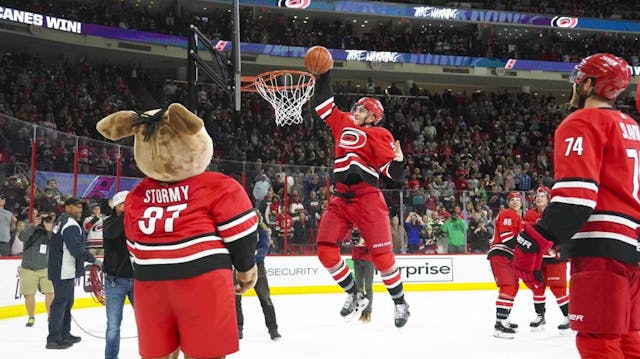 The GIST: We're two thirds of the way through the NHL and NBA seasons, which means it's crunch time for teams on the playoff bubble. So, here's #thegist of where we're at heading into April's playoffs.
The good old hockey game: Sixteen teams qualify for the Stanley Cup playoffs — eight from the Eastern and Western Conferences, respectively. Current divisional leaders, the Washington Capitals, Boston Bruins, Vancouver Canucks and reigning Stanley Cup champs St. Louis Blues all seem like shoo-ins (unless we just jinxed it). But the teams we really have to keep a close eye on are those hovering between seventh and 12th place in the conference.
In the East, we're keeping an eye on the battle between the Carolina Hurricanes and the Philadelphia Flyers for a final playoff spot. The real question is, will we see Gritty or Storm Surges in the playoffs?
Over in the West, it's a tighter race for a wild card spot, with six teams within reach. But if we were betting women, we'd put good money on the Calgary Flames and Arizona Coyotes making it in as wild cards.
We're playing basketball: Over in the NBA, it's pretty much the same. The top eight teams from each of the two conferences (East and West) qualify for the playoffs, and while the top six teams in each conference are basically set, the bubble teams will have to fight extra hard to claim those last two spots.
In the East, the Washington Wizards will have to channel their inner Harry Potter Hermione Granger as they chase the Brooklyn Nets and Orlando Magic for one of the last two remaining spots.
In the West, it's looking like it'll be a battle between the Memphis Grizzlies and the Portland Trail Blazers for the eighth seed. Buckle up.
🏅

Next thing you know, I'm big in Japan

February 10, 2020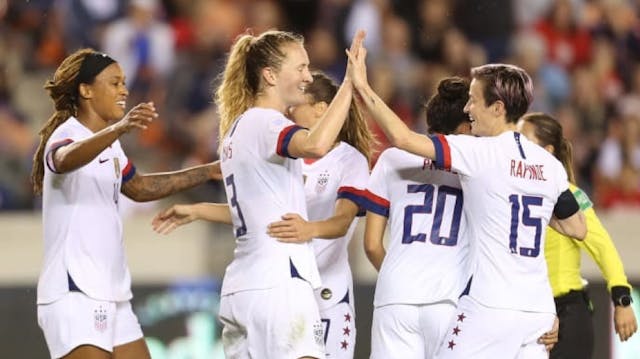 The GIST: Over the weekend, our US women's national soccer team (USWNT) became the second women's team to qualify for the 2020 Tokyo Olympics and TBH, we can't say we're surprised.
Explain, please!: You got it. First, our USWNT clinched a spot in the 2020 Summer Olympics by winning their semifinal match 4–0 over Mexico, in the CONCACAF Olympic Qualifying tournament (reminder: the top two teams in the tournament qualify for Tokyo 2020).
That set the stage for the CONCACAF final yesterday, and we were treated to our favorite thing ever: a Canada-USA final. We haven't lost to Canada since 2001 (!!!) and kept our streak going, beating Canada 3–0...because of course we did. And to put the cherry on top, our star striker, Christen Press, took home the Golden Ball for the best player in the tournament.
And what other team earned a ticket?: Our women's basketball team. Team USA clinched their Tokyo 2020 Olympics spot by winning the 2018 FIBA Basketball World Cup. That said, they still played in Serbia in one of the four FIBA Women's Olympic Qualifying tournaments this weekend.
Our women won all three games, but we were a little bit shaken that they had to come from behind to win 76–71 over a strong Nigerian team. Too close for comfort.
🏒

Guide to Fantasy Hockey

February 06, 2020
SOURCE: GIPHY.COM
Just Google the word "fantasy" and it'll land you right in the thick of podcasts, YouTube videos, articles and draft predictions for the four major sports leagues (that's the NHL, MLB, NBA and NFL). This fantasy stuff is a ! In fact, we also have a guide to fantasy football and a guide to fantasy basketball you can check out. But back to hockey…
WTF is fantasy hockey?
Fantasy hockey is one part real, one part fake and 100% a whole lot of fun. Your mission, should you choose to accept it, is to pick a team of players that is better than any other team in your fantasy league. The players are real, the points they score are real, but the combination of players together is what makes it fantasy. You have the opportunity to create a dream team (or the dreamiest looking team, depending on your draft strategy *swoon*) made up of your favourite players and, ideally, the players you think will do the best this season.
Okay, I'm in. How do I play?
To play, you'll need to join a league. A lot of workplaces will get groups together to do this. Or you can join a league for free online. We'd recommend taking a look at these websites:
Then it's time to do a little prep work (this is a lot more fun than homework or that powerpoint presentation your boss keeps hounding you for). You'll want to make up a list of players that you have the most interest in and want to try and get on your team. Most often, teams are made up of nine forwards, six defensemen, one utility player (forward or defence, your choice), two goalies and five to seven bench spots (these are the extra guys you'll need when someone gets hurt, goes on a cold streak or doesn't play for a few days).
Each day, as an owner, you get to set your lineup and pick which players hit the ice and which players will ride the pine. Then sit back and relax as your fantasy site calculates scores for you live, so you can watch your guys play in real life and watch your fantasy team rocket to the top of the standings at the same time.
Got it. But how do I be good?
You could pick your team based on best hockey flow (oh hey there ) but maybe go with something a little more practical if you want to compete with the best fantasy owners in your league. and have some top player lists that can help you with this.
If your league is hosted on Yahoo (which it likely is), the site will also give you a list of players the experts think will have the best season. Don't get overwhelmed by these sites. They're showing you way more information than you're probably ever going to need to know.
This sounds fun. What else do I need to know?
Here's a list of things that will definitely come up so you're ready for the big leagues.
Draft Day - This is undoubtedly the most important day of your fantasy year because this is the day that you get to build your team. The most common type of draft is a snake. Each team will have a predetermined draft number (if your league has ten teams, you'll get to draft somewhere between first and 10th). In a snake format, the 10th team to draft also gets to pick the 11th player because the order switches directions. This means that, as awesome as it is to draft first, you'll have to wait around until the 20th player to get to choose again.

Your goal is to draft the best player that's still available. And don't worry, Yahoo will give you suggested picks so you don't have to frantically flip through your research if the guy you really wanted went one draft pick ahead of yours.
ADP (Average Draft Position) - Each fantasy site will show the average draft position of players. This is the average spot that that player was taken across all of the drafts run on that website. The higher the ADP, the more in demand that player is.
Trades - Just like the real NHL, your league will give you the option to trade. This can be great news if the #1 player you really wanted on your team went to someone else, though you'll likely have to give up something big in return. Trades are a great way to shake things up and get access to players you might have thought were gone forever.
Waiver Wire - This is where you'll be able to get players that weren't chosen in the draft. Sometimes players get hurt or they underperform and you're going to want to give them the snips. (Don't worry, we won't tell them *wink*) You can replace them with players from the waiver wire. As long as no one else owns a player, they are fair game for you to add to your squad.
Sleeper Pick - These guys are not actually asleep (hopefully). A sleeper pick is a player that has the possibility of being a big breakout star, kind of like an underdog. It's not a guarantee, but if you get lucky he could be one of the best guys on your team. At one point, both and were sleeper picks — now they are two of the best guys on their respective teams.
Head-to-Head - This is the most common type of fantasy league. Say your league has 12 teams, each week you'll face off against another team. Your goal is to be better than the team you're up against in a number of categories; goals, assists, shots on goal, blocks, hits, etc — the categories will depend on your league. At the end of the week, you'll get one point per category that you won.
Rotisserie League - Wipe the drool off your face, this has nothing to do with chicken (unfortunately). This type of league might be a little easier to understand than head-to-head. Think of rotisserie like "total points." Every category is tallied from the beginning of the season to the very last game. To win, you must have the most points at the end of the year.
Each league will have categories that are a little bit different (some might include penalty minutes, others might not), so tweet us questions ( or ) if you want help with your specific league!
Some draft tips to get you started:
Get acquainted with the top ten guys in the league. It's always going to be debatable, but your first-round pick is probably the most important.
There is no right or wrong way to draft, but try to get a core group of players early (three forwards, two defense and a goalie) and then start to fill in the gaps where you think you might be lacking talent.
Don't waste a high draft pick on a goalie – sometimes they pay off, but more often than not they aren't worth reaching for. Goalies are notoriously unpredictable, and even the best in the league (like ) can have bad seasons. You're better off taking a more reliable player with that draft pick.
OUR HOTTEST TIP: Still stressed after reading all of this? You can stage a mock draft online on Yahoo . This comes with no pressure and just gets you acquainted with how the drafting process works. We cannot recommend this enough if you've never joined a fantasy league or drafted before. Practice makes perfect and all that stuff, ya feel?
Fun fact to share on draft day:
Fantasy hockey might not be the biggest fantasy format, but it was the first! Fantasy hockey launched on the web in early 1995 and it paved the way for all other fantasy formats.
Still have questions? That's what we're here for! Slide into our DMs, tweet us or hit us up with an email — we want to help you be the best fantasy hockey owner you can be.
Written By: Alexis Allison
GIST Guest Writer and Hockey Guru
Don't get The GIST's twice-weekly newsletter yet? Let's make it email official.