🏀

Crazy train

March 09, 2020
The GIST: As we get closer to the start of March Madness, college basketball is seeing more twists and turns than the latest episode of Grey's Anatomy.
How are the women doing?: Let's start with the Big 12 tournament final on Sunday. In a shocking plot twist, No. 2 Baylor was stunned 57–56 by unranked Iowa State thanks to a last-second free throw.
The loss also marked Baylor's first loss to a Big 12 team since February 2017, ending the Lady Bears' 58-game regular-season and 45-game road Big 12 win streak. But as the great Nelly Furtado once said, all good things come to an end. Meanwhile, this victory was Iowa State's first win over a ranked team this season and earned them a March Madness bid. Sports, you gotta love 'em.
What about Sabrina Ionescu?: The force known as Sabrina and the No. 3 Oregon Ducks are always exciting AF to watch, and last night's impressive 89–56 win over the No. 7 Stanford Cardinal was no exception. Sabrina got herself another double-double with 20 points and 12 assists, and the Ducks locked up the Pac-12 tournament championship and likely a No. 1 seed in March Madness. That's what we're talking about!
And what about the men?: On Saturday, Utah State became the first team to book a ticket to the "Big Dance," after senior guard Sam Merrill hit a three-pointer with two seconds left, knocking off No. 5 San Diego State 59–56 and claiming the Mountain West division tournament title. In total, five conference champs earned a bid over the weekend, and we're just getting started. Selection Sunday can't come faster.
🏀

A tale of two Hardens

March 09, 2020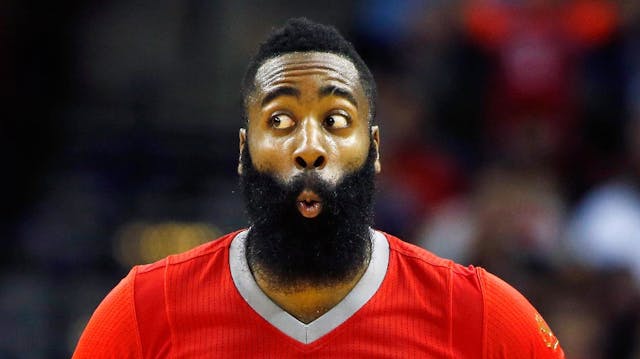 The GIST: It was the best of times, it was the worst of times. In a 108–99 loss to the Charlotte Hornets, Houston Rockets star James Harden somehow pulled off a rare quadruple-double this weekend, in the most Harden way possible.
What's a quadruple-double?: A quad-double is when a player records double digits in four of the five statistical categories — points, rebounds, assists, steals and blocked shots — in a single game. Technically, Harden only hit a triple-double, putting up 30 points, 14 assists and 10 rebounds.
But in this amazing showcase of talent, he also managed a pretty bad stat: 10 turnovers! So yes, this "quad-double" (which, BTW, was the third in his career) is very tongue-in-cheek.
What else is going on in the NBA?: Poor Steph Curry can't catch a break. Just a few days after returning from a broken hand that caused him to miss 58 games, the Golden State Warrior is back on the injured list with the flu. But don't panic! It's a seasonal flu, not COVID-19, so he should be back on the court in no time.
Unfortunately, Milwaukee Bucks star Giannis Antetokounmpo (pronounced YONNIS ANDEDO-KOONPO) isn't as lucky. Last season's league MVP suffered a minor joint capsule sprain (aka a knee injury) during Friday's 113–103 loss to the Lakers. Giannis, who just became a dad last month, will miss at least two games.
And what's this about the Battle of LA?: The LA Lakers and LA Clippers face off four times each season, and the bouts rarely disappoint. Yesterday's edition, the third of the season, was no exception. Despite being the better team, the Lakers had difficulties with the Clippers in the first two showdowns but came out with a vengeance in this game, winning 112–103.
LeBron went OFF, putting up 28 points, while Anthony Davis recorded another 30. With their Friday night win over the Eastern Conference-leading Bucks (in which LeBron scored his 34,000th career point!), the Lakers are proving they're the team to beat in the race for the Larry O'Brien.
🏒

Sicko mode

March 09, 2020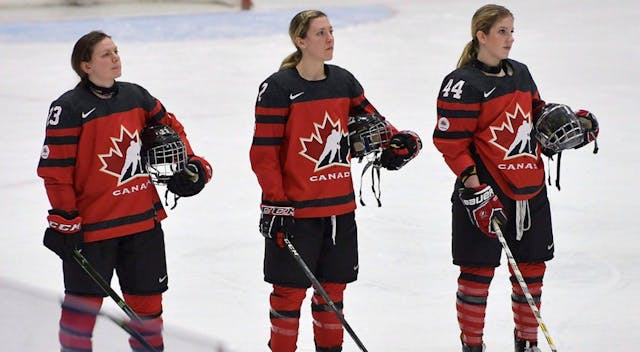 The GIST: COVID-19 continues to have an impact on the sports world, and this weekend, it took out one of its first major international events: the IIHF Women's World Championship.
No way! Why?: The tournament, which features the top national women's hockey teams from around the world, was set to take place from March 31st to April 10th in Halifax and Truro, Nova Scotia. Though Canada hasn't seen a huge spread of the virus like in other countries, the event organizers decided not to risk it and cancelled the tournament with less than a month to go before puck drop.
This isn't the first time this tournament has been cancelled: the Beijing-hosted 2003 event was cancelled due to the SARS outbreak. The IIHF has said that, pending IIHF Congress approval, the 2021 tournament will be held in Halifax and Truro.
Brutal! How are the North American professional leagues dealing?: The NHL will continue to play games with fans in attendance for the foreseeable future and have a contingency plan (which could affect playoffs) to roll out if needed. They've asked players to limit contact with fans and are considering closing locker rooms to the media, which, TBH, players are probably happy about anyway.
Meanwhile, the NBA will decide by end of day tomorrow what their plan will be in the event of a pandemic (though we already know LeBron's plans). And while the NFL is currently in the off-season, the NFL Draft, set for April 23rd to 25th in Las Vegas, will go on, in spite of predicting a significant decrease in the expected 750,000-person crowd.
Yikes. Anything else?: A few more cancellations (you can find a running list here), including the alpine skiing World Cup finals in Northern Italy, where American skiing queen Mikaela Shiffrin was supposed to make a return after missing a month, and the Arctic Winter Games, which were scheduled to start on March 15th and feature over 2,000 international athletes.
The Summer Olympics are still a go (for now, anyway) but the torch lighting ceremony, which will bring the Olympic flame from Athens, Greece, to Tokyo, Japan, has been downsized. We're really hoping, for so many reasons, that the Games remain unaffected. There are still four months to go, so wash your hands and cross your fingers!
⚽

Progress begets progress

March 08, 2020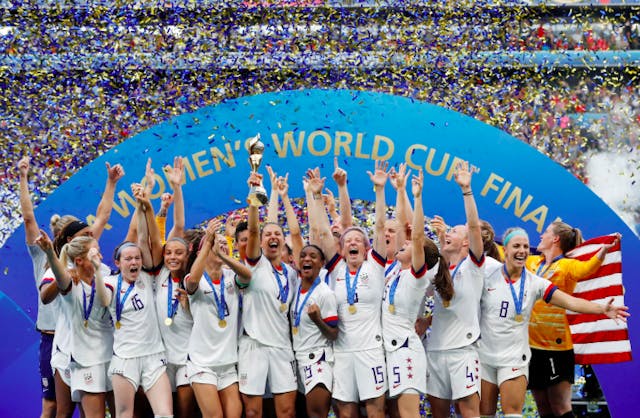 Most importantly, 2019 and 2020 have provided us with MAJOR moments when it comes to fighting for gender equity in sports.
That's #thegist of the incredible 14 months women in sports have had. We keep on breaking barriers, smashing ceilings, and doing our absolute best to level the playing field. And if the beginning of 2020 is any indication of the progress that will be made for the remainder of the year, we are in for an absolute treat.
🏈

Who run the world?

March 08, 2020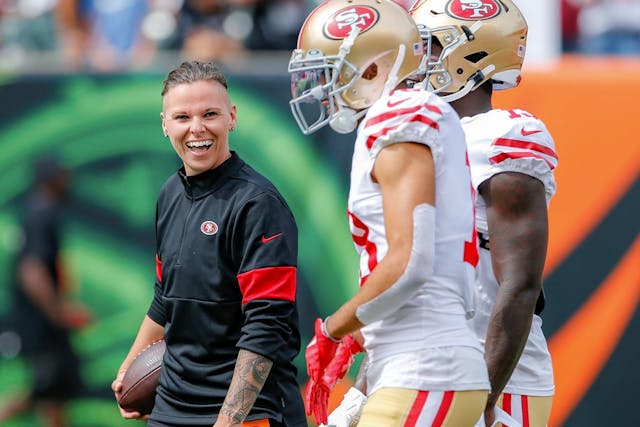 From agents to coaches, 2019 and 2020 proved that women indisputably have a place on the bench and behind the scenes in sports.