⛳

Major key alert

April 01, 2021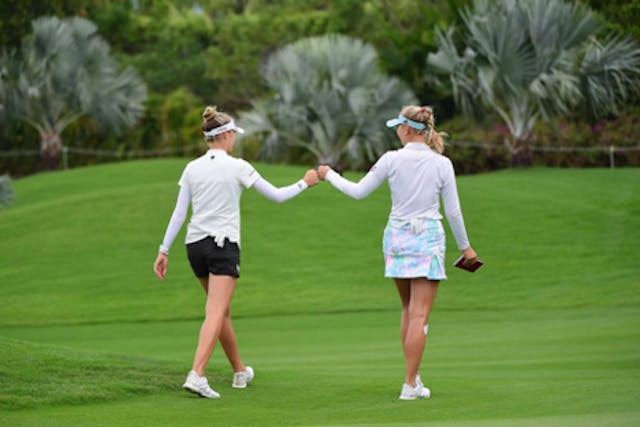 Source: Zhe Ji/Golf Digest
The GIST: The LPGA season kicks into high gear today with the first of five majors of the year: the ANA Inspiration. Time for us to wax poetic about one of our favorite traditions in sports.
How it works: Held annually at Mission Hills Country Club in California, the ANA Inspiration winner (and sometimes her caddie) traditionally takes a post-round dip in the course's 18th hole pond, called Poppie's Pond, and is then presented with a plush robe and a trophy. It's too cute!
Most of the world's top golfers are participating this weekend, including last year's champ Mirim Lee (whose belly-flopping caddie joined her in the water).
Who to watch: Along with Lee, American Nelly Korda and Canadian Brooke Henderson — who Lee beat in a three-way playoff last year — are back to try again. The defending champs from last season's other three majors are in contention, too: Sophia Popov, Kim A-lim and 2020 LPGA Player of the Year Kim Sei-young.
Jessica Korda (Nelly's sister and recent tour winner) is also playing, making it a busy weekend for the Korda family: their tennis pro brother Sebastian is playing in tonight's Miami Open quarterfinal. How do you like them genes?
And if that's not enough golf, you can also watch future ANA Inspiration winners take part in the Augusta National Women's Amateur, which starts today too.
⚾

MLB season preview

March 31, 2021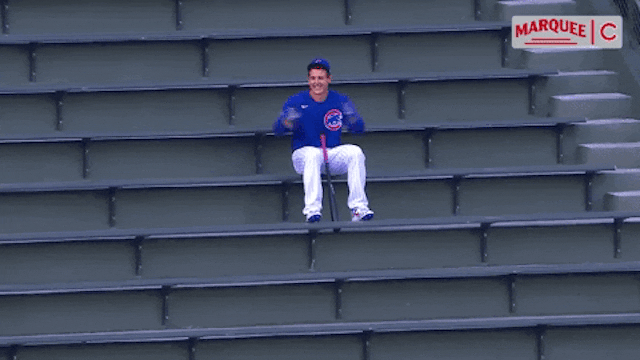 Source: GIPHY.com
QUOTE OF THE DAY
People ask me what I do in winter when there's no baseball. I'll tell you what I do. I stare out the window and wait for spring.
— Baseball Hall of Famer Roger Hornsby, not talking about early quarantine 2020. At long last, the wait is nearly over. Three cheers!
⚾️ The format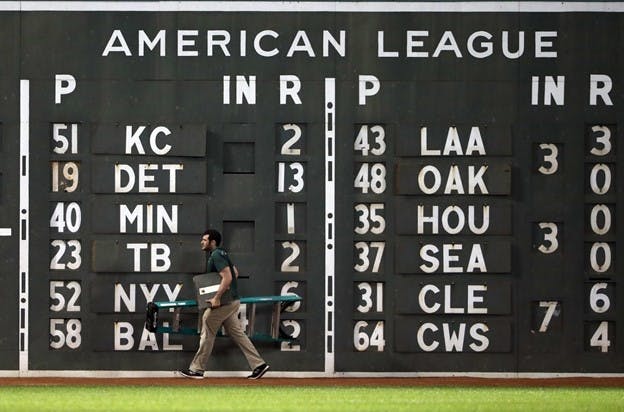 Thirty MLB teams compete across two leagues: the American League (AL) and the National League (NL). Those leagues are further divided into three divisions: East, Central and West. While last season was shortened to 60 games due to COVID-19, a standard MLB season runs from April to September, with 162 games played. Settle in, it's a marathon, not a sprint.
Last season also featured an expanded 16-team playoff format, but players voted to revert back to the standard model this year.
That means only 10 teams will make the playoffs: the top team from each division and two "wild card" entries from each league compete in the thrilling Wild Card single game play-in. *bites nails*
🚨 Ch-ch-ch-ch-changes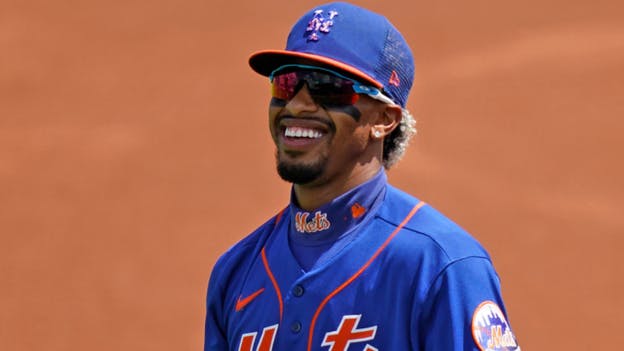 While the expanded playoff format didn't stick, some rule changes from last year did. Doubleheader games will be shortened to seven innings, as opposed to the standard nine. And to help speed games up, for each extra inning played, a runner will start on second base. Drama.
Speaking of changes, there were a handful of major off-season trades that will certainly shake things up this season. The defending champion LA Dodgers somehow found a way to get even better, landing starting pitcher and 2020 NL Cy Young Award winner Trevor Bauer from the Cincinnati Reds.
Bauer wasn't the only pitcher on the move. Better known for their offense, the San Diego Padres added two elite aces: Twitter shade thrower Blake Snell and 2020 NL Cy Young runner-up Yu Darvish. Talk about stacked.
As for position players on the move, the biggest off-season winners were the NY Mets, Toronto Blue Jays and St. Louis Cardinals. The Mets gained a much-needed offensive boost in "Mr. Smile" Francisco Lindor while the Blue Jays made themselves instant playoff contenders by adding former cheater Houston Astro George Springer.
The Cardinals made the best of a head-scratching decision by the Colorado Rockies, acquiring superstar third baseman Nolan Arenado. Rockies fans are still reeling, but five-time All-Star Arenado is already over the breakup.
🔒 The mainstays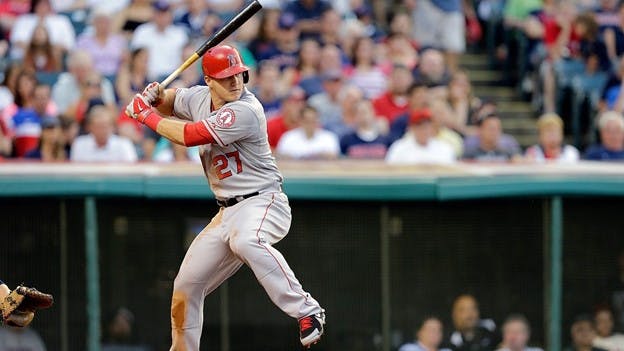 Mike Trout, center field, LA Angels: Trout remains one of the best players in baseball (and one of the best guys!) since making his major league debut in 2011. Even though 2020 was a down season for the superstar, he still managed to post a .281 batting average. We're expecting another monster year from the three-time AL MVP.
Mookie Betts, right field, LA Dodgers: Have Betts, will travel. After winning the 2018 World Series and 2018 AL MVP with the Boston Red Sox, Betts took his talents to Hollywood, lifting the LA Dodgers to the 2020 title with his bat and his glove. Dodgers fans are forever grateful to the Red Sox for this trade, and they're not afraid to say it.
Christian Yelich, right field, Milwaukee Brewers: The 2018 NL MVP struggled a bit last season, but remains one of the league's best. After last season's dip, Yelich looks more than ready to build on his .296 career batting average and return his Brewers to the postseason after an early 2020 exit. Don't call it a comeback.
👶 The next generation
Juan Soto, left field, Washington Nationals: This Nats star may just be our favorite player to watch. Thanks to his silky smooth swing, the 22-year-old is drawing comparisons to Red Sox legend Ted Williams (aka "The Greatest Hitter Who Ever Lived"). Forget Cupid, this season's all about the Soto Shuffle.
Fernando Tatís Jr., shortstop, San Diego Padres: The Padres signed 22-year-old Tatís to a record-breaking 14-year, $340 million (!!!) contract this offseason, and with his .301 batting average through his first two seasons, it's no mystery as to why. All hail the bat flip king.
Ronald Acuña Jr., left field, Atlanta Braves: This 23-year-old already has plenty of hardware to his name. The 2018 Rookie of the Year and 2019 All-Star helped lead the Atlanta Braves all the way to the NL Championship Series last season. Sky's the limit in 2021.
💪 Heroic hurlers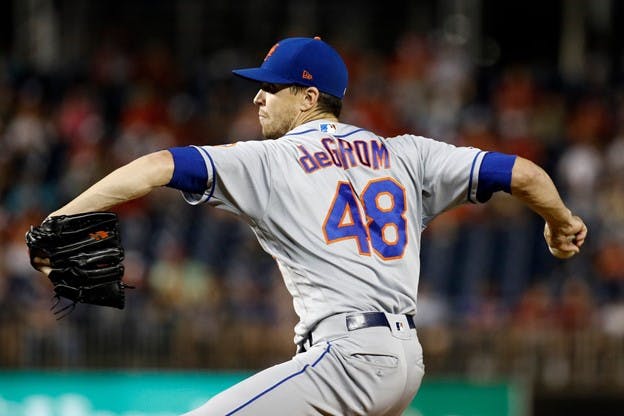 Jacob deGrom, NY Mets: DeGrom chopped off his signature luscious locks in 2017 and hasn't looked back since. The Mets' ace led the NL in strikeouts last season, narrowly missing his third consecutive Cy Young Award. With a fastball that often touches 100 mph and a revamped team behind him, watch out world.
Gerrit Cole, NY Yankees: After a record-breaking signing sent him from the Houston Astros to the Yankees ahead of the 2020 season, Cole posted an impressive 2.84 ERA in his first year donning the pinstripes. This three-time All-Star is still on the hunt for his first Cy Young trophy, but will no doubt be a top contender again this season.
Shane Bieber, Cleveland: In just his third year in the majors, the 2020 AL Cy Young winner posted a league-leading 1.63 ERA and 122 strikeouts last season. Looks like Justin's not only the Bieber set for a meteoric rise.
👀 Teams to watch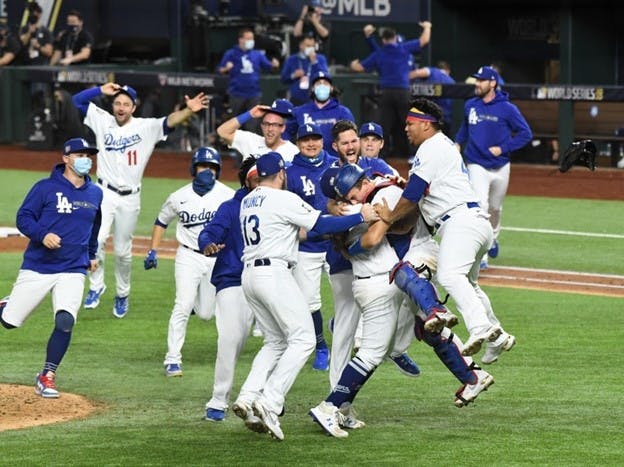 National League: The 2020 World Series champion Dodgers have a more-than-solid chance of defending their title this season. Reinforced by stars like Betts, outfielder Cody Bellinger and top pitchers Clayton Kershaw and newly added Bauer, the Dodgers are the favorites once again.
The Atlanta Braves and San Diego Padres have the best shot at dethroning the champs. Atlanta nearly defeated the Dodgers in last year's NLCS while Slam San Diego boosted their defense with the aforementioned additions of Snell and Darvish.
American League: Despite their unexpected early exit from the 2020 postseason, the NY Yankees are the favorites to win the AL pennant this year. With a big off-season contract extension for All-Star D.J. LeMahieu, returning power hitters Aaron Judge and Giancarlo Stanton and solid pitching from Cole, the Yanks are the AL team to beat.
While the Yankees are the clear faves in the AL East, the Central and West should be more exciting. We're picking the Chicago White Sox, led by new general manager (GM) Tony La Russa, to win the Central and the Oakland Athletics to defend their AL West title.
🏀

NCAA Men's Sweet Sixteen Recap

March 29, 2021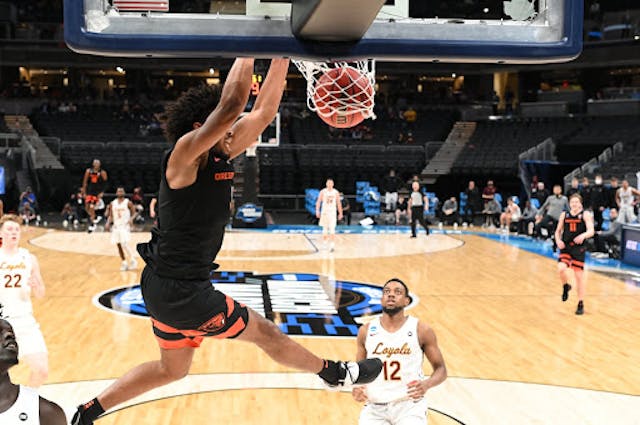 Source: Oregon State MBB/Twitter
Tonight's games: No. 12 Oregon State continued their underdog run, defeating No. 8 Loyola Chicago on Saturday to advance to their first Elite Eight since 1982. The Cinderella story Beavers will need all the magic they can get when they take on No. 2 Houston and their stifling defense tonight at 7:15 p.m. ET.
Tomorrow's games: No. 1 Gonzaga extended their undefeated campaign with ease, handily defeating No. 5 Creighton 83–65 yesterday. Gonzaga will face No. 6 USC, fresh off a hard fought victory over No. 7 Oregon. We do love an underdog, but our money's on the 'Zags in this one. How can you bet against ?
Meanwhile, No. 1 Michigan secured another W for the top seeds, dominating a physical 76–58 battle with No. 4 Florida State yesterday. Michigan will face surging No. 11 UCLA, who pulled off another upset by defeating No. 2 Alabama 88–78 in overtime yesterday.
The UCLA Bruins are just the second team to advance to the Elite Eight after competing in the "" play-in round. More like Bru-Win, right?
🏀

D.C.: Springtime sadness

March 29, 2021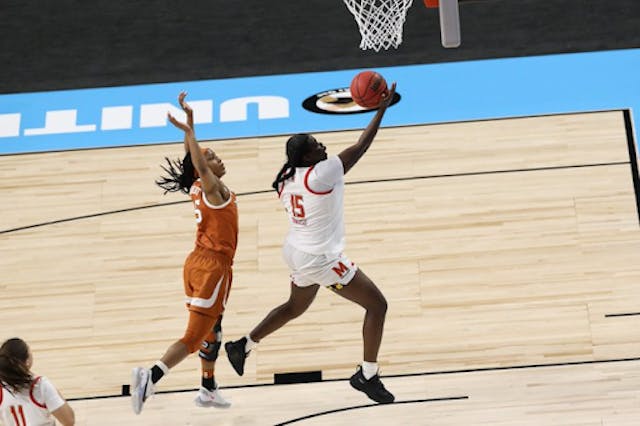 Source: Maryland Women's Basketball/Twitter
The game: Maryland's nation-leading offense sputtered to a halt in yesterday's tight 64–61 loss to Texas. The Terps got off to a fast start, but the Texas defense stymied Maryland, holding them well under their 91.8-point season average.
Diamond Miller led the Terps with 21 points. But they got flustered in crunch time, with Katie Benzan (who averages 50.8% from the three-point line) missing a potential game-tying three.
Longhorn Charli Collier, the presumptive No. 1 pick in next month's WNBA draft, put up 16 points of her own. Salt in the wound.
The future: The Terps' early exit is definitely disappointing, especially after to the 2006 championship-winning squad. But after we wipe away the tears, we're reminded that the future is bright with Ashley Owusu and Angel Reese — just a sophomore and freshman, respectively. The Terps are in good hands.
🏀

LA: Eye of the tiger

March 29, 2021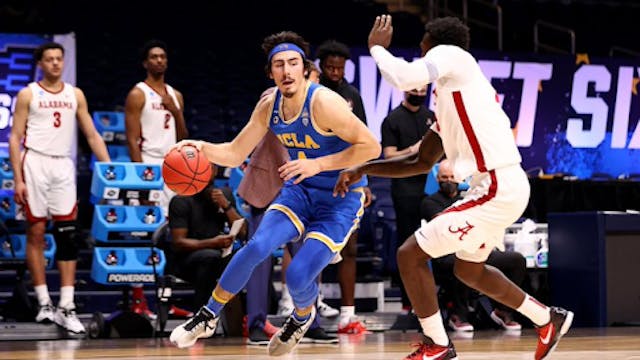 Source: UCLA Men's Basketball/Twitter
USC: For the forever 20 years, USC is back in the Elite Eight! The No. 6 Trojans sent the No. 7 Oregon Ducks quacking home with a 82–68 victory last night. We're accustomed to freshman sensation starring for the Trojans, but Isaiah White drained a career-high four 3-pointers to finish with a team-leading 22 points. Go off.
The Trojans need to be on their A, no, their A+ game tomorrow night at 7:15 p.m. ET/4:15 p.m. PT when they face top-seeded powerhouse Gonzaga. Fight on.
UCLA: From the First Four to the Elite Eight...can we get an 8-clap? No. 11 UCLA pulled off the overtime upset over No. 2 Alabama last night. The Bruins squandered their double-digit halftime lead and really had us sweating for the rest of the game. *wipes brow*
Top scorer Johnny Juzang late in regulation, but five other Bruins scored double figures to grind out the victory. They'll need more of that grit tomorrow at 9:57 p.m. ET/6:57 p.m. PT against No. 1 Michigan. Are the glory days back?