🏀

Save the date

June 29, 2020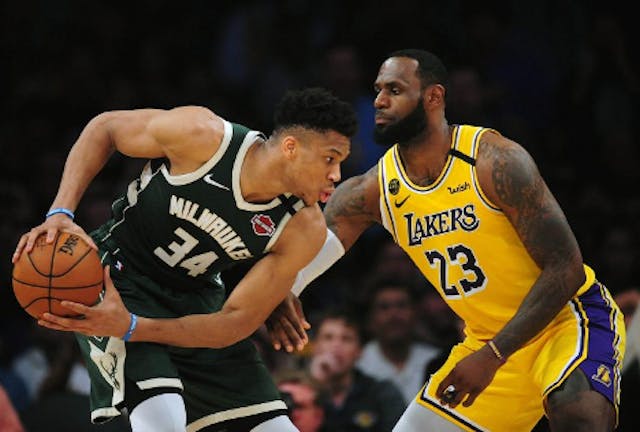 GARY A VASQUEZ/USA TODAY SPORTS
The GIST: With less than five weeks to go until the beginning of the end of the NBA season, we finally have a schedule and some important games to mark along with it.
Remind me, what's the set-up?: Twenty-two of the NBA's 30 teams will play in the league restart at Disney World. Sixteen of those teams were in playoff positions when the regular season paused on March 11th, and the other six were within six games of a playoff position.
The teams will each play eight seeding games in a two-week span to determine their place in the postseason, which will start in mid-August. Up to seven games (!!!) will be played every day during the seeding period, with tip-offs scheduled anywhere from noon to 9 p.m. ET. Heck yes.
Got it. So when's opening night?: Thursday, July 30th. It'll start with a doubleheader, with the Utah Jazz taking on the New Orleans Pelicans ahead of the highly anticipated Battle of Los Angeles, where the LA Clippers will face the LA Lakers.
And it's kind of fitting that the Jazz get the first game considering Jazz player Rudy Gobert's positive COVID-19 test (and, btw, he's still not totally recovered) caused the NBA to suspend their game (and then the whole season) literally minutes before their matchup against the Oklahoma City Thunder. Poetic.
And all the big names will be in the lineup?: While some players have opted out of the season for health or activism reasons, the majority of players will play. LA Lakers LeBron James and Anthony Davis and Houston Rocket James Harden will all be in the lineup, and Milwaukee Buck Giannis Antetokounmpo (pronounced YONNIS ANDEDO-KOONPO) is set to make his return from a March knee injury.
Speaking of big names, the NBA and Nike (the league's athletic wear sponsor) are planning to allow players to replace their last name on their jersey with messages of support for social justice causes (e.g., the Black Lives Matter movement) and charities.
This comes after Las Vegas Ace Angel McCoughtry made a similar ask of the WNBA last week. Women do always know best.
🏈
🏀
🏆
It wasn't over, it still isn't over!
June 29, 2020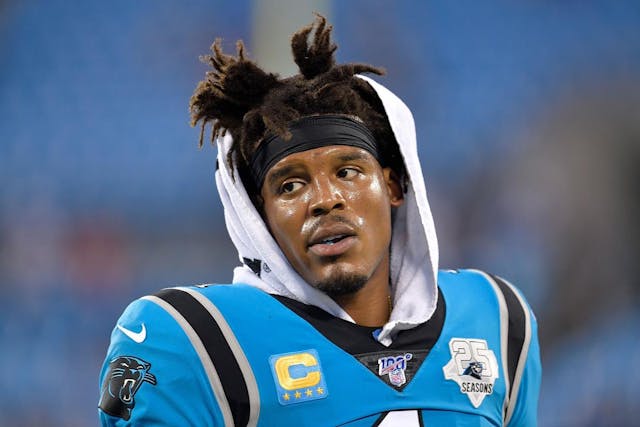 GRANT HALVERSON/GETTY IMAGES
⚽

Let's get this bread

June 25, 2020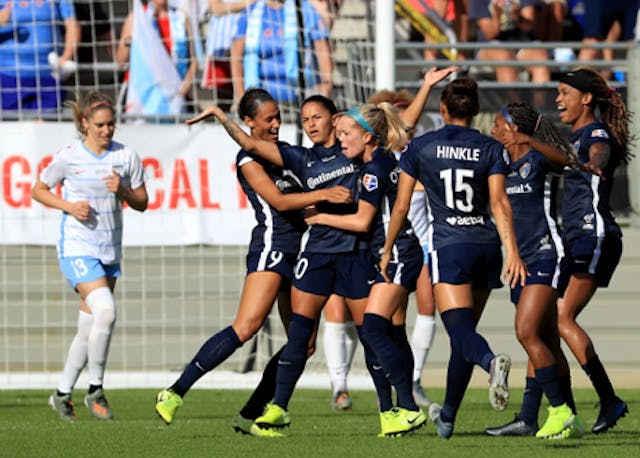 STREETER LECKA/GETTY IMAGES
The GIST: The moment we've all been waiting for has almost arrived: North American pro team sports will finally be back in action on Saturday, thanks to the NWSL. As they say, ladies first.
So stoked! How are they coming back?: Instead of a normal 24-game regular season, the league is hosting the Challenge Cup. The eight-team tournament will take place in Salt Lake City, Utah, and all players, team staff and officials will live, practice and play in a "bubble," between two hotels and two stadiums around Salt Lake.
The tournament, which starts Saturday, has a similar format to the World Cup. It will start with a group stage (two groups, four teams each) to decide seeding for the knockout stage, set to begin July 17th. All matches will be closed to spectators but will be broadcast live on CBS All Access.
Wait, I thought there were nine teams in the NWSL?: Oh, there are. Unfortunately, earlier this week, the Orlando Pride had to withdraw from the tournament after six players and four staffers tested positive for COVID-19. Such a bummer.
Whoa — that's a big deal. Any other soccer news?: FIFA is expected to announce the host country of the 2023 FIFA Women's World Cup today. Australia and New Zealand put forth a joint bid and are the favorites to host over Colombia. Japan was also in the mix, but they pulled themselves out of contention earlier this week. We're thinking the Tokyo 2020 Olympics is probably leaving a bad taste in their mouth.
⚾

Play ball!

June 25, 2020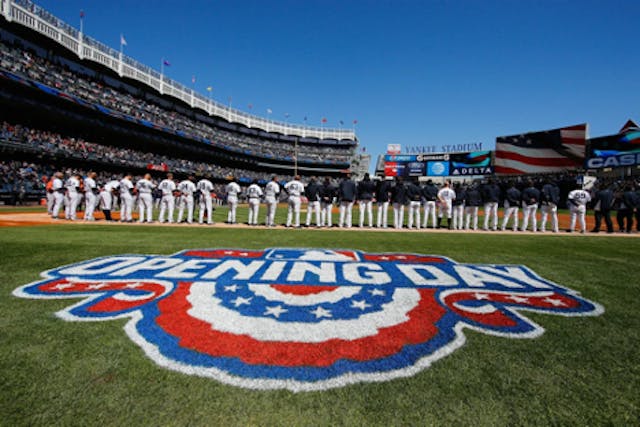 AL BELLO/GETTY IMAGES
The GIST: After an excruciatingly silly back-and-forth between the MLB and the MLB Players Association, they've finally kissed and made up. Which means baseball is coming back, baby!
Tell me more: The MLB has issued a 60-game regular-season schedule, which is expected to start on July 23rd or 24th (read: less than a month away!), meaning players will need to report to training camp by Wednesday, July 1st. Talk about a quick turnaround!
The schedule will be regionalized, so teams will mostly play against division rivals, with the rest of their games against teams close by. All teams will host at their home stadiums, most likely without fans, though we're still not sure how that will work for the Toronto Blue Jays if the Canada-US border remains closed past July (as expected).
Is it actually safe to play?: Who knows? The league issued a safety plan back in May, which included rules such as no spitting, no handshakes, no stadium showers and no buffets. But many players have already said that the guidelines are nearly impossible to follow (that no buffet rule does sound pretty hard...) and many rules will be broken.
What's worrying is that despite teams like the Blue Jays, Detroit Tigers and Colorado Rockies announcing positive cases for their players and staff, the MLB is forging ahead — and maybe forging ahead too quickly — with the season. Oh boy.
🏆

Too much too soon

June 25, 2020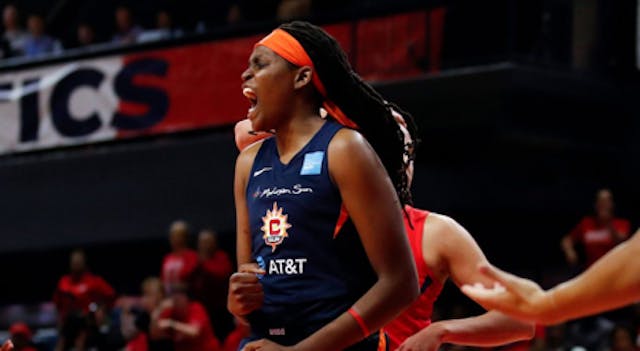 ALEX BRANDON/AP
The GIST: After taking a hiatus, sports are now making their comeback. But you know what never went away? COVID-19. And in some places (we're looking at you, Florida), it's as bad as it's ever been.
Literally so bad: You said it. Due to huge daily increases in COVID-19 cases in states like Texas, California and Florida — the soon-to-be home of the NBA, WNBA and MLS — athletes from all sports are opting out of play.
In addition to the NWSL players already mentioned, LA Laker Avery Bradley is opting out due to his son's respiratory condition (meaning we could see LeBron James and JR Smith reunite...) while Connecticut Sun Jonquel Jones and Washington Mystic LaToya Sanders have also opted out due to health concerns.

Meanwhile, even though the MLS doesn't require teams to report positive tests (yes, seriously), at least eight teams have confirmed one or more positive cases. The league hasn't said if anyone is opting out of the oh-so-creatively named MLS Is Back tournament, but based on these numbers, we wouldn't be surprised.
Any other positive cases?: Ahead of this weekend's Travelers Championship in Connecticut, golfers Brooks Koepka and Graeme McDowell chose to withdraw after their caddies tested positive (v. responsible), and Cameron Champ was forced to withdraw after he became the second PGA golfer to test positive.
Is it just players in the US?: Nope. Over in eastern Europe, a few big-name athletes demonstrated just how quickly the virus can spread. On Tuesday, world No. 1 men's tennis player Novak Djokovic (pronounced JOKE-OH-VITCH) announced he and his wife had tested positive after organizing the Adria Tour — an exhibition tournament that featured fans, hugging at the net and even a night out on the town. SMDH.
Denver Nuggets All-Star Nikola Jokić (pronounced YO-KITCH) also tested positive, putting his return to the US and to the basketball court in jeopardy. While "quarantining" in his native Serbia, he'd been seen hugging Djokovic at an event a couple of weeks ago. Our heads are still shaking.
So, how are sports still a go?: Your guess is as good as ours. One league that continues to suss out the current situation (yeah, good luck with that) is the NHL: they're still deciding on which two hub cities they should give their final rose to. Maybe they should call Chris Harrison for advice.