🏆
🎾
Changing of the guard
May 28, 2020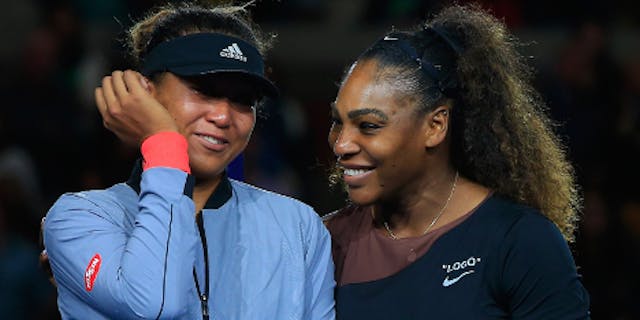 GETTY IMAGES
Making money moves: Forbes released some jaw dropping figures this week, confirming that the queen of tennis, Serena Williams, has been dethroned...on the money list. She's still the GOAT (in our humble opinion), but 22-year-old tennis phenom Naomi Osaka is now the highest paid female athlete in history. Let that one sink in.
Over the past 12 months, Osaka raked in $37.4 million — $1.4 million more than Serena, who has been the highest paid female athlete for the past four years — making most of her hard-earned dough through sponsorships.

When Forbes releases their top 100 highest-paid athletes list next week, it will be the first time since 2016 that two female athletes will make the list. Two out of 100 — let that one sink in.
Like a boss: Vanderbilt University has made herstory, hiring Candice Storey Lee as the school's athletic director (AD). Lee is the first woman and first Black woman to run an athletic department in the SEC (Southeastern Conference, one of the most accomplished sports conferences in the NCAA) and is only one of five female ADs in the NCAA's Power Five (the top five conferences). Enough acronyms for you?
Lee has a good history with Vanderbilt, too, having served as the interim AD since February and as captain of the basketball team in the late '90s.
Dream team: The ESPYs, ESPN's annual multi-sport award show, will have a different look and feel this year, and we couldn't be more excited. The show plans to focus on heroism and humanitarian aid and will be hosted by our favorite power couple, soccer superstar Megan Rapinoe and basketball legend Sue Bird. ESPN must've noticed the pair's stellar hosting skills on A Touch More.
🏒
⚾
🎾
⚽
So tell me what you want, what you really, really want
May 21, 2020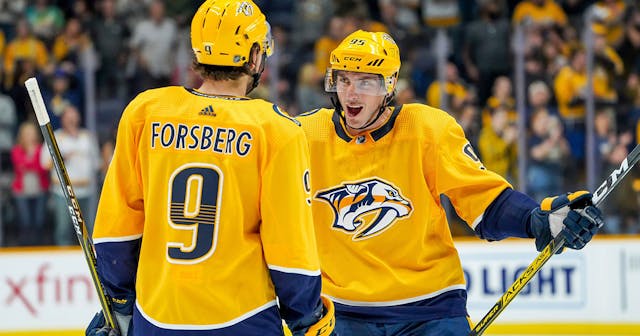 ASSOCIATED PRESS
The GIST: There has been a lot of talk over the past few months about the leagues and teams working hard to get their players back in action, which makes us think: what do the players (really, really) want?
NHL: According to Nashville Predator Matt Duchene, most NHLers just want to stay healthy. In an interview this week, Duchene was adamant that the business side of the game isn't more important than the health and safety of its players, a sentiment that seems to be felt across the board. Preach, baby.
Duchene is also hopeful for a traditional playoff format, saying, "You don't want to have a COVID Cup," alluding to the idea that the team who wins this season's Stanley Cup — if the season can't be played out in full — will forever have an asterisk beside it. He's totally right: nobody likes an asterisk.
MLB: The league has come out with a 67-page health and safety "return to play" rulebook, and according to Colorado Rockies outfielder and four-time All-Star Charlie Blackmon, he and his fellow players want to get back on the diamond and are ready to follow those rules. He argues that America needs baseball in the summer (not, not true) and he's confident that the MLB will do the right thing.
Blackmon's exact words were: "I think I can trust our guys...I think we can be trusted not to go to the mall and lick other people's faces." We guess they're lucky Brad Marchand doesn't play baseball.
WTA: Doing her best Kevin McCallister impression, Canadian tennis doubles phenom Gabriela Dabrowski said in an interview this week that she's not afraid of contracting the virus, saying, "I don't live my life in fear," but doesn't want to put her fellow tennis players at risk. She's happy to wait until the WTA gives the all-clear to get back in the game. Respect.
EPL: The English Premier League's (EPL) "Project Restart" has at least one vocal opponent: Watford FC captain Troy Deeney. He decided that he wouldn't be practicing with his team, saying, "I don't want to put my son in danger," referencing his five-month-old who has breathing problems. Very, very fair.
And Deeney's a trendsetter. This week, the EPL conducted 750 COVID-19 tests and six tests came back positive, including three from Watford. Now some of Deeney's teammates are skipping practice too, and if Watford can't field enough players, it could halt the EPL's entire plan.
🎾

Silver linings playbook

April 23, 2020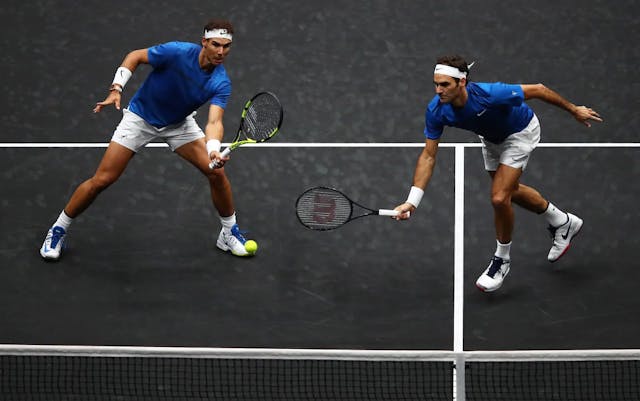 SOURCE: TELEGRAPH/GETTY IMAGES
The GIST: Something good has to come out of this awful pandemic, and tennis legend Roger Federer has the perfect idea: merge two professional tennis associations to make one supreme powerhouse.
Sweet. What's the current setup?: Professional tennis currently has two governing bodies: the Association of Tennis Professionals (ATP) for the men and the Women's Tennis Association (WTA) for the women. These two organizations run pretty differently, with different ranking systems, regulations, schedules and, of course, revenue (we'll let you guess who makes more…).
So what does Federer propose?: One governing body to oversee all professional competition. In a series of tweets, Federer explained that merging the two organizations would help fans better follow and understand pro tennis.
By merging, men's and women's tennis would follow the same schedule and ranking systems, and would allow for a more balanced marketing and media presence for each. For a sport that's already leading the way in gender equality, this sounds like a no-brainer.
Could this actually happen?: We certainly hope so. Federer has apparently already spoken to his best friend/rival Rafael Nadal about this, and their idea quickly gained backing from fellow players Garbiñe Muguruza, Simona Halep and the legend herself, Billie Jean King (who's been calling for this since forever).
Not only are Federer and Nadal two of the greatest players of all time, but they're also members of the ATP Players Council and have very powerful voices in the tennis world. If anyone can make it happen, it's these two...and probably Serena Williams.
🎾

Goodbye yellow brick road

April 02, 2020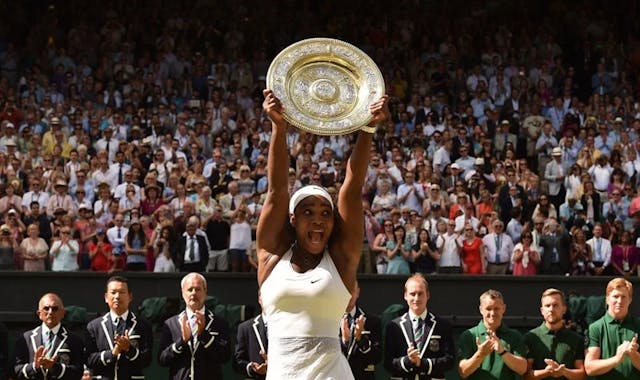 SOURCE: LEON NEAL/GETTY IMAGES
The GIST: The Brits have broken our hearts. Around the same time we learned that social distancing measures may last until summer (welp), we got the news that Wimbledon, the most prestigious tennis tournament in the world, has been officially cancelled for the first time since World War II (double welp).
Say it ain't so!: Oh, but it is so. With the extension of government mandated stay-at-home orders, organizers of the two-week Grand Slam tournament realized that there just wouldn't be enough planning and preparation time before the June 29th start date.
Because Wimbledon is a grass-court tournament, it's very weather dependent. Add that to the fact that there was no room to reschedule the tournament, as the French Open was already pushed from May to September, there was no choice but to cancel.
Jeez. So when could tennis be back again?: With the cancellation, the ATP and WTA jointly decided to extend the season's suspension from June 7th to July 13th, meaning a total of 20 men and women's tournaments have been canceled this year. Ugh.
What a bummer: Tell us about it. Wimbledon is one of those classic steadfasts in the sports world. Like the Masters in golf or the Kentucky Derby in horse racing, it's steeped in history and tradition, and it consistently brings the best of the best together. And it's the only sporting event that the Queen frequents, so you know it's classy.
We're going to miss some great tennis, aren't we?: We sure are. Wimbledon constantly spoils us with epic tennis. It gave us the single greatest match of all time — between Rafael Nadal and Roger Federer — and the longest match in history (three days long!).
It gave us seven singles wins for Serena, five for Venus, and six shared doubles for the sisters. And it gave us our favorite bad-ass press conference answer ever from Johanna Konta. Oh Wimbledon, summer 2020 just won't be the same without you.
🎾

Guide to Tennis

March 18, 2020
Giphy.com
The GIST
Today, tennis is a racquet sport that is played individually or in doubles. Tennis is played on a court — grass, clay or hard surface. The point of the game is to hit the tennis ball over the net so that the opponent can't return the ball back. Points are awarded when one player isn't able to get the ball back over the net.
Scoring tennis is a bit weird and wacky. Each is made up of sets made up of games. That's where the phrase 'Game, Set, Match' comes from! The score of each game goes from zero (called love), to 15, 30 and finally 40. If the game is tied 40-40, that's called deuce, and players have to win two straight points (the first is called advantage) in order to win the game. Get full details on scoring .
How is it organized?
Men play under the ATP (Association of Tennis Professional) and women play under the WTA (Women's Tennis Association). Each league hosts tournaments throughout the world and throughout the year, but the most important are the 'grand slam' events, also called majors, which are the Australian Open, French Open, Wimbledon and US Open. These events get the most media attention, have the highest payouts, attract the best players and offer the most ranking points (i.e. are the most important to becoming No. 1 in the world).
The most prominent of the majors is Wimbledon which is played in London, England every July. Wimbledon started more than 125 years ago and is played on a grass surface, which makes the game move a lot faster. Wimbledon also has a strict dress code where players must wear only white, a tradition dating back to the 1800s when players were concerned with . Yup, you read that right.
The best of the best
Although tennis might be old school at heart, it is the only mainstream sport that pays out women and men equal prize money in tournaments and, for the most part, gives males and females the same airtime on TV. The U.S. Open (atta be, USA!) was the first of the majors to award equal prize money in 1973, while the oldest tennis tournament in the sport's history, Wimbledon, didn't reach that milestone until 2007.
Some of the best in the world on the women's circuit include Romania's Simona Halep, Japan's Naomi Osaka and Australia's Ashleigh Barty. However, the number one in our hearts is superstar American Serena Williams, who blew us away by climbing back into the Top 10 of the WTA rankings after being OOO while she was pregnant with her first baby,
Prior to giving birth, Serena dominated the courts as the world record holder for the most Grand Slam wins across female singles and doubles play! You may also recall Serena absolutely slaying in Beyonce's "" music video. And did we mention that she was pregnant when she won the Australian Open in 2017? Like WHAT!?
On the men's side, being the best in the world continues to be a three-way battle between Switzerland's Roger Federer, Spain's Rafael Nadal and Serbia's Novak Djokovic (pronounced JOKE-OH-VITCH). But Federer is often touted as the best male tennis player of all time with 20 Grand Slam titles. Off the court, he's a total gentleman and remarkably has two sets of twins!
What about Americans?
We already talked up tennis GOAT Serena Williams, but we also have to give major props to young up-and-comer Coco Gauff! At just 15 years old, she became the youngest player ranked in the top 100 by the WTA and has a career-high ranking of No. 68 in the world. Is that a future tennis queen in the making we see?
On the men's side, John Isner is the highest ranked American player and has been ranked as high as No. 8 in his career. He's never won a Major tournament, but made it to the semis of Wimbledon in 2018, and twice to the quarter-finals of the U.S. Open. Not too shabby.
Don't get The GIST's twice-weekly newsletter yet? Let's make it email official.