🎾

Tennis: You've been served

January 14, 2022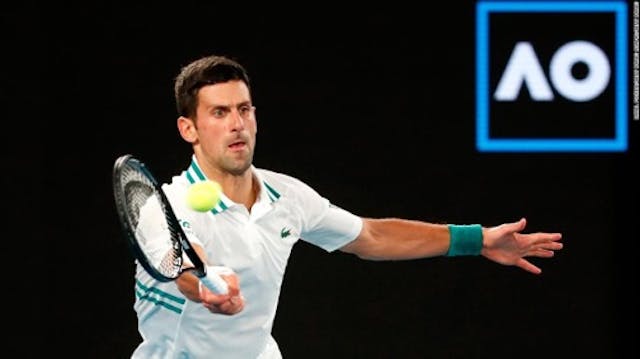 AUSTRALIAN OPEN/TWITTER
The GIST: Another day, another update to the (yes, still) ongoing Novak Djokovic–Australian Open drama. Trust us, we're over it, too.
Driving the news: Four days after Djokovic's visa was reinstated (after initially being canceled for failure to meet the country's entry requirements), Australian Immigration Minister Alex Hawke used his personal power to deport the No. 1 seed at the upcoming Aussie Open on Friday evening, Australia time. Crikey!
In a statement, Hawke said that he canceled the visa, "on health and good order grounds, on the basis that it was in the public interest to do so." With the decision, Hawke sided with the 83% of Australians who wanted Djokovic out of the country.
The Joker now likely faces a three-year ban on obtaining a new Australian visa. While he can technically launch another appeal, we have a feeling this is it.
Djokovic confirmed that he made a false declaration on his travel form (blaming his agent in the process) and that he knowingly met with the public after testing positive for COVID-19 last month. Yeah, that's a nope from us.
The women's draw: While the men's side deals with this off-court mess, we're not so patiently waiting for the women's on-court action. The biggest outcome from yesterday's draw release is that No. 1 Ash Barty and No. 13 Naomi Osaka could meet in the fourth round. Please don't make us pick a side…
As for our Canadian contenders, No. 23 Leylah Fernandez has a clear path to the later rounds, but she could run up against No. 2 Aryna Sabalenka in the fourth. But with all of Canada (including lululemon) on her side, we're not worried.
🎾

Tennis: Liar, liar, setting the sports world on fire

January 12, 2022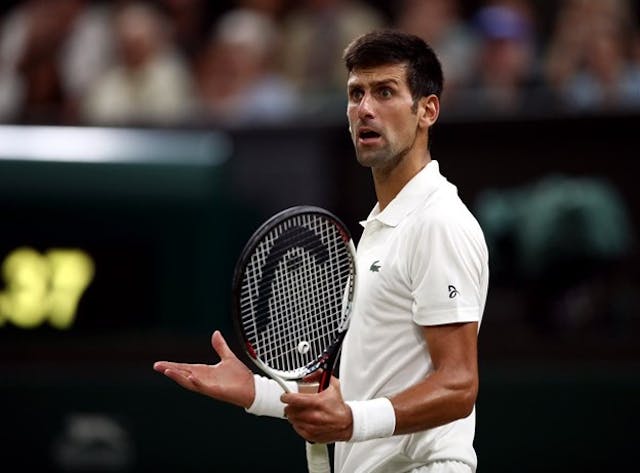 CNN SPORTS/TWITTER
The GIST: Novak Djokovic's reward for lying? The No. 1 men's seed in next week's Australian Open.
Catch up quick: Djokovic's top rank comes amid an ongoing visa battle related to his unvaccinated status. Queue up our latest episode of The GIST of It for all the deets, but here's the TL;DR:
After initially being granted a "medical exemption" to compete in the Grand Slam, Djokovic had his visa revoked upon arrival in Australia last week and was detained for four days, before ultimately winning a legal battle to reinstate his visa on Monday.
The latest: Clearly this is a complicated situation, and it's only become messier as new lies details continue to emerge. For starters, reports broke yesterday that Djokovic claimed on an immigration form that he did not travel for 14 days before his flight to Australia…despite publicly traveling in that span. We have the receipts, sir.
What's more, it appears Djokovic also broke COVID-19 regulations in his home country of Serbia, as he attended multiple events (sans mask) after testing positive on December 16th. Yes, seriously.
And there could be yet another twist to this saga. The Australian immigration minister still holds the power to deport the Joker and is reportedly "thoroughly considering" doing so. To be continued…
The women's tourney: In on-court (and good) news, the women's field is set. Australia's own Ash Barty will look to ride the No. 1 seed to her first-ever Aussie Open title, while defending champ Naomi Osaka came in at lucky number 13 after withdrawing from a tune-up event last week.
🎾

A shocker down under

January 10, 2022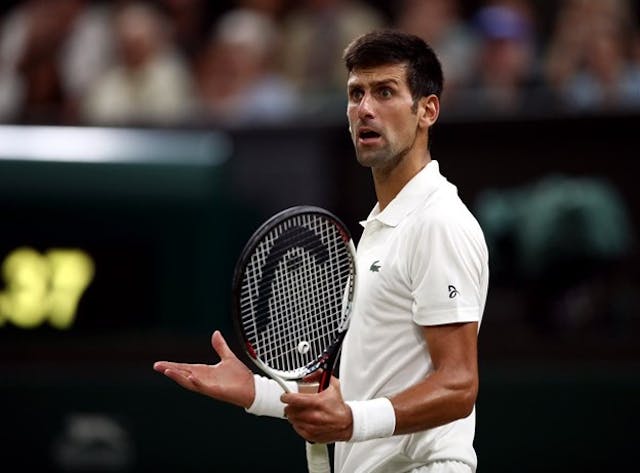 THE INDEPENDENT
The GIST: The Novak Djokovic–Australian Open saga took a stunning turn yesterday when the Australian government's initial decision to cancel his visa was reversed, granting the men's world No. 1 entry into the country. WTF, mate?
A refresher: In November 2021, Australian Open organizers implemented a vaccine mandate for the tournament, but Djovokic — who is (probably) unvaccinated — received a last-minute medical exemption to compete. However, when he arrived in Australia last week, the Joker was denied entry after failing to provide the appropriate documents.
Djokovic filed an appeal and spent the weekend in immigration detention (aka a refugee hotel) awaiting the court's final decision.
The latest example of a high profile, anti-vax athlete trying to bend the rules in their favor, the story quickly captivated an already polarized world.
Yesterday's ruling: At 5:16 p.m. local time, an Australian court reversed course on the government's decision yesterday, granting Djokovic entry into the country and, in turn, into next week's tournament, where he'll compete for a record-breaking 21st Grand Slam title.
The judge ruled that the tennis star be released within 30 minutes of the decision and confirmed that if Djokovic had been deported, he would not have been allowed back into the country for the next three years. We have...thoughts.
Elsewhere in Australia: Meanwhile, the women are holding things down on the actual court. World No. 1 Ash Barty won the Adelaide International title (a tune-up for next week's major) while World No. 15 Simona Halep won the other warm-up event, the Melbourne Summer Set 1.
And while defending Aussie Open champ Naomi Osaka withdrew from the Melbourne Summer Set 1 due to an abdominal injury, she's still expected to play when the Grand Slam begins next week. Competitors (and muppets), beware.
🎾

Tennis: No court for the Novak Djokovic

January 07, 2022
THOMAS KRONSTEINER/GETTY IMAGES
The GIST: More men's sports drama? Coming right up. As we discussed on yesterday's episode of The GIST of It, after initially receiving a medical exemption to compete for a record-breaking 21st Grand Slam title at the upcoming Australian Open, world No. 1 Novak Djokovic was denied entry into the country.
The background: In November 2021, Australian Open officials announced that only vaccinated players would be allowed to compete, a policy consistent with Australia's strict COVID-19 restrictions.
But on Tuesday, Djokovic — who has not explicitly shared his vaccine status but has expressed vaccine skepticism — announced that he had received a medical exemption (assumedly for not being vaccinated) and would be eligible to compete.
As expected, the Australian public — who've been in and out of lockdown since March 2020 — were rightfully peeved, and their prime minister, Scott Morrison, was too, tweeting "Rules are rules, especially when it comes to our borders. No one is above these rules." Preach.
The latest: Upon landing in Australia on Wednesday, Djokovic's visa was rejected due to failure "to provide appropriate evidence to meet the entry requirements." The Joker filed an appeal, but was sent to immigration detention, where he'll remain until his appeal resumes on Monday.
Meanwhile, Djokovic's rival, Rafael Nadal, who could take home his record-setting 21st Grand Slam this month, shared his views, saying, "everybody is free to take [sic] their own decisions, but then there are some consequences." Mic drop.
🎾
🏀
🏅
🏒
COVID-19: New year, same virus
January 05, 2022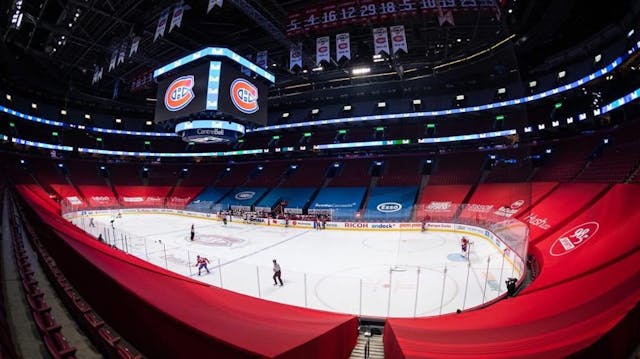 TSN HOCKEY/TWITTER
The GIST: Yes, it's 2022, but COVID-19 is still the main character. And while the NFL's reduced quarantine guidelines have players returning to action more quickly (for better or worse), let's take stock of what's happening elsewhere in sports.
🏒NHL: Following a six-day league-wide pause over the holidays, the NHL (largely) returned to action early last week, but game postponements continue to trickle in. Most notably, the Montreal Canadiens' season is on ice until at least tomorrow, with about 20 players in COVID-19 protocols. Très mal.
🏀NBA: On Monday, the league announced rescheduled dates for the 11 games that were postponed in December, but the matchup we have circled is *checks calendar* tonight's 7:30 p.m. ET tilt between the Brooklyn Nets and Indiana Pacers.
Unvaccinated Nets star Kyrie Irving is set to play in his first game as a "part-time" player, as NYC's vaccine mandate prevents him from playing at home. This should be interesting…
🎾Tennis: In other SMDH news, ahead of this month's Australian Open, Novak Djokovic received a medical exemption to travel to Melbourne, meaning the assumedly unvaccinated World No. 1 will be able to compete despite the tournament's strict vaccine requirements. Looks like the Joker's on us.
Zooming out: Though we're less than a month away from the Beijing Winter Olympics, with cases skyrocketing, new lockdowns being imposed and Twitter users doing more work than the U.S. CDC, even the International Olympic Committee admitted there's a "possibility" the Games could be canceled. Do you get déjà vu?