🏒

Renata Fast

March 17, 2020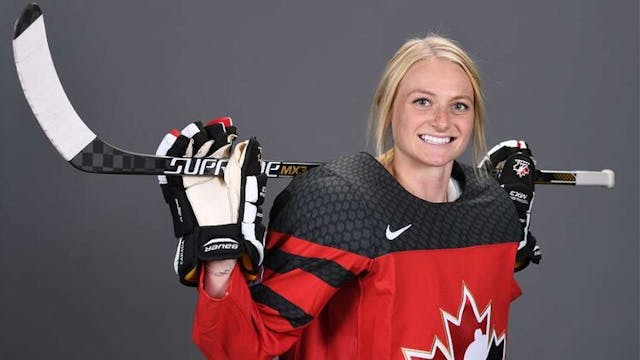 Hands down, Renata Fast is one of Canada's best hockey players: she's an Olympic silver-medallist, an NCAA national champion with Clarkson University, and a two-time Canadian Women's Hockey League (CWHL, which shut down in May 2019) All-Star.
When she isn't being one of the fittest and fastest hockey players in the world, this 25-year-old is catching up on rest, scrolling through Instagram (a classic millennial move), and doing her part to grow women's hockey. Renata will be playing this weekend at the Dream Gap Tour's Chicago stop, and you can watch along live on or through the CBC Gem App.
This week, we're doing something new. We're going to start off our interview with Renata with rapid-fire questions and then go from there. Let's get to it.
Lexie, at The GIST (TG): Okay, first off, who's winning the Stanley Cup this year?
Renata Fast (RF): Toronto Maple Leafs are going to win! And Auston Matthews will win M.V.P. (aka the Conn Smythe Trophy)

TG: The Tokyo 2020 Summer Olympics are coming up…which athletes or teams are you most looking forward to watching?
RF: Oooh...I love watching beach volleyball. You have to be so athletic and it's so fun. Plus our Canadians' Melissa Humana-Paredes () and Sarah Pavan are really good.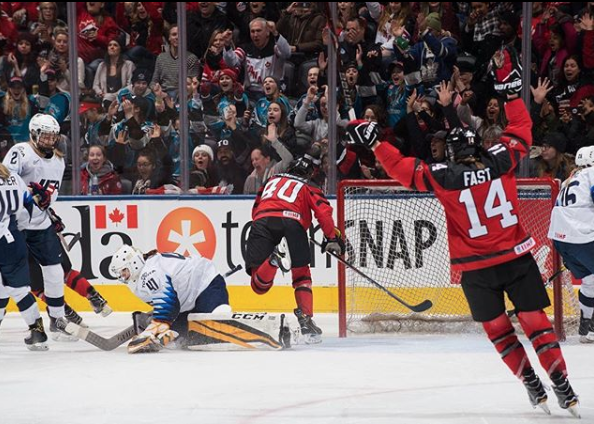 c/o of Renata's Instagram @renatafast
TG: Who's your favourite Team Canada teammate to room with on the road?
RF: Hmm. Geneviève Lacasse is really fun. She always has something to say *Renata laughs.* She might prank you though so you always have to watch out for that.
TG: What's your guilty pleasure?
RF: I'm a chocolate fiend. Plus, just scrolling on Instagram (Editor's note: Honestly same).
TG: What's your favourite workout?
RF: Full body circuit cardio, not too heavy of weights… just something to get the lungs going and a good sweat.
TG: … and your least favourite workout?
RF: Strictly upper body.
TG: Which Harry Potter house are you in?
RF: Hogwarts, for sure…
TG: Wait, what?
RF: OH MY GOSH!!! I meant Gryffindor! That's so embarrassing. I knew something wasn't right as soon as I said it! So embarrassed. Also, my brother tells me I'm in Hufflepuff but he's wrong... (Editor's note: Sounds like something a Hufflepuff would say, but okay!)
TG: How has it been adjusting to a new schedule with the Professional Women's Hockey Players Association (PWHPA), and not having many games on weekends unlike previously with the CWHL? (Editor's note: Except this weekend, as Renata will be playing with the PWHPA in !)
RF: Oh my gosh, yeah, the weirdest part is definitely having free weekends…I haven't had weekends off in forever. With the PWHPA, we practice on Tuesdays and Wednesdays, and we practice with the Canadian national team on Mondays, Wednesdays, and Fridays. And Hockey Canada brings us in for camps or mini-series against the U.S. teams during weekdays, as well. So it's definitely still really busy.
On weekends, I've been doing some appearances and events, but because my weeks are still really busy I mostly just try to take advantage of having time to rest. And I can actually see my (non-hockey) friends for the first time in...ever, which is really awesome and a cool part of being back on a somewhat normal schedule.
(Editor's note: Many female hockey players, and a lot of female athletes, complement their stipend from government funding aka carding with personal sponsorships, appearances, speaking engagements, and running youth camps.)
TG: Okay so, have you always been such a friggin' fast skater and basically one of the world's fittest human beings? (Editor's note: Puns aside, Renata Fast is recognized as one of the fastest skaters in the game!)

RF: *Renata laughs* Okay, skating has always been my strength, yeah. When I was young, I would just skate myself out of trouble instead of working on, say, my stickhandling *Renata chuckles.* Now, obviously, I work on everything because everyone else at this level is a great skater, too. But, I was always a multi-sport athlete, and loved playing soccer growing up. My parents always say they never caught me around the house without a ball or not playing a sport growing up. And my parents were always great and encouraging, they put me in every sport I wanted to play.
I'm a huge advocate for multi-sport athletes. I wouldn't have the success I've had without being involved in multiple sports. So many kids are overdoing it now and burning out from their sport so young. And, for injury prevention, I think it's important to play different sports. I've been fortunate in my career so far that I haven't had any major injuries and I know a lot of that stems from a young age, always doing so many different movements instead of too many of one movement. The position your body is in while playing hockey, just as one example, isn't really natural. So, if you're always just putting your body in one unnatural position, the chances of injury are even higher.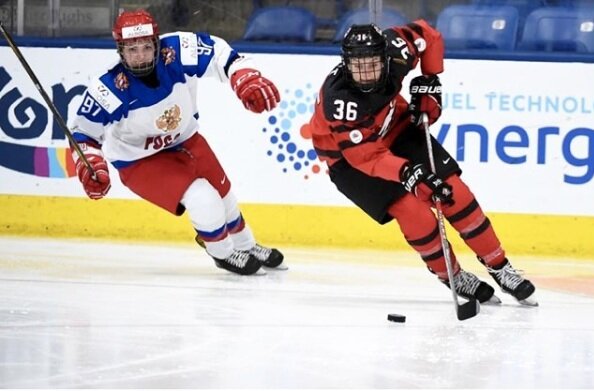 TG: Very very true. Okay, you're a very even-keeled, nice and kind person, but on the ice you tap into a pretty, well, fiery nature, to say it nicely. What gets you fired up?
RF: *Renata laughs* I'd say…hmm… well two things. One, when people play dirty. I know I'm a tough player to play against because I am rough, but I dont think I'm dirty, though I know people might say otherwise, but I just play hard and physical. So, I get fired up when others slash or do sneaky things behind the play. So it just makes me go, "WHAT in the world are you doing?" Oh, and the second is when refs have terrible calls...that's happened a lot over the years. *Renata chuckles*
And, off the ice, I get fired up when people are rude.
TG: Speaking of negativity, have you experienced a lot more of that lately with the ?
RF: It's nothing new, really...
As female athletes, we've had to deal with negativity for a long time. We don't even really pay attention to it anymore. When you're pushing for growth, there will always be people not on board, and trying to pull you down.
But, collectively with #ForTheGame and the PWHPA, there are 200 of us, so we have a good support system. We're all living the day-to-day life of trying to be professional athletes, so people being negative who don't know what we're going through and don't know the barriers we are facing to be professional athletes, they don't matter. We believe in ourselves and know where the game can get to, so we turn a blind eye to those who aren't on board.
TG: There has been a lot of talk about funding for women's national programs (in the last two years, both the and teams separately boycotted their governing bodies). What is the funding and relationship like with your team and Hockey Canada?
RF: I think we're very fortunate to have a solid relationship with the management of Hockey Canada. They're very supportive of the women's game, so any time our players have approached Hockey Canada about our wants, or about what needs to change, they've been super receptive and have tried their hardest to accommodate us. We're fortunate that they've been very reasonable and they treat us well. Similarly with what we're doing with #ForTheGame, we're all behind the U.S. and Swedish women because equality is important. We all hope they can grow their programs as well. It makes us all better.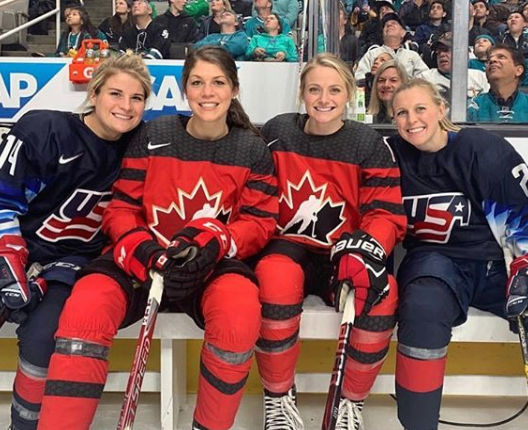 Renata with Brianna Decker (U.S.), Rebecca Johnston (CAN) and Kendall Coyne Schofield (U.S.) at the NHL All-Star Skills Competition
TG: Has this movement, and creation of the PWHPA, changed your relationship with players from other countries, specifically the U.S. women?
RF: It's actually been a really cool experience to be united with some of our biggest rivals. I've always respected my opponents, especially Team USA. I never personally knew many of their players very well, but now through this movement, I've gotten to know them more. We're all trying to push the game in the same direction. There are huge rivalries between us, but coming together is what needed to happen, and is what makes us so powerful. Now when we see each other it's almost like a big family. We're in this together. And also, as players on the Canadian national team, we have different opinions and perspectives as players from U.S.A. or from Finland. Or even those of us who played in the CWHL vs. NWHL. So we have a ton of different experiences in what we've dealt with, and what our background knowledge is in...knowing what's worked, what hasn't, what we need, etc. It's been very cool to hear what or or so many other respected athletes have to say, and to see what everyone brings to the table.
TG: Yeah, that's an awesome, powerful group of people you have together! Okay, now from the inspiring to the embarrassing. What's your most embarrassing moment playing?
RF: At the World Championship this year, we were playing Russia, and it was the very first shift of the game. I got the puck behind our net, and I saw my team was going for a line change. Then, a Russian player pressured me and I hesitated. I was standing still and my ankles just sort of buckled and I dropped to my knees in front of the net. Geneviève Lacasse (goalie) came over and covered the puck and said "okay I got it. It's okay…" (Editor's note: Renata is laughing pretty hard at herself here) But the funniest part...ah...I was so embarrassed coming to the bench thinking, "What's the coach going to say to me? I was supposed to start the game and set the tone for us…" so I was skating to the bench pretty mad at myself, and I looked up and all of the coaches and players were just laughing, so I started laughing, too. Now, it's pretty funny in hindsight.

And that's that on GIST athlete ambassador Renata Fast. Tune in this weekend to catch her and the PWHPA on their Chicago stop of the Dream Gap tour. Then, see her live in Halifax in March 2020 for the Women's World Championship.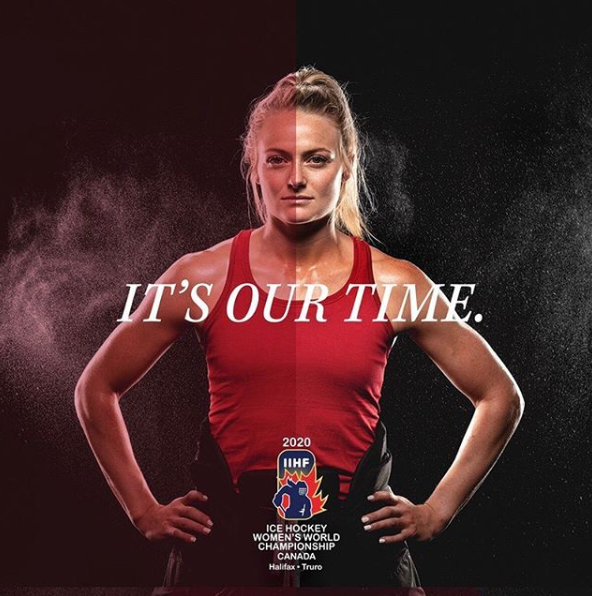 That's #thegistofit
Don't get The GIST's free twice-weekly newsletter yet? Let's .
🏒

Natalie Spooner

March 17, 2020
We're so excited to introduce our newest athlete ambassador *drum roll please* Natalie Spooner!
Natalie truly needs no introduction, but we'll give her one anyway. She's a two-time Olympic medalist, Clarkson Cup (the former Canadian Women's Hockey League Championship trophy) champion, Amazing Race Canada runner-up, and now a competitor on CBC's Battle of The Blades. In Natalie's downtime…just kidding, she doesn't have downtime. Natalie also runs a High Performance Hockey Academy for girls and works to inspire the next generation every damn day.
Let's get to our interview with Natalie:
Lexie at The GIST (TG): You just played in your first showcase games in Toronto. It looked very successful, what was that like to be a part of?
Natalie Spooner (NS): It was awesome! Going into it, I really wasn't too sure what to expect. It came together quickly and there was no precedent for what we were doing. Also, we weren't playing for a trophy, and it wasn't a big playoff game, so I didn't know what the level of intensity was going to be. But all four games were intense, fast, and close. And it was amazing to see all of the fans, and little girls, in the stands in our first showcase.
TG: Was was your favourite or most inspiring interaction from last week's series?

NS: I saw this one little girl who was being interviewed, and she was holding a sign that said, The fact that she was even thinking of that at such a young age was so inspiring, and she wasn't even the only one. There were so many young girls with signs and messages. These young girls have a dream to have a career playing hockey, and we're trying to help pave the path for them to do it.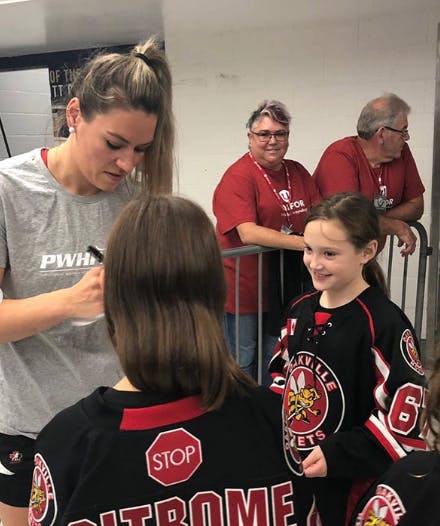 TG: Is anyone getting paid on the Dream Gap Tour?
NS: No. Everyone is volunteering. Players, coaches, game day staff, organizers...everyone. (Editor's note: despite the volunteering, the Professional Women's Hockey Players Association (PWHPA) landed some great sponsors. Although the players aren't paid to play, other aspects of the Dream Gap Tour are covered, including food, transportation, accommodation, ice time and some equipment. Baby steps)
TG: When the Canadian Women's Hockey League (CWHL) officially folded in May, the National Women's Hockey League (NWHL) was a potential option to play in. Instead, you and a group of the best 200 players in the world banned together to not play professional hockey in North America. Why did you opt into the movement?
NS: There's really not one specific answer. When the CWHL folded, we were completely blindsided. Then we collected ourselves and tried to figure out the best way forward. So, as players, we all put our voices together, talked, heard each other out, and collectively made a decision. In women's hockey, being paid a career wage has never been an option. So it was important for us, as people who believe in this sport, to use this opportunity to work toward something that was sustainable, with the resources we would need (Editor's note: meaning work towards having a league that pays more than $2-15k annually and so that women don't have to have another job in addition to playing hockey). We wanted to use this as a step toward building something so that young girls won't have to be in this position we're in now, 10 or 100 years from now. So, we pursued the unknown as one, united voice. Now, we're really optimistic.
TG: As you should be! A lot of hockey players, like yourself, have always used your platforms to be positive, but with the #ForTheGame movement, it's brought in a lot of negativity and, well, trolls. Does that affect you?
NS: No, I try not to let anything like that affect me and bring me down. I believe in the game, how great the players are, and how hard we work.
We work just as hard as any other athlete and deserve to have a league and place to showcase our talents. Everyone is going to have people who don't agree with them when they stand up for something.
And, and at the same time, regardless of how those people are talking about us, they're still talking about us and giving us more exposure, so we'll take that.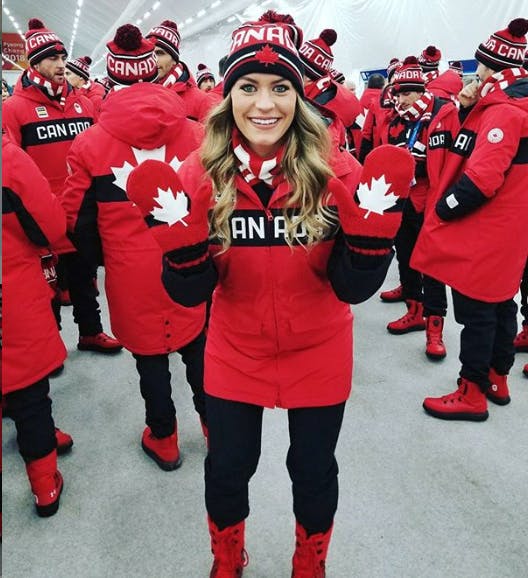 TG: That is a really good perspective to have. Okay, you've accomplished a lot in your career, but what's something you're personally really proud of?
NS: Before the Vancouver 2010 Olympics, I made it to Canada's top 35 players, then was cut before centralization (aka didn't make the team), and that was pretty disappointing. Honestly, it forced me to work harder, and showed me what I needed to do to get to another level to become an Olympian. So I'm proud of learning from that.
But I think, overall, I'm really proud of my efforts to get out and give back in the community, and to start my hockey school. I just try to interact with, and inspire, as many young girls as I can, and give back in that way.
TG: Totally! Speaking of your , what do you usually do or say to inspire young athletes beyond just teaching on-ice skills?
NS: Hockey has the ability to teach you a lot of skills: working hard, overcoming adversity, learning teamwork, communication…but none of that is going to feel rewarding if it's not fun. Hockey is a game, and you're supposed to be enjoying it. So, to keep more young athletes, especially girls, in sports, .
Also, we're now seeing a lot of kids playing only one sport all year long, and they are naturally getting worn out. I think it's important that kids play multiple sports and mix things up, so that when they come back to hockey and it's time to work, they're fully into it. If we teach kids to have fun and enjoy playing sports while working hard, that's when they'll get the most out of it and play their best.
TG: Growing up, you had so many role models of your own, but now you've become a role model for so many. At every game, fans are wearing your jerseys. People are lined up to meet you. What's that like?
NS: Honestly, it's still weird. *Natalie chuckles* I just feel like a regular person and just try to be myself. It's definitely weird, but I just try to do the right thing that sends the right message for kids to look up to. I was fortunate to have some role models growing up who did that for me.
When I was little, I had the opportunity to meet and that was really a turning point for me that sparked my dream, so to think I could be that for another little girl is… well, it's pretty craz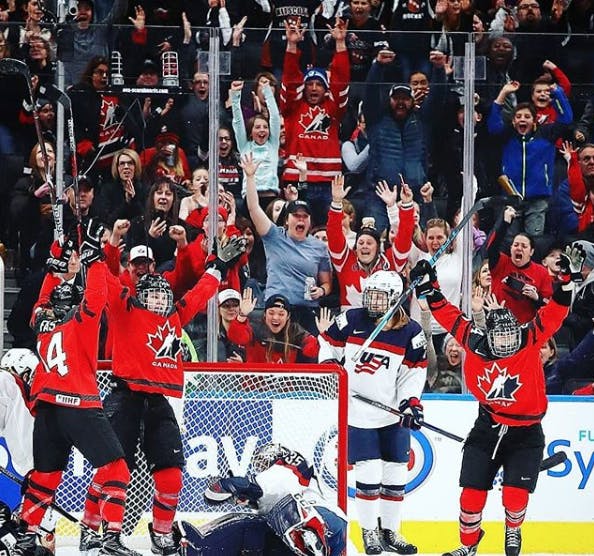 TG: That's really awesome. You're competing on Battle of the Blades as a figure skater, while still training and playing hockey. What has it been like transitioning between the two sports?
NS: It is really tough! At first, with the toe picks, I fell...a lot. My elbows are still bruised from falling. So the transition between the two has been pretty hard. When I go back to playing hockey, I feel like I have no edges. And then I go back to figure skating, I get in trouble because my tendency is to get low, so I'm always being told, "more upright!"
I think figure skaters are amazing skaters, though. The way they carry the weight and feel their edges. As hockey players, we're focused on being fast and powerful and just getting our job done. We never worry about looking pretty or pointing our toes. In figure skating, you have to work to look effortless and graceful.
TG: What is that like as a hockey player to now always be conscientious of how you look while skating?

NS: It's really weird! At first, I wouldn't smile, I wasn't thinking about any of that. Now the more I do it, the more I get used to it. Figure skating is actually a lot of fun, and I have a lot of respect for it.

Editor's note: You can watch Natalie compete on CBC's Battle of the Blades Thursdays at 8pm ET, then vote for her at cbc.ca/battlevote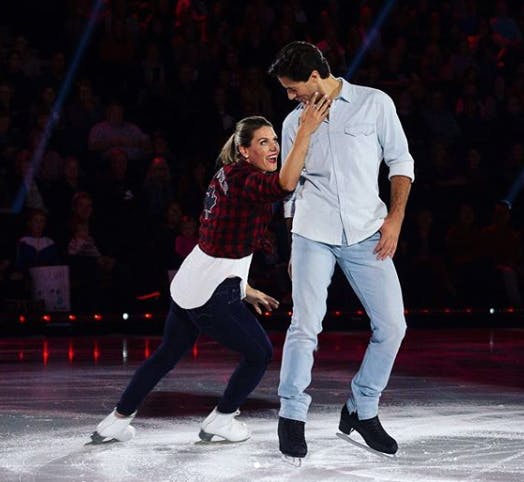 TG: You've been involved with for a few years, can you talk a bit about them and why it's important to you?
NS: Absolutely! I think it was my first year in the CWHL in 2012 when I started helping with HHTH events. It's a really important cause — their goal is to raise awareness and financial support for homelessness. I was really fortunate with the environment and the home I grew up in, but there are many people at-risk or homeless that could use help. So it's great to be part of something important, and the events are just really well-run. Anyone can play, and you get to play with professional female players and ex-NHL players. You're treated like a professional from the moment you walk in the door with the treatment you get. Jerseys, socks, it's all provided.
Anyone can , either as an individual, or as a team, and you just need to fundraise a certain amount of money. There are tournaments all over Canada. It's a really awesome event.
Editor's note: If you're interested in learning more about Hockey Helps The Homeless or getting involved, check out their .
TG: Awesome! Okay, now let's end on some v. fun rapid-fire questions.

TG: What are you binge watching right now?

NS: *Natalie laughs* I honestly don't have time right now! But before I got super busy, I was watching Bachelor In Paradise. I didn't get to finish it, but I watched the spoilers, so I'm good. Oh, and I love 90 Day Fiancé!
TG: Was your love for 90 Day Fiancé inspired by your ?
NS: No! I've really just always loved it!
TG: You love singing! What's your favourite song to sing?

NS: Celine Dion, "My Heart Will Go On"
TG: Audacious, we like it. You can invite any three people to dinner. Who are you inviting, and what are you eating?

NS: Oh, gosh! Okay for sure my grandma. She loved singing, too. The Queen! And I would invite…Ellen (DeGeneres...not The GIST's Ellen lol). We'd eat The Keg's Bleu Cheese Fillet.
TG: What movie can you quote the best?

NS: Pitch Perfect. "I'm doing horizontal running!" *Natalie laughs*
TG: What summer sport are you most looking forward to watching at Tokyo 2020?

NS: I used to swim, so I really like watching swimming. But I'm excited for surfing to be an Olympic sport. That will be cool to watch.
TG: Guilty pleasur-

NS: Chocolate covered almonds. Hands down. (Editor's note: Natalie confidently answered what her guilty pleasure is before the question was fully asked)

TG: Do you have a motto or mantra?

NS: Before I go on the ice I always tell myself to be unstoppable.
That's #thegistofit
Don't get The GIST's free twice-weekly newsletter yet? Let's make it inbox official.
🏒

Aimee Deziel

March 13, 2020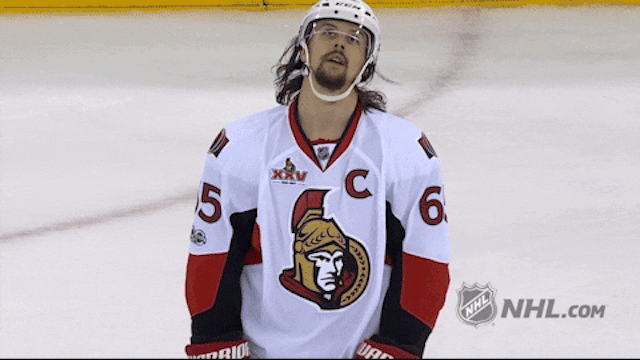 In August 2018, Aimee Deziel stepped into what many call 'the hardest job in Ottawa' as the Chief Marketing Officer (CMO) of the Ottawa Senators (although to be fair… we think the hardest job is probably held by Justin Trudeau).
Why is this job so difficult? Because after making it all the way to the Conference Finals in the 2016-17 season, the Sens had a disappointing 2017-18 season and 2018-19 hasn't been much better. There have been issues with the Sens owner and management, drama amongst players and their wives, and some big trades. Most notably, this September they traded away the best defenceman that had ever graced their ice. Needless to say Sens fans have been feeling frustrated. And rightly so.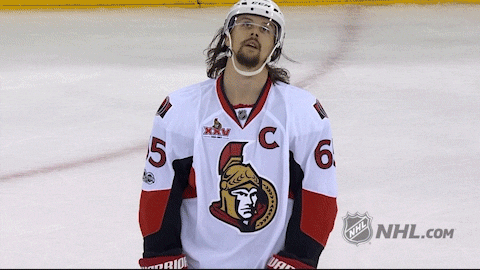 Although things haven't been looking great on the ice this season (the Sens are currently last in the Eastern Conference… welp), things are looking up in the back office. Cue Aimee. Aimee as CMO is refreshing AF. First off, she's a woman. Less than 5% of executives in pro sports are women, so this is a BFD. Next, she doesn't have a classic hockey bro background. She's a fan just like you and me. So, she truly understands Sens fans and is 110% committed to turning the franchise around. Deziel is a fireball of energy, chutzpah, and will certainly not tolerate any BS.
Earlier this month, The GIST had the pleasure of sitting down with Aimee for an interview to help spotlight women in the Sens organization. We asked Aimee about everything from the influence of sports in her life growing up to how she handles marketing after scandals like the, um, Uber situation, to if she prefers Justin Bieber or Shawn Mendes. Let's get to know Aimee.
Growing Up
Aimee grew up in Windsor, Ontario and like everyone in that area, was torn between supporting the Toronto Maple Leafs or the Detroit Red Wings. As much as Aimee loved playing sports as a kid, she never played team sports as she felt "too much responsibility for her teammates and that kind of stressed her out." Still, she participated in individual sports as a competitive gymnast and an avid runner (she's still super active and can be found snowboarding, at the gym, playing tennis and well, still running). And, her love of these sports has never faded. As a tennis fan, she used to have annual tickets to the US Open (the dream). Her faves to watch are Danish Caroline Wozniacki and Milos Raonic.
Aimee (right) after a gymnastics competition.
Moving to the Capital City
After growing up in Windsor, Aimee made her way to Ottawa to pursue an International Business degree at Carleton University. Having grown up in a bilingual household (English and French), languages came naturally to her, making International Business a natural fit. She took the gamut of business classes but what really clicked with her was marketing. It became abundantly clear that that's what she was going to go into after school.
This is where things start to get exciting and where Aimee's drive and get-sh!t-done attitude start to shine through. As soon as she graduated, she started hunting down marketing agencies that she wanted to work for.
"I literally walked into the offices of an up-and-coming agency called Acme Advertising and said: "You don't need to pay me - I'll literally empty garbages and run errands.' But what I knew was that if I was in their face, and made an impression, I would get a job."
That's exactly what happened. Aimee not only got the job, but ended up being assigned one of the agency's largest accounts - the National Gallery of Canada. Damn girl, get it. But that's not all. While working at her next gig, Thornley Fallis Communications, Aimee noticed that there was an opportunity to capitalize on the internet and digital media, rather than rely on the traditional communication channels within the company. The company had a small creative team called 76design, which was struggling to establish itself. So, she approached her boss and said, "give me six months and let me see what I can do to grow this segment of the business."
Five years later, Aimee was leaving the company after profitably growing the digital media division to over 25 people, surpassing the size of the traditional communications side!
Next Step in Her Career
From there, Aimee was ready for a new challenge. She went on to work for a consumer-facing, domain-holding company, based out of the Barbados (honestly could use a trip to the Barbados right now) called Rebel.com. She started as the company's CMO. However, given her prior experience, she felt like she had marketing "pretty well-licked" so moved on to work in other areas of the business to get a more well-rounded business experience. With stops in the company's finance department, business development, and human resources department, Aimee finally went on to become the Chief Operating Officer. With the breadth of learning from working in these different areas of the business, Aimee felt she had effectively given herself an MBA.
Aimee's biggest piece of career advice is to work in fields that you are curious about. She learned enough to know when someone was "bullsh!tting" (again… no BS taken here) her and should be challenged, and honed her leadership experiences along the way.
What Brought Her to the Sens
That's how it all ties back to the Sens organization. It was new COO Neic Ruszkowski, who Aimee first met while working at 76design who brought up the opportunity for the CMO gig with the Sens and she was really intrigued. When we started talking about the Sens during the interview, you could sense the energy and passion Aimee has for this team. She had a glimmer in her eye, started speaking faster, and had this infectious aura of excitement about her.
Aimee totally recognizes that "they're not the most high-profile team and they're not the best team in the league right now." BUT she's confident that will change. Despite growing up in Windsor, she considers Ottawa her hometown, and thinks that Ottawa - both the city and the team - has never fully received the credit it deserves. It's squished between two Original Six teams, the Toronto Maple Leafs and the Montreal Canadiens, and is a "young" team in comparison (The Sens were just founded in 1992). However, the city is beautiful, is complete with amazing people and history, and full of avid and extremely passionate hockey fans.
One of our favourite things Aimee said was on the potential and likability of this young team:
"We deserve to have a little bit of swagger and we don't have any right now in my opinion. And I think that's changing, but this is a city that deserves it. Toronto just gets to lay claim to their history and their success, but because we're new, we don't get to do that? I don't buy that."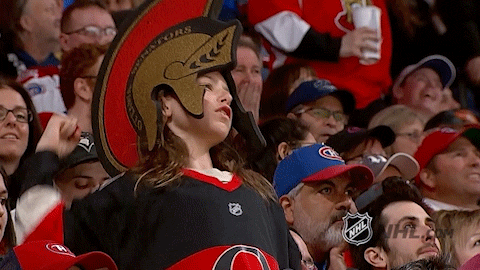 The Ottawa Senators aren't owned by a massive corporation. The franchise was bootstrapped together. People wanted to bring the NHL experience to Ottawa, and Aimee believes it's a privilege to be able to bring the beautiful game to the city of Ottawa. Day in and day out, the players go out there and play for their city and their fans, and they deserve to know that they have a loyal fanbase behind them. As Aimee put it "look, I love this team a whole lot, and Ottawa deserves to be proud of it."
What She Does as a CMO
Aimee's day-to-day is always different. There are two seasons for her: in-season, where the focus is on fan engagement, membership season where it's time to thank their season seat members and secure their support for the next season, and off-season, which involves planning for the in-season. Most days, much of her time is spent on strategy and meetings. The strategy is, for the most part, divided into five areas: branding, fan experience (in and outside the arena), community engagement (things like getting the Sens players out into the community), traditional and digital marketing, as well as sales. At the same time, some days she finds herself on the ground, doing things like rolling player posters for an event. It's all hands on deck, including Aimee's, when something calls for it.
In 2019, Aimee's major focus is on the Sens' branding. Right now, she's not convinced that there is one clear brand direction for the Sens… that if someone were to describe the Sens in three words, every single person would have a different descriptor. And, as a marketing guru (our words, not Aimee's), she knows that needs to change. She's working hard on answering the questions: "What is the brand identity and the brand personality of the Sens? And how does that transcend from the top of the organization to the day-to-day fan?"
Her Take on Women in the Hockey World
Aimee doesn't have a hockey background and she often finds herself being one of the only women in the room. But, she doesn't let this faze her. She "strongly believes that being a fan makes her incredibly qualified to deliver an experience to others." Sound familiar, GISTers?
Unlike those that have grown their careers in the hockey world she has grown up a fan and totally gets all the emotion of the fan experience. She understands different fan profiles and what motivates them to go to a game. Her role is not in the management of a team or selecting players... her job is to help Ottawa fall in love with the team again.
To that end, Aimee thinks that sometimes we can get "caught up" in gender, or being the only woman in the room. Women working in sports isn't a new or particularly novel phenomenon. At least on the business side, the industry is fairly progressive when it comes to hiring for knowledge and experience regardless of gender.
We should point out that of the eight directors that report to Aimee, four are women, and she's hired three of those four since she's been at the marketing helm. Outside of gender diversity, she thinks that all types of diversity - from race, to religion, to age or socioeconomic background - will lead to a stronger Sens organization (and any business). "Our organization should be reflective of the community we live in. Appealing to a diverse audience is the key to growing the fan base."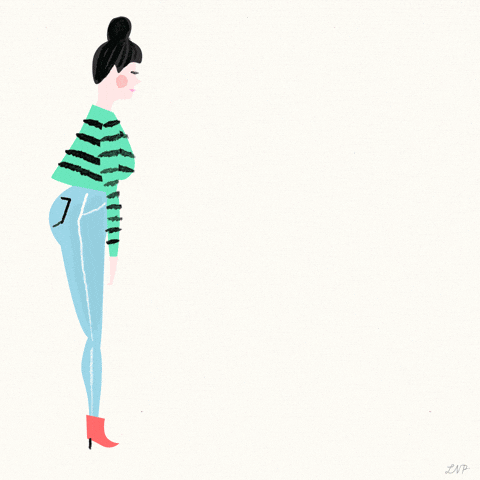 Questions from our GISTers
We opened some interview questions up to our community of GISTfluencers (those that have three friends and more to our ) and they hit Aimee with some hard questions about the downtown arena, how you bounce back from trading a franchise player like Erik Karlsson and the Uber situation.
Downtown Arena
The Sens are one of only three teams in the NHL that don't have an arena downtown and it's been a serious point of contention for Sens fans. We're happy to report some good news: the Sens are "committed and motivated to finding a solution to the downtown arena." It's a nuanced situation and there are a lot of factors at play, so it's more of a five-year proposition.
In the meantime, Aimee says it's her job to make the current arena experience the best thing possible for Sens fans AND to develop a team and brand personality that deserve a downtown arena. Aimee doesn't think the Sens are quite there yet.
Uber Fiasco & Trading Karlsson
For Aimee, she explained that she has to focus on what she can control. Both trading Karlsson (which happened before Aimee started) and the Uber fiasco (click to see), were out of her control. However, she did say (and we totally agree) that the Uber thing was blown out of proportion. At the end of the day, it was a group of hockey players in a car talking about hockey. It's great to see them engaged and talking about hockey. And yes, they smack-talked their coach, but to Aimee's point, haven't we all sh!t-talked our bosses at one time or another? Of course we have.
How to Engage New Fans
Instead of focusing on the stuff she can't control or doing reconn, she's focusing on the fans. The Sens have seen over 12% annual growth in seat sales for their casual fans, showing that she's doing something right. She is determined to find a way to have people opt to go to a Sens game instead of going out to dinner, to a bar
Aimee and her team are also focusing on how they can engage all types of fans, including women and those new to Canada as well as younger fans. Her team is reevaluating how they leverage socials like Instagram and Snapchat and are looking into communicating with younger fans through messenger and SMS. For these new(er) fan groups, they're finding ways for non-hockey players to grow into huge fans. As Aimee put it:
"I've never played a game of hockey in my entire life but I am a HUGE fan. We're really trying to create that fandom and that tribe around hockey, which includes all types of fans."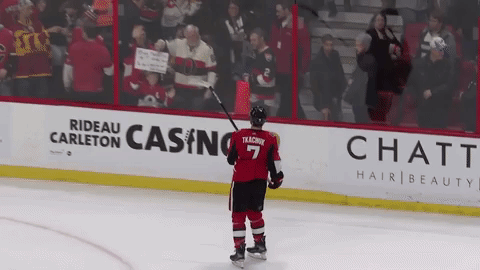 The Fun Stuff
To finish, we did a set of rapid fire questions with Aimee where she only had 10 seconds to answer each question. Here we go:
Ottawa O, classic "centurion" or something new?
Something new (potentially foreshadowing something to come, Sens fans!)
We know that you run a charity that improves access to essential vet care for pets of economically disadvantaged owners…and that the Sens are also training Rookie the guide dog... so this might be a hard hitting question: Cats or dogs?
Dogs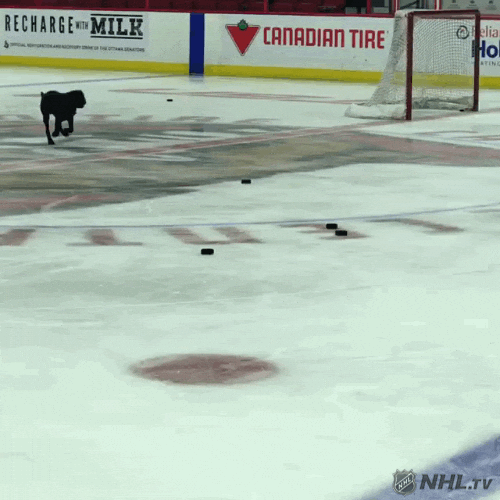 You used to work in baseball… so do you think the Blue Jays will make the playoffs this year?
Yes (wishful thinking that we appreciate, but editor's note: this is v unlikely)
Justin Bieber or Shawn Mendes?
Shawn Mendes
Shania Twain or Alessia Cara?
Alessia Cara
Do you think Ottawa will ever get a CWHL (Canadian Women's Hockey League) team?
No
Who wins the Stanley Cup this year?
Tampa Bay Lightning
Aimee had nothing but great things to say, not only about the Tampa team, but also the organization. She gave kudos to the entire team and even admitted she's got a career crush.
So Sens fans, as much as things might be bleak right now, there's a light at the end of the tunnel. There are some fresh faces (including Aimee's) that are committed to challenging the status quo and getting the organization back on its feet. Yes, there's going to be a rebuild, but as the saying goes, patience grasshopper.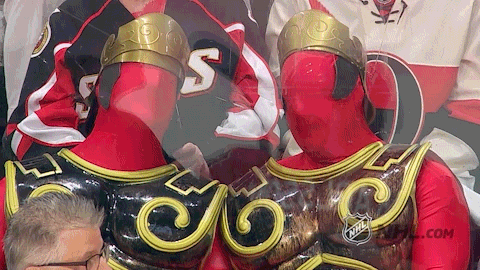 For those of you that aren't Sens fans but are looking to get more into the sports or hockey industry, we think Aimee is a great inspiration. She's taking something a lot of people would find a disadvantage - little experience in the sports world - and turning it into a massive positive. She's embraced how being a true fan of the game actually helps her fully understand fans and provide the fans with what they're looking for. That perspective in this "old man's club" sports world is incredibly refreshing.
That's #thegistofit
Don't get The GIST's free twice-weekly newsletter yet? Let's .
🏒

Sicko mode

March 09, 2020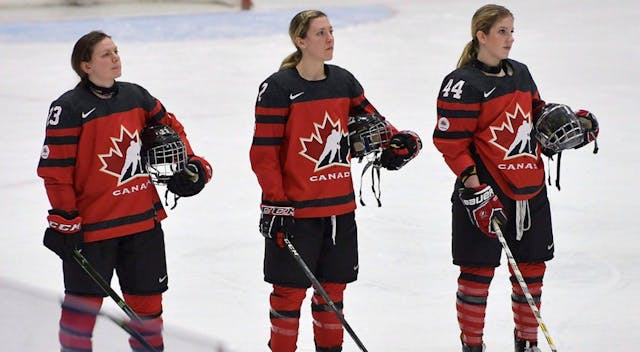 The GIST: COVID-19 continues to have an impact on the sports world, and this weekend, it took out one of its first major international events: the IIHF Women's World Championship.
No way! Why?: The tournament, which features the top national women's hockey teams from around the world, was set to take place from March 31st to April 10th in Halifax and Truro, Nova Scotia. Though Canada hasn't seen a huge spread of the virus like in other countries, the event organizers decided not to risk it and cancelled the tournament with less than a month to go before puck drop.
This isn't the first time this tournament has been cancelled: the Beijing-hosted 2003 event was cancelled due to the SARS outbreak. The IIHF has said that, pending IIHF Congress approval, the 2021 tournament will be held in Halifax and Truro.
Brutal! How are the North American professional leagues dealing?: The NHL will continue to play games with fans in attendance for the foreseeable future and have a contingency plan (which could affect playoffs) to roll out if needed. They've asked players to limit contact with fans and are considering closing locker rooms to the media, which, TBH, players are probably happy about anyway.
Meanwhile, the NBA will decide by end of day tomorrow what their plan will be in the event of a pandemic (though we already know LeBron's plans). And while the NFL is currently in the off-season, the NFL Draft, set for April 23rd to 25th in Las Vegas, will go on, in spite of predicting a significant decrease in the expected 750,000-person crowd.
Yikes. Anything else?: A few more cancellations (you can find a running list here), including the alpine skiing World Cup finals in Northern Italy, where American skiing queen Mikaela Shiffrin was supposed to make a return after missing a month, and the Arctic Winter Games, which were scheduled to start on March 15th and feature over 2,000 international athletes.
The Summer Olympics are still a go (for now, anyway) but the torch lighting ceremony, which will bring the Olympic flame from Athens, Greece, to Tokyo, Japan, has been downsized. We're really hoping, for so many reasons, that the Games remain unaffected. There are still four months to go, so wash your hands and cross your fingers!
🏒

A little bit more

February 20, 2020
Hockey: We love International Women's Day. And this year, March 8th can't come soon enough. Why? Because for the first time ever, an NHL game will be broadcast and produced by an all-female crew, including Team USA speed-demon Kendall Coyne Schofield serving as the "Inside the Glass" announcer.
This is a huge step in the right direction, but there are still rumblings online that this is a PR stunt. Is it? Maybe. But will it encourage more permanent female producers and broadcasters? You bet your bottom dollar.
NCAAWBB: No. 2 Baylor's 77–62 victory over Texas Tech on Tuesday marked their 17th win in a row, but the victory helped head coach Kim Mulkey hit an even bigger milestone: Mulkey made Division I history by becoming the fastest coach, man or woman, to reach 600 wins! Mulkey has seven Big 12 Coach of the Year awards and has led Baylor to three national titles, 10 Big 12 titles and 19 March Madness tournaments over the past 20 seasons. What, like it's hard?
NCAA Softball: Amidst all the baseball drama, we were remiss to mention that the women's college softball St. Pete Clearwater Invitational 16-team tournament, which kicks off the season, ended on Sunday. To no one's surprise, the defending national champs, UCLA, knocked off three Top 25 teams to improve to 11-0 on the season. Now that's perfection! You can find the whole DI schedule here.
DAYTONA 500: Although NASCAR isn't always in our repertoire, the Daytona 500 is a BFD. And during the final lap of Monday's race (after it was delayed a day due to rain) top racer Ryan Newman was involved in a terrifying crash and admitted to hospital. Despite the horrible crash, Newman was released from the hospital after just two days (!!!) and was seen walking out with his two daughters. Wishing him a speedy recovery...but maybe less speed on the track for a little bit!