🏀
⚽
🏒
D.C.: Wizards overtime win
May 10, 2021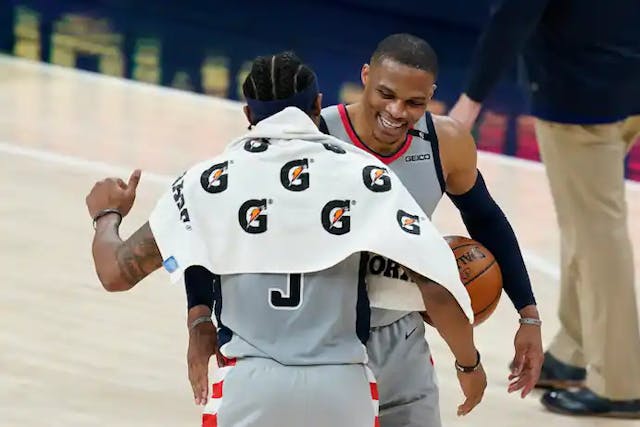 Source: Darron Cummings/AP
🏀Wizards: The Wizards, and more specifically Russell Westbrook, are too hot to handle. Westbrook was a man on a mission in the Wizards' overtime win over the Indiana Pacers on Saturday, helping the Wiz climb to ninth in the Eastern Conference with the and earning his 181st career to tie the NBA record. Bam.
🏒Capitals: The Caps picked up an overtime win of their own on Saturday, securing the in the East Division in the process. They close out the regular season tomorrow at 7 p.m. ET against the Boston Bruins, who could be the Caps' first-round playoff opponent.
🎓⚽️College soccer: Speaking of women's soccer, the unseeded UVA team knocked off No. 4 Texas Christian (TCU) 1–0 in yesterday's quarterfinals, with defender Lizzy Sieracki scoring her first goal of the season. Perfect timing.
As for the men, reigning champ Georgetown takes on Marshall in the quarterfinals today at 1 p.m. ET. Hoya — and we can't stress this enough — Saxa!
🏀
⚾
🏒
Boston: Celtics struggle
May 10, 2021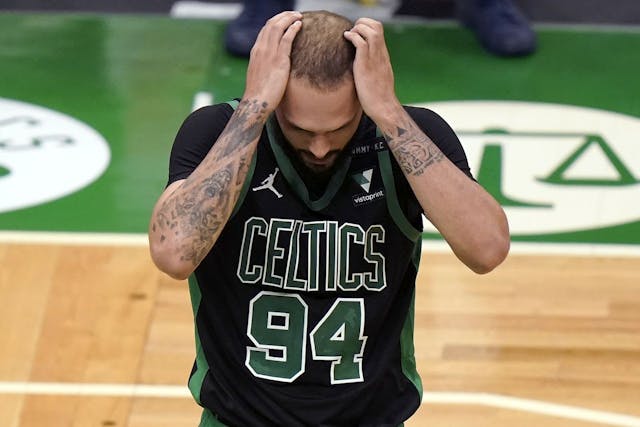 Source: Steven Senne/AP Photo
🏀Celtics: , and a late season Celtics' collapse... there's nothing like May in Boston. Despite a breakout 30-point performance from Evan Fournier, the C's fell 130–124 to the Miami Heat yesterday, slipping to in the process. Ugh.
Luckily, the C's will have another crack at sixth-place Miami tomorrow at 7:30 p.m. ET. With only four games remaining in the regular season, it's time to blossom, boys.
🏒Bruins: The already clinched a playoff spot and now it's just a matter of where they'll be seeded. A win or OT loss in tonight's 7 p.m. ET tilt with the NY Islanders would lock up the third seed. If that happens, Tuesday's 7 p.m. ET matchup with the Washington Capitals would be a preview of the B's first-round series. Spicy.
⚾️Red Sox: The best team in baseball? . The Pink Sox continued to roll this weekend, securing the series win with a 4–3 victory over the Baltimore Orioles yesterday. Pitcher Martín Pérez will try to lead Boston to the sweep tonight at 7:05 p.m. ET. Getcha brooms ready.
🏒
🏀
⚾
Dallas: Mavericks win streak
May 10, 2021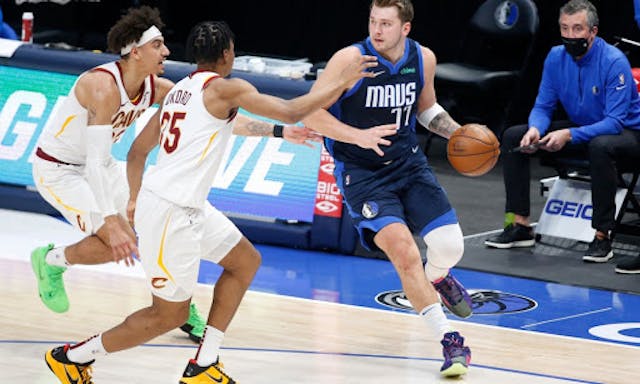 Source: USATSI
🏀Mavericks: After clinching their first in 10 years on Friday, the Mavs picked up their fourth straight win yesterday with a 124–97 dub over the Cleveland Cavaliers. What a weekend. And, while from yesterday's game, Luka Doncic gifted us with this on Friday. He has our hearts.
⚾️Rangers: After sustaining a quad strain during spring training, designated hitter Khris Davis made his regular season Rangers debut on Saturday, and since then, the Rangers are 2-0 including a 10–2 win yesterday over the Seattle Mariners. Coincidence? We think not.
🏒Stars: Well, it was fun while it lasted. After last year's Stanley Cup finals run, the Stars were officially eliminated from playoff contention over the weekend. You'll have one last chance to see the 2021 Stars in action when they take on Chicago tonight at 8 p.m. ET/7 p.m. CT. After that, we'll be drowning our sorrows in wine replays from the 2020 title run. No shame.
⚽
⚾
🏒
The GIST's Quick Hits - US (May 6, 2021)
May 06, 2021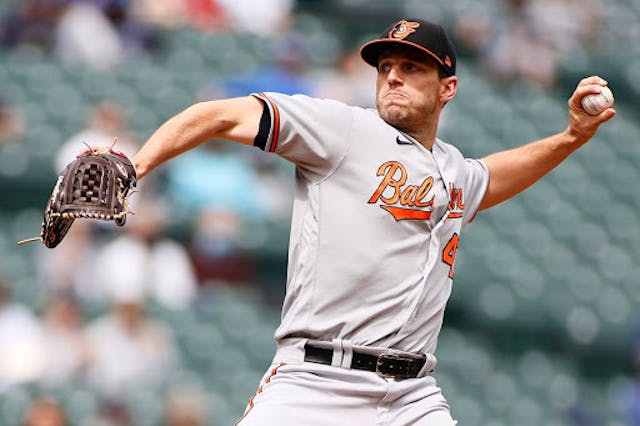 Source: Bleacher Report/Twitter
⚾️Baseball: The hurlers are proving the haters wrong. Following up LA Angels pitcher Shohei Ohtani's incredible , Tuesday saw Atlanta pitcher Huascar Ynoa become the first pitcher to since 2018. Go off.
🏒Hockey: Here's a doozy: On Monday, Washington Capitals right winger Tom Wilson who has a and subsequent disciplinary action — acted severely outside traditional hockey violence boundaries and , injuring him. Wilson was only issued a slap on the wrist $5,000 fine. Um, WTF?
In response, the Rangers put out calling for the firing of the NHL's head of player safety on Tuesday. But on Wednesday, the Rangers made their own firing, with their president and general manager. Didn't see that coming.
⚾️(Minor League) Baseball: Following last year's COVID-19 cancellation, Minor League Baseball (MiLB) returned on Tuesday, 595 days after the last season ended. Highlights from Opening Day include Tampa Bay Rays prospect (and the ) Wander Franco going 3-for-5 in his Triple-A debut, including . What a welcome.
⚽️Soccer Football: USMNT forward Christian Pulisic continues to shine across the pond. His in yesterday's Champions League semifinal helped lift Chelsea to a 2–0 win (3–2 ) over Real (pronounced REY-al) Madrid. Chelsea is the to send their women's and men's teams to a Champs League final in the same season. Bloody cool.
🏀
🏒
D.C.: A lot more than five for fighting
May 06, 2021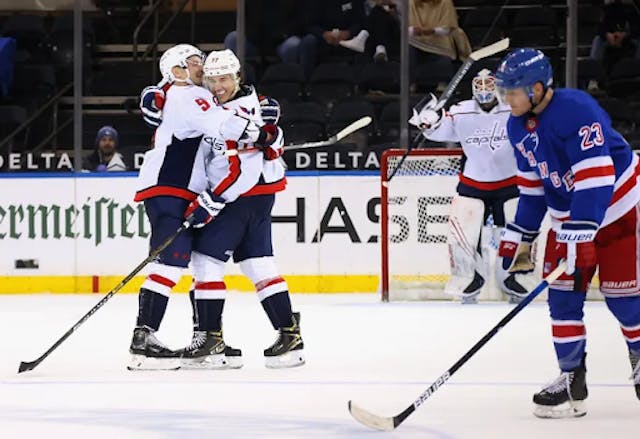 Source: Bruce Bennett, Pool Photos/USA TODAY Sports
🏒Capitals: Capital Tom Wilson's actions in Monday's game led to the chippiness in yesterday's rematch with the New York Rangers. and Wilson with a supposed upper-body injury.
What's next: The postseason. But we still have a lot of questions heading into it. Will captain Alex Ovechkin be healthy? He didn't play last night and left Monday's contest after playing just one shift. Not good.
🏀Wizards: Over on the hardwood, the Wizards lost a tough 135–134 battle to the Milwaukee Bucks last night, making tonight's 7:30 p.m. ET matchup with the Toronto Raptors even more crucial.
The Wiz are one spot ahead of the Raps in the Eastern Conference standings, and both teams are scrambling to grab the . It's showtime.