English women's soccer ecosystem sees "halo effect" following Women's Euro win
August 05, 2022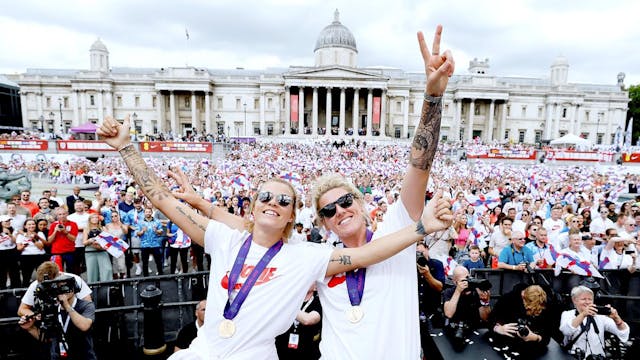 SOURCE: LYNNE CAMERON - THE FA/THE FA VIA GETTY IMAGES
The GIST: The Women's Euro halo effect continues. England's women's soccer ecosystem is reaping the rewards of the national team's tournament win, and power brokers may be planning to shake up the status quo to pounce on the opportunity. Lioness-hearted, indeed.
The balance sheet: As it predicted, UEFA will suffer a loss for this year's Euro despite the organization earning a projected $60.9 million in sponsorship revenue after opting to sell inventory for women's and men's events separately. The European governing body expects revenue figures to increase for future tourneys.
The ripple effect: But the revenue — and champagne — is still flowing. The Lionesses will play to a sold-out Wembley Stadium again on October 7th when it hosts the USWNT. Tickets to the friendly went on sale Tuesday and all 87K were claimed within 24 hours, making it the fastest sellout of a women's match outside of a major event. Literally here today, gone tomorrow.
The rising tide is also lifting the Women's Super League (WSL), whose season kicks off next month. Nine clubs are reporting an uptick in match and season ticket sales. Manchester City — which boasts Euro final hero Chloe Kelly on its roster — said its season ticket count has doubled to sit at an all-time high.
The restructure: The post-Euro hype could accelerate the WSL's eventual break from the Football Association (FA), English soccer's governing body that runs the league. Per a Tuesday report, a majority of WSL clubs want an independent chief executive appointed, as they fear the FA will be too slow to capitalize on the current momentum.
They may have a point. The FA only charged adults a shocking $12 for the aforementioned England–USWNT match, netting a mere $600K in revenue, and the body decided to forego a bid to host the 2027 or 2031 Women's World Cup in lieu of focusing on the 2028 men's Euro. *rolls eyes*
The matter is an urgent one for the WSL. The league's three-year broadcast deal with Sky and the BBC expires in 2024, and clubs are hoping a business-oriented exec can significantly top the current $18.2 million annual package.
Zooming out: Many women's sports entities were created with backing from either a men's sports counterpart or a governing body. And several, like the WNBA, excelled in that model. But if the WSL's ambitious split succeeds, it could recalibrate perceptions on thriving business models for women's sports.
Hybrid models are emerging, too. The NWSL launched in 2012 under the U.S. Soccer Federation's (USSF) leadership, and the two still have a formal partnership. The USSF, though, stopped managing the league early last year. Watch this space.