NWSL: An exclusive with commissioner Jessica Berman
April 29, 2022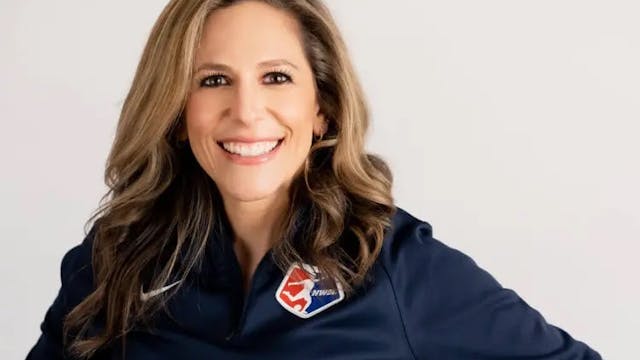 NWSL
The GIST: The NWSL regular season kicks off today under new leadership. Veteran sports exec Jessica Berman officially took over as commissioner last week, and outlined her vision for the NWSL in an exclusive chat with The GIST.
Top of mind for Berman? Maximizing the league's potential to be "the embodiment of the intersection of purpose and profit."
The business case: One of Berman's first endeavors will be pitching the NWSL to new commercial partners, doing so by promoting the league's quantitative and qualitative strengths. "Our value proposition [is] in the way that our fans engage, in the demographics of who our fans are [and] in the way that they show up to support the league," she said.
Berman said brands are already showing interest. "The number of inbounds that I've received in the last six weeks has been staggering," she said. "All of those factors are not unnoticed in the marketplace right now."
The media deals: The NWSL's flashiest data point might be its recent TV wins. Audiences of 456K and 368K tuned in to CBS for Challenge Cup group play, outperforming several MLS games this year. Berman said the numbers showcase "a level of consistency that has allowed for that eye-popping number to not be thought of as a one-off."
Those numbers will influence future rights conversations — the league's international broadcast deal with Twitch expires at the end of 2022, and its domestic agreement with CBS is up at the end of 2023.
The qualitative argument: Berman frames investing in the NWSL as meeting the cultural moment. "These athletes have really transcended not just women's sports or the sports ecosystem, but the mainstream narrative," she said. "They've become symbols, I would say, of the times in which we are living."
For Berman, there's no time like the present for the NWSL. She believes "that all the ingredients are now present, culturally, to embrace a future state of women's sport."
Zooming out: Realizing the NWSL's financial potential is just one piece in correcting the league's course. The 2021 season exposed a string of abuses by coaches and failures by higher-ups to protect players. Berman notes that a top task is ensuring "the players have confidence in the league's professionalism and operational rigor."
All of Berman's actions will be in service of her main goal — to change the narrative on the NWSL, saying "I think there is an opportunity to rethink the potential of this league."