May 25, 2021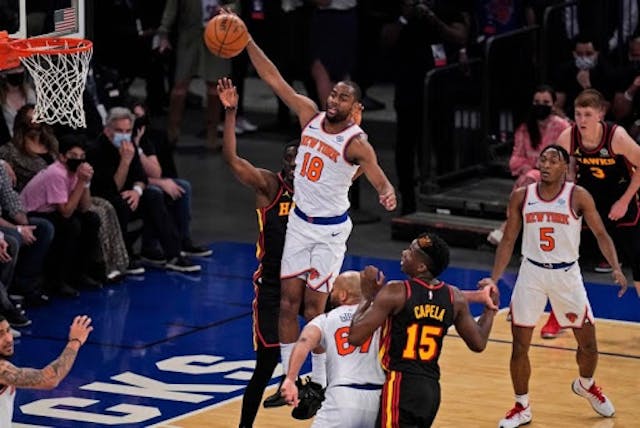 Source: AP Photo/Seth Wenig
🏀Knicks: The Knicks lost Game 1 to the Atlanta Hawks yesterday, falling in a game that kept us on the edge of our seats. The fans in Madison Square Garden started the night by booing Trae Young, who went on to score 32 points, including the of the game. Were the jeers worth it? We're not so sure.
The highlight? A healthy Alec Burks, who led the team with 27 points to keep New York in the game, as the usual high-scoring duo of Julius Randle and RJ Barrett combined for just 29. One game down, four wins to go. Catch Game 2 on Wednesday at 7:30 p.m. ET.
🏀Nets: The Nets beat the Boston Celtics 104–93 in on Saturday. Though the Nets' offense started out slow, the Big 3 stepped it up in the second half: Kevin Durant ended the game with 32 points, while Kyrie Irving added 29 and James Harden scored 21. HYFR. After that warm up win, we can't wait for Game 2 tomorrow at 7:30 p.m. ET.
🏒Islanders: After a close Game 3 loss on Thursday, the Islanders tied up the series with a dominant over the Pittsburgh Penguins on Saturday. The Isles scored first and controlled the rest of the game with their pace and style. They also had some cheering them on at the Coliseum. Hilarious.
🔢Box scores: ⚾️ Yankees won yesterday to complete their sweep of the Chicago White Sox; ⚾️ Mets lost to the Miami Marlins yesterday; 🏀 Liberty beat the Chicago Sky yesterday; ⚽️ Gotham FC drew with the Chicago Red Stars on Saturday.