Jayson Tatum continues to dazzle
April 19, 2021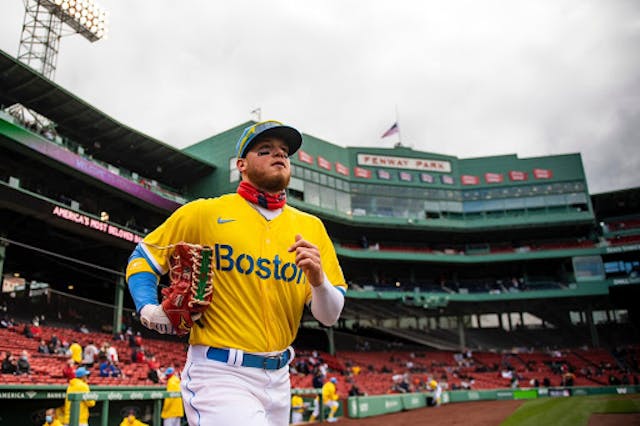 Source: Red Sox/Twitter
⚾️Red Sox: While the Red Sox looked stylish in their during Saturday's win, they couldn't keep the good times rolling, dropping both games to the Chicago White Sox in their doubleheader yesterday. Womp.
🏀Celtics: Jayson Tatum continues to dazzle, capturing the 119–114 win and on Saturday with a 44-point performance against the Golden State Warriors. Now the C's will go for their seventh straight win, taking on former Celtic Daniel Theis and the Chicago Bulls tonight at 7:30 p.m. ET.
🏒Bruins: The B's picked up their fourth consecutive win with a 6–3 victory over the Washington Capitals yesterday. Next up, the Bruins will hit the road and take on the Buffalo Sabres tomorrow at 6:30 p.m. ET, the first of three games against Taylor Hall's former squad. Here's to a successful homecoming for , Hallsy.
⚽️Revolution: Behind goals from Adam Buksa and Gustavo Bou, the Revs grabbed a point in Saturday's season opener, playing to a 2–2 draw with Chicago Fire FC. We're counting down the days 'til New England's home opener — this Saturday at 8 p.m. ET against conference rival D.C. United. See you in Foxborough!