The Baylor women's head coach is leaving for LSU
April 26, 2021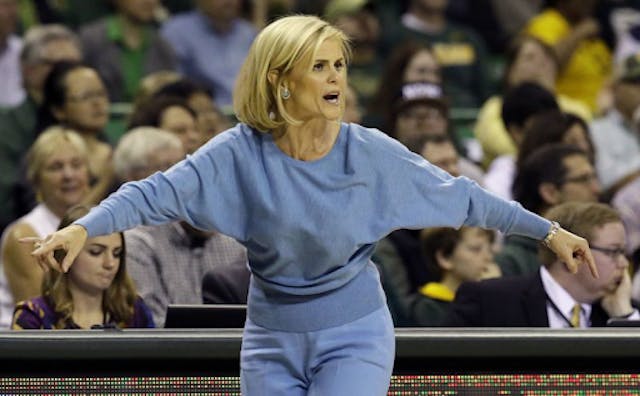 Source: LM Otero/AP
🏀Basketball: Louisiana native Kim Mulkey is heading home. The Baylor women's head coach is after 21 seasons and three NCAA championships. Mulkey turned Baylor from a team who had never made March Madness into a team that missed it only once in two decades, and since LSU hasn't advanced past the first round since 2014, we're likely in for some similar magic.
⚽️Soccer: The NWSL Challenge Cup group stage is still underway, but Portland Thorns FC have already clinched their spot in the final. The Thorns won all three of their matches so far, and since no other team in the West division can catch them, they'll play in the May 8th final against whoever wins the East...which could be determined by tomorrow.
Gotham FC are currently leading the East, and could clinch if the North Carolina Courage lose to Racing Louisville FC at 6 p.m. ET today, and if they beat the Washington Spirit tomorrow at 7 p.m. ET.
⚽️SoccerFootball: Switching gears to the of the UEFA Women's Champions League semifinals, American Alana Cook for Paris St-Germain (PSG) in the team's 1–1 draw against FC Barcelona yesterday, while Bayern Munich beat Chelsea FC 2–1 in the other matchup. The second leg is set for Sunday, so follow along .
💪UFC: Though much of this weekend's UFC 261 hoopla centered around Chris Weidman's awful leg injury (if you haven't seen it already, ), "Thug Rose" Namajunas and Valentina "Bullet" Shevchenko owned the night. Both MMA stars dominated their respective title fights with , proving that Saturdays are, in fact, for the girls.