🏈
🏀
Dallas: Don't mess with Texas
December 21, 2020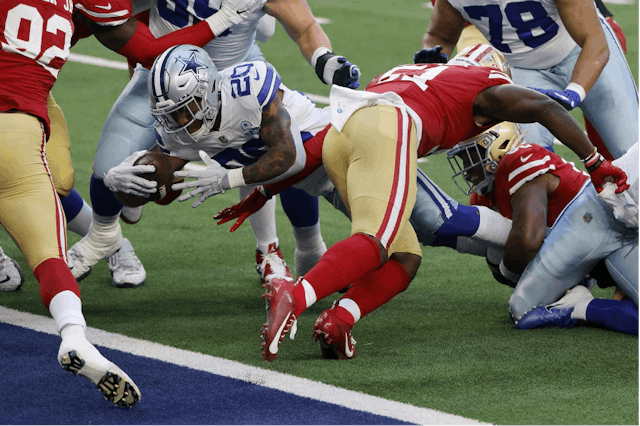 SOURCE: RON JENKINS/AP PHOTO
🏈Cowboys: The Cowboys took down the San Francisco 49ers in a 41–33 thriller yesterday. RB Tony Pollard scored two touchdowns, stepping up in the absence of an injured Ezekiel Elliott and leading the 'Boys to their first back-to-back wins of the season.
The win kept Dallas' playoff hopes alive in a suddenly exciting NFC East title race. It'll take the Cowboys winning both of their remaining games and the WFT losing both of theirs...but we're saying there's a chance.
🏀Mavericks: The Mavericks open the regular season on the road Wednesday, taking on the Phoenix Suns at 10:30 p.m. ET/9:30 p.m. CT. All-Star Luka Dončić (pronounced DON-CHITCH) already won a FIFA bet (and the internet) against teammate Jalen Brunson, and we expect him to keep up the momentum against the Suns.
Dončić and co. dazzled during their postseason appearance in the bubble, their first since 2016. With Luka contending for MVP and Kristaps Porziņģis expected to return from injury in January, we have high hopes for the hardwood.
🏈
🏀
🏒
Seattle: Season's greetings
December 21, 2020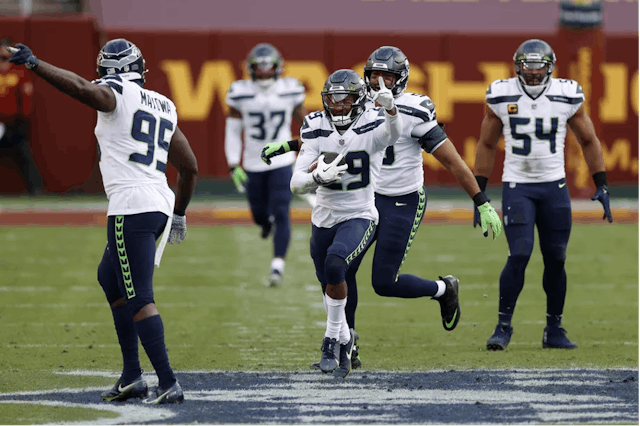 SOURCE: TIM NWACHUKWU/GETTY IMAGES
🏈The great escape: 12s, how are we feeling? The Seahawks had to keep things dramatic but held on for a 20–15 win over the WFT. The Seahawks' offense was cruising, the defense was humming...and then the team gave up two fourth-quarter TDs before getting called for a questionable 15-yard penalty in the game's waning minutes.
Thankfully, the Seahawks' defense came up big with back-to-back sacks and fended off the WFT's Hail Mary attempt. We're as relieved as safety Jamal Adams to escape with the victory.
With the harrowing win, the Hawks are playoff-bound. But more importantly, with the LA Rams' shocking loss to the no-longer-winless NY Jets yesterday, the Seahawks could clinch the NFC West title with a win next week. LFG!
🏀Like we never left: On the court, following a pause-in-action due to positive COVID-19 tests, No. 1 Gonzaga men's basketball returned to the hardwood on Saturday, downing No. 3 Iowa 99–88. Freshman Jalen Suggs, who could be a top pick in next year's NBA Draft, made seven three-pointers to finish with 27 points. Joel Ayayi was also spectacular, grabbing 18 (!!!) rebounds along with 11 points. Wow.
Catch the Zags tonight at 9 p.m. ET/6 p.m. PT against Northwestern State.
🏒Drop the puck: It's a date! The Kraken, our upcoming NHL team, expects to select their players on July 21st in next year's expansion draft. We can't wait to see them take the ice in Climate Pledge Arena.
🏈
🏀
D.C. – Close, but no cigar
December 21, 2020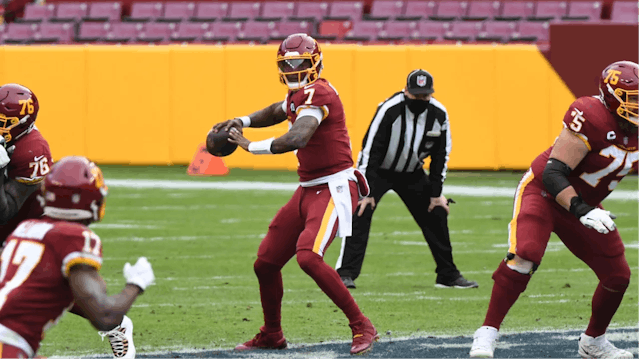 SOURCE: AMANDA BOWEN/NFL
🏈Fought 'til the very end: The WFT kept the Seahawks on their toes with a furious fourth-quarter push, but the Burgundy and Gold were unable to overcome their early deficit. QB Dwayne Haskins, who made his first start since being benched in Week 5, got mad to lead the rally. But back-to-back sacks and a failed Hail Mary attempt later, that's all she wrote. Tough one.
Although the loss snapped the WFT's four-game winning streak, they still hold the top spot in the NFC East. Major thanks to the Cleveland Browns for beating the NY Giants.
🏀It's go time: The NBA is back, baby, with the Wizards playing the Philadelphia 76ers on Wednesday at 7 p.m. ET. The Wiz missed the playoffs the last two seasons, but that should change with superstar Russell Westbrook joining forces with Bradley Beal.
As for the young guys, rookie Deni Avdija could make the starting lineup on Wednesday after an impressive preseason. Second-year forward Rui Hachimura, however, might miss the season opener entirely with conjunctivitis. Poor guy.
Oi oi oi: It's the WNBA offseason, but our Mystics didn't stop winning. Overseas in Australia, Leilani Mitchell was named the Grand Final MVP as her Southside Flyers won the WNBL championship. Can you imagine watching Leilani's sharpshooting at a women's sports bar? Make it reality.
🏈
🏀
Philadelphia: Don't go breaking my heart
December 21, 2020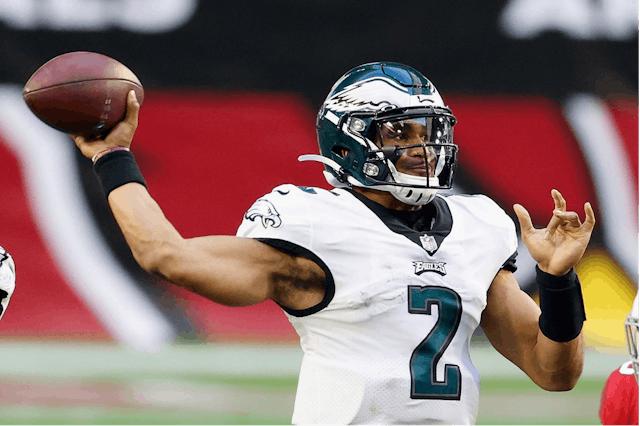 SOURCE: CHRISTIAN PETERSEN/GETTY IMAGES
🏈NFL: As expected, the Arizona Cardinals' defense did their homework: they came out prepped to seriously limit QB Jalen Hurts' running game. Hurts still did well, scoring one rushing and three passing TDs despite being sacked six times. Different QB, same offensive line.
The night ended with a 33–26 loss for the Birds, essentially squashing any remaining playoff hopes. Sigh.
🏀NBA: After a promising 2-0 preseason, the Sixers will begin their NBA regular season on Wednesday against the Washington Wizards. Even with unsubstantiated trade rumors about Ben Simmons, fans are confident that he and Joel Embiid will anchor the starting five under new head coach Doc Rivers' regime.
This team has solid depth to support Simmons and Embiid, allowing Rivers to mix-and-match until he finds the right blend of talent. We're confident we'll be seeing a lot of NBA vet Dwight Howard, young leader Shake Milton, and rookie Tyrese Maxey.

On the other hand, we're not so sure where second-year forward Matisse "Do You Want to Build a Snowman" Thybulle will find himself after a disappointing preseason performance. Only two more days until we find out.
🏈
🏀
Chicago: Illicit affairs
December 21, 2020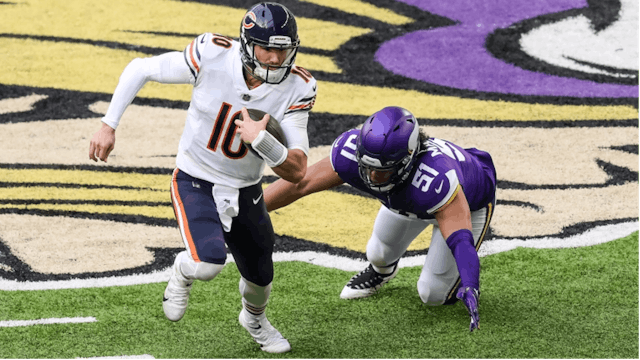 SOURCE: BRACE HEMMELGARN/USA TODAY SPORTS
🏈NFL: If there's one thing Bears fans know, it's that Trubisky rarely loses to the Minnesota Vikings. The Bears' 33–27 victory yesterday gave the QB his fifth win out of the seven starts against the Vikings.
In one of Chicago's best offensive games this season, Trubisky threw for 202 yards and a TD, WR Darnell Mooney had four receptions and a TD, and RB David Montgomery ran for over 100 yards with two TDs. Now that's a playoff-worthy offense.
🏀NBA: After a promising 3-1 preseason, the Bulls will host the Atlanta Hawks to begin their NBA regular season at 8 p.m. ET/7 p.m. CT on Wednesday. In the offseason, team owner Jerry Reinsdorf (of The Last Dance fame) brought in new executives and a new head coach, Billy Donovan, to turn the franchise around.
With most core players like Zach LaVine and Lauri Markkanen returning, the Bulls are banking on better coaching and player development to transform this squad into playoff contenders.
Notable new additions include rookie forward Patrick Williams — who's already made waves — and veteran guard Garrett Temple. After years of abysmal Bulls teams, we're excited about this season's potential.