⚽

Shelina Zadorsky

March 04, 2020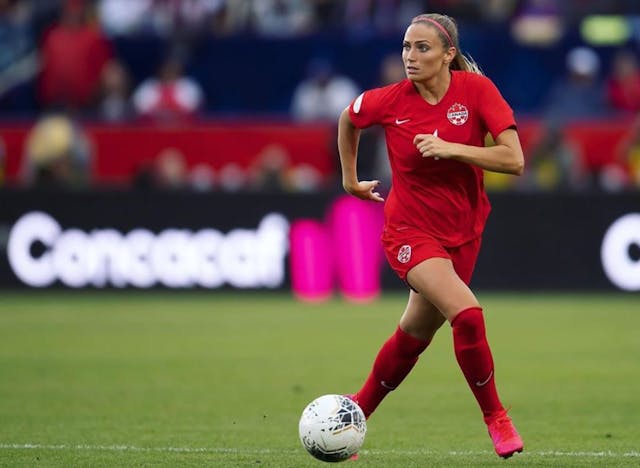 SHELINA ZADORSKY/INSTAGRAM
International Women's Day is this Friday March 8th. To celebrate, we're featuring one bad @$$ female athlete for each of the four newsletters leading up to the special day. Why? Because female athletes only receive 4% of sports media coverage and only 0.4% of all endorsement money which we think (and we're sure you do too) is absolutely ridiculous. So, as a women-led sports company, we want to help change these stats.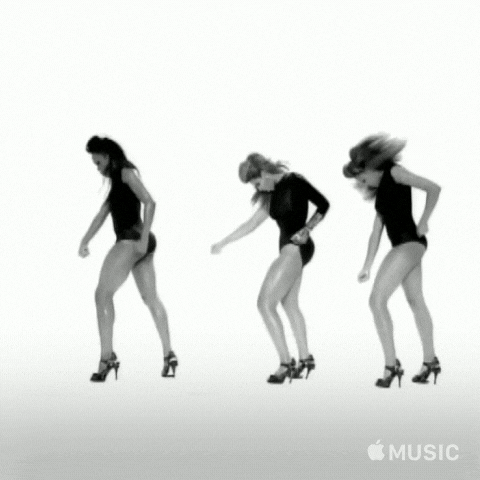 On top of their respective interview features, each athlete will be taking over our Instagram story () on the day their interview is released. So be sure to toss us a follow to get behind the scenes footage of the day-to-day lives of these amazing athletes.
Last week we kicked things off with and . Next up? Canadian soccer defender, Shelina Zadorsky. Shelina won a bronze medal for Canada at the Rio Olympics in 2016 and plays full-time in the National Women's Soccer League (NWSL) for the Orlando Pride. And we certainly have a lot of pride for this Canadian superstar. Let's get into it with Shelina.
Ellen at The GIST (TG): You've been playing high-level soccer your entire life, and started representing Canada back in 2007 when you were only 14. How do you handle the pressure of playing for your country? Or do you thrive on it?
Shelina Zadorsky (SZ): I think pressure is such a mental game and I think like anything, with practice, I've found that my mental game has gotten stronger. The mental side of the game is undoubtedly important and we're really fortunate that with Canada Soccer we have a mental coach and resources to strengthen that side of the game. It's all about getting to know yourself as a player and figuring out what you need to make your mental game strong. When you're putting in the work, you're building the confidence to go out and proudly represent your country. It's definitely taken a while to get good at this and when I was younger I was more nervous, but I often turn my nervousness into excitement now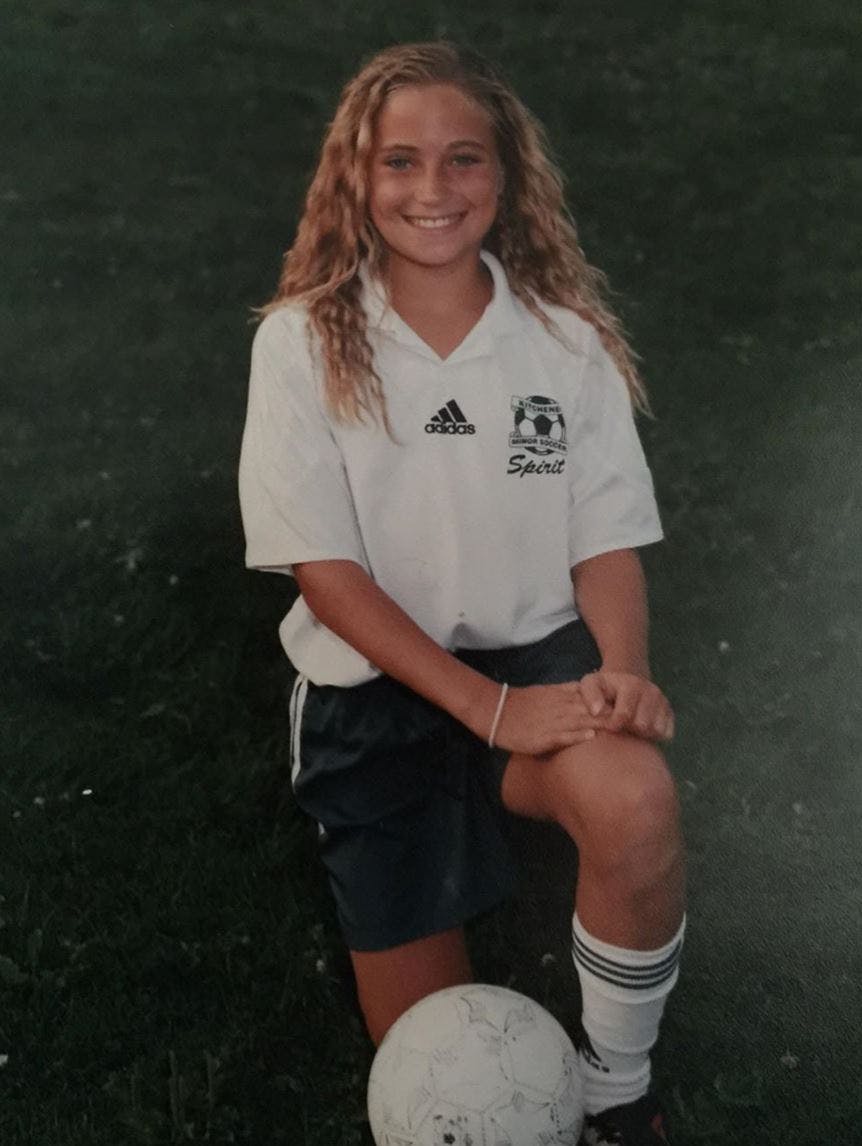 TG: What was it like being from Washington Spirit to Orlando Pride last year… especially as the captain of Washington?
SZ: Those (her time in Washington) were some really challenging seasons as an individual and as a collective team. We went from being in the championship game in 2016 to completely underperforming and having really poor results the next season. When things are going great everything is a little bit easier. Like anything, it's a lot more challenging when you're not winning especially when your job is to perform and win. It's difficult. Underperforming led me to having a big growth year in terms of learning how to keep my confidence and to keep trying to lead the team. Altogether it was a good challenge to face.
Once I was traded I was actually really excited for a fresh start. Orlando made me feel really welcome which is hard because going from one team to another let alone one city to another is a big transition. You know when you play sports at a professional level that being traded is something that's just part of the business. All in all the move went well and I'm really happy in Orlando.
TG: What is a misconception about female soccer and/or difference between the way men and women play?
SZ: Playing everyday I don't hear the biases/misconceptions that much. Sometimes people say that the women's game isn't as physical, and that always make me laugh because it's SO PHYSICALLY DEMANDING out there. It takes a lot of strength to play at the top level.
TG: And what about the theatrics of the men's game (faking injuries and embellishing) vs. the women's game. The women's game seems to have way less of a dramatic flare.
I don't know why the theatrics are different. It's almost some sort of a cultural thing. Men's football has been prominent for so long and it oftentimes includes trickery and the theatrics. It's almost like they think "if I dive here, I'll be able to get a dangerous free kick" or "if I milk this injury I can slow down the game and swing momentum."
The women's game includes significantly less theatrics. It just doesn't seem that it's a part of the game and/or the culture. Sometimes we'll play teams from Portugal or Spain and can see the tendencies of players embellishing - pieces of it - but on the whole way less than the men, which I really appreciate.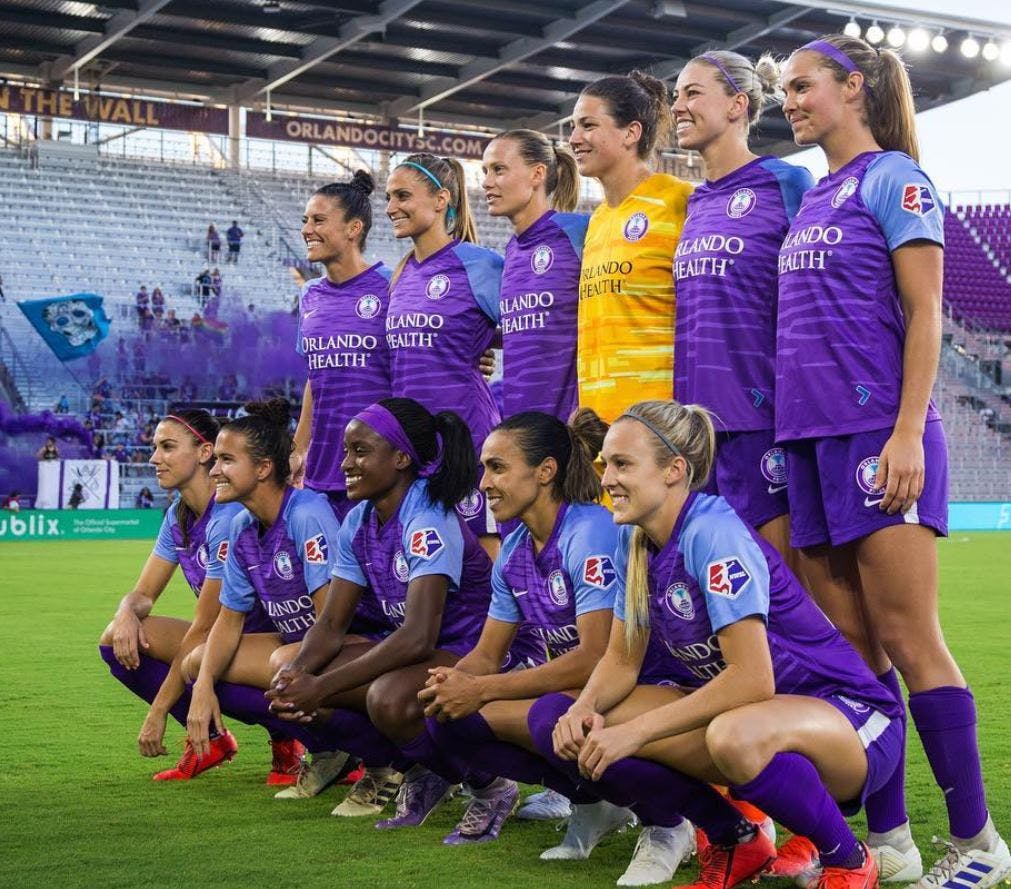 TG: There's been a recent transition with coaches from John Herdman to Kenneth Heiner-Møller for the Canadian Team this year. Although a lot of our GISTers would have experienced a change in coach playing sports, many would have experienced a change in "coach/manager" in the workplace more often. How do you manage a change in coach or manager that you've already built rapport with?
TG: Well, change is inevitable for really most roles in life. For us (the Canadian women's national team), it came as a bit of a surprise with the timing (January 2018). We thought the plan was to go through the FIFA World Cup (in France this June) and the Olympics (August 2020 in Japan) with John. We had been with him for a while - I won a bronze medal in Rio with him and a lot of our veteran players had been with him longer than that. It was definitely surprising and sudden.
I think looking back now on how the transition went, the thing that helped us the most was being adaptable. Ironically being "adaptable" is also something our team uses to describe our play on the field.
My biggest piece of advice would be to roll with the punches. Can you be the best player/person you can even though something has caught you off guard? We had some history in the program with Kenneth being the assistant coach. While it was tough at the beginning, we took it in stride and now we all love working with Kenneth. When you're adaptable it's fun to be open to, and learn from, different experts.
TG: Okay I know I only said four questions, but, I want to ask you one more. How do you manage playing on the national team and your club team (the Orlando Pride) at the same time?
SZ: Yes so it's a little bit confusing. There are designated "FIFA" windows where pro teams all over the world HAVE to release their players to their respective national teams, even if their club teams have games. Given this year is a World Cup year, there are a lot of FIFA windows and Canada will be using all of them.
For example it's currently pre-season in Orlando but I'm with the Canadian team in Portugal for the Algarve Cup. And, the league has to allow all players to do that. It's really important to have valuable training time and game time with Canada before the World Cup. And our pro-teams also know that when you train with your national team, it's not like you're taking a vacation. It's a really hard-working and professional environment. So, while it will be hard to miss a lot of pro-games this season, I'm really looking forward to this year's World Cup... and to play for Orlando again!
TG: That's great. Alright to close things out, we have some fun with rapid fire questions:
What's something that you can't live without? Oh my gosh definitely peanut butter and almond butter.
What's your go-to work out? If I'm in the gym I love doing explosive lifts including single leg workouts. If I'm running I like doing running intervals.
Mia Hamm or Brandi Chastain? Mia Hamm
Oprah or Ellen? Ellen!
Peanut Butter or Jam? LOL like I said before it has to be peanut butter
Do you think the NWSL will ever make it's way up to Canada? Yes, I really hope so!
Words you live by: Happiness, compassion and drive. And for the national team, we have a bit of a mantra. And I can't tell you what it means, but they're letters. The letters are TNT. *cue AC/DC's TNT being stuck in your head all day*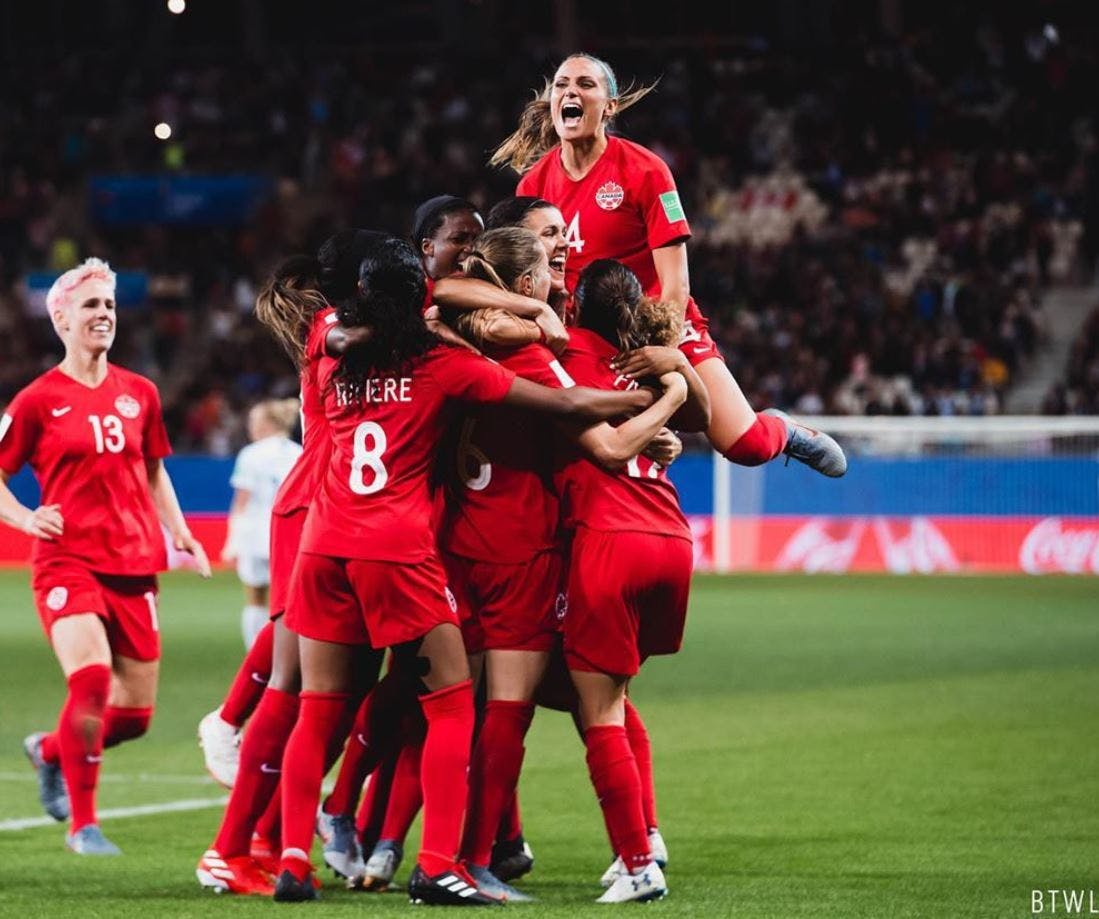 And that's The GIST of it.
Don't get The GIST's free twice-weekly newsletter yet? Let's .
🏀

Bring on the madness!

March 02, 2020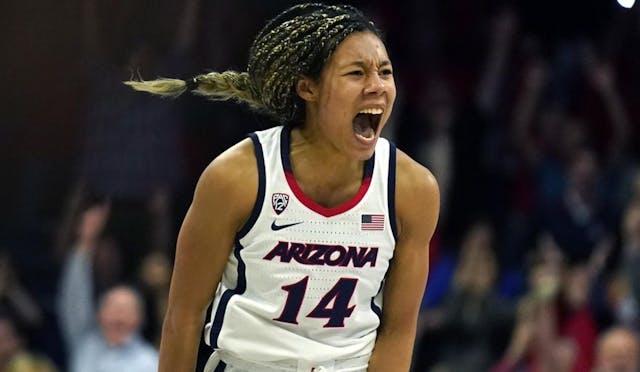 The GIST: While March Madness isn't officially here yet, it is March and we saw some serious madness in college sports this weekend, especially with both men's and women's NCAA basketball regular seasons coming to a close.
Women's basketball: It was a relatively quiet weekend in women's college hoops. Most of the teams we thought would win, won — a far cry from last weekend where we saw a lot of Top 25 teams fall. The most exciting game of the weekend was definitely No. 13 Arizona and No. 4 Stanford. In the dying seconds of overtime, junior Aari McDonald finished with a layup to give Arizona their first win over a top-five ranked team in program history!
In some upset news, No. 18 Iowa was defeated in overtime 78–74 by unranked Rutgers, and unranked Notre Dame — who have struggled this year after all five of their starters from last season graduated — beat No. 19 Florida State 70–67.
Men's basketball: It's been a rollercoaster of a year in men's college basketball and this weekend was no different. Half the teams in the Top 25 lost, so expect some serious shuffling in the rankings this week. The biggest upset of the weekend came when No. 2 Baylor lost 75–72 to unranked Texas Christian University (TCU), marking the Bears' second loss in three games after winning 24 of their first 25. *Drake's "I'm Upset" plays in the background*
In other upset news, No. 7 Duke has lost two in a row after a 52–50 loss to unranked Virginia yesterday, and No. 6 Florida State lost a heartbreaker 70–69 to unranked Clemson on a last second layup. With seeding for the big dance right around the corner, timing (of wins and losses) is everything!
Women's gymnastics: With a 197.800–196.500 win over No. 10 Georgia, the No. 2 Florida Gators completed their first undefeated SEC season in program history! What makes it even sweeter? Back in 2007, the Gators' hopes for an undefeated season were spoiled by, you guessed it, the Georgia GymDogs. Sweet, sweet revenge.
Women's softball: The No. 3 Texas Longhorns had themselves a weekend, knocking off the top two teams in the country in back-to-back games for the first time in Longhorn softball herstory. The Longhorns beat No. 1 UCLA 6–4 in extra innings before getting the win against No. 2 Washington 8–6. Sh!t, sisters!
🏀

New kids on the block

March 02, 2020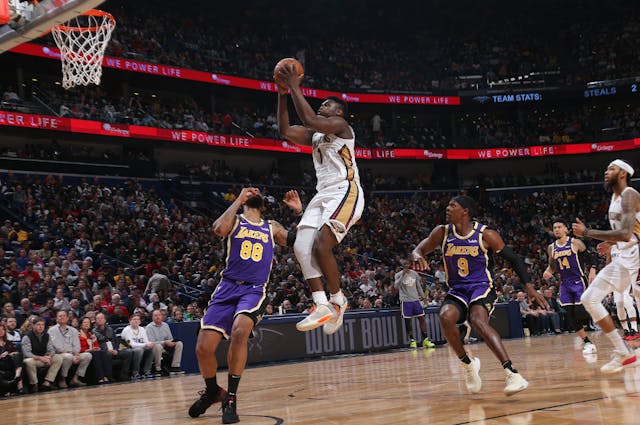 The GIST: With seven weeks left in the regular season, a couple of NBA rookies are proving they could be the key to their teams' postseason chances: No. 1 draft-pick Zion Williamson and No. 2 draft-pick Ja Morant are putting up points, setting records and, most importantly, winning.
Williamson: The New Orleans Pelicans won the NBA Draft Lottery last year and selected Zion Williamson, a freshman from Duke. Then, like an unwritten Alanis Morrisette lyric, Williamson tore his meniscus during the preseason and wasn't able to start his rookie year until January 22nd. And since then, he's been nothing but clutch.
After putting up 35 points last night against the Los Angeles Lakers, Williamson is the first teenager (oh yeah, did we mention he's only 19?) to record 11 straight 20+ point games. He's also leading his team with an average of 24.1 points per game. The Pelicans are sitting just outside of a playoff spot right now, but they'll move up in no time if Zion stays in #BeastMode.
Morant: If you believe the elementary school kid phrase, "First is the worst, second is the best," then you're going to want to hear about Ja Morant. Picked up by the Memphis Grizzlies last year, Morant's stats aren't as jaw-dropping as Zion's, but he's still putting up steady numbers to boost his team into an eighth-seed playoff spot after missing the last two postseasons.
Morant had the best game of his young career on Saturday in a lopsided 105–88 win over the Lakers (aka the best team in the Western Conference). Morant recorded 27 points and then dedicated his performance to a Twitter troll who told Ja he "didn't have the fire" in his eyes anymore. Nothing like proving the haters wrong.
Elsewhere in the NBA: The injury bug has a stronghold on a few favorites this season. Steph Curry, star of the once dynastic (but now worst-tastic) Golden State Warriors, is still out after breaking his hand on October 30th . He was supposed to be back in the lineup yesterday, but his hand is keeping him out just a little longer. Welp.
The injury bug paid another visit to the North, with Toronto Raptors starters Fred VanVleet and Serge Ibaka sitting out of yesterday's game against the Denver Nuggets. The Raps are missing these guys: they've now lost three in a row. Yikes.
🏈

I am legend

March 02, 2020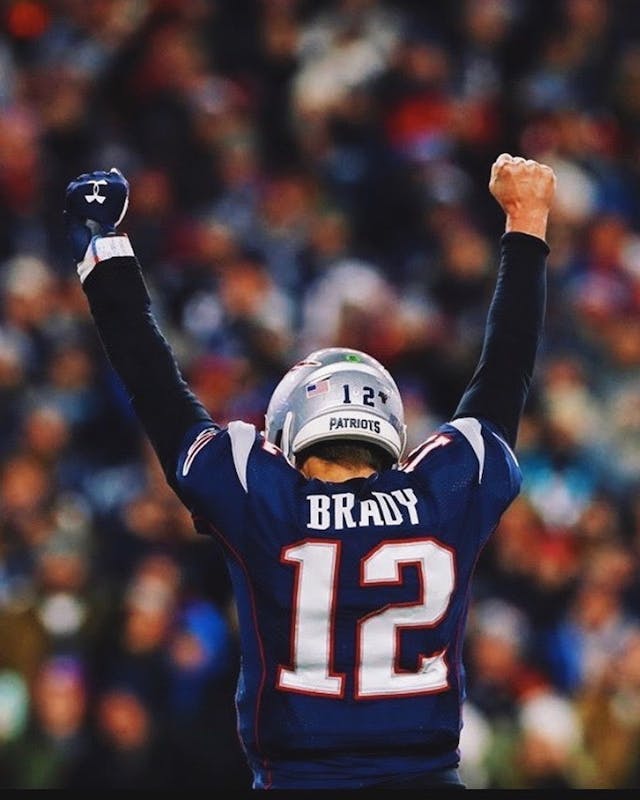 The GIST: It's been a month since the NFL season ended, and the question on everyone's mind is: where will legendary quarterback (QB) Tom Brady play next season? And with free agency just two weeks away, we're oh so close to finding out an answer. The suspense is killing us, too.
Remind me, what's free agency?: When a player's contract expires, they become a free agent and are able to sign with a new team (or the same one, if they want). In most professional sports, all player contracts expire on the same date. NFL free agency begins on Wednesday, March 18th, so as of that day, players whose contracts expired after the 2019–20 season are free to sign anywhere.
Got it, so tell me about Tom Brady: Tom has played for the New England Patriots for his entire mind-blowing 20-season career, winning six Super Bowls (the most of any player) along the way. But the 42-year-old's contract is set to expire (technically, he signed with the team until 2021, but that contract was just for weird money reasons and will be void as of March 18th) and if the Pats don't sign him before March 18th (which is highly unlikely) then we might have to get used to seeing Tom in a new jersey come September.
Okay. So, where will Tom play next season?: Nice try. We're good, but we're not that good. Brady has kept very tightlipped about his future, and even though he'll turn 43 in August, he has said he will play one more season in the NFL. But (cover your eyes, Pats fans) it's not looking good for a New England return.
Just this weekend, Brady and Pats wide receiver Julian Edelman were at a college basketball game together, and when Edelman assured fans on-camera, "He's coming back!" Brady gave a super uncomfortable smile and shook his head. So we guess that leaves 31 other possibilities...
Any other big name free agents?: If it weren't for Mr. Bundchen hogging the spotlight, Philip Rivers would be the top free agent. Rivers was the QB for the San Diego/Los Angeles Chargers (they changed locations in 2017) since 2004 and started every regular season game since 2006. Whoa.
At the end of the season, the Chargers said they wouldn't re-sign Rivers, but the father of nine (!!!) believes he still has one more good year in him (he's 38, BTW). Despite six career playoff appearances, he's yet to win a Super Bowl, so this season will be his all-or-nothing.
Any other news?: Always. The NFL Players Association (NFLPA) board of representatives has decided that its membership (aka all NFL players, about 2,000 of them) will vote on the proposed collective bargaining agreement (CBA). Many big-name players have been actively opposing the proposal, but the NFL needs only a majority to pass the agreement. No date has been set yet for when Jeff Probst will tally the votes, but we'll let you know.
⚽

Guess who's back

February 27, 2020
The GIST: We have great news! Major League Soccer (MLS) returns this weekend with a fresh new season, two brand new teams and the same ol' superstars. And we couldn't be more excited.
How's it all organized?: The MLS is made up of 26 North American teams (23 in the US and three in Canada), split into two conferences: Eastern and Western. Each team plays 34 games and the top seven teams from each conference in the regular season make it to the playoffs. Slim pickings.
And those two new teams are?: Nashville SC (SC stands for Soccer Club) in the Western Conference, and in the East, the highly anticipated Inter Miami CF (CF standing for Club Internacional de Fútbol), which is partly owned by English soccer legend, Mr. Posh Spice David Beckham.
Who won it all last year?: The Seattle Sounders took home the MLS Cup for the second time in four years, after beating Toronto FC (FC stands for Football Club...we know, there are way too many acronyms) in the final (again).
So how's it looking this year?: The Sounders have a great shot at going back-to-back. Not only is their team stacked, but they also have the highest average attendance in the league, and that home field advantage is powerful. Toronto and Atlanta FC will be hot on their heels though, looking to repeat their 2017 and 2018 victories, respectively.
Tell me straight, is MLS really a big deal?: Well, it's not a bloody big deal like European soccer, but it's a work in progress. The MLS stock has been steadily rising over the past decade, with the average franchise value increasing from $37 million in 2008 to $313 million in 2019. The league also has the third highest per game attendance in North America, behind the NFL and MLB. A shock to us, too.
Awesome. When can I watch?: The season starts Saturday with a 1 p.m. ET matchup between D.C. United and the Colorado Rapids. Now's the perfect time to pick a favorite team and watch this beautiful game as much as you watched Switching Goals. Check out the full schedule here.