Catch up with what went down in this weekend's NBA, MLB, and NHL playoff series.
September 14, 2020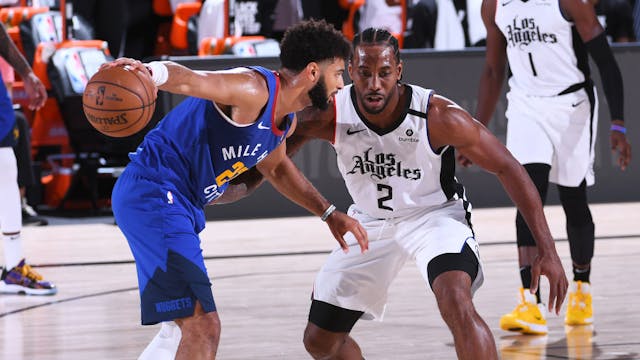 SOURCE: NBA.COM
The GIST: Major league playoffs in September are no joke (of course we're not kidding). Two playoffs are underway and another is just around the corner. Let's go!
Tell me about the NBA: The conference finals are almost set. The Boston Celtics, who beat the defending champion Toronto Raptors in an up-and-down Game 7 of the Eastern Conference semis on Friday night, will face the Miami Heat, who surprisingly took the league-leading Milwaukee Bucks in five games to advance. This series starts tomorrow night at 6:30 p.m. ET.
In the Western Conference, the LA Lakers breezed past the Houston Rockets for a conference final berth, which means we're just waiting on the last game of the round: the highly anticipated Game 7 between the Lakers' La La Land rivals, the LA Clippers, and the Denver Nuggets, which is also set for tomorrow night.
And the NHL?: They're in the thick of the conference finals in the Canadian bubble. On Saturday night, the Dallas Stars rallied for a 2–1 win against the Vegas Golden Knights to bring their series lead to 3-1. Every game is a must-win for the Knights now, including tonight's Game 5 at 8 p.m. ET. Talk about nerve-wracking.
The New York Islanders, the lowest remaining seed in the Stanley Cup playoffs, are in must-win territory, too. They lost Game 4 to the Tampa Bay Lightning yesterday and now trail 3-1 in the series. Game 5 is set for tomorrow at 8 p.m. ET.
What about MLB?: Baseball playoffs haven't started just yet, but we're close. There are only two weeks left in the stunted regular season, which ends September 27th, and an unprecedented 16 teams (up from 10) will make the postseason.
As it stands, the Chicago White Sox are leading the American League while the LA Dodgers are dominating the National League, and, outside of the Toronto Blue Jays, there aren't many surprises in the standings. Batter up!