The Tampa Bay Lightning captain, Steven Stamkos return to the ice during Game 3 of the Stanley Cup Final. Only 4 games remain in the MLB's regular season. The NBA Conference Finals will soon be decided. Seattle Storm take Game 1 of WNBA Final.
September 24, 2020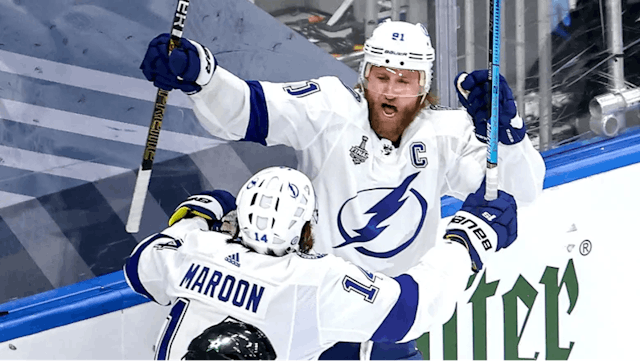 SOURCE: BRUCE BENNETT/GETTY IMAGES
The GIST: Tampa Bay Lightning captain Steven Stamkos knows how to make an entrance. After battling an injury since February, he finally made it back to the ice...and during the Stanley Cup Final, no less.
Tell me everything: Stamkos made his first appearance in nearly seven months in last night's Game 3 against the Dallas Stars, and he made his presence known right away, scoring on his first shot of the game.
The goal gave the Lightning the push to pull off a 5–2 win. Unfortunately, Stamkos wasn't in it for the long haul and didn't return to the game in the second period, but here's hoping he can make it back for Game 4, slated for tomorrow night at 8 p.m. ET.
What about basketball?: The Boston Celtics and Miami Heat faced off in a spicy Game 4 last night in the NBA's Eastern Conference finals. With a 112–109 win, the Heat are now up 3-1 in the series and will nab a spot in the NBA Finals with a Game 5 win tomorrow at 8:30 p.m. ET.
In the Western Conference finals, the Denver Nuggets showed signs of life in a 114–106 win over the LA Lakers on Tuesday. They're only a game behind in the best-of-seven series, and Game 4 is set for tonight at 9 p.m. ET.
And for those wondering when the new season will begin (even though this one is still raging), NBA commissioner Adam Silver said yesterday that a January start at the earliest is his "best guess." No Christmas Day games? Bah humbug.
And the WNBA?: After a few inconclusive COVID-19 tests (don't worry, everyone's fine!) pushed the series from its original Sunday start, Tuesday's Game 1 ended up being a thriller. With the Storm leading most of the game, things got shaky when the Lynx mounted a fourth-quarter comeback.
Tied with seconds left, it all came down to a buzzer-beating rebound from Storm star Alysha Clark, who won it for her team 88–86. Unreal. Game 2 is set for tonight at 7:30 p.m. ET.
The other semifinal matchup wasn't as close but was still fun to watch. The Las Vegas Aces took Game 2 83–75 over the Connecticut Sun, tying up the best-of-five series. Their Game 3 is also tonight with tip-off at 9:30 p.m. ET, and then both series continue on Sunday. Follow the full schedule here.
Any other playoff news?: But of course! There are four more game days left in the MLB regular season, and like a high-stakes game of musical chairs, there are 12 teams fighting for six remaining playoff spots. Check out the full standings and playoff bracket here.