The GIST: Thank goodness the NBA is back in action, because the Celtics season opener on Wednesday is the perfect distraction from the Patriots missing the playoffs for the first time since 2008. *whispers* We miss you, Tom.
December 21, 2020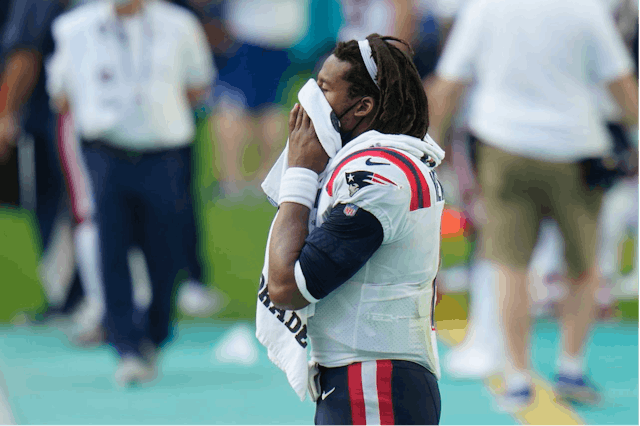 SOURCE: CHRIS O'MEARA/AP PHOTO
🏈Patriots: The Pats' sloppy 22–12 loss to the Miami Dolphins yesterday officially spoiled their (already slim) playoff hopes. QB Cam Newton continued to struggle, with all 12 of the Patriots' points coming from four Nick Folk field goals. Don't be surprised if Folk is put on the injury list after carrying the team on his back.
🏀Celtics: All eyes will now be on the Celtics, who open up their season on Wednesday at 7:30 p.m. ET against reigning MVP Giannis Antetokounmpo (pronounced YONNIS ANDEDO-KOONPO) and the Milwaukee Bucks. The C's dropped both of their preseason games, but hopefully a reality check from head coach Brad Stevens will turn things around.
With Kemba Walker out until at least early January with a left knee injury, the Celtics will rely on forwards Jayson Tatum and Jaylen Brown to carry their impressive bubble postseason play into the new season.
⚽️Soccer: Yes, we already highlighted Sam Mewis and her 2020 U.S. Soccer Female Player of the Year honor, but we'd like to raise another big cup of Dunkin' to the Massachusetts-native (and self-proclaimed Masshole) on an incredible year. Wicked proud.