WFT shuffles quarterbacks Haskins, Allen, Smith; Capitals sign Lundqvist; United fire Olsen
October 12, 2020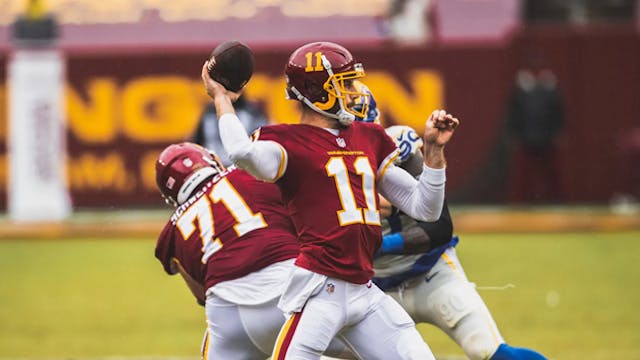 Source: Elijah Walter Griffin Sr./Washington Football Team
The GIST: With the Washington Football Team (WFT), Capitals and D.C. United making personnel moves, sports in the District are proving the phrase "the only constant in life is change" true.
🏈Do the QB shuffle: The WFT quarterback (QB) situation keeps evolving. After starting four games, QB Dwayne Haskins was in favor of . However, after a — let's not sugarcoat it — horrible half, Alex Smith took over.
It was both awe-inspiring and nerve-wracking to see Smith playing on the rainy turf, but ultimately it didn't matter who the quarterback was as the LA Rams handed the WFT their fourth-straight loss. WFT head coach Ron Rivera Allen will be the starting QB next Sunday (if he's healthy). Confused? Same here.
🏒Top shelf, where momma hides the cookies: It's official: Henrik Lundqvist with the District. In addition to snagging the former NY Rangers goaltender, the Capitals also their needs on defense. Intriguing.
⚽️End of an era: After 10 years at the helm, United's head coach Ben Olsen was fired on Thursday. The Black-and-Red sit dead last in the MLS standings, so this move was sad, but unsurprising. Olsen starred for United in his playing days, and may with the organization, just in a different role.