August 23, 2021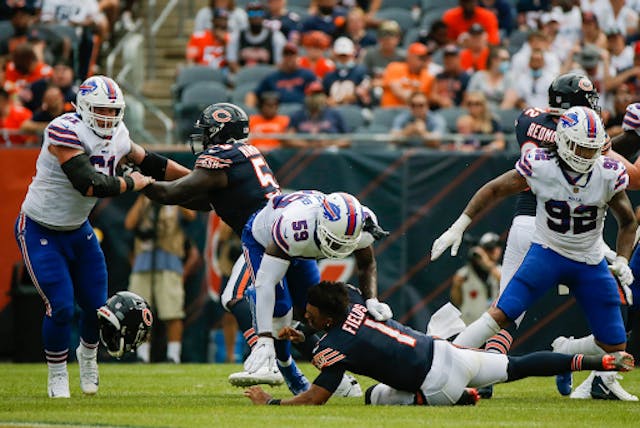 Source: Jon Durr/USA TODAY Sports
🏈Bears: Nobody likes a sore loser, but Bears quarterbacks Andy Dalton and Justin Fields were likely both sore after they were sacked four times in Chicago's brutal to the Buffalo Bills on Saturday. Da Bears were missing injured starters, and it showed: that O-line still needs some help.
⚾️White Sox: The White Sox lost to the Tampa Bay Rays yesterday, which also gave the Rays the 2-1 series win. The Rays pitchers dominated while the Sox relievers struggled, and all-in-all it was a tough day for the South Siders. Womp.
⚽️Red Stars: This weekend, the Red Stars closed out the inaugural , a mini-tournament in which Chicago and Racing Louisville faced international teams Paris Saint-Germain (PSG) Féminine and FC Bayern Munich, with the Red Stars losing 1–0 to PSG in Saturday's third-place match.
While international play brings exposure to the club and the NWSL, the additional games added to Chicago's already tough schedule have caused concerns that the club is of its players. Sigh.