October 27, 2021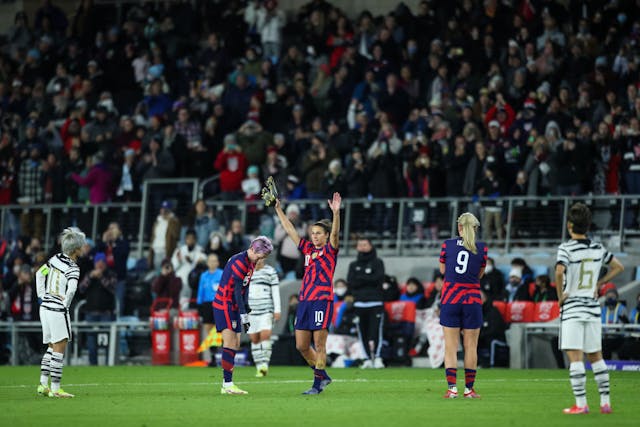 Source: David Berding/Getty Images
⚽️USWNT: In the final game of Carli Lloyd's incredible 17-year USWNT career, her teammates stepped up to send her off with a win. Lindsey Horan ( in the future) opened the scoring in the ninth minute of the squad's 6–0 victory over South Korea. .
🎓🏀College basketball: The season tips off in just 13 days, and UConn's Paige Bueckers (pronounced BECK-ers) is already making headlines. Bueckers was unanimously voted to the AP's , with Iowa's Caitlin Clark, South Carolina's Aliyah Boston, Baylor's NaLyssa Smith and Kentucky's Rhyne Howard rounding out the squad.
⚽️NWSL: New stadium, who dis? Kansas City NWSL (who'll finally have a on Saturday) plans to build a $70 million, 11,000 seat stadium — the first top-division facility built specifically for a NWSL team — with opening slated for 2024. The countdown is on.
🇺🇸🏒Hockey: Don't panic, but Team USA women's hockey lost to Team Canada for the fourth straight game on Monday, in their second of nine exhibition games against each other. And as if this rivalry wasn't already spicy enough, the squads exchanged words (!) post game. Now we'll wait until to watch them hunt for redemption.